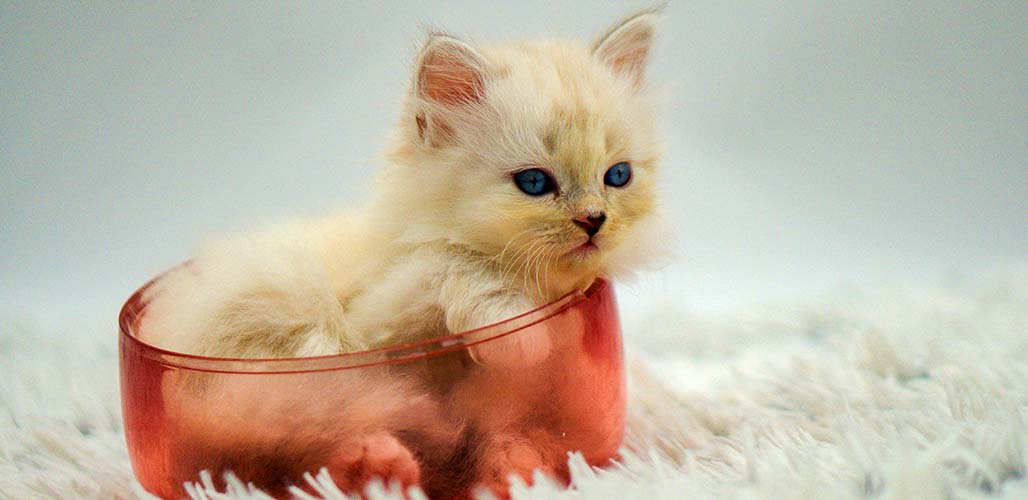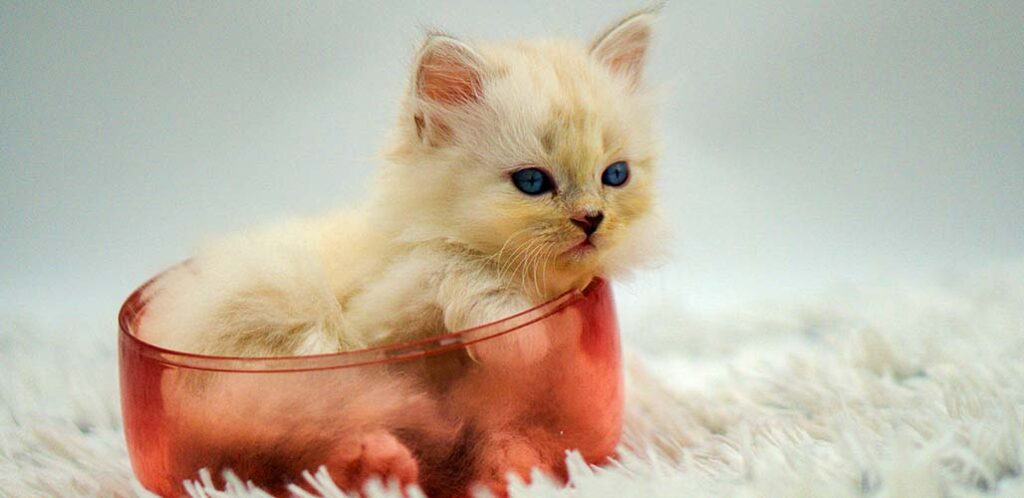 6 week old kittens are very active and energetic one moment, chewing, chasing or climbing, and then they are fast asleep in a heap the next. But if you're the pet parent of a litter of these little bundles, you know there's more to caring for young kittens than admiring their cuteness! 6 weeks is a key age for kittens, as many big life events happen around this stage, like transitioning to food from mom's milk and learning to use the litter box. Today we'll share what to expect from this stage of development and how to best care for a litter of 6 week old kittens. They still have a way to go until they are ready to leave their mother at 8 weeks old, and it's a fast and fascinating journey!
Contents
6 Week Old Kittens Size and Development
A kitten at this age is usually in the 22–24-ounce weight range. That's a little over a pound. Their eyes are open, their ears are upright, and some of their teeth are coming in. Eye color is generally still blue at 6 weeks, but it will begin to change to the adult shade soon.
6 week old kittens are very mobile and active, eager to play and explore the world but not totally ready to leave mom's side for good.
Weaning a 6 Week Old Kitten
Up to about 3 weeks of age, a kitten will rely exclusively on mother's milk for its nutritional needs. Orphaned kittens will require bottle feeding with a milk substitute kitten formula. Around the 3–5-week age range, milk can be supplemented with some commercial kitten food or finely chopped cooked meat, like chicken.
The 6–8-week age range is when the weaning process can be accelerated. Solid food should be increased and access to mom's milk should be decreased. A 6 week old kitten may still want to return to mom for comfort and a little bit of nursing, which is fine, but by 8 weeks, it should be fully weaned.
Nutrition and Feeding
Good nutrition is important for all cats of course, but for growing kittens, it's essential for healthy body and brain development, including a strong immune system. Veterinary nutrition experts note that kittens need a high-protein diet, especially during the 6 week weaning age range. Kittens also need essential fatty acids for energy, growth, and development.
The other important component in a 6 week old kitten's diet is calcium, which helps bones and teeth grow strong. A commercial food specially formulated for kittens will contain the right balance of these essential nutrients. Many owners like to start their younger kittens on wet food and add kibble as they get a little older.
Free Feeding vs Limiting Kitten Food
Ideally, young kittens should be fed small amounts of food about 4 times per day. If you must leave food out, make sure that your kitten maintains a healthy body weight. At the 6 week age, a kitten should only be eating kitten food. The transition to adult food should happen when your kitten is older and fully grown.
Hold off on feeding your kitten treats until around the 8-week age. You should also avoid giving your kitten any kind of milk besides mother's milk or formula, as this can cause diarrhea.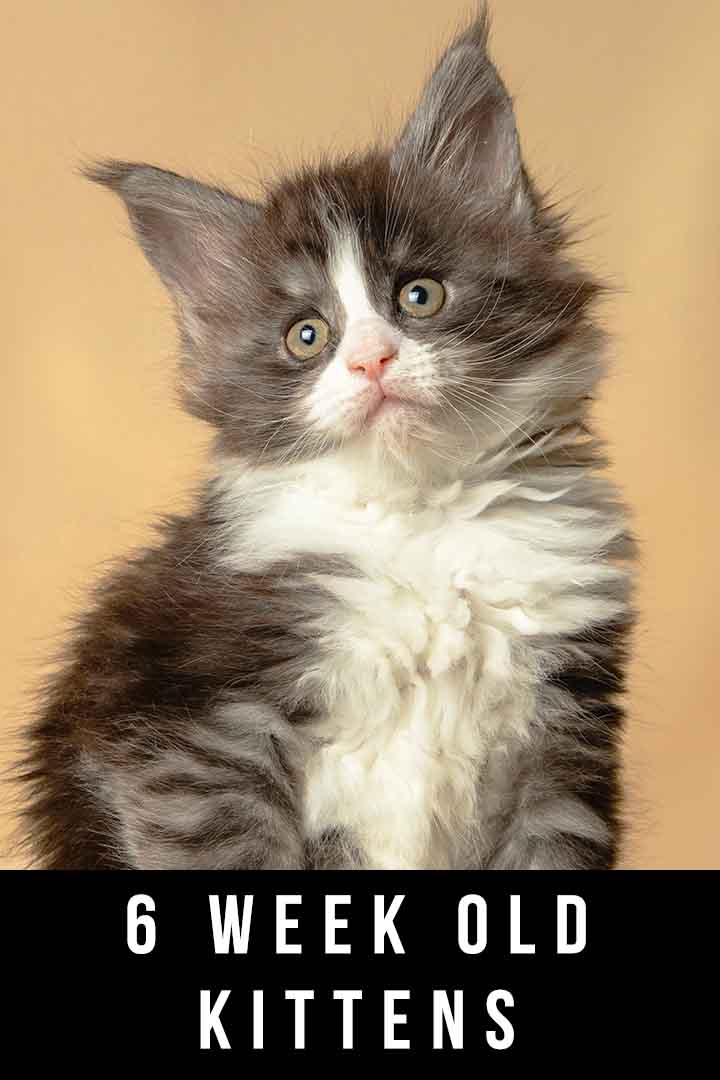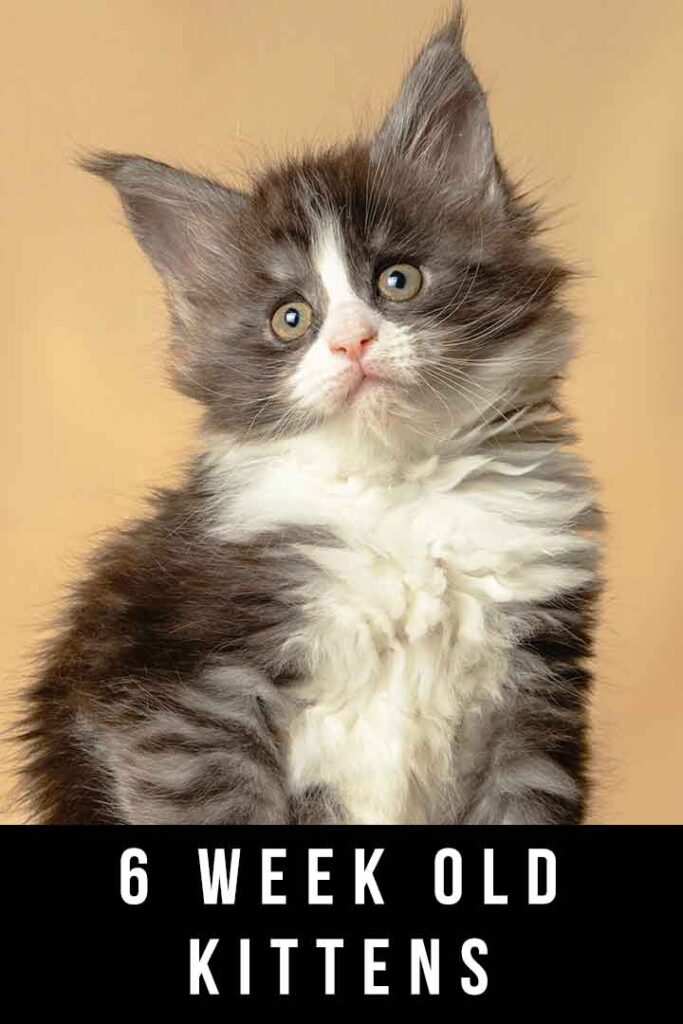 6 Week Old Kittens Behavior
Besides transitioning to solid food, 6 week old kittens will also experience other key developmental milestones. At this age kittens should be able to clean themselves. They also engage in grooming with their siblings, an important bond building activity.
Using a litter box comes naturally to cats, even very young ones. Make sure to get a small one with low sides to start. An unscented, non-clumping litter is safest for young kittens.
Caring for a 6 Week Old Kitten
6 weeks is a good age to begin getting your kitten used to healthy routines like tooth brushing, nail trimming, and brushing or combing. Especially if you have a long-haired cat!
Keep hazardous items like cleaning supplies, medications, and pesticides out of reach. Remove any plants that might be toxic to cats. Make sure all window screens are secure.
Staying Healthy
Kittens need to start getting their core vaccinations at around 6-8 weeks of age. Other veterinary treatments may be necessary, depending on the individual kitten. Many vets give two separate doses, so they may have another at 12 weeks or three months old.
Kittens that were rescued from the outdoors or group environments like animal shelters often need to be treated for parasites or other infections. It's not uncommon for these kittens to have intestinal worms, ear mites, fleas, or upper respiratory infections.