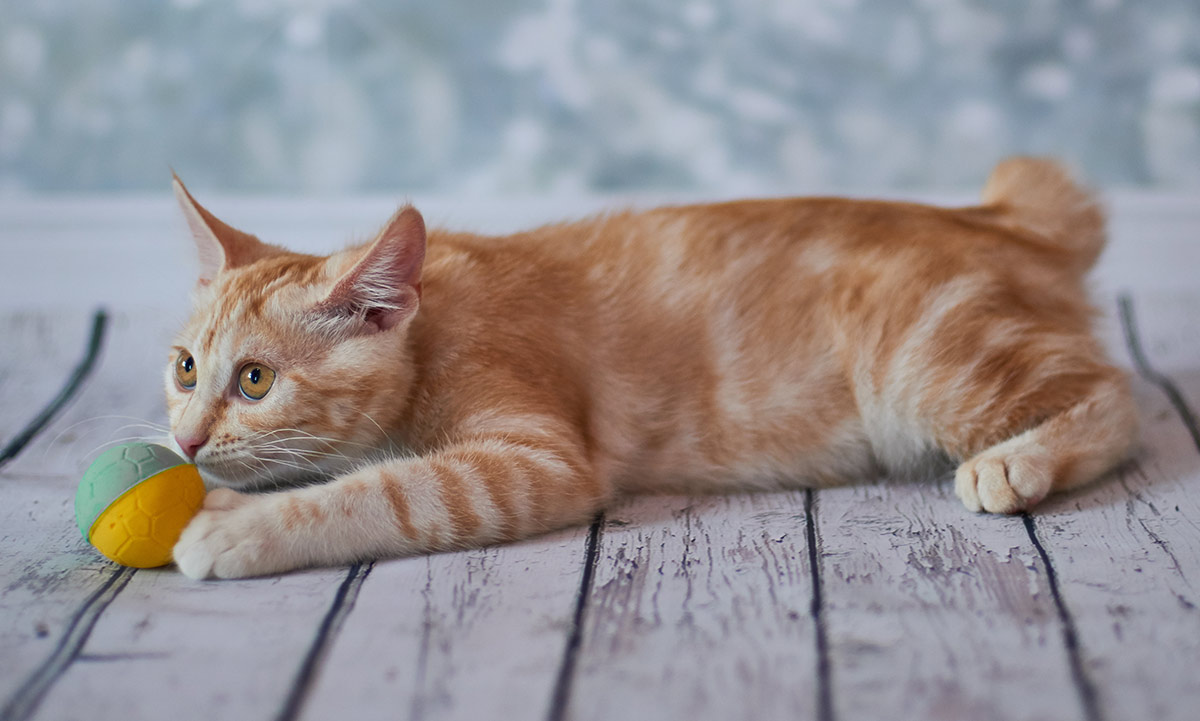 Welcome to our complete guide to the wonderfully unique breed known as the American Bobtail cat.
An unusual pet, Bobtails are known for, well, having a bobbed tail!
American Bobtails aren't the only type of cat with naturally short tails, but of those tail-light breeds out there, they might just make the best pets.
But how much do you really know about this wild-looking breed of cat?
How does having only half a tail affect them?
We're sure you've lots of questions about the American Bobtail.
So we figured we'd give you a comprehensive breakdown of American Bobtail facts.
From their history to characteristics, health issues to price.
Here's everything you always wanted to know about American Bobtail cats, but were afraid to ask…
What is an American Bobtail Cat?
A fairly new creation, the American Bobtail has only been officially recognised as a breed by the International Cat Association since 2002.
And they've only actually been around since the 1960's.
Let's cut to the chase, shall we?
The most obvious thing about this type of cat is that it only has half a tail (or a third of a tail or less, in some cases).
This defining physical characteristic, obviously, makes the Bobtail stand out.
The shortened tail is a natural genetic mutation, it's nothing to worry about.
It's just a quirk of nature (with a little human meddling to blame, which we'll come to shortly…).
The History of the American Bobtail Cat
Some people will try to tell you that the American Bobtail is the result of natural breeding between Wild Bobtails and regular ol' domestic tabbies. But that's an apocryphal tale.
In truth, the entire breed comes from just one cat…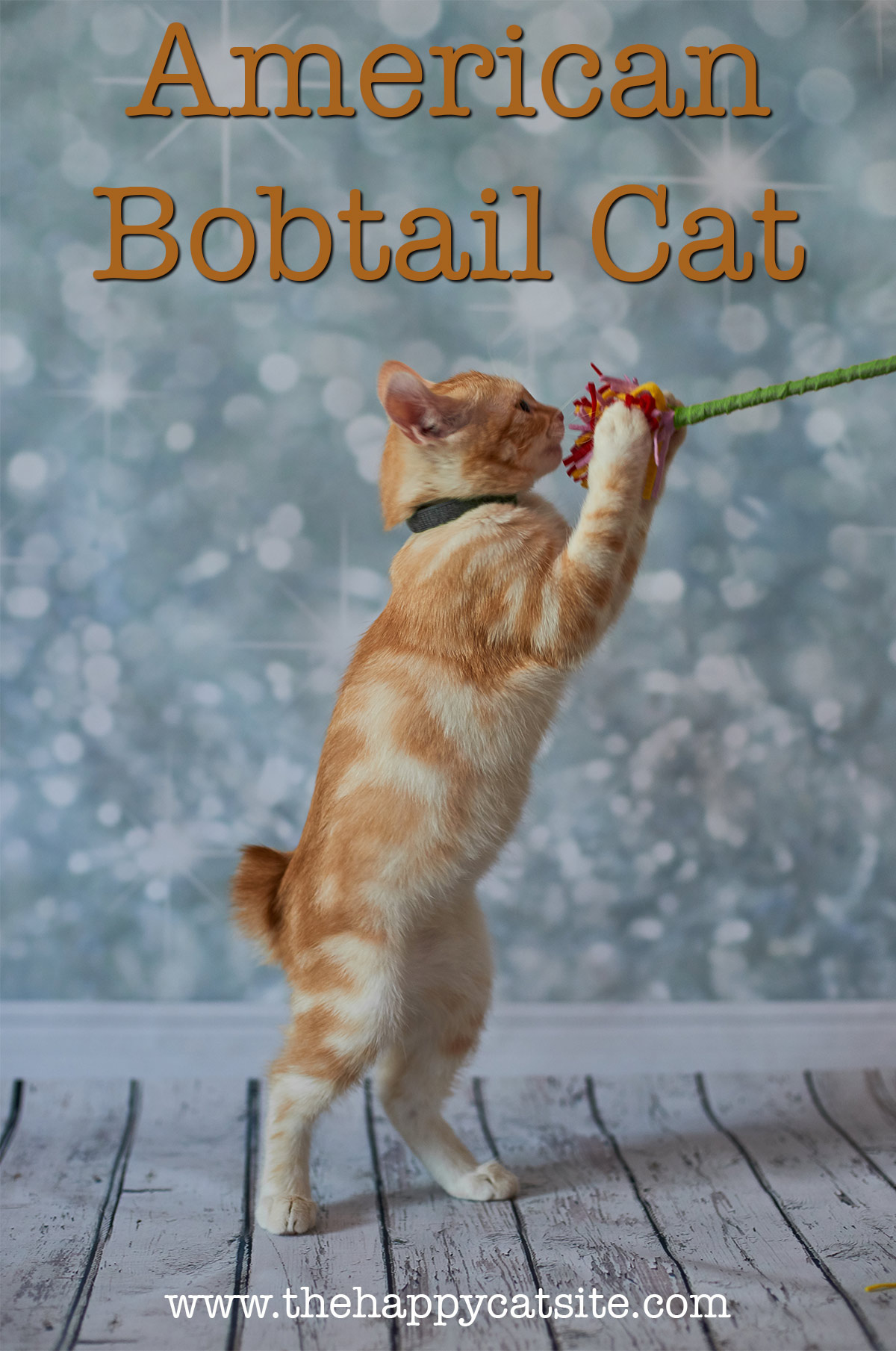 Some fifty plus years ago, an Iowan couple named John and Brenda Sanders were on vacation in Arizona when they found a kitten with half a tail.
Fearing he'd been hurt, they took him in and named him Yodie.
The Sanders had cat breeder friends who assured them that the kitten's tail was natural.
They bred from Yodie, concentrating on retaining his partial tail as well as his pointed long hair, white mittens and white face looks.
The markings were hard to keep, but the bobbed tail always prevailed in new litters.
Soon, a new breed was born.
Before long, the American Bobtail could be found across the country.
American Bobtail Cat Personality Traits
What Bobtails lack in tail they more than make up for in character.
Most owners report a serious dedication to playing around.
Engaging, sociable and energetic, they're always keen on a little one-on-one time with their favourite human.
So friendly are they that regular cat owners can often be a little taken aback by just how much they crave attention from people.
Due to their willingness to embrace us, American Bobtails are a great choice of pet for families with young children.
They're often thought of as quite 'dog-like' in their tolerance levels and playfulness.
Because of this fun side, owners need to ensure that they schedule in regular play sessions and keep their Bobtail stimulated.
Known in some quarters as 'Houdini Cats', Bobtails are more than a little adept at escaping from tight spots.
Their impressive penchant for escapology is attributed to their high intelligence.
American Bobtail Cat Size & Weight
You can expect a male American Bobtail to grow to be anywhere from 12lbs to around 16lbs. With females weighing in at around 7-11lbs.
The Coloring and Coat to Expect
Some cat breeds have very specific colors or patterns, but that isn't the case here.
You can expect to find an American Bobtail cat in any hue: a black American Bobtail cat, blue, smokey, calico, tortoiseshell, you name it.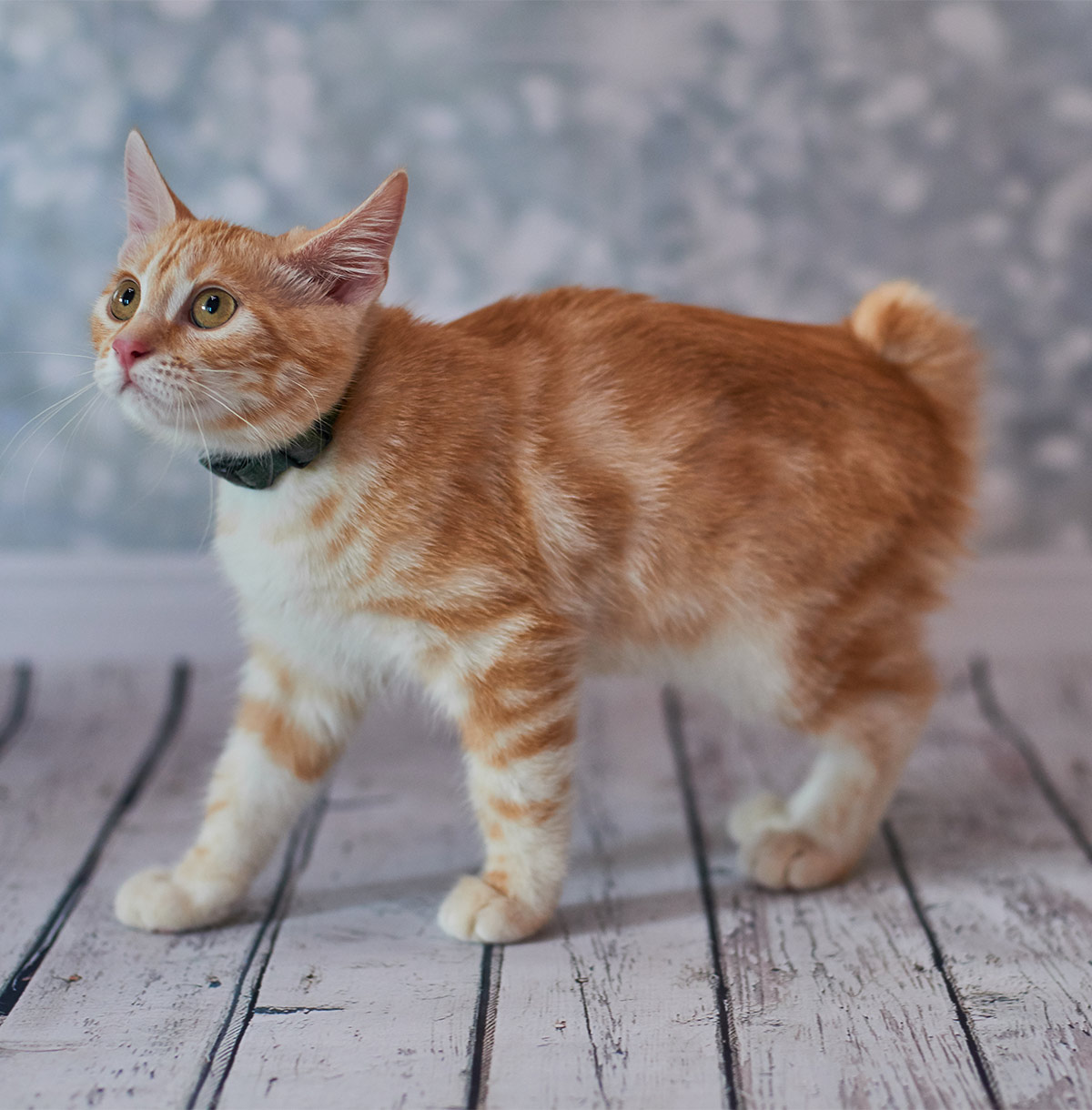 That said, the most common coloring or pattern found is tabby.
In terms of coat, again, there's no simple rule. American Bobtails can be long or short haired.
Longer-haired Bobtails tend not to have overly dense or long fur, and it doesn't generally mat too easily.
Grooming an American Bobtail
Bobtails present no particularly unique challenges when it comes to grooming.
As with all cats, they manage the majority themselves, of course. But need a little help on occasion.
The longer the coat, the more you may need to brush them.
Their coats tend to brush fairly easily, so it's never uncomfortable or painful for them.
If you're concerned about how your American Bobtail might take to brushing, we'd recommend you get them used to it from as early as possible.
American Bobtail Cat Health
Congenital vertebral malformations and spinal issues have been known in American Bobtails. But, unlike Manx cats, it's quite rare.
Health issues caused by the Bobtail's distinctive tail are actually quite uncommon.
This is due, in part, to the shortened tail being caused by a different genetic mutation to the Manx's. The Bobtail's mutation causes far fewer medical issues.
Manx cats are similarly bobbed of tail. But should you wish to opt for a Manx over an American Bobtail – beware. Manx cats often suffer from genetic diseases which can have a nasty impact on the spinal cord and central nervous system.
Cymric cats are also mostly tailless, but suffer with even more health issues. American Bobtails are much healthier and a far safer choice for a family pet.
Life Expectancy in American Bobtail Cats
There's nothing unusual in their life span. Like most cats, they live for between eleven and fifteen years.
American Bobtail Kittens
Bobtails are quite slow maturing.
You can expect full maturity between two and three years of age.
As with all cats, look for kittens that have stayed with their mothers and weened for a minimum of eight weeks. Longer, if possible.
American Bobtails are naturally friendly to us two-legged sorts, but this trait is only seen when kittens are exposed to people from an early age.
Like most breeds, if they're born feral, you will have big problems socialising them and making them 'human friendly'.
American Bobtail Breeders
We would urge you to be very careful when buying a tailless or partially-tailed cat.
It's not hugely common, but some less-than-reputable breeders will, rather horribly, dock a non-pedigree cat's tail in order to pass them off as a specialist breed.
Most American Bobtail cat breeders will come recommended or be able to provide references and – crucially – have all the lineage documentation you need to authenticate your new cat's pedigree and family tree.
A lack of paperwork doesn't necessarily mean that the semi-tailed puss that's caught your eye isn't a full American Bobtail.
But it does mean that you can't prove that they are. So showing and breeding aren't really options.
It'll just be about love.
Rescuing American Bobtail Cats
Due to how rare and in demand they are, it's fairly uncommon to see an American Bobtail up for adoption.
That's great news for the cats, but less welcome news for breed fans that are on a budget.
That's not to say that American Bobtail rescue cats are completely unheard of, though.
Some people panic after buying an expensive breed, get intimidated by future costs and take their pedigree to a local adoption center. So it's certainly worth a quick check of the shelters in your area.
Rescue Bobtails are unlikely to come with records, though. So you'll just have to enjoy the feeling of rescuing him or her.
Again, your new best friend won't be able to enter shows or breed pedigree kittens.
American Bobtail Prices
We've already mentioned that American Bobtail cats bought as kittens don't come cheap.
As with everything, market value can fluctuate based on a whole host of factors, such as geography. So there's no hard and fast set price for American Bobtails.
That said, you can expect to spend anywhere from $500 to $1,000 for a fit and healthy Bobtail with full lineage records.
So, Then… Should I Buy an American Bobtail Cat?
Unless a cat's tail is your favourite part of their body, there's no good reason to avoid adopting or buying an American Bobtail.
With their adorable looks and winning personalities, there isn't too much to put a prospective owner off wanting an American Bobtail cat.
To keep them entertained and happy, they are best off in a home where someone is around for most of the day.
They will need lots of toys, and you might even find you rae able to clicker train them to do tricks!
If you ask us, this sociable and loving breed of cat makes for a wonderful companion or addition to the family.
They're also a top pick for anyone who likes something a little different.
If you've ever had an American Bobtail, we'd love to hear from you in the comments. Give us your American Bobtales below!
References and Further Reading