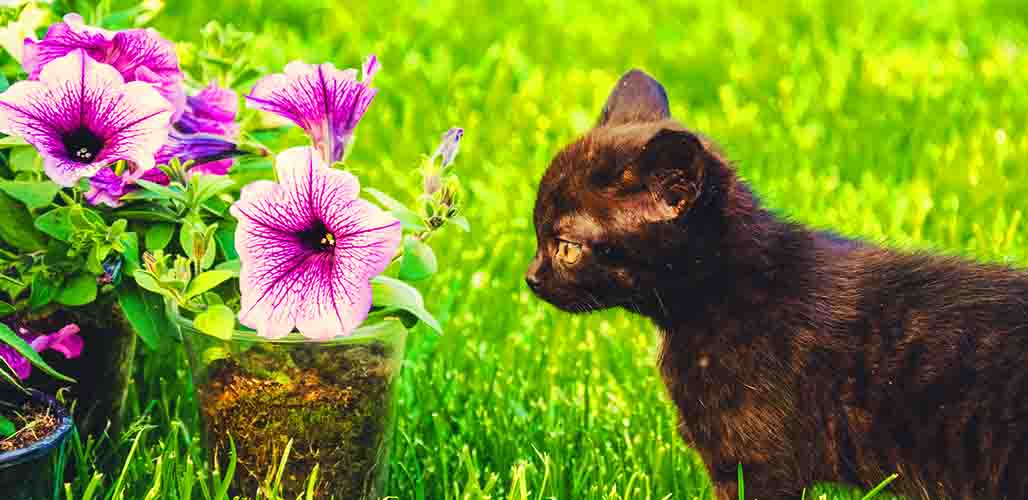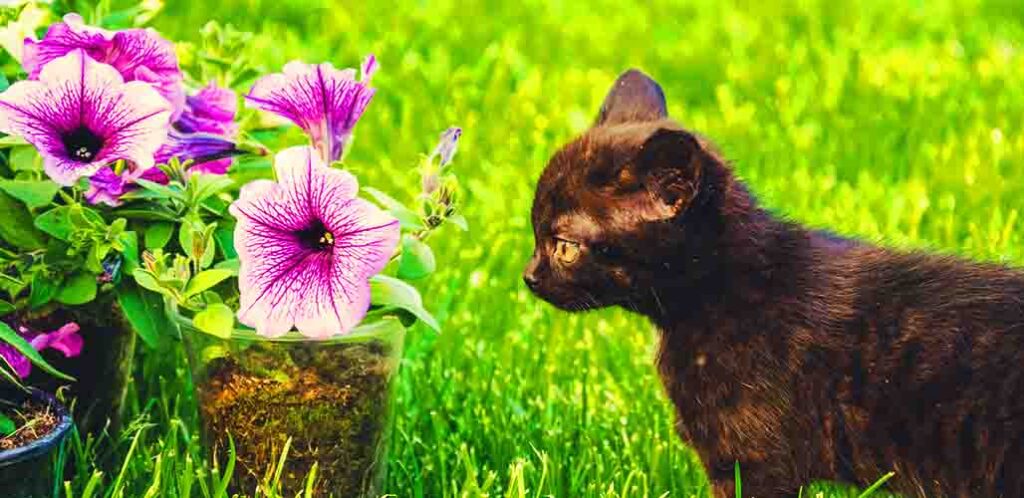 Are petunias poisonous to cats? I thought I'd never have to worry about my cat eating petunias. After all, cats are meat eaters through and through. But, my cats, like most other kitties, have been known to do some plant grazing from time to time. So, it's important to check the safety of any plant before putting it in a home with cats. In this guide, I'll take a closer look at why your cat might be tempted to sample petunias, including whether these plants are toxic and what you should do if your cat eats petunias.
Contents
Are Petunias Poisonous to Cats?
Here, we have good news. Petunias are considered non-toxic for cats, dogs and humans. And don't let the fact that petunias technically belong to the nightshade plant family alarm you.
Yes, it is true that some nightshade plants are toxic, including one of the best-known plants in this family – tobacco. But not all nightshade plants are toxic. Table staples like eggplant, tomatoes and potatoes are also nightshades. Petunias are also non-toxic plants in the nightshade family.
Can Cats Eat Petunias?
While petunias are reassuringly non-toxic for cats, dogs and people, this doesn't necessarily mean your cat should be eating petunias. In fact, petunias can cause mild gastrointestinal upset for humans as well as animals. This may even be the reason why petunias emit a rather strong aroma – more pungent than appealing.
If your cat does decide to nibble on a petunia, this choice probably won't cause any lasting harm. But it is still wise to ask your feline veterinarian for guidance just in case.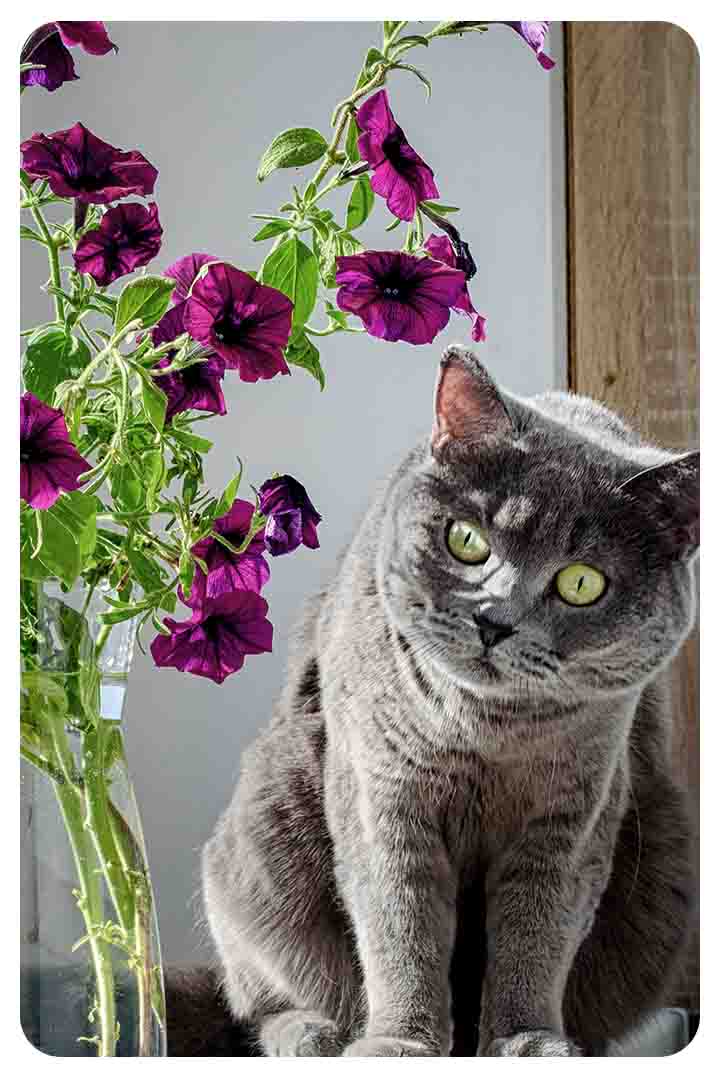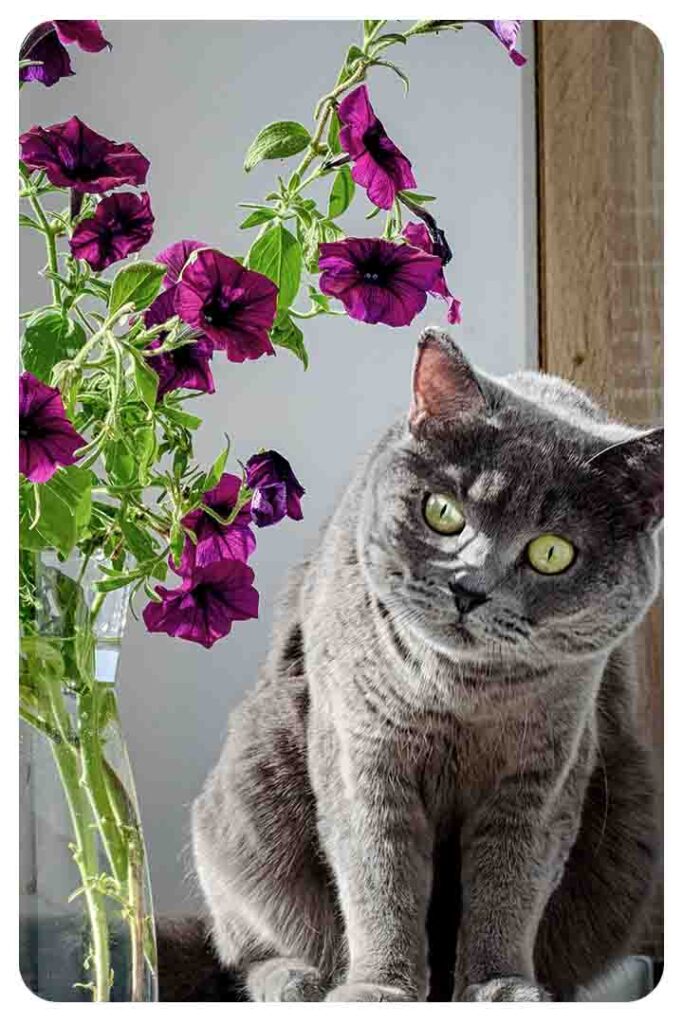 Why Would Cats Eat Petunias?
Cats are known to be obligate carnivores in their diet. The term obligate carnivore means "meat eater". Cats have a specialized digestive system designed to extract all necessary nutrients from animal protein. So why would a cat ever choose to eat a plant like a petunia?
Contrary to popular belief, being an obligate carnivore doesn't mean cats don't ever ingest plant matter. For example, many prey animals are herbivores (plant eaters) or omnivores (plant and meat eaters). So when a cat kills a prey animal, often that animal has plant matter in their digestive tract. This is one way cats get nutrients from plants without having to eat plants.
But there are other reasons why your cat might eat petunias as well. Research suggests that wild cats eat plants as a way to manage intestinal parasites. Another less well-supported theory is that cats eat plants to induce vomiting when they are sick. Cats may also eat plants just because they are curious or bored. If you have ever come home to find your cat has shredded your new houseplant, you probably already understand this all too well.
Types of Poisonous Petunias
All petunias are originally native to South America. However, most petunia varieties available commercially are hybrids. This means they have been modified in some way to have a particular petal color, to grow in a certain way or to grow well in certain climates or soil types.
Depending on who you ask, there are either four or six basic types or varieties of petunias. The four main categories are grandiflora ("large flowers"), multiflora ("many medium-size flowers"), milliflora ("many tiny flowers") and spreading (fast-growing ground cover varieties). The other two types are newer hybrid cultivars associated with specific brand names (Supertunia® and Surfinia®, respectively).
Regardless of the type or brand name, however, pet poison experts state that petunias are not known to be toxic to cats or dogs.
Are All Parts of Petunias Toxic?
Since petunias belong to the nightshade family of plants, it is worth inquiring if all parts of petunias are safe for cats to eat. This is a smart question to ask because one known characteristic of the nightshade plant family is that unripe plant parts contain solanine, a poisonous glycol-alkaloid chemical compound.
Common edible nightshades like potatoes, tomatoes and peppers become safe to eat when their fruits or vegetables are ripe. The ripening process reduces the toxic alkaloids to safer levels. However, ripening does nothing to lessen the toxicity of the other plant parts.
Even though petunias are nightshades, however, no part of any varieties of petunia is considered to be poisonous or toxic. But even if the smell or taste of petunias isn't off-putting enough to keep your cat away from them, it still isn't a good idea to let your cat eat petunias.
What Are the Symptoms of Petunia Poisoning?
Petunias are not poisonous or toxic by definition. But if your cat eats petunias, the solanine in the plant can potentially cause some level of digestive discomfort. Some cats may be more sensitive than others to the glycol-alkaloid content in petunias. Possible symptoms of glycoalkaloid poisoning include:
Breathing problems
Stomach upset
Swelling of the oral tissues and tongue
Nausea
Vomiting
Diarrhea
Cramping
Neurological symptoms, including weakness, disorientation, restlessness and drowsiness.
If you know or suspect your cat has eaten petunias, be sure to watch closely for any symptoms or side effects. If your cat eats petunia flowers or plant parts in any quantity, it is better to be safe and call your feline veterinarian or go to the nearest feline emergency room for assistance.
Are Petunia Flowers Safe for Cats?
Petunia flowers are generally considered to be safe for cats to eat. As long as your cat just mouths a petal or nibbles on a petunia leaf, the chances of adverse effects are quite low. But since cats are obligate carnivores and plants are not a dietary staple, it is still smart to investigate further and tell your cat's veterinarian about what you have observed. Eating petunias could point to a nutritional imbalance or the presence of intestinal parasites.
Scheduling a "well cat" veterinary checkup can go a long way to easing your mind and also to verifying that your cat is just being a cat and exploring their world, including the interesting petunias in your garden.
Are Petunias Poisonous to Cats? Final Thoughts
It's generally not a good idea to let your cat chomp away on your petunia plants. But, you don't need to go into panic mode if you've noticed your cat having a nibble. Keep an eye open for any signs of problems, and speak to your veterinarian if you're still concerned!
More Cat Health and Care Guides
Can cats live in small flats?
Senior cat protein needs
Getting a sick cat to eat
References