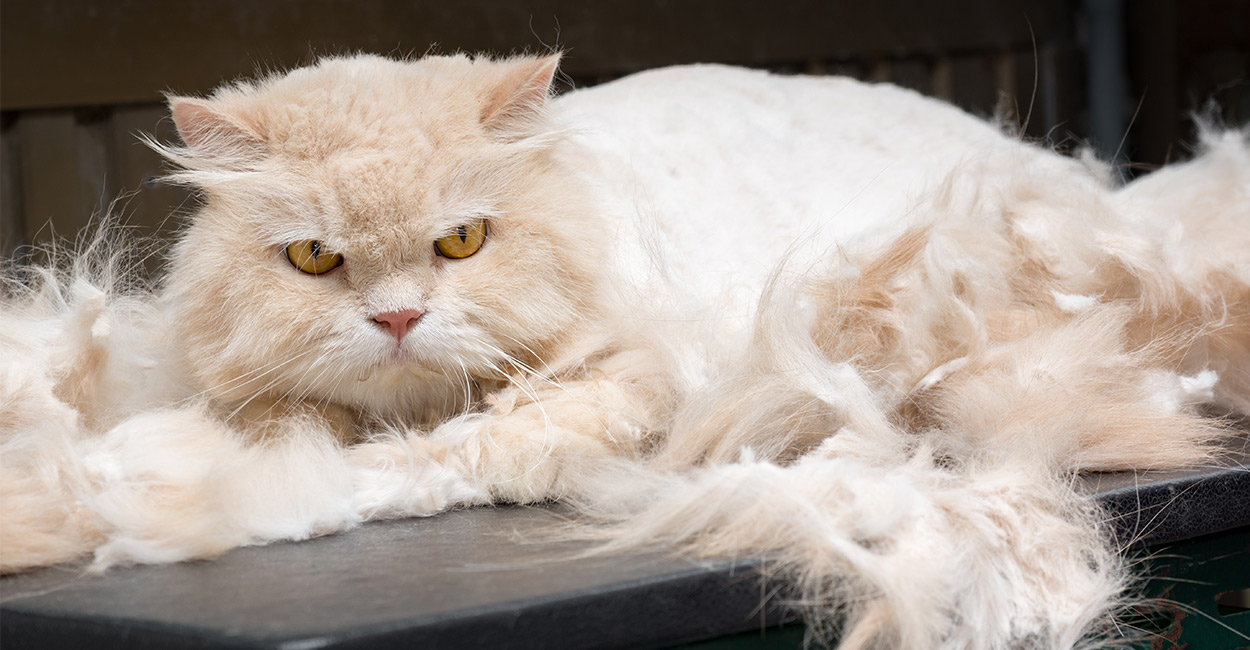 Shannon Cutts goes out in search of the best brush for Persian cats, so that you can make fast work of daily grooming…
The Persian cat is the fourth most popular cat breed in the United States and the fifth most popular breed in the UK.
That's saying something, considering there are upwards of 42 separate registered cat breeds in the world at any given time!
Ask any Persian cat lover what makes this cat so popular worldwide, and you are liable to get all sorts of answers.
After all, this is an intelligent, personable, lovable cat, and also a cat that has a jaw-droppingly beautiful long, silky coat!
All of these products were carefully and independently selected by The Happy Cat Site team. If you decide to make a purchase from one of the links marked by an asterisk, we may earn a small commission on that sale. This is at no extra cost to you.
Persian cat grooming
If you already care for a Persian cat, you know that Persian cat grooming isn't a task to be taken lightly.
Keeping that gorgeous, lush coat looking its best is a commitment!
But you also know that Persian cat grooming is so worth it and also a great chance to spend one-to-one time with your kitty!
However, finding the best Persian cat grooming products and Persian cat grooming tools can take some time, since not every tool is designed to manage such a dense, thick coat.
If you are still on the hunt for the best brush for Persian cats and other perfect grooming products and tools, let us help you simplify your search in this informative article!
Looking after your Persian cat's coat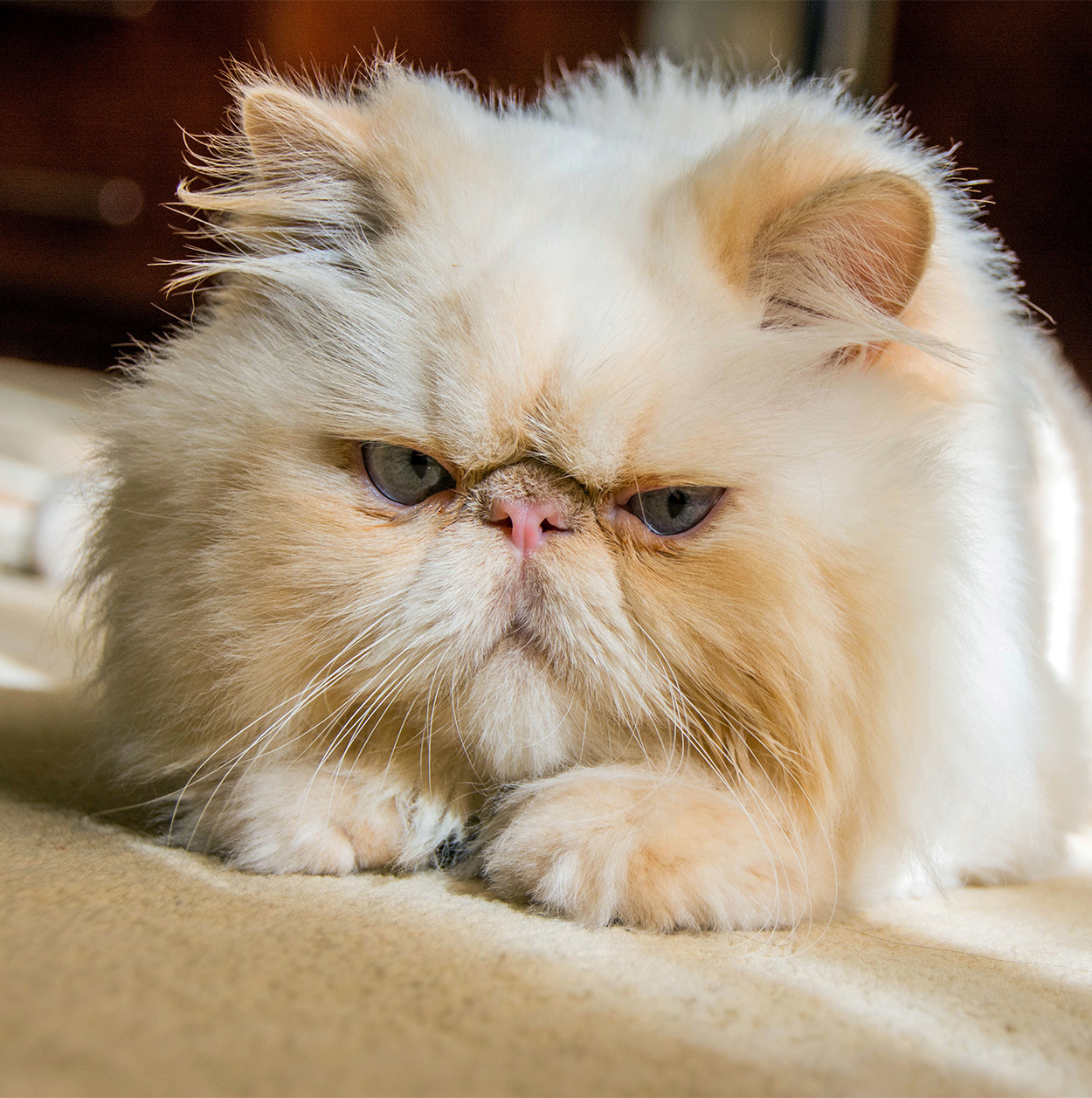 Some cat breeds truly have minimal grooming requirements. The Persian is not one of them!
In fact, your Persian cat will rely on you to help her keep her coat healthy and mat-free.
You should plan to spend at least 10 minutes per day brushing and grooming your Persian cat.
This daily time is so important that if you aren't sure you will have the time, you may want to reconsider choosing a Persian cat.
Nothing illustrates this fact quite so clearly as this recent news story about "Sinbad the Survivor," a rescued Persian cat found dragging around a whopping five pounds of matted fur!
In addition to brushing out tangles and mats, your Persian cat will need your help with other daily personal grooming tasks for the eyes, ears and skin.
Your Persian cat is a brachycephalic or "flat faced" cat breed, and these cats need extra help keeping their eyes, noses and skin folds clear of tears and discharge.
Daily Persian cat grooming requirements
During your daily grooming sessions, it will be important for you to wipe away any tear fluid that has collected around your Persian cat's eyes and on their fur.
Also, you should check your cat's nostrils and skin folds and gently wipe away any debris you find.
At the same time, if you notice the tear stains or debris seems excessive, or you feel any lumps or bumps around the mouth and nose, this can be an early warning sign of some of the health issues flat faced cat breeds can develop and a sign to make a vet appointment right away.
TIP: To learn more about the bathing, grooming and care requirements of the Persian cat breed before you make the commitment, have a look at our complete and detailed breed review.
Persian cat shedding
Persian cats definitely shed.
Regardless of what you may have read or heard about ways to stop cats from shedding, your Persian cat will still shed.
Part of the reason for this is adaptive. Seasonal shedding helps your Persian cat stay cool in summer and warm in winter.
Another reason is simply that your Persian cat has a long coat.
For every three or four hairs a short hair cat breed might shed out, your Persian cat only has to shed out one hair to have the same impact on your furniture, vehicle, clothing and carpet.
Controlling Persian cat shedding
Picking the right brush for Persian cat breeds will definitely help you keep your cat's shedding under control.
You may also want to invest in a lint roller and vacuum cleaner to keep shedding from taking over your space and your life.
So now let's take a look at the best cat brush for Persian cats and some of the best Persian cat grooming tools and Persian cat grooming products!
Best brush for Persian cats
Persian cat breeders emphasize the importance of beginning a regular brushing and grooming routine when your Persian cat is still a kitten.
The routine should include wiping your kitten's eyes, checking in her ears and mouth, clipping her claws and, of course, bathing her.
There are two types of coat problems you may encounter: tangles and mats.
Tangles are mildly snarled bits of hair. Mats are severe tangles.
Both can be avoided with regular daily brushing and grooming.
You should always try to gently work out tangles and mats with your fingers before using a comb or brush on your Persian cat's coat.
Many groomers believe the best brush for Persian cats is one with soft bristles to reduce static and avoid harming your cat's delicate skin (which slicker brushes are more apt to do).
These superb Persian cat brush products will also make avoiding tangles and mats much easier.
Soft Reinforced Boar Bristle Cat Brush
Some veterinarians recommend a soft boar bristle brush to groom the Persian cat's long coat.
The soft natural bristles will safeguard your cat's sensitive skin and reduce the tendency for static electricity.
The boar bristles of this brush* are adept at gently removing loose or shed hair while smoothing natural hair oils throughout your Persian's coat.
Safari Soft Bristle Brush for Cats
This highly rated soft wood handled bristle brush* is an alternative to boar bristles.
It is gentle yet sturdy and won't irritate your cat's skin.
Owners say it is especially good for kittens and senior cats and is safe to use around your cat's face.
CeleMoon Ultra-Soft Silicone Cat Brush
This popular and unique silicone easy-grip brush* is designed to help ease shedding woes during grooming time.
The brush has a small finger handle so you can use your hand to guide it over your cat's head and body.
Adding a bit of water before you start will help attract more hair.
Owners rave about the results.
Best comb for Persian cats
Sometimes, the best brush for Persian cats turns out to be a comb.
Often groomers will use both brushes and combs to achieve the best finish.
If you are new to caring for the long Persian cat coat, it can be great to use both a comb and brush until you find out what works best for keeping your cat's coat smooth and healthy.
There are two basic types of combs Persian groomers often use: a flea comb and a greyhound-style comb.
Master Grooming Tools Greyhound Pet Grooming Comb
This comb has one-inch tines as Persian groomers recommend*.
It is made of brass steel with a non-slip spine.
It is 4.5 inches long to easily maneuver around smaller areas of your cat's face, ears, legs and paws as well as the main body coat.
Safari Flea Comb for Cats
This small flea comb* is perfect to use on your Persian kitten.
The ergonomic plastic handle helps you see the area you are combing easily as you work.
The close-set bristles won't miss a hair as you work through each area on your cat.
2-Pack Pet Combs by Hertzko
This two-pack steel comb set* is perfect for adult Persian cats.
The smaller comb is great for using in harder-to-reach areas like the face and around the ears.
The larger comb is ideal for grooming your cat's body.
The tines are one inch long with rounded ends to protect your cat's skin.
Persian cat grooming tools
These Persian cat grooming tools will make short work of some of the more challenging aspects of brushing, grooming and maintaining your Persian cat's coat and overall health.
Persian cat grooming tools: a pet hair dryer
A low watt pet-specific hair dryer is another must for drying your Persian's long coat after a bath.
Finding a low watt pet dryer will safeguard your cat's delicate skin, which can get overheated or even burned by regular "people" hair dryers.
This Andis Gentle Dry low wattage pet dryer* is compact for travel – a boon if you have a show cat!
It features two cool air and two heat settings.
Persian cat grooming tools: claw clippers
Clipping your Persian cat's nails is another regular grooming task your cat will need.
You can make this task easier on you both by starting to handle your cat's paws and nails during kitten-hood.
Then when it is time to start clipping the claws, your kitty will be much more likely to allow you to do this without complaint.
These very popular and highly rated animal nail clippers from Kitty Nails* feature easy-grip handles and stainless steel scissor blades for a neat, clean cut.
Persian cat shampoo
Often a moisturizing shampoo will work best to keep your Persian cat's skin and coat glossy, smooth and static-free.
If you have a white Persian cat, groomers recommend a shampoo made with a brightening agent.
Bio-Groom Purrfect White Cat Shampoo* is a Persian cat breeder and groomer favorite.
It is also tearless and safe for use around your cat's face and eyes.
Persian cat grooming products
Three essential core Persian cat grooming products you will always want to have on hand include a tear stain remover, a skin fold cleaner and an ear cleaner.
You may want to keep two of each product – one for at home and one for travel.
Persian cat grooming products: ear cleaning
Your Persian cat's ears are a particularly sensitive part of the body.
The ears can accumulate wax, debris and dirt, yeast buildup and ear mites.
It is vital to examine your cat's ears daily and clean away any irritants with a gentle ear cleaning solution.
Pet MD Otic all-purpose ear cleaner* is gentle enough to be used every day.
It is formulated to combat ear mites, yeast and other irritants as well as to control for wax and fluid buildup.
Persian cat grooming products: Skin fold cleaning
The shape of your Persian cat's face and skull can cause skin to fold in ways that doesn't happen in other cat breeds.
Dirt, debris, yeast and irritants sometimes get trapped in the skin folds and can lead to infection and discomfort.
Cleaning the skin folds daily will help keep your cat as healthy as possible.
Park City Pets' all-natural, organic pet wipes* are safe to use daily to clean the skin folds around your cat's face as well as around the tail and anal glands.
The ingredients include lavender, chamomile, aloe vera, tea tree oil, lemon and green tea extract.
Persian Cat Grooming products: Tear stain remover
Because of your Persian cat's brachycephalic face and skull structure, you may find tear stains accumulate regularly on the skin and fur around the eyes and nose.
Pet Post Tear Stain Wipes* are free from bleach and harsh chemicals so they won't cause any irritation to your cat's eyes, fur or skin.
The wipes are cotton and the recipe includes juniper berry and soothing coconut.
This product comes in wipes, powder, tincture solution and foaming solution.

Best cat brush for Persian cats
Bringing a Persian cat into your life is definitely an investment of time as well as finances!
But knowing the right tools and products to buy will reduce the unnecessary expense of "trial and error" purchases!
We hope this article has given you the information you need to begin brushing and grooming your Persian cat affordably and with confidence!
Have you already found the best brush for Persian cats?
Do you have a favorite grooming brush, comb or other product or tool that you and your Persian kitty love to use together?
Please share it with other Persian parents in the comments below!
Affiliate link disclosure: Links in this article marked with an * are affiliate links, and we may receive a small commission if you purchase these products. However, we selected them for inclusion independently, and all of the views expressed in this article are our own.
Sources
Phillips, C., "Grooming Your Persian," ChristyPaw Persians, 2018.
Raisanen, K., "Cats: To Brush or Comb," Groomer to Groomer, 2017.
Miller, W.H., et al, "Muller and Kirk's Small Animal Dermatology," Elsevier Health Sciences, 2013.
Meulesteen, J., "Show Grooming of Persians," Fluffygrape Persians, 2005.
Pampered Paws with Kathy, "Nail Trimming, and Eye and Ear Cleaning for Persian Cat Breeds," YouTube, 2009.
Macarthur, S., "Ear Cleaning for Cats," Pelaqita Persians, 2018.
Saunders, L., et al, "Grooming White Persians," CFA Persian Breed Council, 2015.