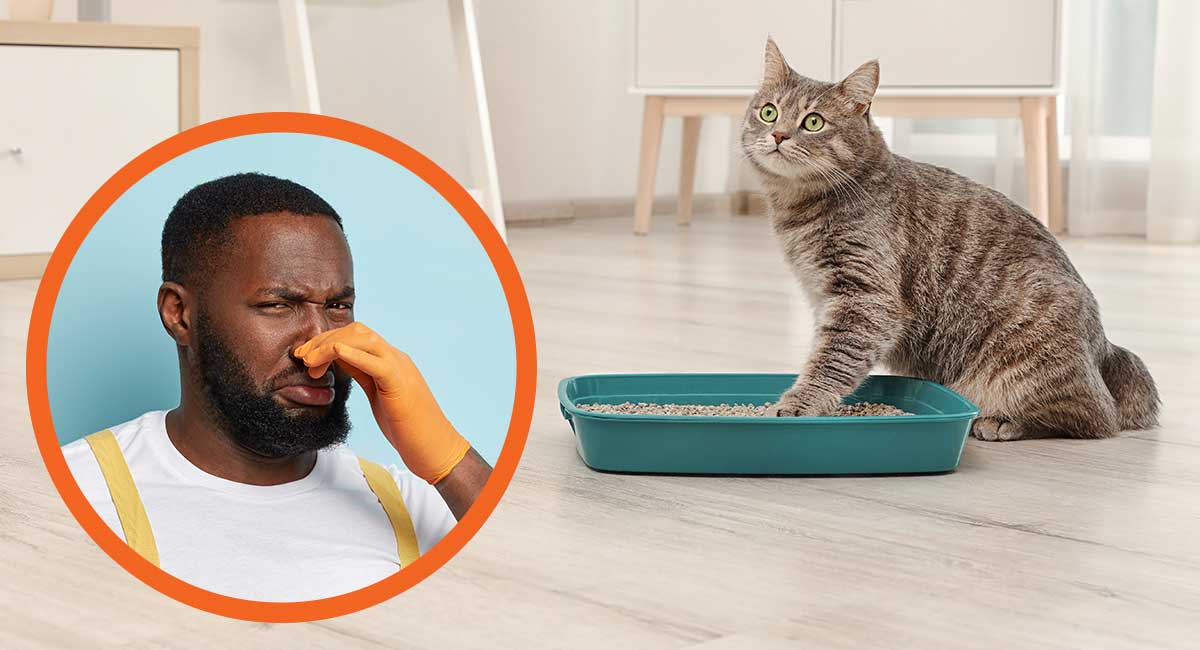 Are you pinching your nose as you walk into your kitty's bathroom every morning? The best cat litter box for odor control keeps the smell out of your home more effectively and for longer. There are a few products I've found in pet stores and online over the years that help keep the cat litter box stench to a minimum, and today I'm going to share them with you! Along with my top tips for stopping the smell from spreading like dirty litter around the floors!
Contents
Alternatives to Litter Boxes for Odor Control
Reducing odors from your cat's litter box doesn't necessarily mean you need to buy a whole new litter tray! There are plenty of deodorizers you can buy that are great at reducing bad smells you may be experiencing with your current litter box.
NonScents Odor Control Spray
For instance, you might want to try this NonScents Odor Control spray*: This scent-free power masks bad odors that get left when your cat uses its litter box. To use this, you simply sprinkle a thin layer over your cat's litter pellets and remove solids daily. This product is very popular, and a great, cheap way to eliminate odors coming from your current litter tray!
Purggo Air Freshener
Another contender for the best cat litter box for odor control is the Purggo air freshener*: This air freshener is fragrance and allergen-free, which makes it a great family-safe and pet-safe option. Instead of an odor control litter box, this just hangs above your existing litter box and absorbs odors. This is another highly rated product that you might want to choose!
These products are a great, cheaper option, especially if you're simply looking for a way to eliminate smells from your current litter box. However, perhaps you're looking to invest in a new litter box to get the best odor control.
Choosing a Cat Litter Box for Odor Control
There are a few different types of litter boxes to consider when on the hunt for the best odor control litter box. However, each type has pros and cons that are important to know about when choosing the best odorless litter box for you and your kitty.
Two of the most popular and best litter boxes for smell for odor control are covered, or hooded litter boxes, and self-cleaning litter boxes. Let's look at the general differences between these to see which might be best at tackling your litter box smell!
Pros and cons of Covered Litter Boxes
Self-cleaning litter boxes are great for odor control. They will clean away waste even when you don't have the time to do so. However, as great as they are, they tend to be more expensive than regular litter boxes. This puts off some people!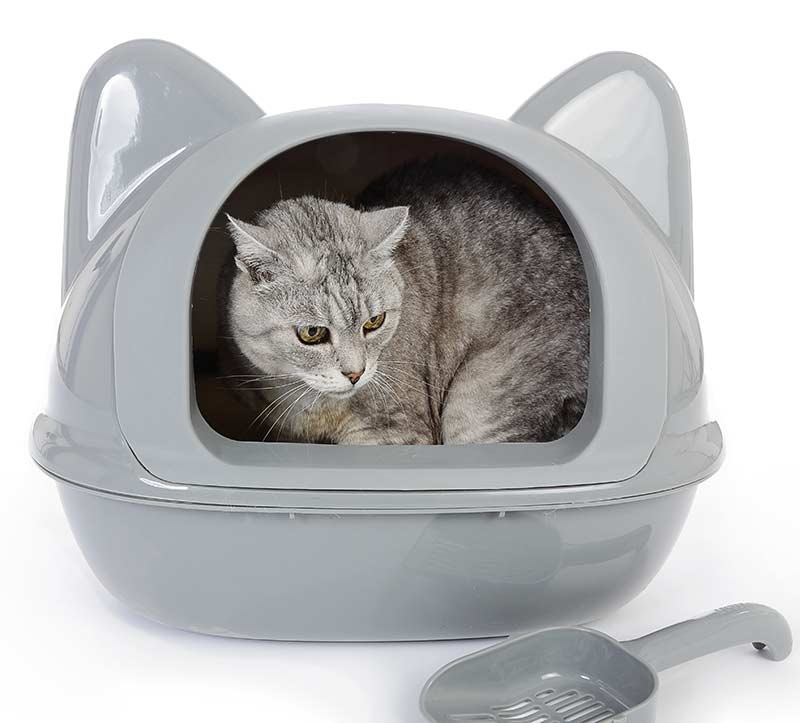 This is great for keeping your house smelling fresh and clean. But, it is essentially working by preventing the smell from dissipating. So it's important that you set up a system for reminding yourself to empty the box. If the smell becomes too concentrated inside the litter box, your cat might be put off using it.
Another big advantage of a covered litter box is that it reduces the amount of litter kicked out of the tray. Less to get spread around your floor – especially if your cat likes to dig enthusiastically when covering its waste. If you have other pets, like dogs, you may have noticed they like smelling and eating what is left in your cat's litter box!
A covered litter box with a door is a great way to prevent this from happening. It makes it more difficult for other pets to get inside. Despite these advantages, there are a couple of disadvantages to hooded litter boxes.
Disadvantages of Hooded Litter Boxes
Although the hood traps the litter box smell, it also blocks proper air circulation. This stops litter from drying out as quickly. Not only could this be less comfortable for your cat when it next uses its litter tray, it can also mean the smells inside the tray may linger longer.
Covered litter boxes can seem cramped for cats to climb inside and use and can seem difficult for us to clean. For this reason, later in the article, the hooded litter boxes we've suggested are easy to take apart and clean. They're also big enough to give your kitty plenty of space inside!
Pros and Cons of Self-Cleaning Litter Boxes
Self-cleaning litter boxes are great for odor control. They will clean away waste even when you don't have the time to do so – i.e. if you have work, or are out of the house. They're good for reducing the amount of time you have to spend cleaning the waste yourself.
These are the main advantages of these litter boxes. However, as great as they are, they tend to be more expensive than regular litter boxes. This puts off some people!
This can be a disadvantage, especially if it breaks and needs replacing. Plus, some cats may be scared by them, especially if they make a lot of noise! These pros and cons are a good place to start when looking for a good odor control litter box that would be best for your home.
Odor Free Litter Box
If you're looking to buy a completely new litter box, below we've found some great options for odor free litter box models. As we mentioned earlier, one popular option is a hooded, or closed, litter box.
Catit Jumbo Litter Box
One of the most highly rated closed litter boxes is the Catit Jumbo litter box*: This overcomes the disadvantage of hooded litter boxes being too cramped with its large size that has shocked many reviewers! The only downside to this size may be that it takes up a lot of room in your house.
This litter box features a carbon filter to help remove odors. The huge hood will also trap smells. It can prevent litter being spread as much as it would in an open top tray. Lots of the hooded cat litter boxes on the market nowadays can seem quite similar.
Van Ness Enclosed Litter Box
However, the Van Ness Enclosed litter box* really stands out as something different! As well as having all the odor-eliminating features of a closed lid, this litter box also features a scoop-free maintenance system. Underneath the main tray come more stackable trays, which filter clumps in the litter, allowing for a mess-free cleanup!
Open Hood Cat Litter Boxes for Odor Control
If you're looking for something like the above litter box, but don't want to get one with a closed hood, perhaps the Purina Tidy Cats litter box* would suit you. This litter box filters through urine, putting a stop to that strong cat urine odor. It also makes it easier to remove solid waste, as it comes with non-clumping litter pellets.
GatGenie Self-Washing Litter Box
The final odorless litter box we're suggesting today is the CatGenie Self-Washing litter box*! This is one option for the best litter box for odor control as it is unique. It actually flushes away waste left by your kitty, and washes itself clean! But, this litter box requires both a cold water and an electrical source, which may limit where you can place it in your house.
The CatGenie litter box flushes away waste left by your kitty, and then washes, sanitizes and dries itself. This odourless litter box is a good choice if you're looking to avoid the task of cleaning your cat's litter.
This option does cost a lot more than others, which may put off some people, however, for others it will be worth the money! Although the reviews on this litter box are mostly positive, a few buyers have had a negative experience. It is important to make sure this is definitely the right litter box for you before spending so much money.
Litter Box Odor Eliminator
There are many ways that litter boxes can make our homes smell. The waste left in your cat's litter box can spread bad odors, however, so can litter pellets. They get spread around your house from your cat either digging or spreading pellets that stick to their feet!
Also, no matter how much we wash litter boxes, sometimes there remain stains that just won't scrub off and therefore leave strange smells. I've found a few products that can make cleaning your cat's litter box a lot easier. They also help reduce mess and smells spread around by dirty pellets.
Pawkin Cat Litter Matt
The Pawkin cat litter mat* is perfect for catching litter pellets that get kicked out of your cat's litter tray. This large mat is non-toxic. It features a mesh design that works to catch and hold pieces of litter that fall onto it. This is easily cleaned with a vacuum, and saves so much time. Keeping litter all in one area rather than letting it get spread around your house!
Litter Genie
If your cat uses its litter tray a lot, or you have multiple kitties, constantly clearing away smelly solids can be an annoying task. A good solution to this is the Litter Genie Disposal System*.

This device changes the task of removing litter from a daily one, to a fortnightly one! This allows you to keep on top of odorous solids, without as much effort!
A final great product we've found, is the Professional Strength Stain and Odor Eliminator spray*: This product is great at removing stains and odors left from cat urine. Even when our cats use their litter trays, especially as kittens, their aim isn't always perfect.
If your cat is anything like mine, it may have had the occasional mishap. Some of their urine or waste spills onto the carpet. This makes it a great product choice for ensuring your entire house stays safe from the odors left by cat litter boxes!
Best Cat Litter Box for Odor Control
There are plenty of options for us to choose from when looking for the best litter box for smell. Not only can we find odourless litter boxes, but also endless accessories and gadgets to help our homes stay fresh around the litter tray!
Choosing the best litter box for odor control will depend on how much you're willing to spend, and what type you prefer.
Your top choice won't necessarily be the same as mine, because our needs and kitties are all different. For instance, choosing a hooded litter box may not be right for you if you don't have the space required to give your cat enough room inside!
We hope you found our suggestions for keeping your home smelling sweet helpful. If you have a favorite odor control litter box, let us know about it in the comments below.
Affiliate link disclosure: Links in this article marked with an * are affiliate links, and we may receive a small commission if you purchase these products. However, we selected them for inclusion independently, and all of the views expressed in this article are our own.