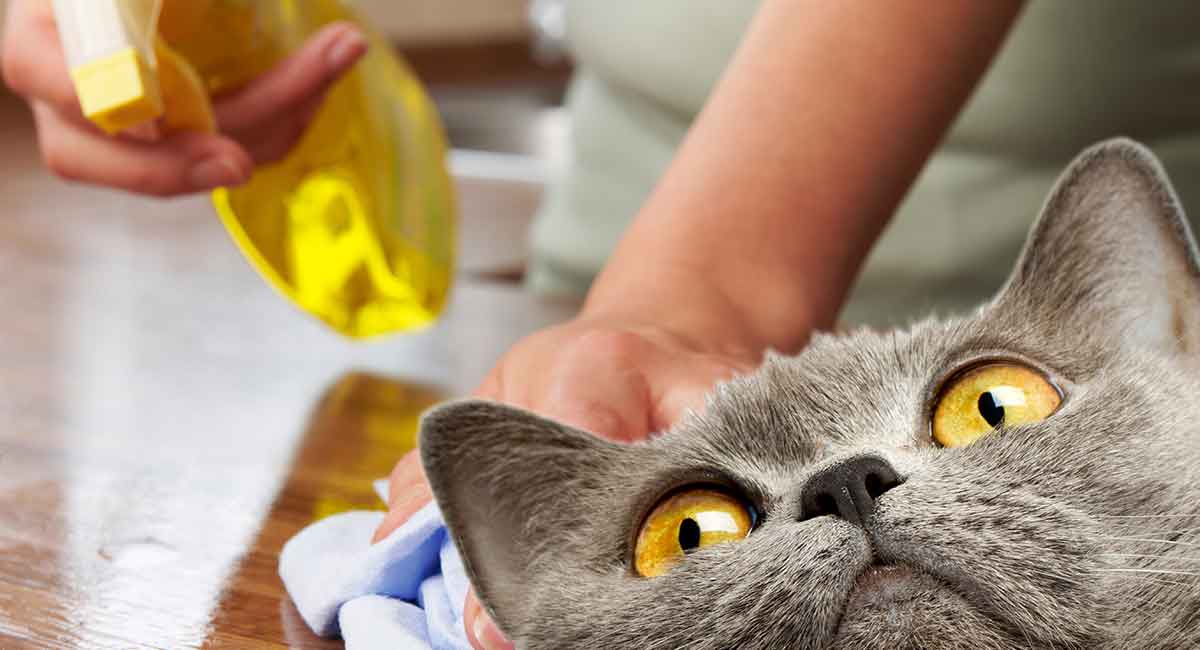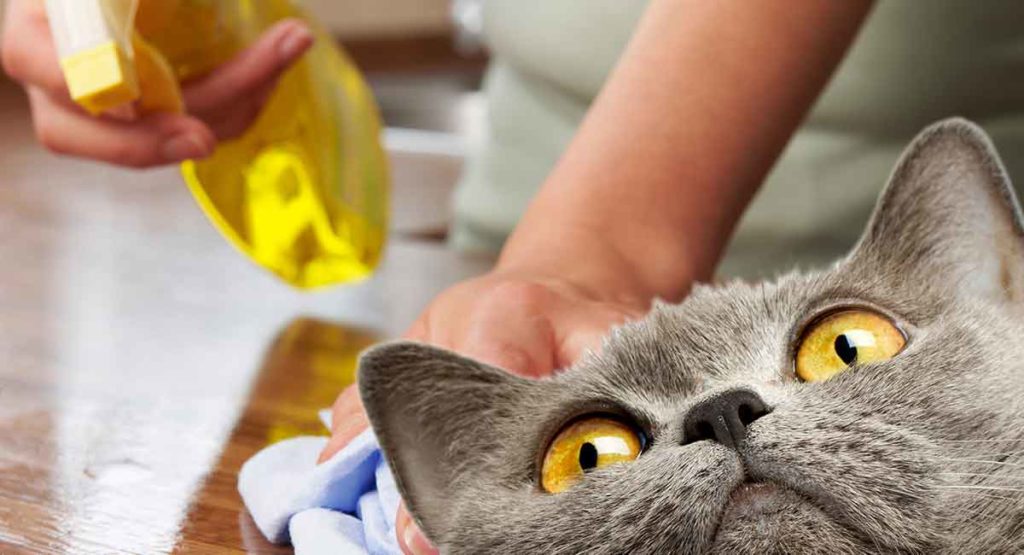 As a cat owner, you likely already know the importance of finding the best enzyme cleaner for cat urine.
Enzyme cleaners use natural cleaning agents instead of harsh chemicals. Because these cleaners break down organic matter, they eliminate the odor and presence of cat urine better than other chemical cleaners.
Accidents will happen, especially during kittenhood. But with the right enzyme cleaner on hand, your home furnishings don't have to suffer because of it.
Finding the best enzyme cleaner for cat urine begins with understanding what makes enzyme cleaners different from other pet stain cleaners. So let's take a look at this first.
All of these products were carefully and independently selected by The Happy Cat Site team. If you decide to make a purchase from one of the links marked by an asterisk, we may earn a small commission on that sale. This is at no extra cost to you.
What are Enzyme Cleaners?
Enzyme cleaners use natural cleaning agents rather than harsh chemicals. Unlike most traditional cleaners, enzyme cleaners continue to clean and sanitize the cat urine as long as the area remains somewhat damp.
Enzyme cleaners can accomplish what no traditional chemical cleaner can do. They can break down organic matter with organic matter – specifically, organic enzymes and "good" bacteria.
This is why enzyme cleaners for cat urine can completely get rid of the odor where other modern chemical cleaners repeatedly fail. The bacteria in an enzyme cleaner literally breaks down and digests the stain and odor molecules for its dinner!
There are four basic types of enzymes used in most cat urine cleaning products.
Amylase
Amylase is great for breaking down starchy waste such as eggs, sugar, potatoes, pasta and cereals.
Lipase
Lipase is ideal for breaking down lipids (fats) such as body stains, vegetable oil, makeup and butter.
Protease
Protease breaks down proteins like food, grass stains, blood, wine, vomit, feces and – wait for it – cat urine.
Cellulase
Cellulase removes particulates like soil and fibrous material like hair.
Some enzyme cleaners are unscented, while others may contain a fragrance, whether chemical or natural (such as citrus, which cats in general seem to particularly dislike).
If you or your cat is sensitive to fragrance, you may prefer an unscented enzyme cleaner. However, if your cat dislikes the scent the enzyme cleaner leaves behind, using the scented cleaner may serve as a particularly effective deterrent against a repeat incident in that area in the future!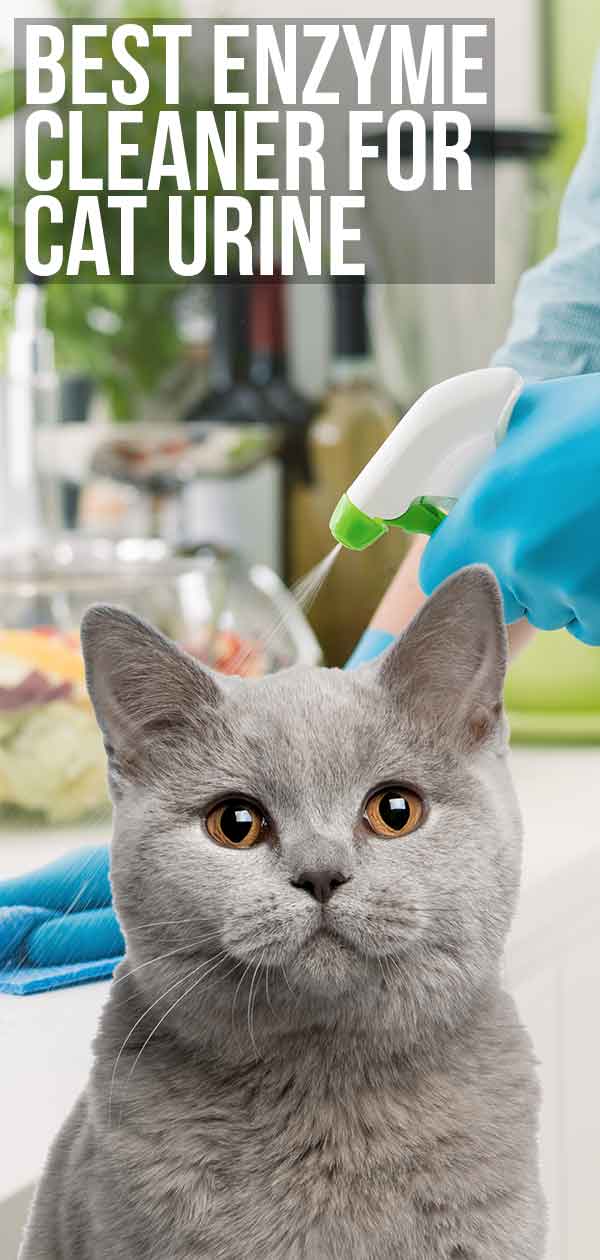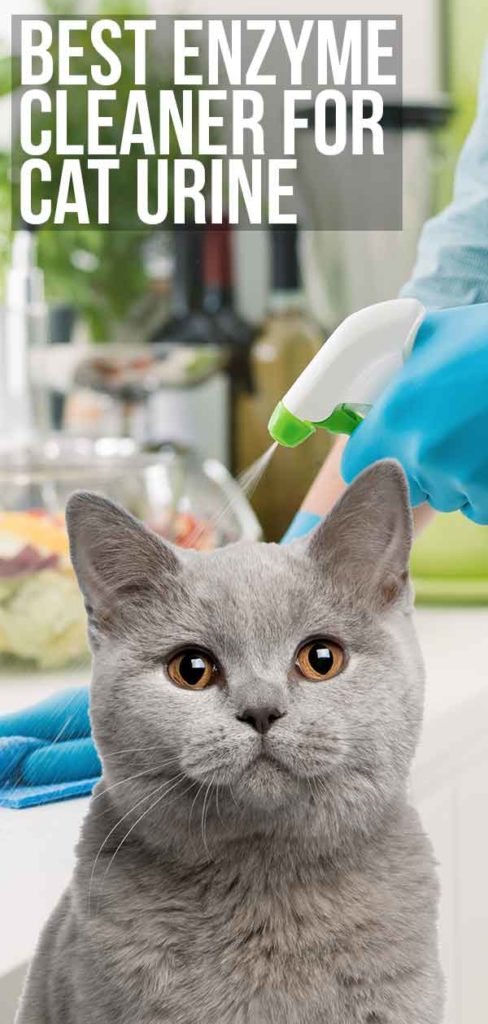 Best Enzyme Cleaner For Cat Urine
When you are tackling the cleanup of cat urine, it is really important to use an enzyme cleaner made specifically for this purpose.
Luckily you have lots of options because cleaning up cat urine is one of the top five reasons people buy enzymatic cleaners!
If you have never had any other pets but cats, you may not know that cat urine tends to be more, well, intense – concentrated, if you will – than dog urine.
This is because cats tend to drink less water so their pee is much stinkier and stickier and thus harder to clean up.
Cat urine also contains more bacteria, and this bacteria can change depending on why your cat peed. For example, urine marking releases a different set of bacteria than does simple urination.
Having said that, you can shop with confidence here knowing that each product below comes highly rated as an option for the best enzyme cleaner for cat urine!
Simple Green Cat Stain & Odor Remover Enzyme Cleaner
This cleaner* comes in a one-gallon jug or you can get both the jug and a 32-ounce refillable spray bottle.
The cleaner can be used safely on carpet, wood, tile, concrete, laminate, furniture, clothing, draperies, vehicle upholstery, bedding (for people or pets), clothing and more. You can use it for new or old stains.
Nature's Miracle Just for Cats Urine Destroyer Enzyme Cleaner
You can't go wrong with a cat cleaner* called "urine destroyer," and this is one of the most highly rated products out there.
It tackles not just the odor but also that awful yellow sticky residue that most standard cleaners can't touch. You can use it on various surfaces from wood to furniture, fabrics to carpeting and more.
If the cat urine stains you are cleaning up are severe, you might be interested in another similar product. Nature's Miracle Advanced Stain and Odor Eliminator for Severe Cat Messes.*
Angry Orange Pet Odor Eliminator for Dogs and Cats
This commercial-grade citrus infused odor eliminator* was originally designed for use in large-scale livestock operations and boarding kennels where odors can get intense.
The basis of the formula is real citrus peels and it can be used indoors on multiple surfaces, in your cat's litter box and even outside on the lawn to get rid of spraying and marking.
Rocco & Roxie Supply Professional Strength Enzyme-Powered Stain and Odor Eliminator
This wildly popular enzyme cleaner* permanently lifts odors and stains plus residue or you get your money back. The formula is certified color safe to be used on all types of materials and surfaces. The Carpet and Rug Institute (CRI) has given it the safe seal of approval.
You can use it in your pet's areas as well as in your own. You can also use it on artificial turf, in laundry, inside the litter box and even in garbage and waste bins.
Bubba's Super Strength Commercial Enzyme Cleaner
This commercial-grade enzyme cleaner* will completely clear away odor and stains straight down through the carpet pad or you get your money back.
This product is certified by The Carpet and Rug Institute (CRI) as kid and pet-safe. You can also use it in the car or even in your cat's litter box as needed.
Sunny & Honey Pet Stain & Odor Miracle Enzyme Cleaner
It is hard to resist a cat urine enzyme cleaner* that even cleans up drool! This one comes in two varieties: fragrance-free or spring mint scent. You can use it on multiple surfaces from leather and auto upholstery to pet beds and hardwood floors.
The formula is manufactured in the USA and the company donates 10 percent of profits to animal rescue shelters. The manufacturer offers a 100 percent satisfaction guarantee or your money back.
Simple Solution Extreme Pet Stain and Odor Remover Enzymatic Cleaner with 3X Pro-Bacteria Cleaning Power
This product* comes in two versions: original or scented. The professional-strength formula will lift feces, vomit, urine, drool and other cat messes by breaking down the molecules using triple-strength bio-enzymes.
You can use it on any water-safe surface or item, including pet toys. The sprayer has a specialty patent – you can use it three ways: stream, mist or foam. The company recommends stream for odor control, mist for surface stains and foam for deeper embedded stains.
TriNova Natural Pet Stain and Odor Remover Eliminator Advanced Enzyme Cleaner Spray for Dogs and Cats
This professional-grade enzyme cleaner* works on both new and old cat urine stains and other pet waste issues.
This cleaner includes mint essential oil and bamboo extract for a light fragrance you will enjoy but your cat will not. You can use this cleaner on multiple surfaces including rugs and upholstery. It is kid and pet-safe.
Thornell Cat Odor-Off Enzyme Concentrate
You can choose from two versions of this concentrated enzyme cleaner*: original scent or fresh scent. This cleaner can be used in litter boxes, on upholstery, rugs, walls and multiple surfaces. It will even work on tomcat spray markings.
The product can also be used directly on the animal. But always ask your veterinarian first and be sure to avoid the eyes.
NonScents Stain & Odor Eliminator
This enzyme cleaner* works on cat urine and waste, vomit, odors and more. You can use it on multiple types of surfaces and it is kid and pet-safe and fragrance-free. You can use it safely even in your cat's litter box.
The formula is based on amino acids (organic enzymes) plus table salt and is fully biodegradable. The manufacturer offers a money-back satisfaction guarantee.
Earth Rated Pet Stain and Odor Remover Powerful Multi-Surface Natural Bio-Enzymatic Formula
You can choose from natural unscented or lavender scented formula. This cat urine stain remover* also works on feces, vomit, and other waste matter. It is certified safe for use on home furnishings by The Carpet and Rug Institute (CRI) and is made in the USA.
The formula is designed to be used on multiple surfaces from tile and grout to vinyl and rugs. You can safely use it in and around your cat's litter box as well.
Mister Max Unscented Anti Icky Poo Odor Remover
"Anti Icky Poo" basically says it all – this bio-enzymatic odor remover* works on cat urine, feces and vomit by eliminating (not masking) the odor.
If you are treating an area that you have tried to clean with other cleaners, you may also need another product called Mister Max P-Bath Urine Pre-Treat Conditioner.*
This is because Mister Max is a pH-balanced anionic formula (which means one that can first can undo damage done by other traditional disinfectant cleaners by removing residue and masking odors) and then go to work to lift the stain and odors you are trying to treat.
This is definitely the treatment to choose if you are trying to treat very tough cat urine issues that haven't responded well to other formulas.
Marigold & Peppa Professional Strength Stain and Odor Eliminator & Pet Urine Remover
This natural plant-based bio-enzymatic odor remover* and stain lifter is safe to use with pets, plants and kids. It can remove any organic matter, including cat urine, feces and vomit and can also go to work on other household stains.
This treatment can be used safely on a variety of surfaces as well as for clothing, pet areas and vehicles. The non-aerosol dispenser is free of toxic propellants and the formula is derived and made in the USA. The manufacturer offers a money-back satisfaction guarantee.
How to Use Enzyme Cleaners on Cat Urine
Enzyme cleaners are widely recommended by feline veterinarians because the usual assortment of hard-to-pronounce chemical ingredients is replaced with safe "good" bacteria and natural enzymes.
This makes using enzyme cleaners safer for your cat and safer for you and your family!
But it is also important to know how to use enzyme cleaners on cat urine in the right way to get the results you are expecting.
Step by Step Guide
Here are the basic details you need to know: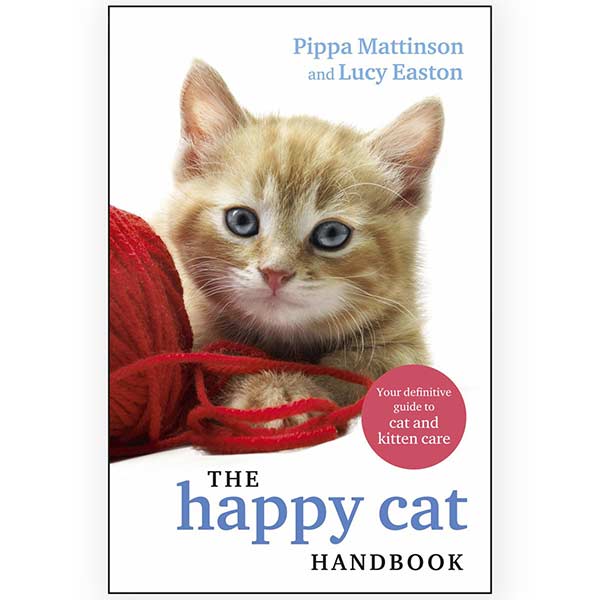 Start by blotting up as much of the mess as you can with a clean rag or paper towels.
Next, spray or pour the enzyme cleaner over the entire affected area. Each enzyme cleaner may have slightly different instructions for wait time which can range from 10 minutes to overnight, so be sure to check the manufacturer's directions.
Blot or wipe the area thoroughly with another clean rag or paper towels. Some manufacturers will direct you to vacuum over the area, especially if it is carpeted.
Repeat as needed until the stain is completely lifted.
Be sure to keep your cat away from this area until all the urine odor has dissipated.
Cleaning Carpets
Speaking of odor, if your cat has urinated on the carpet, you will need to clean the front of the carpet, the back of the carpet, the carpet pad and (possibly) the floor beneath. Otherwise, the odor may linger and encourage a future visit when nature calls again.
For expert guidance on preventing your kitten or cat from peeing in places other than the litter box, we highly recommend this article.
Are Enzyme Cleaners Bad For Cats?
In general, enzyme cleaners are perfectly safe for cats. However, you don't want your cat to ingest the enzyme cleaner – nor would you want to do so yourself.
If you have any questions about any enzyme cleaner you are thinking about purchasing, it is always a smart idea to talk with your feline veterinarian first.
You will notice many of the enzyme cleaner products listed here specifically say they can be used on pet bedding, in litter boxes and even on your cat (although here it is always best to talk with your veterinarian first).
Best Enzyme Cleaner for Cat Urine
Have you used enzyme cleaners on cat urine before? What was your experience like?
Do you have a favorite enzyme cleaner you can recommend? If so, please drop us a comment below – we love to learn from our readers!
Affiliate link disclosure: Links in this article marked with an * are affiliate links, and we may receive a small commission if you purchase these products. However, we selected them for inclusion independently, and all of the views expressed in this article are our own.
References and Resources
Your Amazing Cat!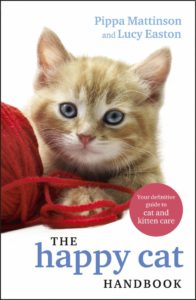 We are so excited to share our new book with you!
If you have enjoyed your visit to The Happy Cat Site we think you'll love The Happy Cat Handbook.
Written by the founders of this website including the author of the hugely successful Happy Puppy Handbook, it's packed with cat care information and fascinating cat facts.
Grab your copy today!