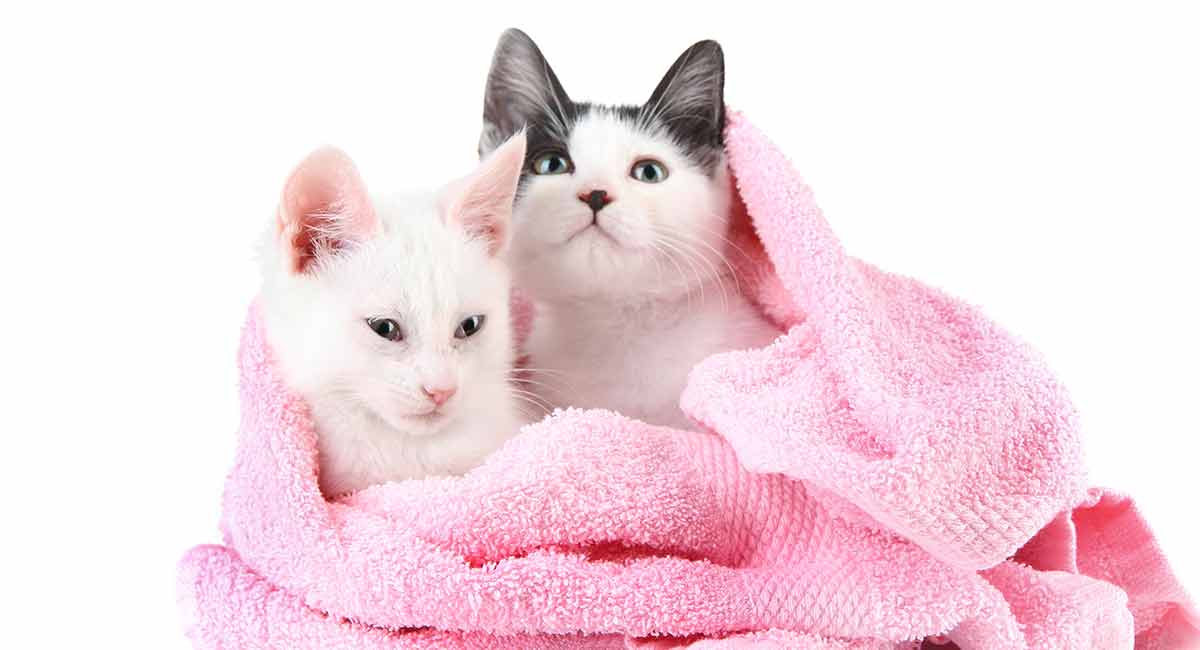 It is a rare kitten who enjoys being bathed! However, like adult cats, they do need to be washed from time to time for their own health and safety. Flea or allergen control, removal of trapped debris or waste matter, all mean the occasional scrub is on the cards. Today I'll share my experience of the best kitten shampoo products to get the job done quickly and kindly.
Contents
Happy Bathtime
The key to success with bathing your kitten is to make bathing a familiar, thus "safe," activity. This process actually starts not with bathing, but with simple gentle handling. As your kitten gets used to being handled, you can begin to introduce specific activities.
You can expect your kitten to display a bit of fearful resistance during the first bath or two. This is a natural response from a young animal with a fine-tuned "fight or flight" survival instinct. With consistent, gentle reassurance, you can help them overcome any fear.
Another key to bath-time success is to choose the right kitten shampoo to make sure your pet doesn't have an adverse reaction and comes out cleaner. Often this means choosing "tearless," all-natural, sensitive skin, hypoallergenic, pH balanced or other similar formulas that are free from chemicals and harsh cleaning agents.
What Is The Best Kitten Shampoo?
The best product for kittens will be gentle on their skin, while properly cleaning any nastiest that they happen to have stuck to them.
Nature's Specialties Plum Silky
This soft, nourishing liquid* is safe for kittens and especially good for hairless kitten breeds because it has silk proteins that nourish the skin.
Four Paws Magic Coat Cat & Kitten
This tearless formula* is safe for kittens and adult cats. It contains keratin and lanolin, both naturally-occurring skin softeners and soothers.
This company also offers a waterless dry kitten shampoo*.
John Paul Pet Tearless Shampoo
This kitten-safe shampoo* is formulated with a kitten's sensitive skin in mind. It includes aloe vera, oatmeal and almond oil as skin soothers.
Natural Kitten Shampoo
It is vital to make sure that the one you choose is specifically labeled for use with kittens. This is because they have very sensitive skin and also have less hair than do adult cats. These natural brands are safe and very gentle, with a pH balance that is suitable.
Espree Natural Kitten Shampoo
This brand offers a dry bath* and a shampoo formula* especially designed for kittens.
One of the principle ingredients is aloe vera which is a natural skin soother.
Odie and Cody Natural Hypoallergenic Organic
This popular and highly rated vet-recommended, organic multi-pet* is safe for kittens and adult cats and is free from all chemicals and artificial ingredients.
Dry Shampoo For Kittens
If you have a feral rescued or a very nervous kitty on your hands, sometimes dry shampoo can buy you a little time to get your pet used to handling before you introduce water! It allows you to "bathe" your baby without having to introduce water at all – you don't even have to rinse waterless shampoo out of her fur.
Burt's Bees Waterless Shampoo
This kitten dry shampoo* is pH balanced for feline skin and fortified with apple and honey extracts for skin soothing and a pleasant scent. It is free of all chemicals and harsh cleaners.
New Waterless Shampoo
This waterless shampoo* is suitable for dogs and cats of all ages as well as other pets. You can choose from two natural scents. It is free from detergent, alcohol, skin irritants and chemicals and is designed to be hypoallergenic.
Bio-Groom Waterless Shampoo
This waterless cat shampoo* is suitable for kittens and cats of all ages. It tearless with a pH balance suitable for feline skin and contains no alcohol or harsh cleaning agents.
Flea Shampoo for Kittens
If your kitten is four weeks or older and weighs at least two pounds, it should be safe to use flea shampoo for kittens (but ask your veterinarian FIRST to be sure!). If they are younger than four weeks old or weighs less than two pounds, you may or may not be able to use one of these quite yet.
Adams Plus Flea & Tick Shampoo
This kitten-safe flea and tick shampoo for kittens* kills fleas in all stages of life and works for 28 days before needing to be reapplied. It contains aloe vera, lanolin, oatmeal and coconut oil for extra skin soothing. This can ONLY be used on kittens ages 12 weeks and older.
Wondercide Control Spray
This flea, tick, and mosquito spray* can be used on cats of all ages and can also be used to spray bedding and seating. Choose from four all-natural scents. This spray is suitably pH balanced for feline skin.
Avoid Human Baby Shampoo
This is another area where many first-time kitten owners can get legitimately confused! After all, if the shampoo is safe enough for a human baby, it should be safe for a kitten, right? But what newbie kitten owners often don't realize is human skin is more acidic than cat skin and also has more moisture. This is because humans sweat through their skin, while cats sweat through their paws.
For this reason, it is never completely safe to use baby shampoo on kittens because you will always risk skin irritation or worse! Flea infestation is the most common reason kitten owners sometimes turn to human baby shampoo.
Best Kitten Shampoo
We hope you have found this information about the best kitten shampoo useful as you and your kitten start your life together! And when it's time to move on from kitten formulations to adult cat shampoos, have a look at our article on the best cat shampoos for adult cats.
Is there a product you swear by? Or do you have some great advice to make bath time fun for kittens and easy for their owners? Please drop us a comment to share your thoughts!
Affiliate link disclosure: Links in this article marked with an * are affiliate links, and we may receive a small commission if you purchase these products. However, we selected them for inclusion independently, and all of the views expressed in this article are our own.