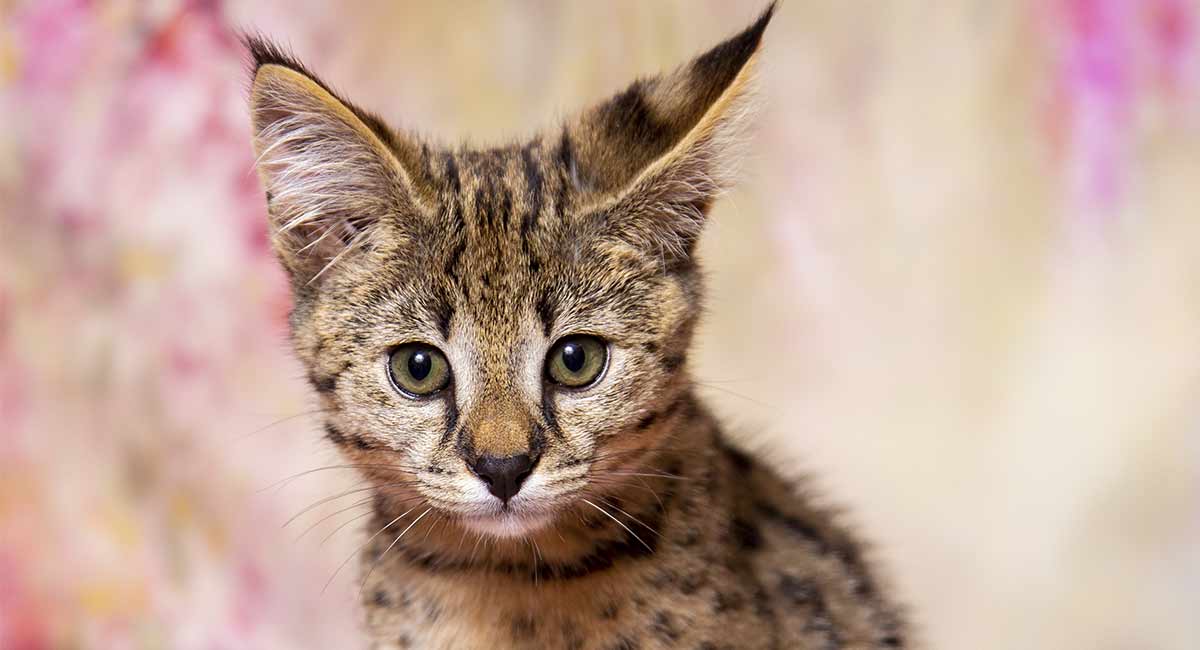 Welcome to our guide to the best litter boxes for Savannah cats.
If you're the owner of a distinctive Savannah cat, then you may find their needs are a little different to the majority of other cat breeds.
As a hybrid of the wild African serval and domestic cats, Savannah cats are noted for their long legs, large ears, muscular bodies and of course, those incredible spots!
Many Savannah cat owners choose to keep their cats inside, for a variety of reasons.
This can mean that your choice of litter box is especially important. Your litter box will get a great deal more use than if your cat also roams outside.
There's so many different choices of litter boxes out there, how do you know which the best litter boxes for Savannah cats are?
All of these products were carefully and independently selected by the Happy Cat Site team. If you decide to make a purchase from one of the links marked by an asterisk, we may earn a small commission on that sale. This is at no extra cost to you.
Choosing the best Savannah cat litter box
This lanky crossbreed is usually much larger than the average domestic cat.
Depending on how far removed from their last serval ancestor they are, your Savannah can range from 11 – 27 pounds.
F4 (Savannahs with a serval great-great-grandparent) cats tend to be around 11 – 13 pounds.
Savannahs also have longer legs than other domestic breeds, which means they will definitely benefit from a larger litter box with a bit more room.
Best litter boxes for Savannah cats
Due to their large size, big litter boxes will suit Savannah cats best.
Many cats prefer their litter box to be located in a private place, but if that's not possible, consider a top entry or covered litter box instead.
Let's take a closer look at some of the best litter boxes for Savannah cats.
Best top entry Savannah cat litter box
Top entry boxes are great for containing spray and providing privacy for your cat.
They are often designed to look sleek and stylish so are a great option for living rooms and kitchen areas.
However, they can be a tricky choice for Savannah cats, whose tall frame might not fit inside!
These are some of the roomiest top entry litter boxes on the market today – check their dimensions carefully before you buy though!
IRIS Top Entry Litter Box
The rounded shape of the IRIS box* is designed for easy cleaning as there are no corners.
The grooves on the top of the lid help catch excess litter.
The entrance hole on the lid is large enough for bigger cats to get in and out of the box with ease.
Ten different color options are available. This box comes with a litter scoop.
Modkat Top Entry Litter Box
The lid of the Modkat litter box* is designed to trap excess litter.
When cleaning, the lid swivels to allow trapped litter to drop back into the box.
The large size of this box let's your cat jump in and out easily while the modern design means it doesn't look out of place in your home.
The Modcat box is available in three colors and comes with a large litter scoop and reusable liner.
Clevercat Top Entry Litter Box
The Clevercat litter box* has a large entry hole on the lid, making it perfect for larger cats.
The textured lid reduces litter tracking as the grooved zig-zag design effectively traps litter as you cat exits the box.
The DIY option
Some large cat owners have bought their tall feline a few precious inches of extra head height by going down the DIY route.
Cut and smooth a large hole in the top of a large crate like a Sterilite box…. and voila!
A slightly rough-and-ready, but usable litter box.
The disadvantage of this (besides the effort) is that they don't have any of the handy anti-litter tracking features of purpose built litter boxes, and they tend to have awkward corners and crevices inside which make cleaning tricky.
The advantages are the price (especially if you need multiple boxes), and being able to find a box as tall as your cat needs it to be.
Covered Savannah cat litter box
Side-entry covered boxes are great for cats who don't like to jump into litter boxes but still prefer privacy.
Older cats will find this type of box easier to access as well.
Once again, like any design with a "roof", double check your cat can fit comfortably inside.
These are the tallest covered Savannah cat litter boxes we could find.
Petphatbet Jumbo Hooded Litter Box
The brightly colored Petphabet box* comes in a jumbo size to allow plenty of space for your cat.
The clear cover helps to reduce spray and litter spills and won't make your cat feel closed in.
Made from antimicrobial plastic, there are five bright colors are available to choose from.
Petmate Clean Step Litter Dome
This litter dome* is made up of a bottom section of stairs and a large litter box, and a domed top section.
This tray is around 50% larger than average litter trays, so it's well suited to Savannah cats. The stairs have a textured surface to trap excess litter.
A charcoal filter is included, which traps and neutralizes odors.
One liner is also included so you can easily lift the used litter out and replace.
This tray is available in four colorways.
Omega Paw Self-Cleaning Litter Box
This large covered Omega Paw box* has the great feature of being self-cleaning.
Just roll the box to the side to collect clumped waste into the pull-out tray for easy removal.
The design helps reduce dust and litter tracking, while having a large and easy to access entrance.
Available in a subtle two-tone brown design.
Merry Products Cat Washroom Bench
This roomy litter tray* benefits from a little extra internal space because it is also designed to function as a bench for humans.
You'll need to purchase an internal tray separately, or use one of the disposable trays coming up later in this article.
The simple white design should complement most homes, and the whole thing is likely to go unrecognized by visitors once it's got a houseplant or two on top!
High sided litter boxes for Savannah cats
High sided litter boxes are a great idea for Savannah cats.
They catch any litter sent flying by those long legs, but the height problem is solved.
If your cat prefers an open box and you want to cut down on litter scatter then one of these boxes would work perfectly.
Petmate Hi-Back Litter Box
This hi-back litter box* combines the best of both worlds – a high back to offer great protection from litter scatter, with a lower front section which makes it easy for cats to get into and out.
This box is made from Microban, which helps stop the growth of bacteria responsible for odors and stains.
Available in a range of colors, the jumbo size of this tray means it's perfectly suited to larger cats, including Savannahs.
Van Ness Large High Sides Litter Box
If your cat likes to dig, then the Van Ness box* is a good option. The deep sides mean litter scatter will be reduced.
Made of easy to clean plastic, the dip in the front section is designed to help your cat get in and out easily.
This box is available in different colors but there is no option to select your preference.
Nature's Miracle High Sides Litter Box
The Nature's Miracle box* is great for cats that like to dig but need easy access to their litter box.
The low and wide entrance makes entering and exiting this box easy.
Available in black, with a non-stick surface to make cleaning an easier task.
Disposable litter boxes
Because Savannah cats are often kept indoors, placing disposable trays around the house in a few different locations can also give them a choice of where to do their business.
This can be useful if you're going out for the day and want to provide extra litter boxes.
Disposable litter boxes also work well with concealed litter trays, like the Merry Products Bench above.
Nature's Miracle
This twin-pack of jumbo sized Nature's Miracle disposable boxes* will last for approximately four weeks before they need replacing.
Built-in baking soda helps to neutralize odors while the breathable material is waterproof and disposable.
Easyology
The Easology large boxes* come in a three-pack and can be used on their own or as liners for your permanent litter box.
They are made of an odor-resistant and leak-proof material to prevent smells.
The Easology boxes can be used for up to four weeks.
Kitty's Wonderbox
Made from 100% biodegradable and recycled paper, Kitty's Wonderbox* are available in a three-pack.
These disposable boxes last for up to four weeks.
They absorb odors and liquids while allowing air to pass through which keeps the litter dryer and fresher.
Choosing the best litter boxes for Savannah cats
Servals are much larger and taller in proportion than domestic cats, which means a Savannah cat with a close serval relative might find most traditional litter boxes a tight squeeze.
Bear in mind that when you bring home a wild cat hybrid like a Savannah cat, finding a suitable litter box is just one of many many special adaptations you'll have to make to accommodate their non-domestic heritage.
In this article we've rounded up the most spacious litter boxes we could find for your long-legged Savannah friend.
We hope it's been helpful!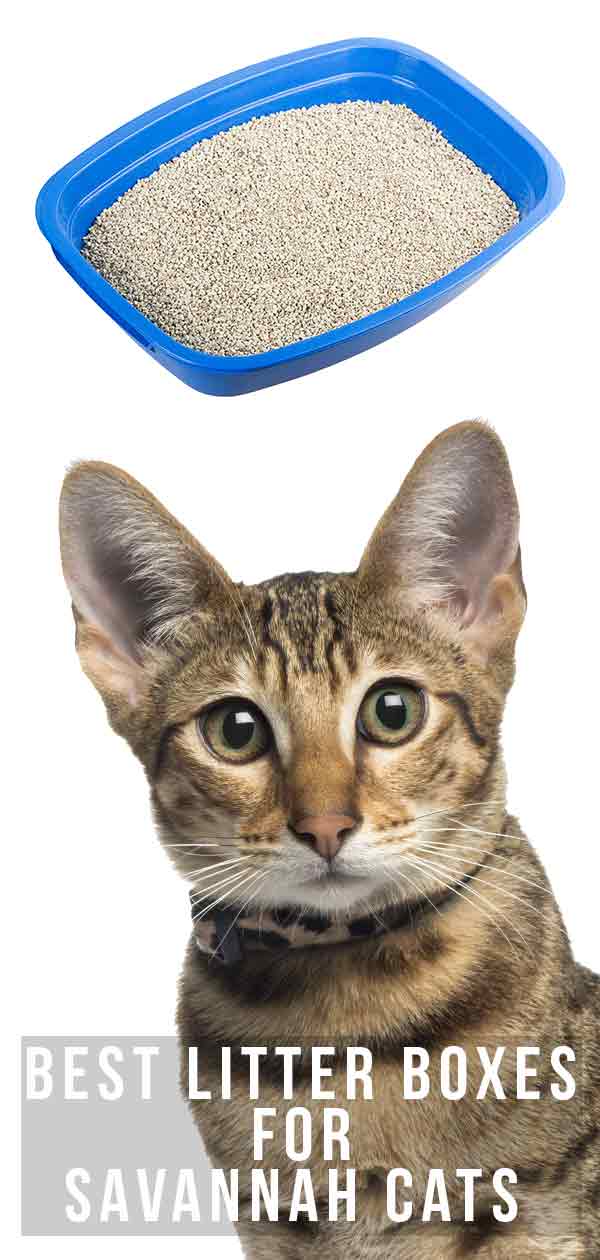 What's your favorite litter box for Savannah cats?
Do you have a Savannah cat?
If so, we'd love to hear from you, especially if you have any recommendations for the best litter boxes for Savannah cats!
Affiliate link disclosure: Links in this article marked with an * are affiliate links, and we may receive a small commission if you purchase these products. However, we selected them for inclusion independently, and all of the views expressed in this article are our own.