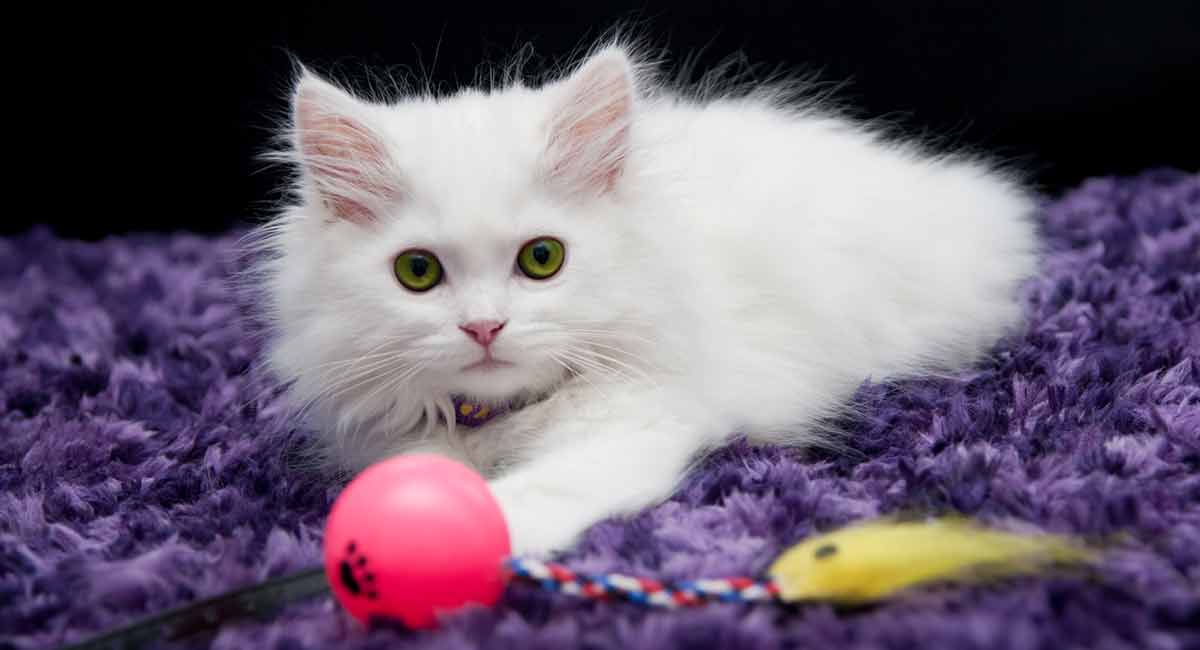 It can be a big job to choose the best toys for cats home alone!
After all, these are the toys that are going to have to be a substitute for YOU!
You have a lot to think about, from possible safety issues, to enrichment needs, to treat time.
When your cat has a selection of the best toys for cats home alone to play with, it can reduce stress and keep your cat healthier and happier while you're gone.
So let's take a look at some of the best toys for cats home alone – so you can start building a neat "home alone" toy box for your kitty!
All of these products were carefully and independently selected by the Happy Cat Site team. If you decide to make a purchase from one of the links marked by an asterisk, we may earn a small commission on that sale. This is at no extra cost to you.
The importance of toys for cats home alone
Cats really like routines. Having a daily routine helps your cat feel safe and know what to expect.
Seen from a wild cat's perspective, establishing a routine is the best way to make sure you are the predator and not the prey, and that you always find enough to eat every day.
Even in a domestic situation, your cat still craves the continuity of his daily routine.
Plus, a fascinating 2017 study from Oregon State University shows that cats place more value on your presence than they do on their dinner!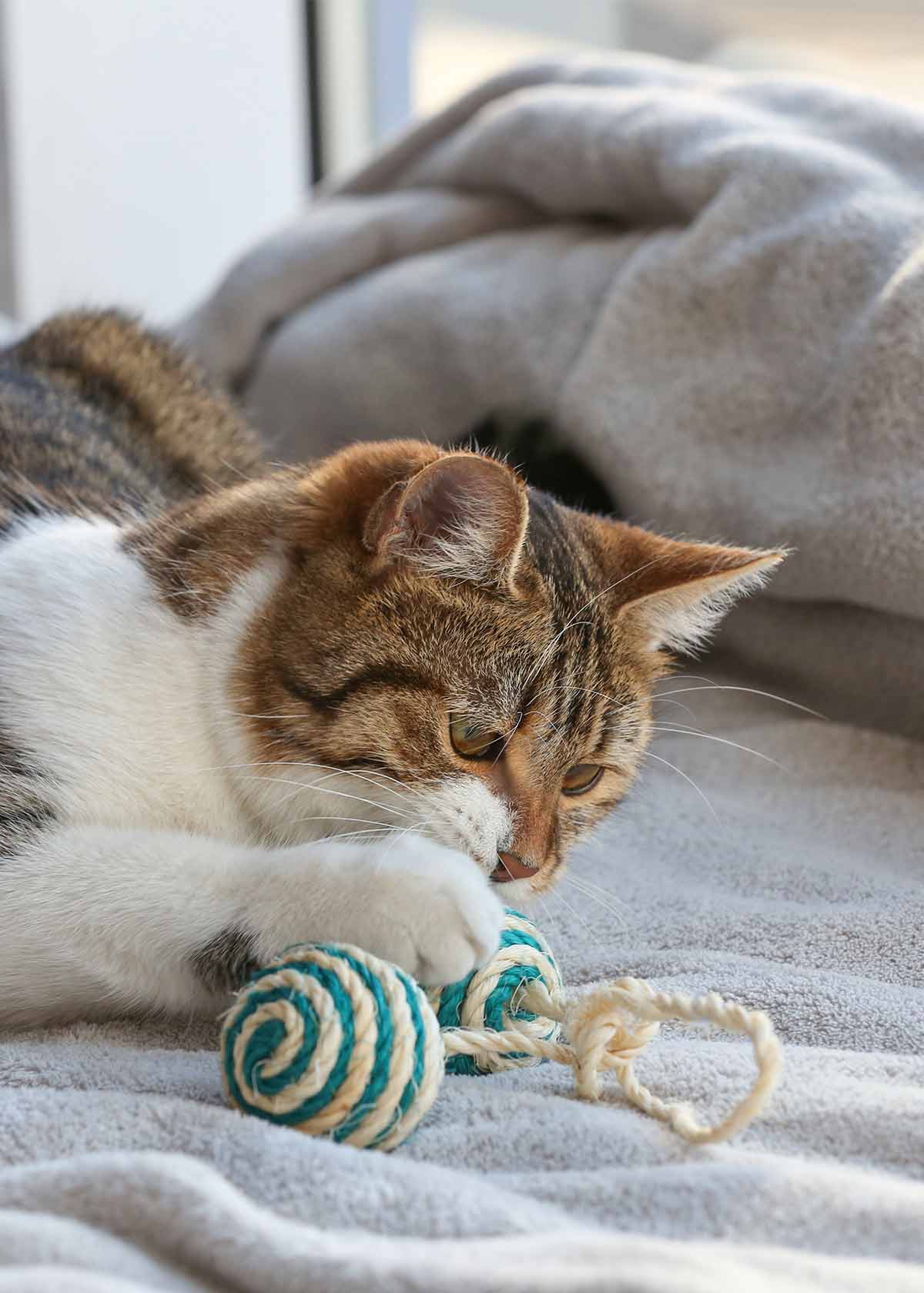 We also have lots of proof that cats became domesticated to live with people not out of necessity but by personal choice.
This means your cat needs you, and when you are gone, your absence creates a vacuum that must be filled….somehow.
If this vacuum is not filled or filled well, you may start to see the telltale signs that you have a stressed-out kitty on your hands!
Stress can cause symptoms as diverse as hair pulling, heavy breathing, urinary incontinence or blockages, destructive or aggressive behaviors, hiding, trembling, weight loss and other warning signs.
If you see any of these or other troubling symptoms, make an appointment with your veterinarian to rule out an underlying medical condition.
While you are there, you can also talk about how to ease your cat's separation anxiety when you have to be away.
Choosing toys for cats to play with alone
Safety is the number one concern when choosing toys for cats to play with alone at home.
You can use this general checklist to evaluate the potential safety of any new cat toy:
Can it be swallowed whole?
Can it be broken apart and swallowed?
Are there any small moving parts that could trap your cat's tail, paws or tongue?
Is it made of a cat-safe material?
Is there any possibility your cat could get into the toy and not be able to get out?
Does the toy have decorations (feathers, bells, string, elastic) that could be dangerous if detached?
Even after checking a new toy over thoroughly, you should always supervise your cat with any new toy before permitting home alone play.
Remote control cat toys
Remote control cat toys and interactive cat toys should always be a part of your cat's home alone play time toy box.
SmartyKat Feather Whirl Electronic Motion Cat Toy
This lively toy* spins in an unpredictable pattern, which keeps the top feather wand moving and your cat's attention engaged.
Easyology Amazing Roller Cat Toy
This deceptively simple toy* comes in white or black and features a three-tier set of colorful rolling balls to keep your cat busy mentally and physically.
YOFUN Interactive Cat Toy 360 Degree Self Rotating Ball
This rotating ball toy* features a light with an unpredictable wobbling motion that will keep your cat chasing it around the house.
Cat owners say their kitties can't seem to resist this toy.
And these aren't the only interactive and remote control toys we love – to see the ones we've recommended before visit our articles on the Best Interactive Cat Toys, and Remote Control Cat Toys.
Cat tunnel toys
Most cats love tunnel toys.
Cat tunnel toys are easy enough to make with just a paper bag or a long cardboard box, but it can be nice to have some ready-made cat tunnel toys too to give your cat some daily play time variety!
Prosper Pet Cat Tunnel – Collapsible 3 Way Play Toy
This crinkly cat tunnel* features peepholes, a bell toy and three sections to explore.
Owners say even large cats (18+ pounds) are able to fit inside and explore with relative ease.
This tunnel comes in a variety of fun colors.
Easyology Cat Tunnel (with optional Zen Den)
This collapsible cat tunnel* can create a whole tunnel system with an optional hiding cube (the Zen Den) at one end.
Connect multiple crinkly tunnels for hours of fun play.
PAWZ Road Collapsible S-Shaped Cat Tunnel
This flexible, collapsible crinkly cat tunnel* moves with your cat and even changes shape as your cat moves.
There are two lookout areas in the tunnel itself as well as the two openings at either end.
The tunnel folds up easily for flat storage.
If you'd still like some more tunnel alternatives to tempt you, take a look at our complete guide to choosing and using cat tunnels.
Cat hiding toys
Cat tree and cat tower toys are popular options for entertaining cats, but these can sometimes present safety challenges when your cat is using them without supervision.
These cat hiding toys provide a similar sense of being able to hide and observe the surroundings safely, but without the worry that they may come toppling down on your cat when you are not home to help!
MidWest Curious Cat Cube, Cat House/Cat Condo
This super-cozy cat cube* comes in one cat and two cat styles.
It is made of soft, faux suede and synthetic sheep skin for a cozy, comfy hiding spot.
There is also a hanging dangle ball inside the hideaway for some extra enrichment.
OxGord Paws & Pals Cat Tree House
This tree house has two levels*.
The base level is covered in soft faux fleece and the upper hammock is made of the same fleece.
Both poles are covered with sisal for scratching.
There is also a suspended ball toy for solo play.
Trixie Pet Products Miguel Fold and Store Cat Tower
This easy fold-and-store two level cat tower* features an upper hammock and a lower hideaway with a suspended cat ball for extra play.
There is also a sisal covered scratching pad on either side of the hideaway.
Cat treat toys
Cat treat toys can make for some of the best toys for cats home alone since they can provide multi-sensory engagement and comfort.
Catit Senses 2.0 Grass Planter
This neat grass planter* gives your cat a safe indoor green space for multi-sensory enriching play.
The planter is designed not to spill or tip and works well with all of Catit's other multi-sensory enrichment toys.
TRIXIE Pet Products Trixie 5-in-1 Activity Center
This is a really neat slow feeder or treat dispenser* that can engage your cat's senses and smarts to figure out how to get the treats out! It comes in five different designs.
OurPets Cosmic Catnip Cat Toy
If your cat loves catnip, these adorable catnip-filled soft toys* are amazing for treats and for daily comfort.
For more fun treat toys, have a read of our article on the best cat treat toys.
Best toys for cats home alone
We hope you have enjoyed this article featuring some of the best toys for cats home alone to play with!
Even though your cat might sometimes put on a show of being unimpressed by your company, we know that really they draw a lot of comfort from knowing you're nearby.
When you have to leave them alone, providing engrossing and rewarding and engrossing games is a good way to help them pass them time and protect them from the stress of separation anxiety.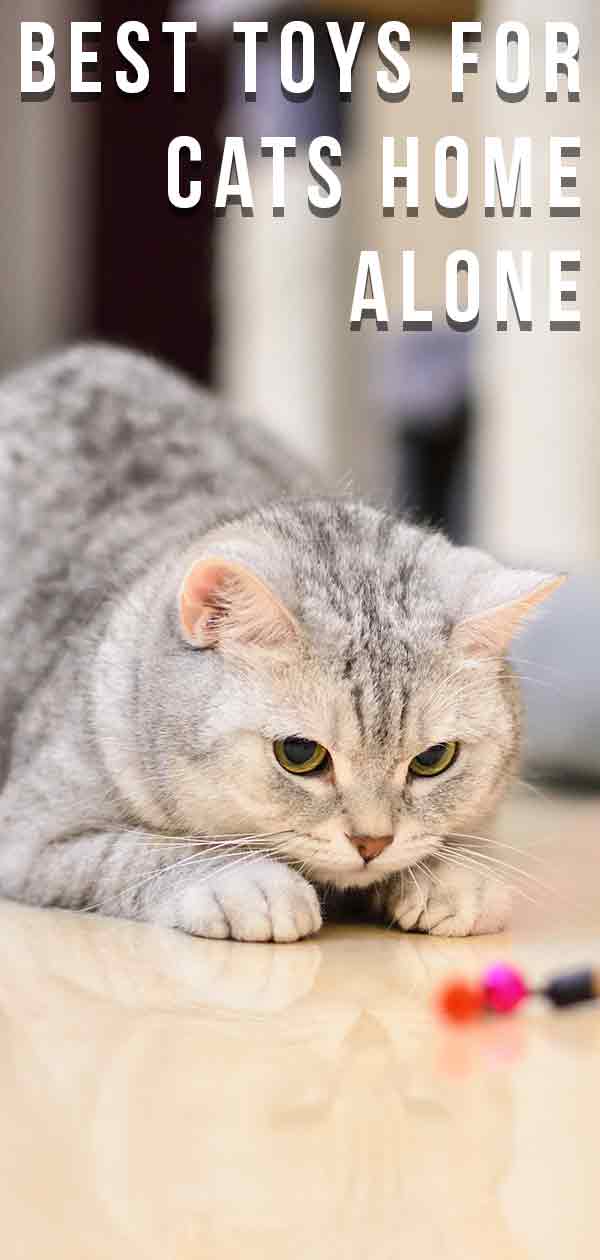 Which toys do you leave for your cats to play with when they're home alone?
Have we missed one of your kitty's favorites?
If so, please tell us about it in the comments box!
Check out even more great toys in our article on cat chew toys!
Affiliate link disclosure: Links in this article marked with an * are affiliate links, and we may receive a small commission if you purchase these products. However, we selected them for inclusion independently, and all of the views expressed in this article are our own.
Sources
Ottoni et al, "The palaeogenetics of cat dispersal in the ancient world," Nature Ecology and Evolution, 2017.
Ellis, "Environmental Enrichment: Practical Strategies for Improving Feline Welfare," Journal of Feline Medicine and Surgery, 2009.
Sweat, R., "Routine for Cats," Homeward Trails Animal Rescue, 1987.
Walker, M., "How to Pick the Best Cat Toys for the Holidays," Consumer Reports, 2015.
Feutz, J., DVM, "Signs of Anxiety in Cats," Princeton Veterinary Hospital, 2015.
Vital Shreve et al, "Social interaction, food, scent or toys? A formal assessment of domestic pet and shelter cat (Felis silvestris catus) preferences", Behavioural Processes, 2017.