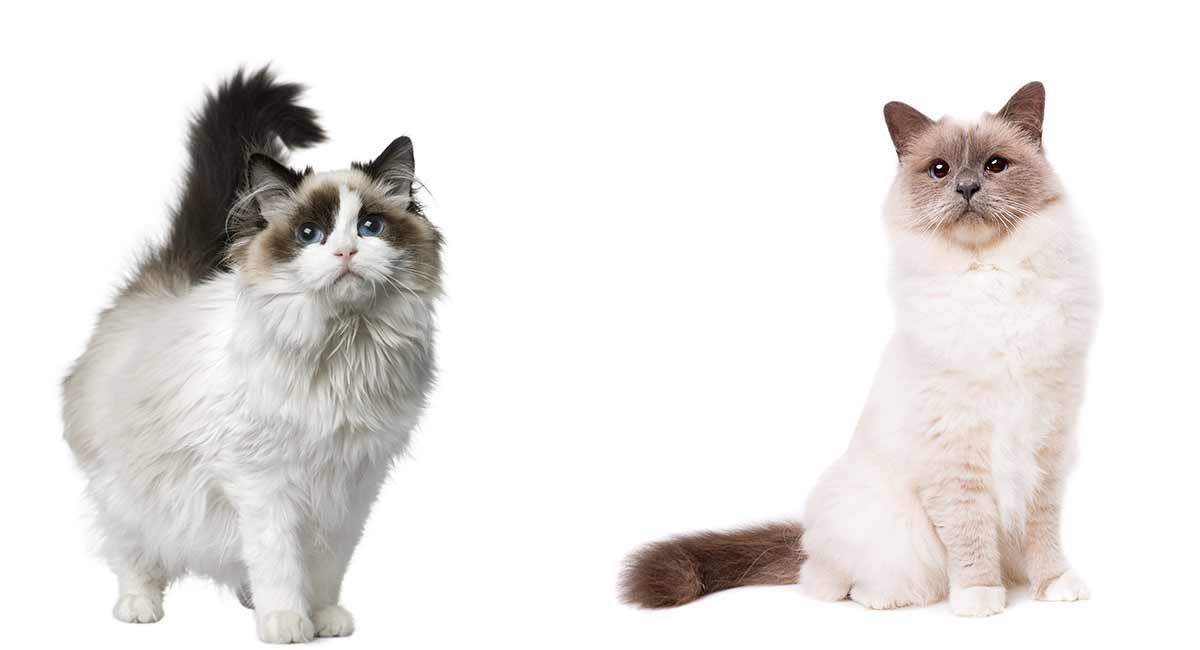 Do you ever get that problem where you're driving home with the family, and you spot a cat sitting in someone's front window? Instead of all cooing over the little cutie, you then spend the entire journey arguing over what breed it was! The Ragdoll or Birman are common culprits when it comes to kitty confusion as at first glance they are insanely similar, and you really need to have them side by side to see the slight variations in size and color.
Contents
Weighing up the pros and cons of a pet Birman vs Ragdoll cat is not easy either! After all, both the Birman and Ragdoll are super cute and both can make great pet cats. Often, this makes your choice of a Birman or Ragdoll cat one of simple personal preference. In other words, you just need to know what the major differences and similarities are between these two wonderful cat breeds so you can decide which cat is a better fit for your lifestyle.
Ragdoll vs Birman
The Birman and Ragdoll cats are similar looking cats, but there are quite a lot of differences. Ragdolls are large compared to the Birman's medium size. The Birman sheds less and requires less grooming. They are both relaxed and loving, though the Ragdoll is often happier to be petted and fussed over for longer.
Similar Looking Cats
These breeds are very similar to look at, especially if you've not met one in person before. They have medium length coats, with pointed markings on the face ears and tail. These dark patches for distinctive blocks of color that come in a few different shades.
They also both have broad heads, dark whiskers and that all important loyal personality.
It is also thought that both of these cat breeds first arose in Asia, albeit thousands of kilometers apart, before emigrating to other parts of the world. The Birman cat hails from the country of Burma (now Myanmar) and certainly this cat's name sounds a lot like its country of origin! The Ragdoll cat, in turn, can trace its lineage back to ancient Persia (now Iran).
Spot The Differences!
The size of these breeds is surprisingly significantly different, so much so that it is even apparent if they aren't sitting beside one another. The tone also varies with Birmans often having darker points that the standard Ragdoll cat.
You'll also find the coat texture feels very different when you push your fingers into their fur. And accordingly, it sheds at a rather faster rate in one than the other.
Birman vs Ragdoll Size
The Birman cat is considered to be medium in size. This cat can weigh anywhere from just six pounds to 12 pounds in adulthood. It is not uncommon for adult male Birman cats to slightly outweigh females. This cat breed can take up to three years to fully mature.
In contrast to the Birman, the Ragdoll cat is considered a large cat breed. While most Ragdoll cats will weigh between 10 and 20 pounds as adult cats, it is not unheard of for a Ragdoll cat to weigh 25 pounds or more (this can especially be true for unneutered males).
To keep things exciting, Ragdoll cats also take longer to mature (around 4 years), which can keep you on your toes guessing how large your Ragdoll cat will grow!
Grooming and Shedding
The Birman cat is not a "true" hypo-allergenic cat breed (sadly, there is not really any such thing), but it comes a lot closer than the Ragdoll cat! This is because she does not have an insulating undercoat beneath the medium-long, silky top coat and so it tends to shed less than many other cat breeds.
More importantly for your cat's health, the lack of an undercoat can also mean your cat's hair is less likely to create mats and tangles, especially if you commit to frequent brushing and grooming.
But what the Birman cat doesn't shed out, the Ragdoll cat will more than make up the difference for! These large, long-haired cats may not have a full insulating undercoat, but their top coat is quite thick and can shed profusely, especially during the changing of the seasons.
So, if you bring home a Ragdoll cat, regular brushing, combing and grooming is a must to keep mats and tangles from forming and to keep unexpected shedding to a minimum.
Birman vs Ragdoll Temperaments
While both the Birman and Ragdoll cats are born and bred to be companion cats to humans, the Birman cat has a slightly longer history of serving in this role, at least according to official cat breed registries. The Birman cat was officially recognized as a purebred cat breed as early as 1925.
Birmans have reliably loving, laid-back and even personalities that make them awesome for families with young children as well as individuals and couples. The Ragdoll cat was first recognized as a purebred cat breed in 1966. This cat breed gets its name from its tendency to lazily "flop" when picked up. Suffice it to say these cats love to snuggle!
Ragdoll cats also love people and – oddly – other cats as well. They are quite tolerant of young children, making them a great pick for families with kids. We find their sweet and friendly nature is especially inspiring for finding good Ragdoll names!
As you can see, the Ragdoll vs Birman temperament is quite similar in some ways, although Ragdoll cats are more tolerant of frequent handling than Birman cats, and quicker to forgive a accidental moment's clumsiness.
Potential Health Problems
Both the Birman and Ragdoll cat breeds live between 12 and 16 years. Some Ragdoll cats can live to be 17 years old. The most concerning health issue for Birman cats is hypertrophic cardiomyopathy (HCM). Geneticists suspect a gene mutation is the culprit, which means it is very important to choose your breeder with care!
Ragdoll cats can also struggle with HCM. Other major health issues to watch for include bladder stones and feline infectious peritonitis, or FIP. This is caused by the coronavirus, a common trigger for feline infections. Here again, your choice of breeder can greatly reduce the risk of your kitten contracting FIP.
Is One A Better Pet Than The Other?
The Ragdoll is a much bigger cat, and a bigger commitment in terms of grooming and clearing up shed fur too. They also have slightly more known health conditions. However, although both cats get on well with people, the ultra-amenable Ragdoll has a better reputation with other pets.
The right cat for you might depend on the size of your living space, the other animals already sharing it with you, or some other factor of particular importance.
Both can make amazing pet cats and both have a large and growing fan base worldwide. Why not share which you one prefer in the comments section below?