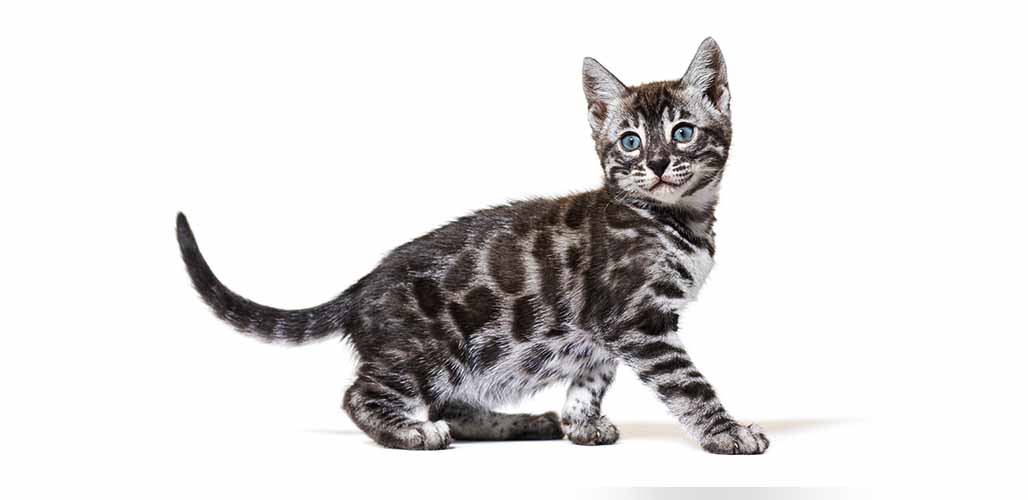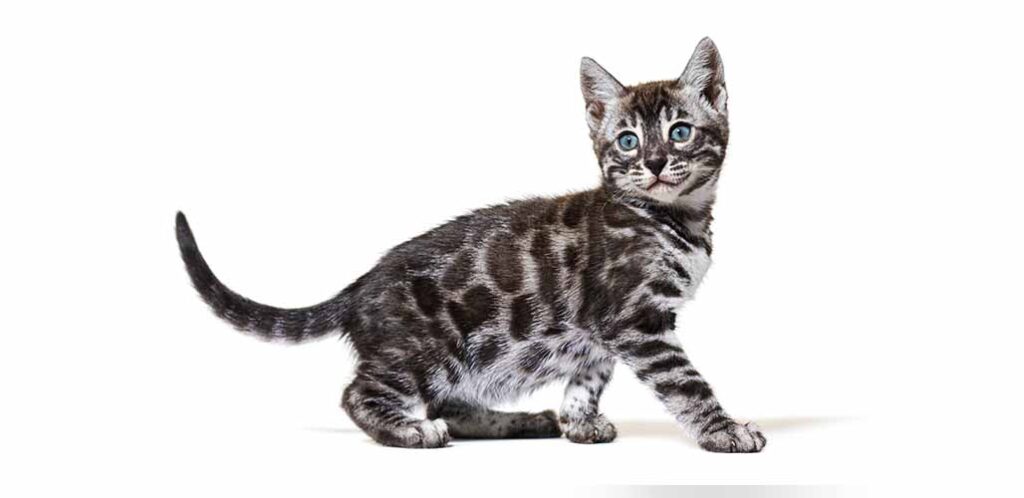 The blue Bengal cat is a large and athletic cat with an exotic wild cat coat. Instead of the traditional markings in shades of brown and black, they contain blues and grays. You can also find these rare kittens in silver and charcoal patterns. Bengals can have rosettes/spots, marbled tabby stripes, and even pointed markings like a Siamese too. Today we'll look at the blue Bengal cat color variations, how they are bred and find out which make the best pet kittens for family life.
Contents
What is a Blue Bengal Cat?
The Bengal's history is very well-documented. In 1963, a breeder named Jean Mill crossed a domestic cat with a small wild cat known as the Asian Leopard Cat. The goal was to create a fully domestic cat with the patterned coat and exotic looks of a wild cat. Today's Bengal is a loving family pet, known for its lively and inquisitive nature.
Reputable Bengal breeders do not cross back to the Asian Leopard Cat or any other wild feline. Bengal to Bengal breeding preserves the exotic coat patterns and ensures a good temperament. The blue Bengal cat has the same history, but a rather different more modern blue gray coat.
Rosette and Marbled Blue Bengal Cats
There is not a single type of blue Bengal cat. People interested in a blue Bengal have lots of options when it comes to choices of coat color and patterns within the blue color group.
The most characteristic Bengal coat marking is the rosette, which is a type of spotting seen in wild cats like the leopard and ocelot. Rosettes can come in a range of shapes and sizes. They typically have a light interior color outlined by a darker color.
Bengals can also have marbled coat patterns. Marbling is modification of the classic striped tabby coat pattern. It's softer and more swirled than traditional tabby markings. A Bengal described as tabby will most likely be marbled rather than striped on the body, although the legs and tail can sometimes look more striped.
Pointed Blue Bengal Cats
There are also pointed Bengals. Cats with points have darker coat coloring on their extremities (face, tail, legs) and lighter coloring on their bodies. The Siamese is a famous pointed cat breed. Pointed Bengal coat coloring is also sometimes called snow tabby. The ground color on the body is pale, while the body markings and points are darker in color.
Blue Bengal Cat Patterns
These are the main blue Bengal coat pattern variations. There are also patterns called melanistic and smoke. Melanistic coats have so-called ghost markings. In these cats, coat markings are more prominent in kittens while adult coats appear virtually solid. Smoke Bengals also have ghost markings. Bengals labeled as smoke are distinguished by their white undercoats.
Blue Bengal Colors
A blue Bengal with rosettes or marbling will have a ground coat color of pale to slate blue/gray. The markings will be medium or dark blue. Blue Bengals can often have a soft fawn color on the face and legs. There's also a blue silver Bengal that has a light blue/silver ground color and darker blue/gray markings.
Blue Bengal Coat Variations
The Bengal breed standards lists 6 blue variations for this coat type (blue and blue silver lynx point, mink tabby, and sepia tabby). The blues have pale ground colors of ivory, cream, blue, or tan. The markings are darker shades of blue, sometimes with fawn.
The blue silvers have pale ground colors in shades of ivory, cream, or silvery blue or gray. The markings are a darker bluish gray with some caramel color.
Melanistic blue Bengals have a coat that is described as solid-looking blue/gray or deep slate gray with very faint markings.
Blue Smoke Bengals
There are a few different types of blue smoke Bengals. They all have white undercoats. Topcoat color can vary depending on the type. Generally, the ground color is a pale bluish gray, and the markings and points are paler than other Bengal coat types.
Blue Bengal Cat Genetics
Blue Bengals are less common than brown Bengals because the blue coat coloring comes from a recessive gene. Both parents need to be carriers of this gene to produce a blue Bengal kitten.
The gene for blue color is called the dilute pigment gene. It lightens coat color in Bengals and other cat breeds. Blue color in and of itself is not unhealthy. Most health problems in rare-colored cats come from a lack of genetic diversity.
Blue Bengal Cat Health
The Bengal breed, including the blue Bengal, does have some inherited health issues that new owners should know about. Luckily, many can be screened with genetic testing.
Bengals can inherit a specific type of progressive retinal atrophy (an eye disease) that is specific to the breed. This disease gradually destroys the cells in the back of the eye that detect light. It can lead to blindness.
The Bengal can also inherit a type of hereditary anemia called PK deficiency and a cardiac disease that causes thickening of the heart walls.
Blue Bengal Kittens
Careless breeding of a small number of cats that carry a gene for an uncommon trait can lead to an unhealthy genetic line with inherited health problems. That's why it is vital to choose a responsible breeder who tests their Bengals for genetic health conditions.
Avoid getting a Bengal kitten from an online ad or retail pet store, as many of these cats come from large commercial breeding operations.
Blue Bengals may be more challenging to find than brown Bengals, but their rich blue coat color can be worth the wait for Bengal fanciers. Remember to work with a reputable Bengal breeder who health tests their blue Bengals to ensure that your kitten is as healthy as possible.
Find Out More About Bengal Cats