A blue Maine Coon cat has a wonderful silvery blue coat. This color is often mistaken for grey, but blue Maine Coon cats have a definite blue sheen to their fur that isn't seen in grey varieties. Blue Maine Coon kittens aren't uncommon, but may be harder to find as they become more popular and waiting lists grow. Other than their color, they will have the same personality and care needs as any other Maine Coon.
About Blue Maine Coon Cats
The Maine Coon is a large, popular cat breed. It is available in a huge spectrum of fur colors, one of which is blue. Of course, this doesn't mean you'll find cats with fur as blue as the sky. Instead, their fur is a silvery-grey with a blue sheen. They are often mistaken for grey Maine Coon cats, since even specific color categories can come in many different shades. But, blue and grey are distinct varieties of Maine Coon cats.
Solid blue is a show accepted color for Maine Coon cats. But, you can also have blue coloring with other patterns, like tabby. Let's take a closer look at what you can expect these cats to look like.
What Do Blue Maine Coon Cats Look Like?
In general, you can expect an adult Maine Coon to be large and fluffy, whatever the color of their coat. They will reach somewhere between 12 and 22 lbs as full grown adults. But, it can take up to four years to reach their maximum size! And, females usually fall towards the lighter end of this spectrum, whilst males tend to be at the larger end.
Maine Coon cats of all colors have large, round eyes and shaggy fur coats. Their ears are large and tufted, giving them a wild appearance.
The placement of blue on a Maine Coon cat's coat will actually depend on what type of coloring they have. For instance, solid blue Maine Coons can look quite different to a blue-silver patched tabby. So, let's take a look at the types of coloring you can find on this cat breed.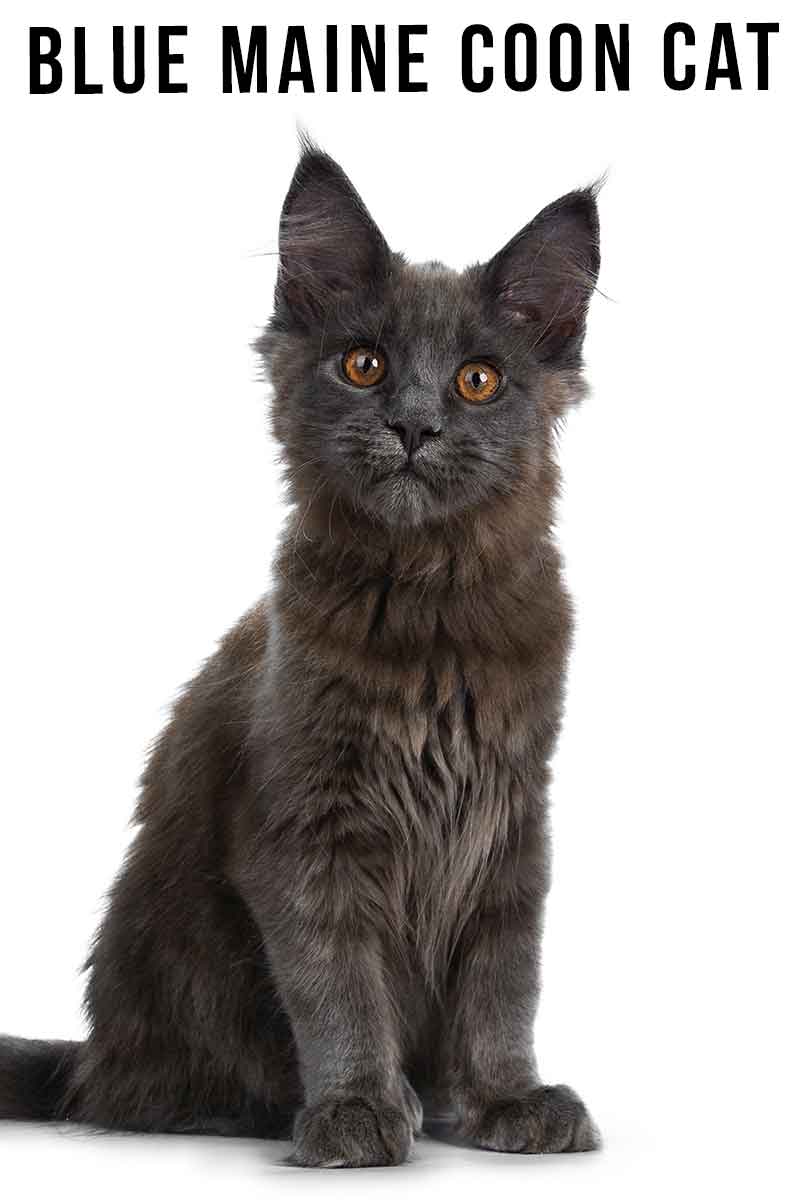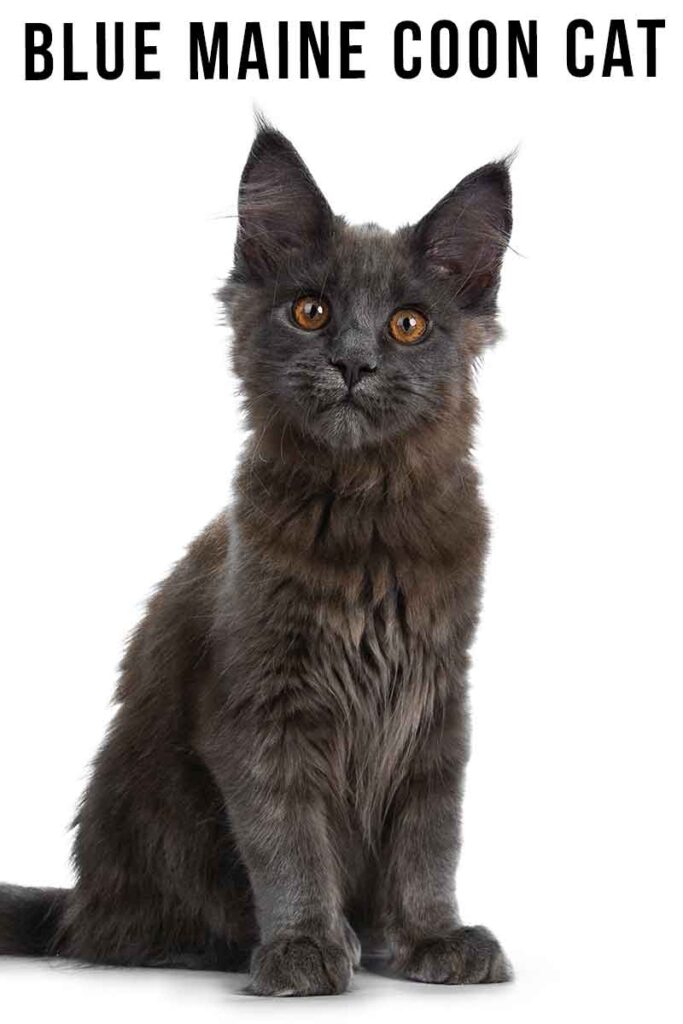 Solid Blue Maine Coon
Solid means that your cat has one color all over their body. So, a solid blue Maine Coon will have silvery blue fur all over their body. It won't vary noticeably in tone. These cats will also have blue noses and paw pads.
Blue Tabby
This pattern type has dark blue tabby markings that can be either classic, ticked, or mackerel. The base color will be lighter, but there will be an overall warm patina or fawn overtone. These cats may have some small bits of white fur around their lips and chin.
Blue Silver Tabby
A blue silver tabby Maine Coon can have mackerel, classic, or ticked markings. The base of their fur will be a light, clear silver, but the tabby markings will be a deeper, darker blue. They may have white on their faces, around their lips and chin.
Blue Patched Tabby
This tabby Maine Coon will have the same possible tabby markings as others – dark blue mackerel, ticked, or classic over a lighter background. This Maine Coon is set apart from others by its patches of cream. They may also have white markings on their chin and around their lips.
Tabby and White
Blue is an accepted color for Maine Coon cats with tabby and white markings. They can also be patched tabby and white. Alongside their tabby markings, they will have white on their belly, chest and on their paws.
Blue and White (Bicolor)
This blue Maine Coon will have two colors on its coat – blue and white. The exact placement of this coloring will vary from one Maine Coon to the next, but they will have white bibs, as well as white on their belly and paws.
Blue Cream
A blue cream Maine Coon cat will have blue fur broken up by patches of cream.
Blue Cream and White
As the description suggests, this type of blue Maine Coon will have patches of cream and white among their blue coloring. The white patches will be on their bib, chest and paws, and may be elsewhere on the body.
Chinchilla Blue Silver
The blue coloring on this Maine Coon is a little more subtle than some of the others we've looked at. These cats have a white undercoat and have white on their chest, stomach, chin, and ear tufts. Elsewhere on the body, their fur is tipped with blue coloring.
Shaded Blue Silver
In overall appearance, this type of blue Maine Coon is very similar to the chinchilla blue silver, but they will be generally darker.
Shell Blue Cream
This coloring, once again, is similar to the previous two in this list. But the tipped coloring will be a mix of blue and shades of cream. Areas that are traditionally white on the chinchilla markings may also have some light tipped coloring.
Shaded Blue Cream
This is the same as the shell blue cream, but the overall appearance and coloring is darker.
Blue Smoke
The blue smoke Maine Coon has a white undercoat and is tipped all over with blue coloring.
Blue Cream Smoke
This coloring is similar to the above, but features patches of cream.
Finding Blue Maine Coon Kittens
If you've decided on your favorite color and pattern, your next step is to find a kitten. Since blue fur has become such a popular option, many breeders have begun to specialize in producing blue Maine Coon kittens. You may find that you must go on a waiting list for kittens, especially when searching for a kitten with specific blue coloring.
Above all else, it's important to find and choose a reputable breeder when searching for your Maine Coon kitten. Maine Coon cats are prone to some hereditary health issues, including hip dysplasia. And, many of these can be avoided with good breeding. So, make sure you see evidence of health testing, and only choose breeders that breed from the healthiest Maine Coon cats.
How Much is a Blue Maine Coon?
Maine Coon kitten price can vary from as little as $800, to as much as $2500. Cats bred for show tend to be more expensive. But, other factors like demand for certain colors can affect kitten price. If you're happy for your blue Maine Coon to be bred as a pet alone, then you're likely to end up with a much cheaper kitten! And, you may even be lucky enough to find one in a rescue center.
Is a Blue Maine Coon Right for Me?
Just because you've fallen in love with the beautiful blue Maine Coon's fur, doesn't mean that they're the right breed for you. Maine Coons are large cats, so they take up a lot of room in the house. They have long, shaggy fur which can need brushing and can shed around your house. And, since these cats are intelligent, they need an outlet for this, such as through regular games or with interactive toys.
Maine Coons are generally known to be gentle and affectionate. Many people suggest that they are quite a dog-like cat breed. So, they aren't suitable for someone that wants a very independent cat. Even though the blue Maine Coon's fur is beautiful, it's important to make sure their personality and care needs will suit your home and lifestyle. If they don't, there are plenty of similar breeds who are just as beautiful that you can consider.
Blue Maine Coon – A Summary
Have you got a blue Maine Coon cat at home already? Or are you still learning about the different blue patterns that these cats can have? We would love to hear about your experiences with this breed in the comments!
Readers Also Liked
References and Resources