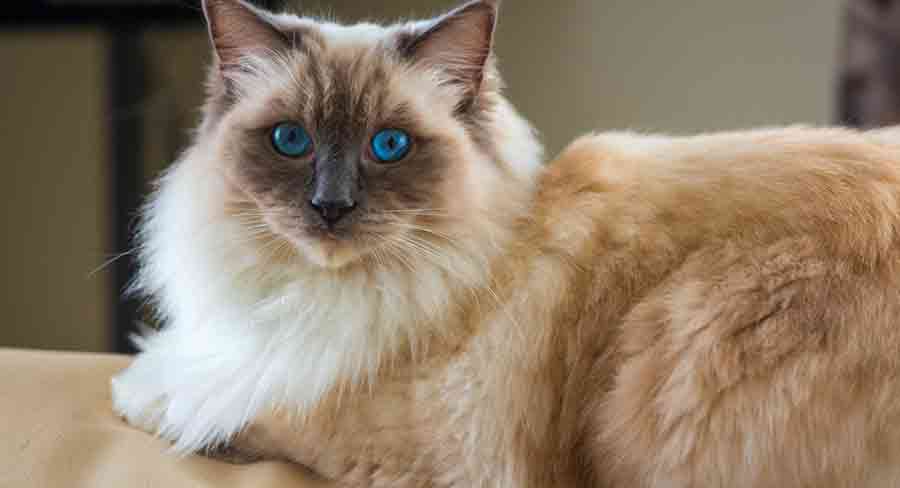 A blue Mink Ragdoll is simply a Mink Ragdoll cat with a blue coat. Mink Ragdolls are Ragdoll cats that hail from a specific bloodline. Their name comes from the soft texture of their fur. But, aside from this and some slight color variations, they will be the same as any other Ragdoll cat. This includes their temperament and care needs. A blue Mink Ragdoll will usually have a more vibrant coat than a regular blue Ragdoll cat. Plus, the normal blue Ragdoll cat eyes will have an aqua tint in a blue Mink.
What is a Blue Mink Ragdoll Cat?
If you know about the Ragdoll breed in general, you already know quite a bit about the blue Mink Ragdoll! Blue simply refers to the fur color of this cat. And the term "mink" refers to the specific bloodline these cats share. They are still purebred Ragdolls, despite their slight differences. In fact, many advocates of the Mink Ragdoll claim that this bloodline harks back to original Ragdoll bloodlines.
A blue Mink Ragdoll will vary in appearance from other Ragdoll cats and Mink Ragdolls. But, in terms of temperament, health, and general care, they will be very similar. So, it's important to do your research before bringing home a blue Mink kitten, to ensure your home is the right fit for this cat.
What Do Blue Mink Ragdolls Look Like?
In everything other than their coloring, a blue Mink Ragdoll cat will look very similar to any other Ragdoll cat. They will have medium to long fur, a slightly rounded, wedge shaped head, and a generally balanced appearance.
Although these cats cats have a more vibrant coloring than the regular variety, their fur color still won't be blue as we might know the term. Instead, it will be more silvery-grey. Their eyes, like any other Mink Ragdoll, will be an aqua-blue shade.
Are Blue Mink Ragdoll Cats Rare?
Although a blue Mink Ragdoll is not necessarily a rare or uncommon cat, they are less common than regular Ragdolls. This is, in part, because many breeders will avoid the Mink bloodline altogether when breeding Ragdoll kittens. In fact, some don't even consider Mink Ragdolls an official part of the breed.
Plus, breeding two Mink Ragdoll cats together won't produce an all-Mink litter. So, even if you can find a reputable breeder that is willing to produce Mink kittens, it's not always a simple process. In most cases, up to half of the litter will be Ragdolls with regular coloring, rather than Mink shades.
Although finding a blue Mink Ragdoll cat may be time consuming because of the above reasons, you should be wary of any breeder marketing their blue Mink kittens as "rare", "uncommon", "valuable", or anything similar. Terms like these can be a sign that the breeder has only bred the kittens for profit, prioritising the cost of the kittens over their health and temperament. This can mean inflated prices for a kitten who is at a higher risk of heritable health issues, and who will experience behavioral problems as a result of their early care and upbringing. Even if you have fallen in love with the blue Mink coloring, it's important to prioritise finding a reputable breeder over all else.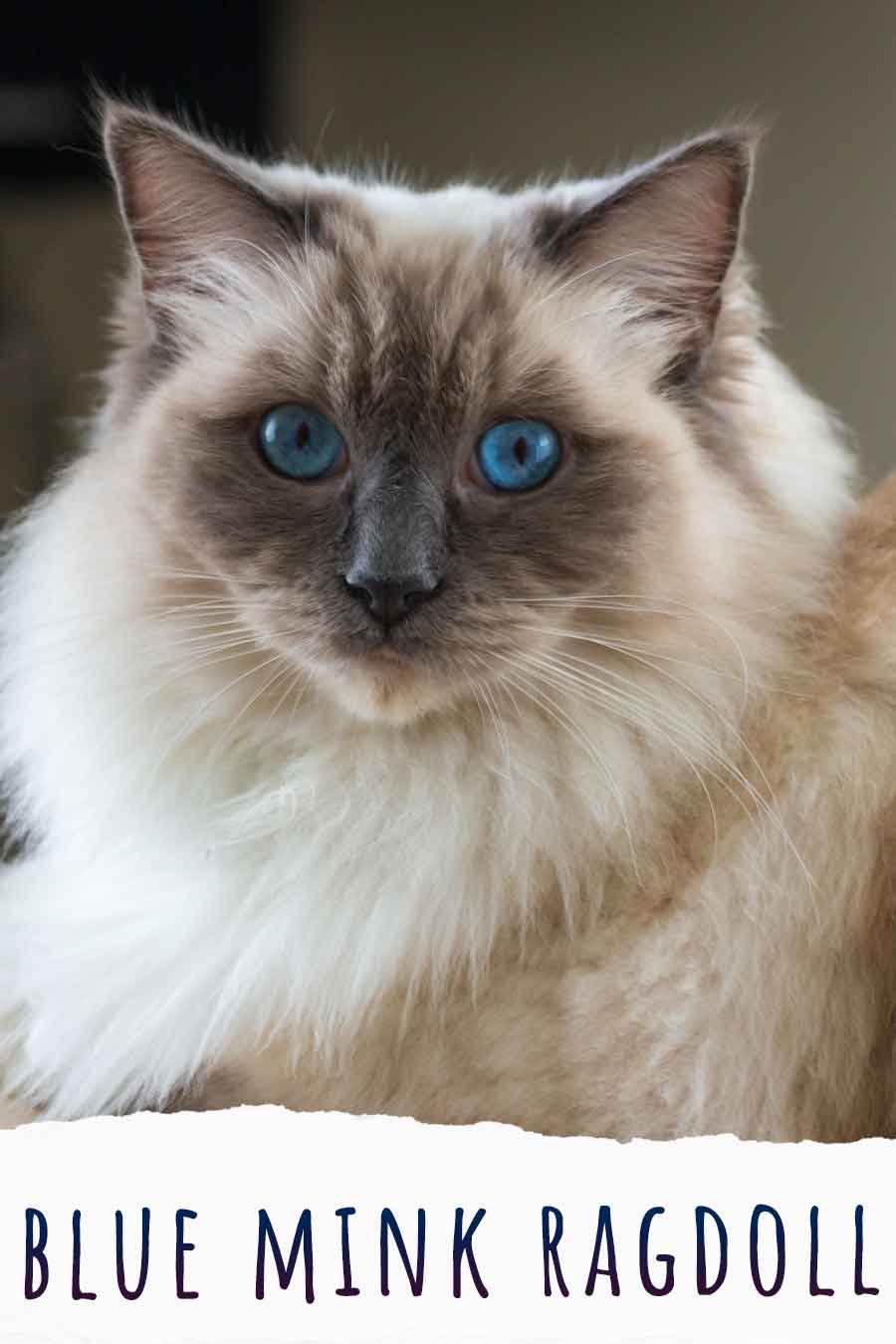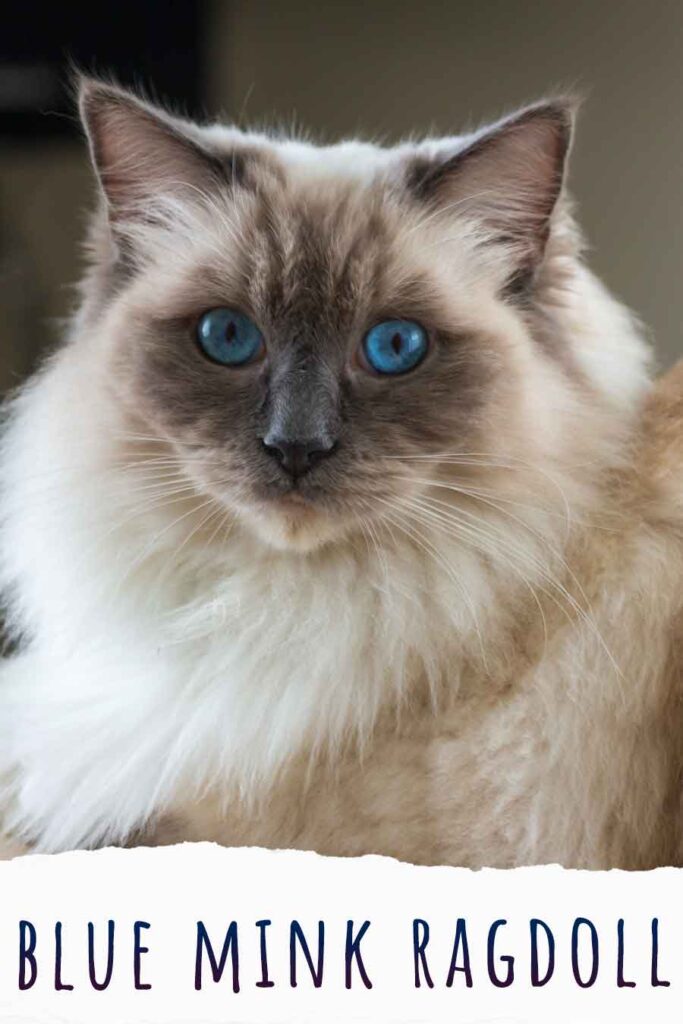 Blue Mink Ragdoll Temperament
So, now we know what to expect a blue Mink Ragdoll to look like. But, what about their personality? Well, Mink Ragdoll cats will have the same general temperament as any other Ragdoll cat. They will be affectionate, friendly, and social as a general rule. Which is what makes them such a popular choice for a family pet!
Ragdolls of all types need plenty of company. They are best suited to a home where someone is around all the time. They are patient cats that can get along well with younger children, but it's important to teach any young kids how to interact with a new pet cat properly.
This gives you a general idea of the Ragdoll temperament. But, bear in mind that individual cats may differ from this, depending on how well they are socialized, and the traits they inherit from their parents.
Blue Mink Ragdoll Fur Care and Grooming
These cats will have medium to long fur. They are not hypoallergenic, so may trigger allergy symptoms, and will require a good amount of grooming to help keep their fur at its softest. They aren't heavy shedders, but you will still see a few stray hairs around your home as it gets to the warmer parts of the year. Brushing through any knots and tangles several times each week will help to keep your blue Mink Ragdoll looking and feeling their best.
What's the Best Home for a Blue Mink Ragdoll?
A blue Mink Ragdoll is a social, affectionate cat that needs a home where it gets plenty of company and attention. This might be in the form of petting, playing, or even grooming – which all Ragdoll cats need. If you spend a lot of time away from home, leaving pets on their own, a Ragdoll cat won't be right for you. Leaving their social needs and mental stimulation needs unmet can lead to an unhappy, stressed Ragdoll.
Finding Blue Mink Ragdoll Kittens
It's surprisingly easy to identify Mink Ragdoll kittens in a litter. Regular Ragdoll cats are entirely white when they are born. But, in contrast, Minks will have color in their fur. So, a breeder will easily be able to tell when they have Mink kittens. This is why it can be so easy for disreputable breeders to profit from Minks. So, you must put plenty of time and energy into finding and choosing the best breeder possible. This way, you will maximise the potential health of your future kitten, and ensure you're choosing a breeder with the best intentions.
As we mentioned earlier, some Ragdoll breeders will specifically try to avoid the Mink bloodline. So if your heart is set on the blue Mink, you may need to find a breeder that specializes in Mink Ragdolls, if not in the blue coloring.
Do You Have a Blue Mink Ragdoll?
Do you already have a one of these cats at home? Or are you planning to bring one into your family soon? We would love to hear your thoughts about this unusual coloring! What's your favorite thing about the Mink Ragdoll cat?
Readers Also Liked
References and Resources
The International Cat Association
Salonen, M. (et al), 'Breed Differences of Heritable Behavior Traits in Cats', Scientific Reports (2019)
Butt, A. (et al), 'Do Hypoallergenic Cats and Dogs Exist?', Annals of Allergy, Asthma and Immunology (2012)
Satorina, J. (et al), 'Do Hypoallergenic Cats Exist? – Determination of Major Cat Allergen Fel d 1 Production in Normal and Hypoallergenic Cat Breeds', Clinical and Translational Allergy (2014)
'Ragdoll (RD)', Ragdoll Breed Standard (2020)