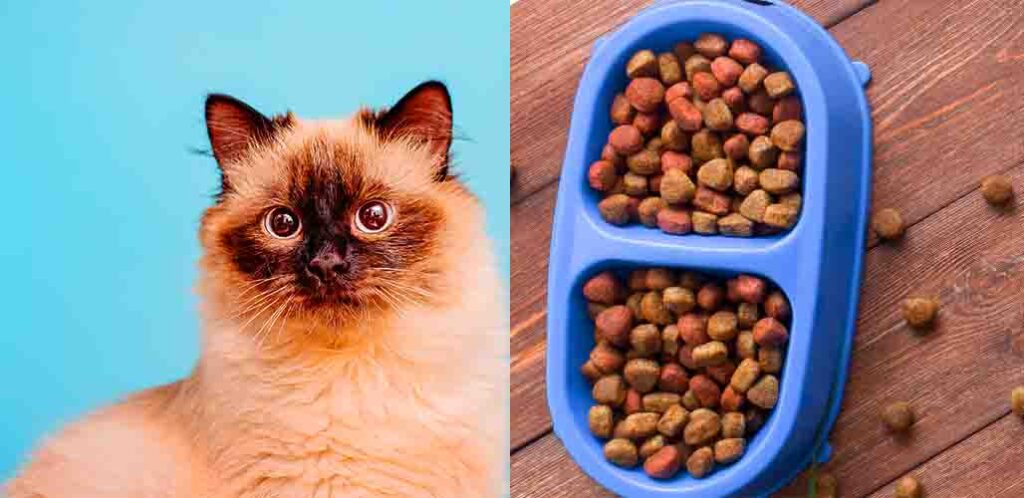 Can a 10 month old kitten eat cat food? When my kitten reached 10 months old, I was eager to start them on their adult food. Kitten food is designed to support rapid growth, so cats can't stay on it forever. Most cats are able to make the transition at around 10 – 12 months old, but for larger cat breeds, it can take as long as 18 months or 2 years! In this guide, I'll take a closer look at why it's important to wait for the right age to switch to cat food, how cat food differs from kitten food, and how to safely transition to it.
Contents
Can a 10 Month Old Kitten Eat Cat Food?
At 10 months old, some kittens are able to start transitioning to cat food. But, this is usually only the case for smaller cat breeds. Most veterinarians will recommend that you switch closer to 12 months. Just like all cats are different, the best time to switch to cat food will vary.
Kittens should eat kitten food until they are almost at their adult weight. So depending on the breed of cat you have will determine what age your kitten should switch to cat food. Research when your cat breed tends to be classified as an adult. But, gender and overall health can also influence growth rates. If in doubt, speak to your vet.
Can All Cats Start Eating Cat Food at 10 Months?
Smaller breeds will reach this growth milestone at 10 to 12 months old and can begin to switch to cat food. Bigger breeds of cats take a lot longer to reach 90% of their adult bodyweight milestone and they should start transitioning from kitten food to cat food at 18 months old. Bigger cat breeds that should wait until 18 months old to switch to cat food are:
British Shorthair
Highlander
Maine Coon
Norwegian Forest Cat
Ragdoll
Savannah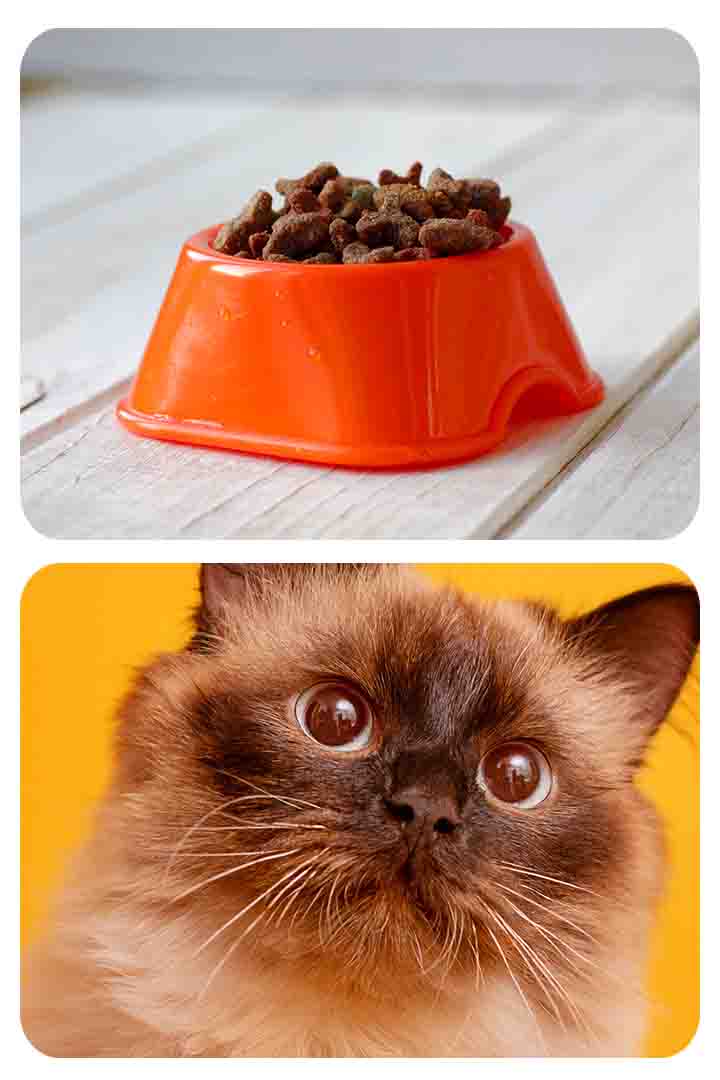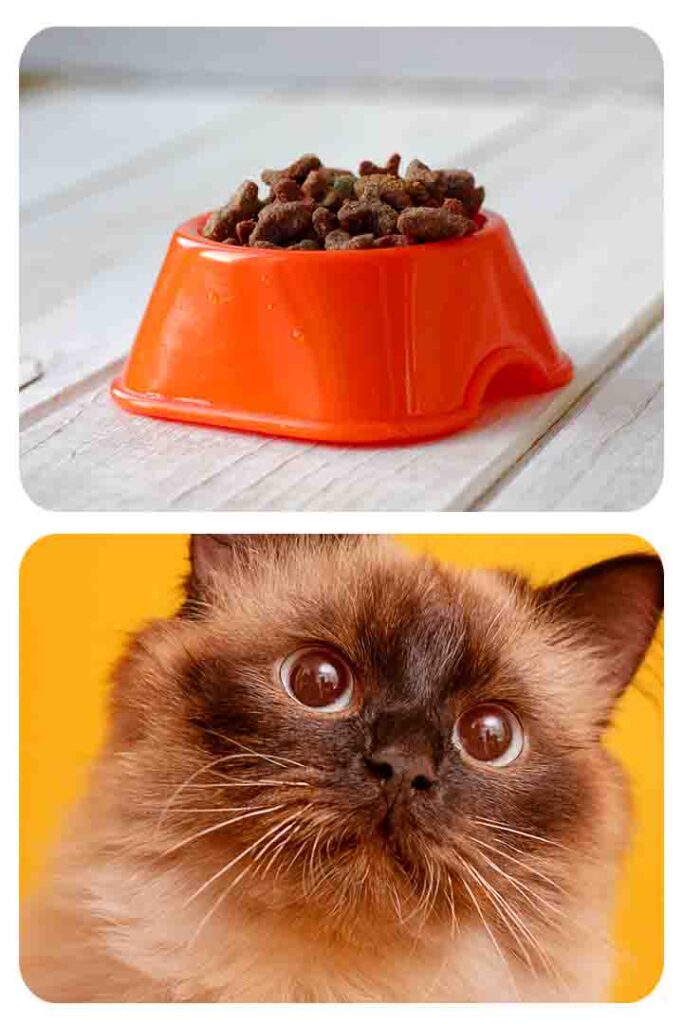 How is Cat Food Different from Kitten Food?
Kittens grow fast and have loads of energy, so kitten food contains different nutrients than cat food to meet these developmental needs. It has more protein, vitamins, and minerals to be able to keep up with their high energy and development. It also provides adequate levels of docosahexaenoic acid (DHA), omega 3, important for brain and vision development.
Feeding an adult cat kitten food can lead to unnecessary weight gain and eventually obesity because your cats won't be as active as they used to be when they were kittens. Baby cats get approximately 30% of their energy from protein, so it's essential to change to cat food which has an appropriate level of proteins, vitamins, and minerals for older cats.
How to Switch from Kitten Food to Cat Food
When you're changing your kitten's food to cat food, you must do it as gradually as possible. If you change the food in your kitten's diet too quickly it can disturb the microbes in the kitten's digestive system.
Day 1 – 3
You should introduce the new food to your kitten's diet separately from their current food. You can place their regular food in their usual bowl, and in a separate bowl put approximately one quarter, or a spoonful, of the cat food.
This is a great way to introduce your kitten to the new smell, taste, and texture of cat food. Your kitten may be intrigued and try the new food or they might be a bit wearier of it, but introducing it separately allows them to try the new food without putting their appetite off of their current food if they don't like the cat food.
It's important not to move on until they are happy to eat the cat food, so be patient and start with a small amount of food.
Day 3 – 4
Continue to keep the old and new food separate, but during this stage start to increase the cat food to half of the new cat food and half of the old kitten food. It's important to still keep them separate because the difference in texture can easily set a kitten off from wanting to try the new food. Once again don't move on to the next part until your kitten is happy to eat all of the cat food.
Day 5 – 10
Keep decreasing the amount of kitten food and substituting it with the new cat food. You should add three-quarters of the new cat food and keep the remainder of the old kitten food in a separate bowl.
Day 10 – 14
By this point, your kitten should be eating only the new cat food. If they refuse to eat the new food then you might be moving through the transition too quickly. So be patient, and if they do reject the new food, you can try moving back a few steps to encourage them to eat the cat food.
Move at your Kitten's Pace
The bacteria in your kitten's gut are responsible for keeping digestion and the absorption of nutrients regular and boosting your kitten's immune system. If these microbes are disturbed by introducing a new diet too quickly it can lead to vomiting and diarrhea.
If your kitten starts developing stomach and digestive issues, like vomiting, diarrhea or constipation, it's best to go back to feeding them kitten food for a few days until they settle. You can try the transition again once they are feeling better. If the problem carries on, go to the vet to check for any underlying health problems.
Can Kittens Keep Eating Kitten Food After Introducing Cat Food?
Smaller breeds of cats can continue to eat kitten food until they reach their full adult size. Larger breeds will only reach this size when they are 18 months old so this is when they should stop being fed kitten food. Once your kitten is fully weaned onto adult cat food, you shouldn't go back to feeding them kitten food unless instructed to by your veterinarian.
As I mentioned earlier, kitten and cat food have very different nutritional compositions. Adult cats don't have the same needs as kittens because they've already finished the bulk of their growth. Kitten food will usually be too high-energy and can lead to health problems and excess weight gain.
Can a 10 Month Kitten Eat Cat Food? Final Thoughts
10 months is a great age for you to change your kitten's diet to cat food if you have a small cat breed. So don't be afraid, you're doing the right thing. It's important to remember to introduce the cat food gradually to not upset your kitten's digestive system, and to be aware that if you have a bigger breed of cat you should wait until they are 18 months old to transition to cat food.
More Advice and Tips About Cat Food