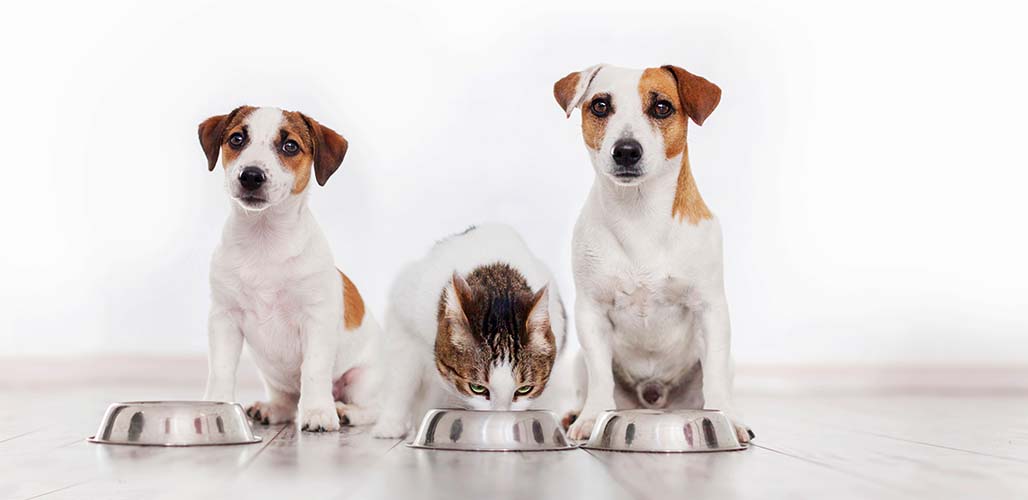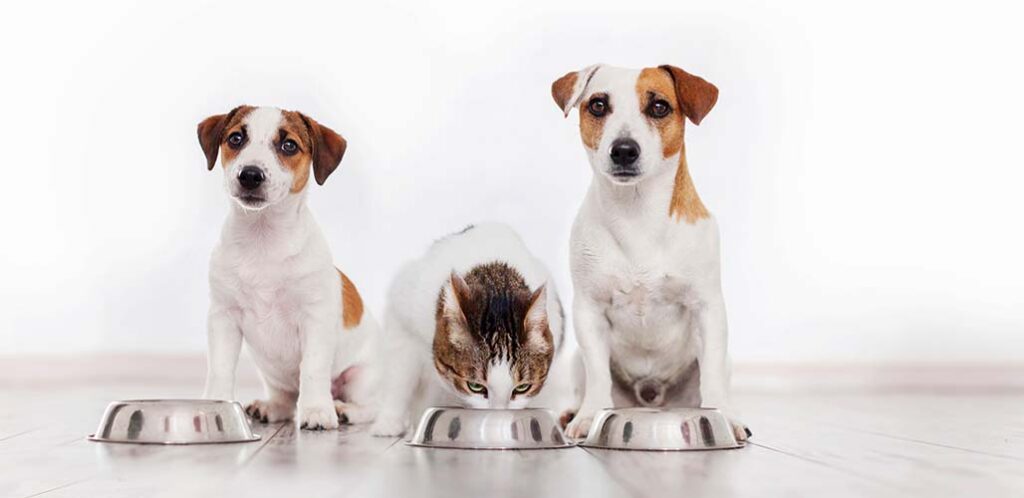 Obviously, I do my best to make sure I've always got enough of the right foods for all my pets in the house at all times. But I can't be the only person who's realized with a shock that they're out of cat food when they thought there were still a few cans in the back of the cupboard. Or reached the store only to discover they're sold out of my feline's favorite brand. So can cats eat dog food in an emergency? It seems the answer is 'yes, within reason'. Some kind of food is better than no food, but there are certain ingredients to avoid, and risks in feeding dog food over an extended period.
Contents
Can Cats Eat Dog Food In An Emergency?
In the wake of climate change, the pandemic and ongoing political unrest, planning for any and all emergencies definitely feels like the smart play these days. This includes making emergency preparations for all of your pets' needs. In this article, we tackle the topic of whether it is safe to allow cats to eat dog food in an emergency.
So is the odd bowl of dog food safe for cats? Are some dog foods better for cats than others? What about dog treats – can cats eat those? Let's find out now.
Can Cats Eat Dog Food?
In a pinch, when your only choice is between feeding your cat dog food and not being able to feed them at all, then choosing to serve up a bowl of dog food could be the smart choice. Some kind of food, with a significant amount of animal protein in it, is better than nothing. But what if the emergency situation lasts for days or even weeks and your only option is to feed your cat dog food? What will happen if your cat eats dog food for a longer period of time?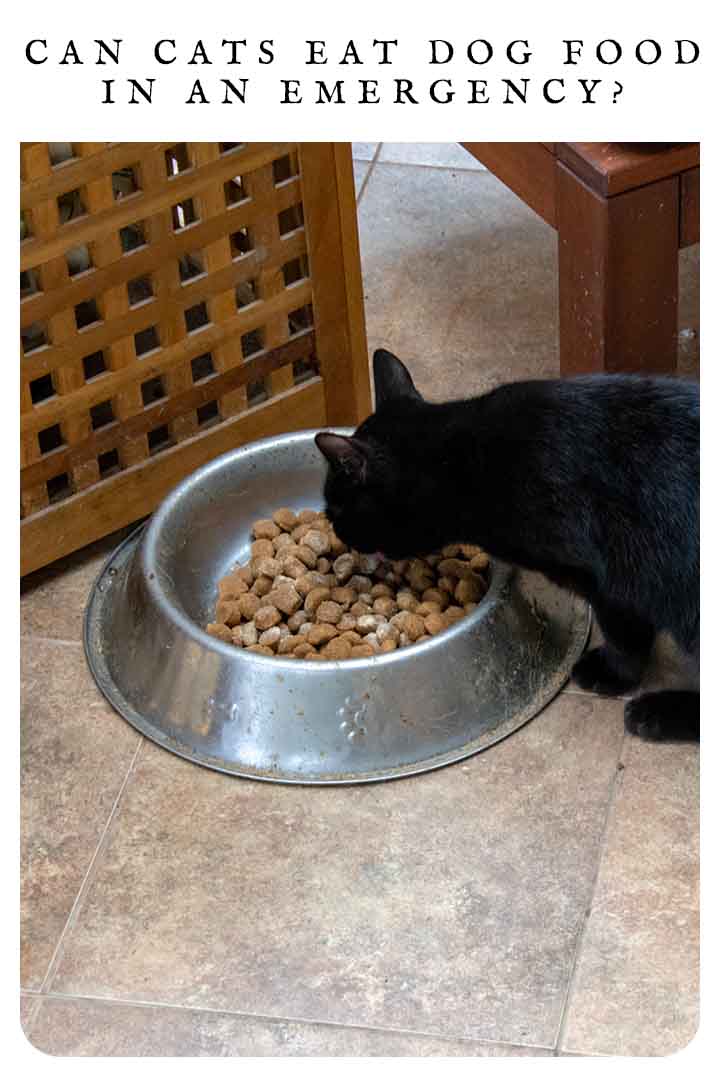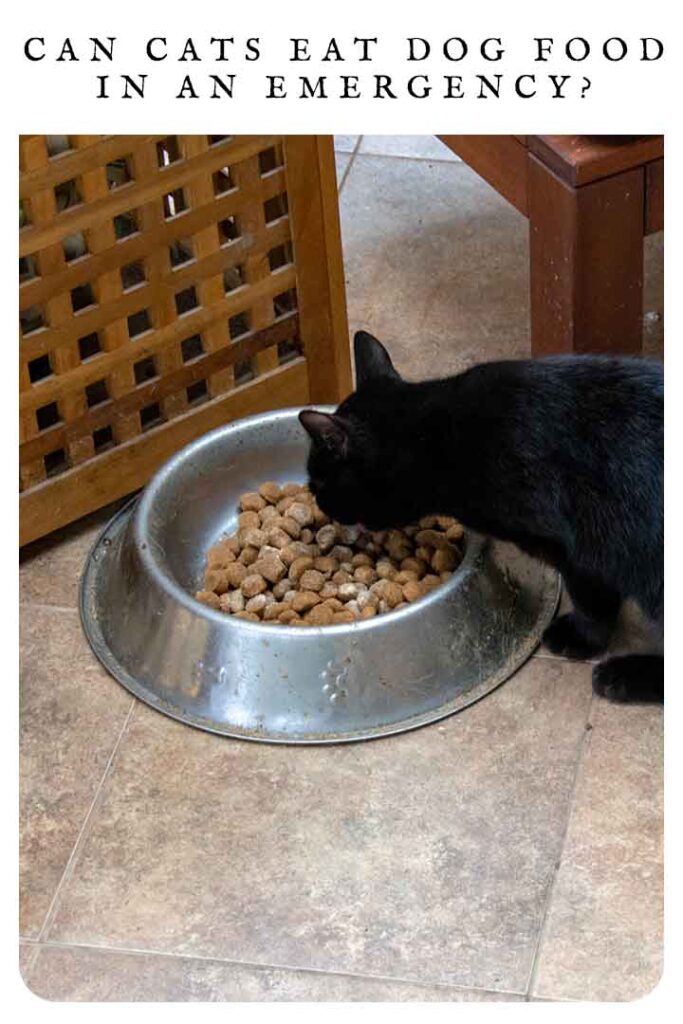 What Happens If Cats Eat Dog Food
Answering this question requires a basic understanding of some fundamental differences in canine and feline nutritional needs. Even though the precursor of the modern dog, the wild wolf, is an obligate carnivore like the modern cat, modern dogs are omnivores, like people. Cats, however, are still obligate carnivores through and through.
"Obligate carnivore" refers to how an animal's digestive system is set up to work. Obligate carnivores like cats have short digestive tracts and streamlined liver function, meaning they need to get all of their nutrient needs met through consuming animal prey. Dogs need a lower proportion of animal protein in their diet, and dog foods reflect this. Consequently, feeding a cat a steady diet of dog food can cause all kinds of digestive disturbances and nutritional imbalances that may lead to lasting health issues.
Can Stray Cats Eat Dog Food?
Stray cats and feral cat populations can present some very real challenges in many communities. Organizing an effort to provide food, shelter and care for these homeless kitties can tug at your heart strings. If you don't have a companion cat but you do share your home with a dog, you might feel tempted to offer some of your dog's food to the stray cats in your neighborhood. Feral cats may also readily steal dog food if you feed your dog outside.
A stray cat that is hungry will certainly eat dog food when available. But as long as dog food isn't a stray cat's sole food source, the occasional mouthful of dog food shouldn't cause any lasting harm.
Can Cats Eat Dry Dog Food?
Companion cats that are allowed to roam outdoors may well grab a quick snack at the doggie bowl while making their daily rounds. Whether the snatch is an honest mistake or a deliberate pilfer will remain the cat's little secret! There is another more serious reason why cats should not regularly consume dry dog kibble, however. Dry dog food may contain ingredients that dogs can tolerate but cats cannot.
A perfect example is propylene glycol, a moisture-retaining chemical derived from toxic ethylene glycol, better known as a primary additive in antifreeze. Propylene glycol is also used in many pet and animal foods, but it is prohibited for use in cat foods by the FDA. Cats that eat propylene glycol-containing foods develop red blood cell abnormalities called Heinz body formations. Cats can then develop a potentially fatal autoimmune condition called feline hemolytic anemia, where the body starts attacking its own red blood cells. This is yet another reason why cats should only be allowed to eat dog food in an emergency.
Can Cats Eat Wet Dog Food?
Yes, a cat can consume wet dog food for a short time if that is the only food option in an emergency. But what about for a longer period of time? Unfortunately, wet dog food is as likely to contain propylene glycol as is dry dog food, with all the same potential for adverse health effects. As well, wet dog food, like dry dog kibble, is not a complete and balanced nutrition source for cats. It doesn't have enough protein and the right blend of essential vitamins, minerals, amino acids and other nutrients to provide cats with everything they need for optimal health.
Can Cats Eat Dog Treats?
What about dog treats, then? Can cats eat dog treats safely? Here, the answer is not quite so cut and dried. The answer depends entirely on what kind of dog treats are on the menu. Dog treats that are made of pure animal protein may be perfectly fine for cats. But dog treats that contain fruits, vegetables, fillers like grains or sugars and additives like propylene glycol should not be fed to cats.
Universal Cat And Dog Food
So-called universal cat and dog food is the latest entrant into an already overcrowded and often confusing pet food marketplace. How could one food possibly be adequate for both dogs and cats, when the two species have such different dietary requirements?
The key to these supposed one-size-fits-all foods revolves around high protein content and a limited ingredient list. However, it is important to dig deeper and look at the whole ingredients list to be absolutely sure the food is safe and healthy for cats. For this and other reasons, feeding your cat a universal pet food may be warranted in a true emergency. But before you switch your cat to a universal pet food, be sure to ask your feline veterinarian for guidance.
Can You Give A Cat Dog Food In An Emergency?
Experts agree that in most cases, cats will not be harmed if they eat a serving of dog food every now and again. However, a far better plan is to stock up on shelf stable cat food rations to keep on hand in case of an emergency.
Have you ever been in an emergency situation where you had to get creative to feed your cat? Share your stories in the comments.
More On Feeding Your Cat
References