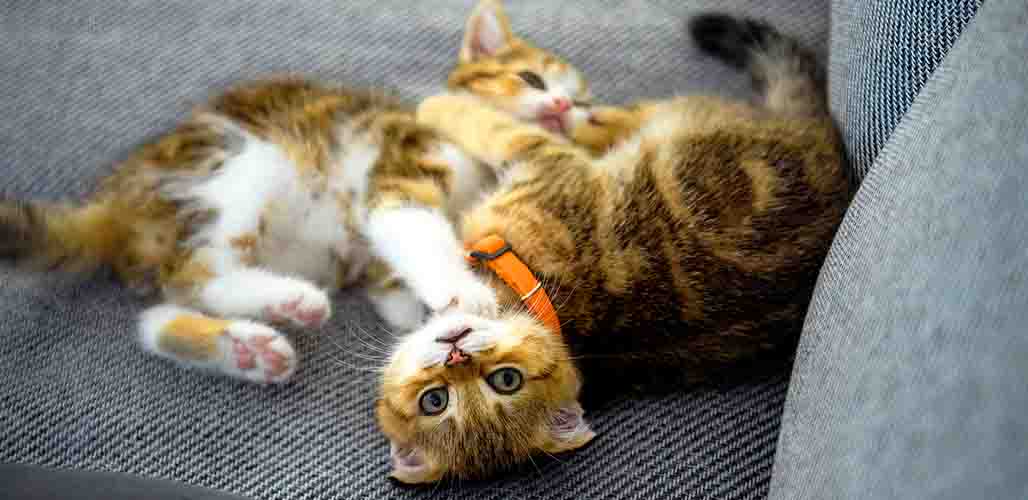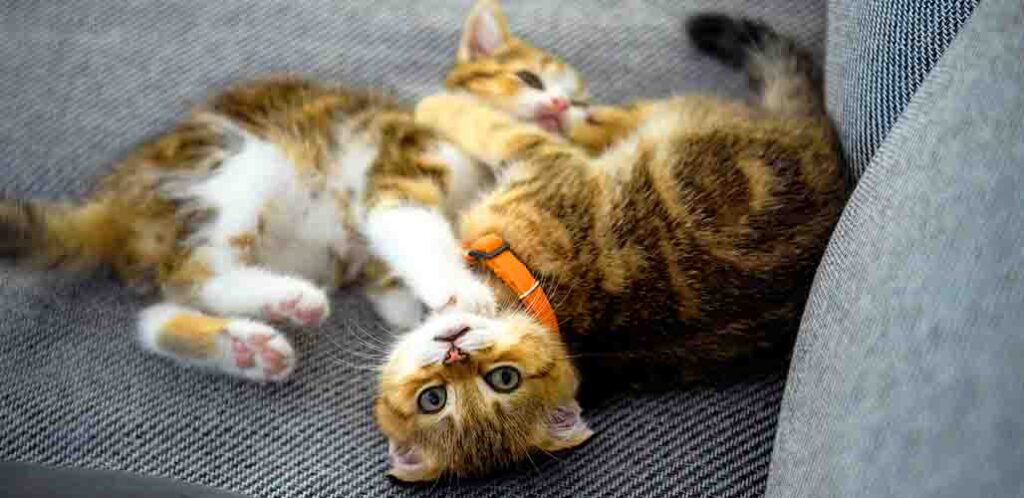 Can cats have play dates? Play dates for kids are common enough, but what if you are a cat mama or papa, a feline aficionado—what about play dates for your cat? I want me cat to lead the happiest life possible, whether that involves lounging around in the house or visiting a friend for some fun! So, in this guide, I'll take a closer look at whether cat play dates are a thing, the potential benefits, and how to carry one out in a safe way for all kitties involved!
Contents
Can Cats Have Play Dates?
Cat play dates are most often successful with kittens, 7 to 12 weeks. Kittens love to play! And playing helps kittens learn how to behave and interact with other cats, usually their littermates. At that age they are full of social energy and this socialization process is critical to their behavioural development. So, play dates are best organized the earlier in your furry one's life the better. In neutral territory, slow and supervised introductions are advisable.
Older cats are not immune to the instinct to play either. In fact, the act (or art) of playing is a universal mammalian trait. Constructive exercise improves body and brain function and according to one source, one hour of play increases a cat's lifespan by four hours!
Play Dates Aren't Right for All Cats
I have a 16-year-old mackerel tabby and she plays like a kitten around my study with me and a ball of crumpled paper every few days. Minnie lives with the two of us and a chihuahua, not another cat. But as the confirmed Queen of the house, I think introducing another cat to her environment would be a mistake. She is quite territorial.
Minnie is a one woman show at 16. We have learned from experience that she is hostile to other cats. So, your play date should be carefully planned and monitored if you think your (young) moggie is going to enjoy feline company.
Safety and serenity are the main things to consider in your life with your cat—never force a cat to be with others if they don't want to socialise. If they seem scared or angry, remove them immediately and let your cat know they can trust you.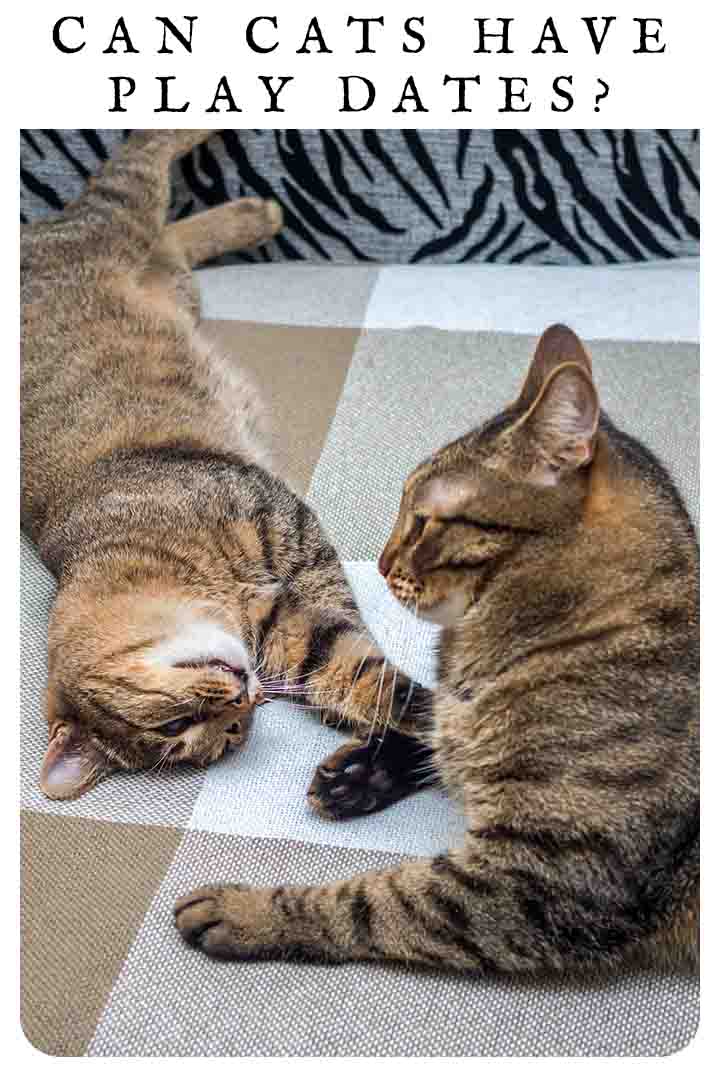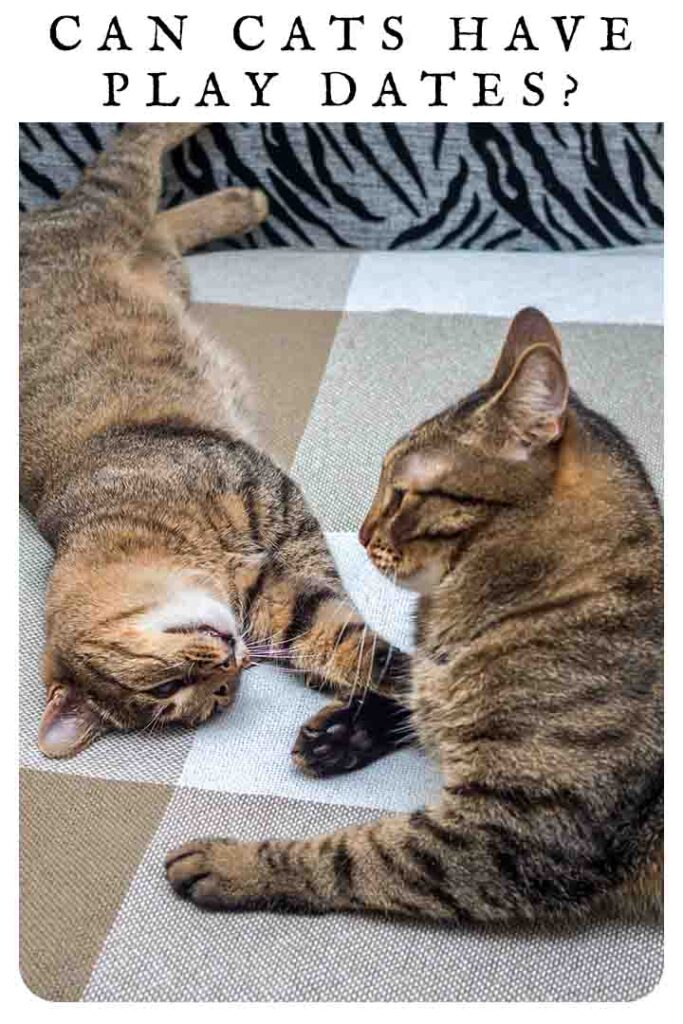 How to Arrange a Safe Cat Play Date
If you are thinking of arranging a playdate for your cat, there are a few things to bear in mind. Firstly, keep the cats in separate rooms, so they can sense, smell and hear each other. This would need to be neutral territory, so the natural territorial conflict is less of an issue. Then let them see each other. These slow introductions can take days or even weeks.
Generally speaking there are four types of cat – assertive, timid, affable and bold. Think about your cat and observe them to see which type they mainly seem to be. When you have an idea of your cat's disposition you can match them with other cats and their temperaments accordingly.
Just like humans, cats need to be healthy to get up close to other cats. Make sure your cat is up to date with their vaccinations, has a negative test for distemper and flu etc and is on a flea preventative before letting them mingle. And, stay around for the play date. Cats might enjoy playing together, but you need to be there to intervene if things go wrong, or if your cat decides it's ready to stop.
The Benefits of Playdates for Cats
Here are some of the top benefits your cat can reap from playdates:
You can expand your cat's vocabulary by letting them talk cat language with another cat.
Play dates are naturally tapping into the sociable energy of young cats.
Cats' innate curiosity is satiated by exploring new places and meeting new creatures.
You will learn more about your feline friend and it will strengthen your bond by going on play dates together.
Do Cats Need Play Dates?
It must be said that many cats, indoor cats and the ones that go outdoors, are generally content to sleep, play, and chat to their humans in their own company. They are different to the canine population who are generally gregarious creatures. Cats are not pack animals; they are lone hunters. This independence is endearing for many and off-putting for others!
As an editor I recently worked on a book written by a man that took his three cats everywhere with him. London Underground. Times Square. He films his cats, who ride in a backpack, and has a following on social media; he was consolidating his audience with the book. In my lifelong experience with cats, I could not help feeling—his cats would rather be peacefully left in one spot!
The key here is to think about your cat's personality and likes. Play dates can offer some great benefits, but your cat won't experience these benefits if they spend the entire play date stressed out and unhappy with another cat's presence.
Can Cats Have Play Dates? Final Thoughts
So, if you are keen to try play dates, be careful and considerate of your cat's comfort and emotions. I think a rolling ball of two or three kittens will play successfully but after about a year of age your cat may prefer to be the solo feline act in your house, like our Minnie. Particularly if they have not grown up with other moggies since leaving their mother.
I can't help but think cat play dates may be more for the benefit of the humans putting their fur babies together! After all, people that love cats have a great deal in common. A love of animals is a good bonding start for many human friendships too.
More Cat Fun and Advice
Why doesn't my cat like kisses?
Senior cat nutritional needs