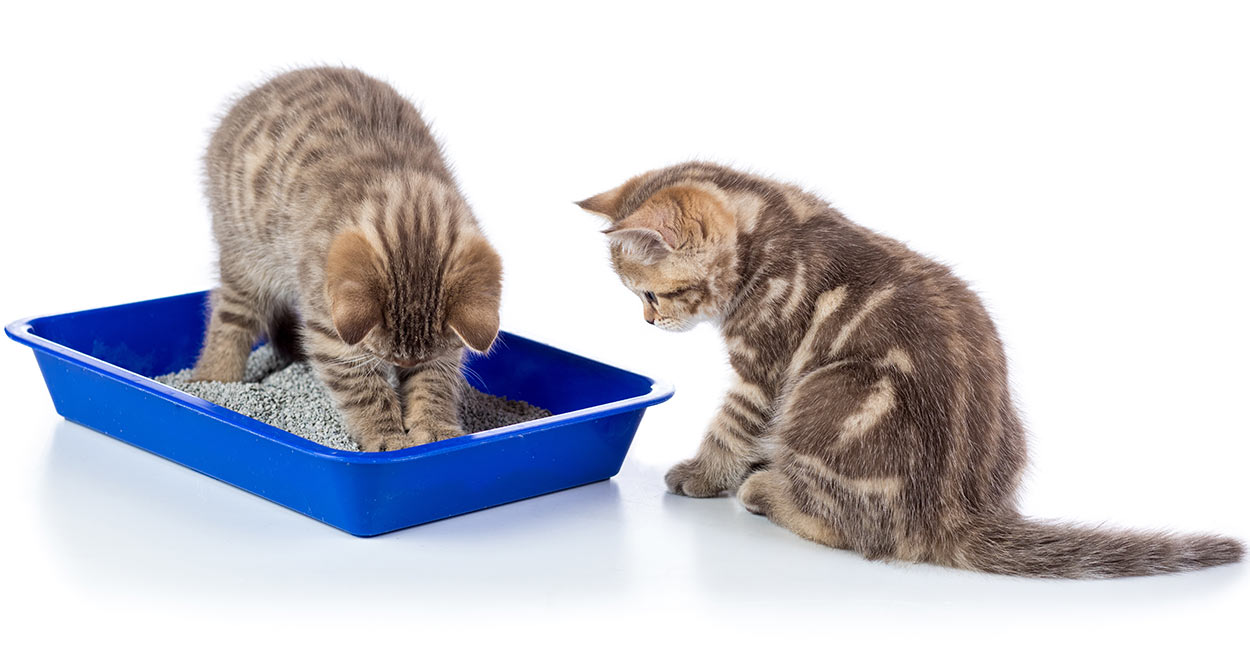 Getting your cat to share a litter box, even with a great friend or sibling, is a bad plan. Although you happily share the bathroom with your family, cats don't feel the same way about their toilet time! Today I'll share why cats object to sharing litter boxes, what happens when you try to force them to co-potty, and how many litter boxes you really need for a pair of cats or even more.
Contents
Do Cats Need Litter Boxes?
Unless your kitty has access to the outdoors at all hours, they need a litter box. Whether your cats stay indoors all the time or just overnight, they need a litter box to answer the call of nature when they're inside the home. They're not much to look at, but litter boxes do us a massive favor.
They give our cats a "proper" place to use the toilet, so they don't soil the rest of our house. And they're designed to make our cats comfortable too: outdoors they would dig a hole and bury their urine and feces. The litter in a litter tray lets them behave naturally while they use the toilet indoors too.
Can Cats Share A Litter Box?
Although it's technically possible to make your cats share a litter box by only providing one of them, you can't actually force your cat to share. So if they don't want to go to the potty in the same place, you'll end up in a mucky situation…
What Happens If You Make Cats Share A Litter Box?
We know that cats can be picky about where they go to the toilet. And sadly, going to the toilet in the wrong place is most likely reason for a cat to be left at an animal shelter. Being forced to share a litter box can be the reason a cat starts to use other places as their bathroom. We know that cats prefer a clean litter box.
Most cats that are forced to share a litter box will start to pee and poop in other far less desirable locations. And once they've started, that can be a hard habit to break.
Two Cats Need Three Litter Boxes
When a litter box is heavily used by more than one cat, it can quickly become too unappealing to bear for some pets. We recommend having one litter box each, and one extra too. So for two cat homes, you'll need three litter boxes in different locations. That's big deal, but it'll stop your cat messing elsewhere indoors.
How Many Litter Boxes Do I Need For Three Cats?
Three cats should have four litter boxes – one each, and a spare. Finding space for them all is an important part of preparing for your new kitty arrival!
Where To Put Your Litter Boxes?
For toilet harmony in your home, remember the following tips when placing multiple litter boxes. Each litter box needs to be somewhere quiet, away from noisy appliances like washing machines and tumble driers.
But try not to put them in corners – cats like to have several escape routes at all times. Keep them out of earshot of each other too – no cat likes to think of their fellow felines listening in!
Can Cats Ever Share A Litter Box Happily?
A little while ago, I happened to read a thread on an online forum about this very subject. A poster with one cat already was preparing to bring home a new rescue cat. Her question for the community was "how many litter boxes for 2 cats"?
Could she get away with one extra large cat litter box for multiple cats? A lot of posters replied with the same advice we've already given here. But a lot of people also joined the conversation to complain (lightheartedly of course) that they'd set out multiple cat litter boxes for multiple cats, and they all used the same one anyway! Because cats are sent to delight us and torture us in equal measure…
Two Cats, One Litter Box
So what can you do? Do you really have to keep an extra litter box out in your home if it's not being used? If you have two cats sharing a litter happily, then that's great! You can even remove the rejected litter box, but don't chuck it away just yet.
Always keep an eye on the situation, and put it back if sharing a litter box looks like it's starting to cause stress for one of the cats. This can happen if one starts to get muscled out, for example because they're getting older, and a younger cat fancies vying for a piece of their territory.
Your first sign will likely be confrontations at the litter tray, or the suffering cat starting to use the toilet in other places. Also leave the spare out if you're going to leave them at home for longer than usual.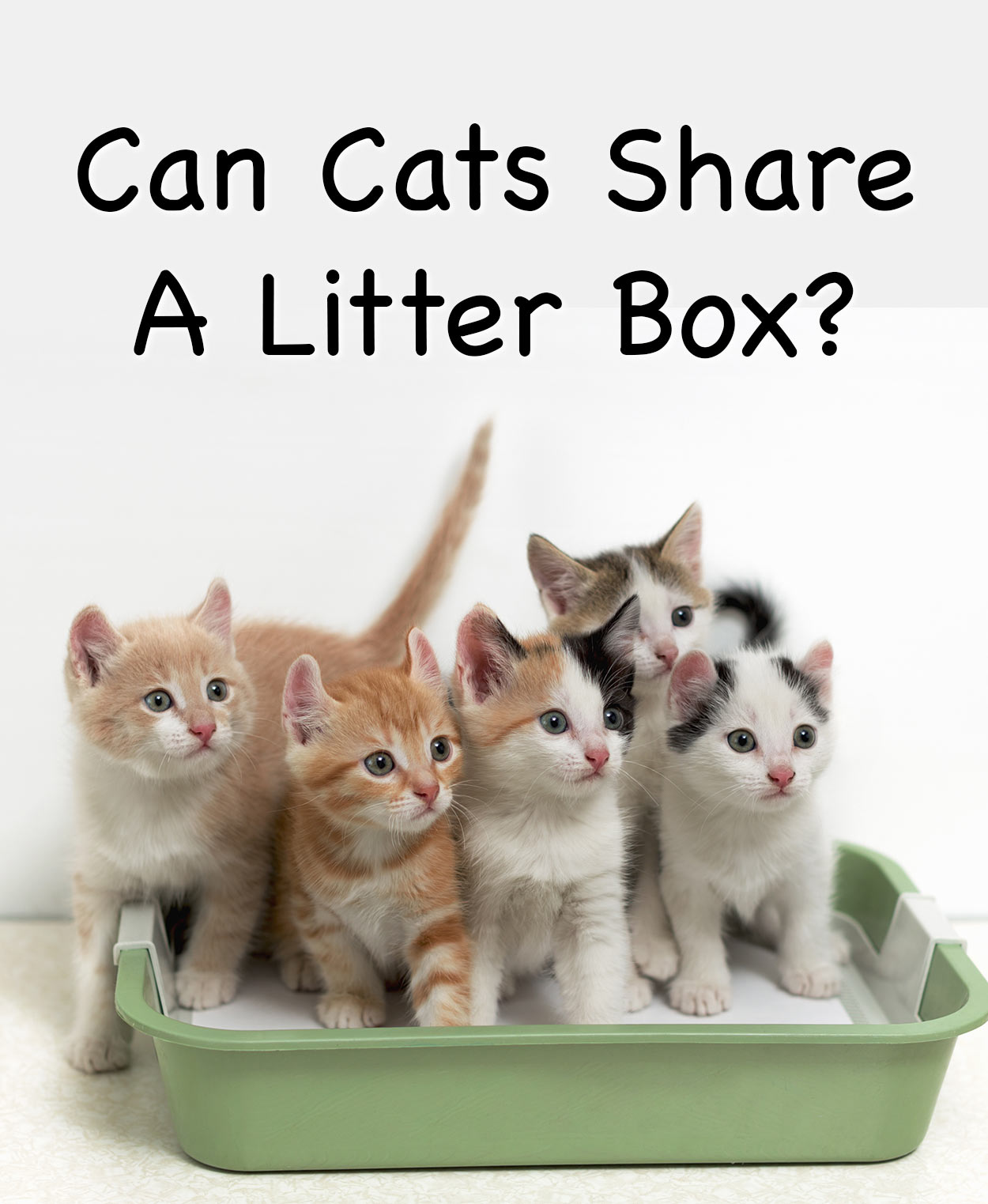 How To Help Your Cats Share A Litter Box
If your cats have decided to share a litter box, then to keep things friendly follow these rules:
Clean it out every day without fail, no excuses. Nothing will put one cat off quicker than a build up of smell, or not being able to find a clean patch of litter.
Consider a larger litter box, to make finding an unused area of litter easier.
Make odor your enemy – your your sake and your cats'! The best cat litter for multiple cats is one which really stays on top of bad smells.
Cleaning Is Key
According to a recent 2017 study from researchers in Missouri, one of those rules is more important than the rest. They found that the problem most likely to put cats off a litter box, was the physical presence of obstructions.
So, a box with odorless spills and "faux-fecal logs" was actually less appealing than a box which had been sprayed with the scent of urine and poo, but didn't really contain anything. This suggests that scooping out your cat's litter box regularly is the most important thing you can do to make it acceptable to them.
It's not an inconspicuous solution. In fact it's pretty massive. But with literally thousands of die-hard fans – including apartment dwellers – it's a great way to conceal an extra litter box for two cats.
What Are The Best Litter Boxes For Two Cats?
Let's say hypothetically that you've got one cat, and you're bringing home another. You're suddenly going to jump from needing one litter tray, to three!
I don't know about you, but find three quiet spots for litter trays all out of earshot of each other would not be an easy job in my house. Luckily, with some creative thinking, we might have just the solution(s) you need! Afterwards, we'll look at what whether cats can share a litter box in some special circumstances.
Nature's Miracle Advanced High Sided Corner Litter Box
Another way to stash cat litter boxes for multiple cats around the house is to try these corner litter boxes*.
These can stand in the little odd-shaped recesses of rooms and next to other furniture without tripping you up whenever you walk past. Remember to consider the location overall though, and make sure you've found a corner which doesn't feel "cornered". (I realize this sounds contradictory, but I've definitely go spaces next to cupboards which count, and I'm sure you do too!)
Merry Products Nightstand Pet House
Alternatively, you can disguise some of those extra cat litter boxes as furniture* instead!
This might sound even crazier than a corner which isn't a corner, but the 2000+ happy reviews mean this manufacturer is definitely onto something! These night stand/table/towel rail/litter box hybrids come in multiple colors and finishes to blend in with any home.
Good Pet Stuff Company Hidden Cat Litter Box
If you don't need another night stand, what about this litter box hidden in a plant pot*?
Litter Boxes For Multiple Cats
So if you cats have decided for you that they only need one litter box, which should you choose? Here are some of our best litter box suggestions for two cats.
Petmate Open Litter Pan
This extra large litter box* for multiple cats is a whopping 26 x 18 inches.
It's got plenty of space for cats to move around and pick a spot in, and it's made partly from recycled plastics as well!
Favorite Jumbo Covered Enclosed Cat Litter Box
If your cats prefer to be undercover when they poop, this jumbo choice* is one of the biggest enclosed litter boxes available.
PetFusion BetterBox LARGE Cat Litter Box
And finally, most large litter boxes come with high sides as standard, but if that's getting tricky for one of your cats, this large open litter tray with one dipped side* could be just what you need.
Does Cat Litter Matter For Multiple Cats?
If your cats insist on sharing a litter box, choose a litter which really neutralizes odor, and clean it out frequently so they aren't put off by the sight of other cats' business.
Your cats may also be more likely to suddenly refuse to use their tray if the smell of another cat becomes too overwhelming. Choosing a specialized kitty litter for odor control could help.
Can Cats Share Litter Boxes?
Just like us, cats like to conduct their bathroom business privately. Hostilities over sharing a litter box is a common cause of inappropriate toileting in cats.
Whether you're bringing home two cats at once, or introducing a new cat at home, they'll need a litter box each, plus one more. Spread the boxes out around the house, and make sure each one is in a quiet, private spot. You might find they end up sharing a box anyway, but never let go of that spare, just in case.
How many boxes do your kitties have, and where do you keep them all? Help us solve this practical problem by using the comments box below!
More Kitty Care Uncovered
Do cats rub against you because they love you?
Why isn't my cat growing bigger?
Affiliate link disclosure: Links in this article marked with an * are affiliate links, and we may receive a small commission if you purchase these products. However, we selected them for inclusion independently, and all of the views expressed in this article are our own.