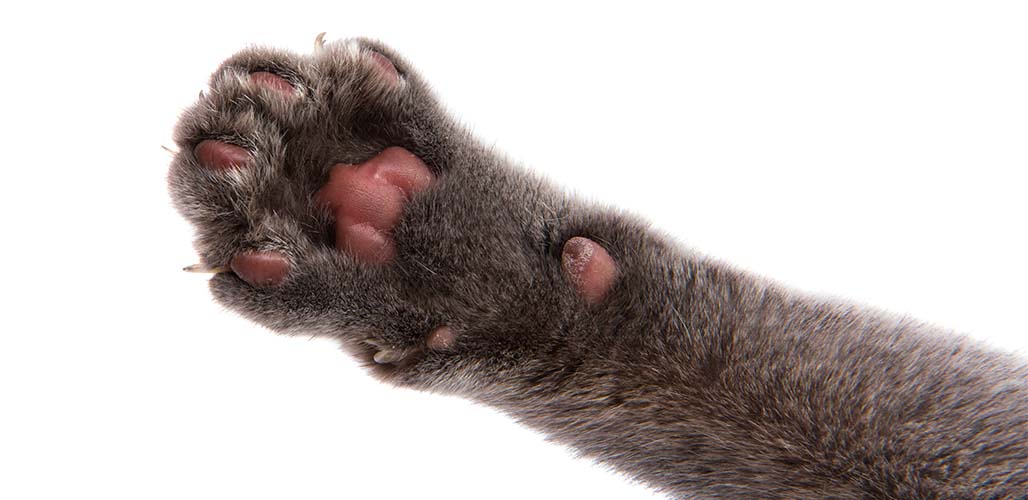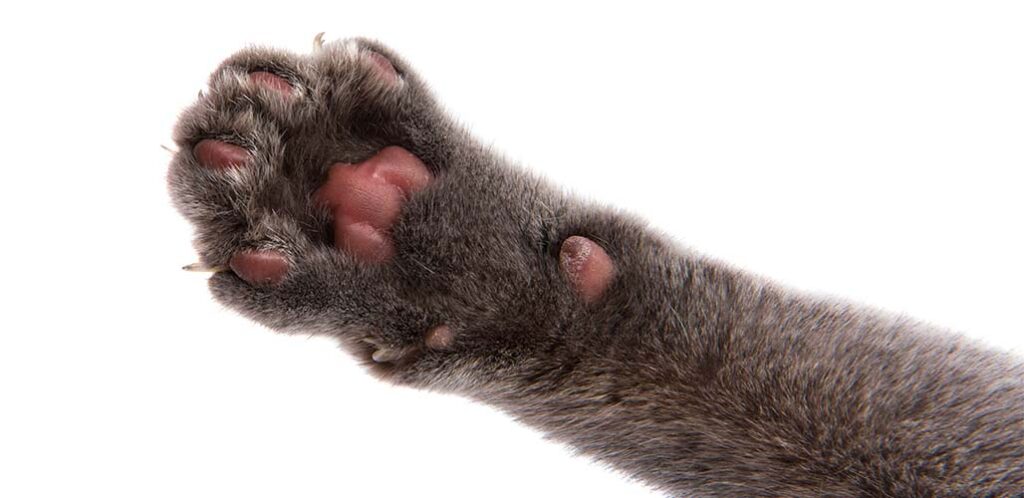 I'll bet you're already familiar with cats' cheek whiskers. They're some of the most iconic facial furniture in the animal kingdom. But you're probably less well acquainted with their carpal whiskers, which are located on the backs of their front legs. I remember being quite taken aback the first time I noticed them on one of our family cats, and for some time I thought they were just rogue long hairs. Little did I realise how special they actually are! Carpal whiskers detect pressure and vibration, and provide cats with valuable information about the environment around their feet. But, not all cats have them. So lets take a look a which ones do, and what they're for.
Contents
Whiskers 101
Let's start with some basics about whiskers. Whiskers are stiff, tapered hairs which perform a specialized sensory function. Their proper scientific name is vibrissae. The follicle of each whisker is surrounded by specialized nerve endings called mechanoreceptors. Mechanoreceptors are sensitive to pressure and movement. When the tip of a whisker brushes against something, because the shaft is relatively stiff the whole hair moves, right down to the root. The movement of the root is detected by the mechanoreceptors, which send messages to the brain about how much force is being applied to the whisker, and from which direction.
Besides the long whiskers which are easy to spot, cats also have lots of short vibrissae for providing more detailed, close-up information. Cats' whiskers extend way beyond their cheeks too. They have:
Mystacial whiskers on their cheeks
Superciliary whiskers on their eyebrows
Mandibular whiskers on their chin
And of course, our focus today, carpal whiskers on their front legs.
What are carpal whiskers?
Carpal means 'of the hand or foreleg'. Since cats don't have hands, in this case we're talking about their front legs. Carpal whiskers are positioned on the back of the leg, just above their carpal pad – around the height of their wrist. If you take another closer look at the photo at the top of this article, the carpal pad is the one furthest to the right of the photo. And some long, pale carpal whiskers are just visible at about 4 o'clock in relation to that pad. Depending on your breed of cat, and the properties of their coat, they can be either very prominent, or fiendishly difficult to spot!
Most felines have about four long carpal whiskers, and several shorter ones. Just like the whiskers on their face, their roots of carpal whiskers are surrounded by mechanoreceptors which detect when the hairs are being pressed against, and in which direction. But they have something extra too! Carpal whiskers also have another specialized type of nerve ending at their root which the other types of whiskers do not, called Pacinian corpuscles. Pacinian corpuscles are uniquely adapted to detect vibrations. We'll see how that helps cats in a moment.
Which cats have them?
Nearly all cats have carpal whiskers. They're most obvious on cats with short hair, but you'll find them on long haired felines too, if you go looking for them. However, a small number of cats lack them altogether, or tend to lose them easily:
Sphynx cats. Sphynx cats are a completely hairless breed – they don't even have eyelashes! And they don't have whiskers either, including those of the carpal category.
Rex breeds. Rex breeds, including the Cornish Rex, Devon Rex, and Selkirk Rex have a genetic mutation which causes their fur to form tight waves. It also makes their whiskers curly, brittle and prone to breakage. Whilst these breeds do grow carpal whiskers, they break off easily, and you might not always be able to see where they are. Since lost or broken whiskers grow back, a single rex cat can sometimes have carpal whiskers, and sometimes not.
Peterbalds. Peterbald cats are another hairless breed, but some individuals do have short whiskers. Like the Rex breeds, if they grow whiskers they will be curly, brittle, and prone to snapping. Some Peterbalds – known as ultrabalds – don't grow whiskers at all.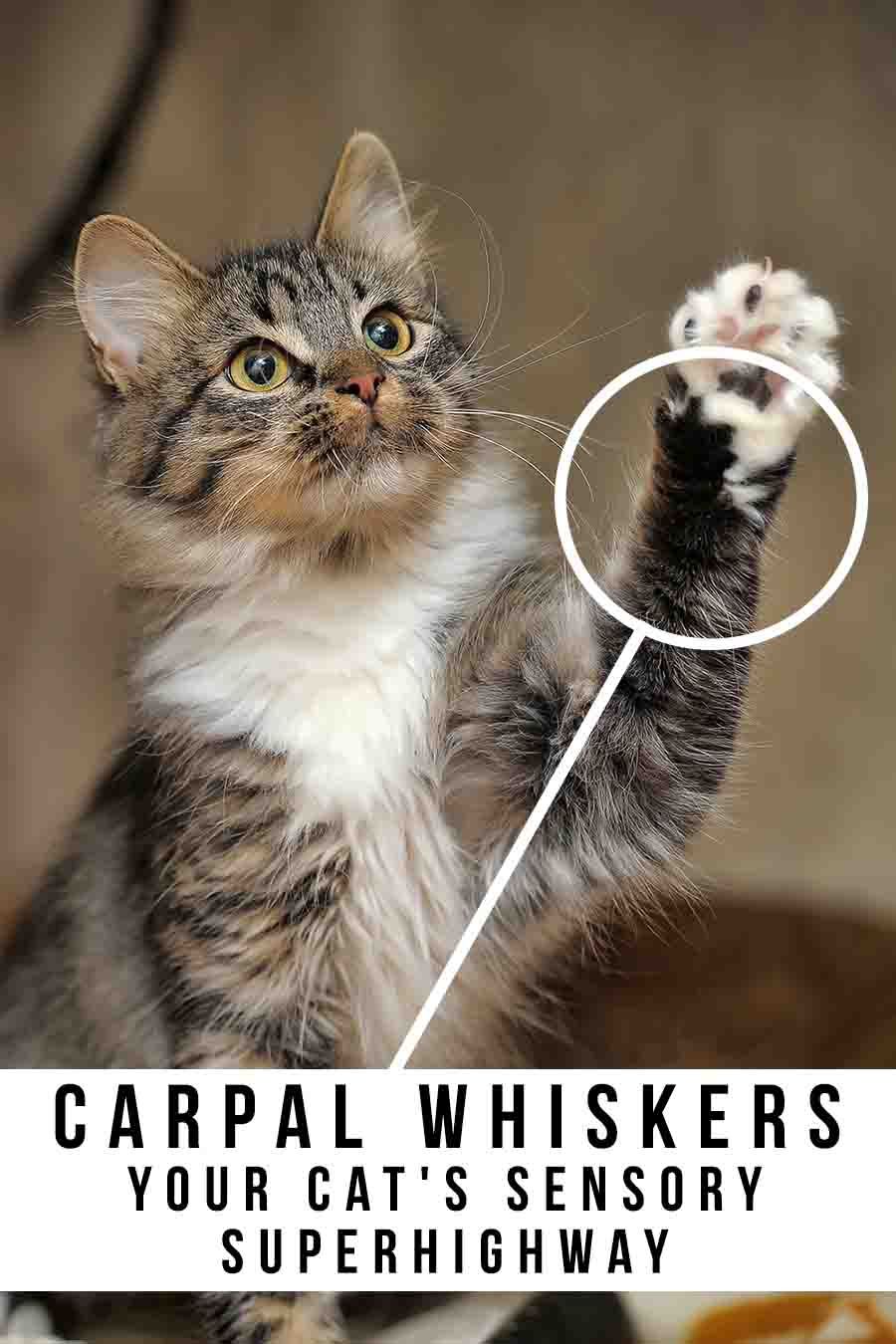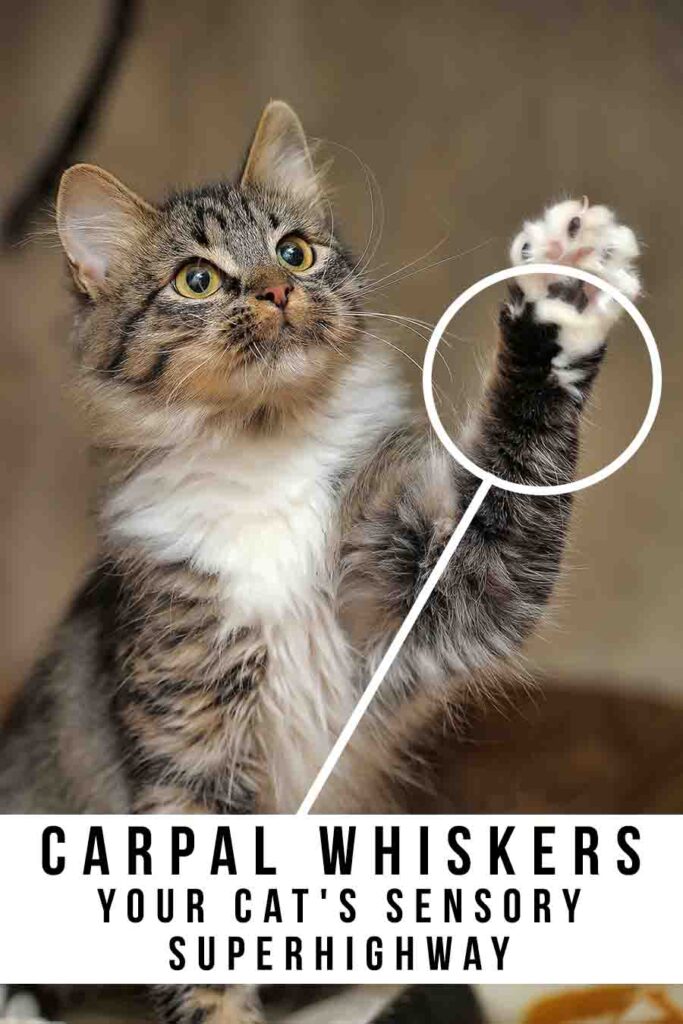 What do carpal whiskers do?
So what's the point of whiskers on legs? Carpal whiskers provide cats with tactile information about the world at the feet. In the wild, this information would give them a survival advantage. Here are some examples of when felines rely on their carpal vibrissae:
To assess the depth of loose matter, like sand or kitty litter.
To climb – the carpal whiskers help cats gauge the angle of their front paws relative to the thing their climbing and the rest of their body, amongst other things.
To judge the grip they have on live prey.
And – this is where the ability to detect minute vibrations comes in – to detect whether prey which is playing dead is actually still alive. Small mammals like rodents have a heartbeat so fast that it's more like a humming vibration than a pulse.
In all of these scenarios, the sensory input from the carpal whiskers help make up for the fact that lots of cats – especially outdoor cats – tend to be long sighted, and have relatively poor vision up close.
Is it ok to touch my cat's carpal whiskers?
So, picking up minute tactile clues from a spot just behind their front paws isn't simply an obscure party trick for cats. It's an important piece of the sensory jigsaw which helps them understand and navigate their environment. Does that mean you should avoid interfering with it at all costs? Well, brushing or touching the carpal whiskers by accident or in the course of playing with or grooming your pet is fine. But don't go out of your way to fiddle or play with them. Vets and behaviorists believe that overstimulating or interfering with cats' whiskers is unpleasant and upsetting for them.
Can I trim my cat's whiskers?
Cats don't usually need much in the way of haircuts. But if you have a long haired cat, and the fur between her toes irritates her, your breeder or vet might recommend trimming the hairs between her toe pads to make her more comfortable. However, you should not trim her carpal whiskers. The loss of sensory input from them could be distressing. If in doubt, ask a professional groomer to help you!
Carpal whiskers – summary
Carpal whiskers, or more properly carpal vibrissae are specially adapted hairs above the back of a cat's front paws. They provide tactile information about what's going on at their feet, and help compensate for having relatively poor close range vision. It's easy not to notice carpal whiskers, and there's something very fascinating about them when you spot them for the first time. But resist the urge to prod them, and never, ever trim them. If your cat has particularly long and unmistakeable carpal whiskers, leg us know in the comments box down below. And if they don't have any at all, let us know whether you think it affects their behavior!