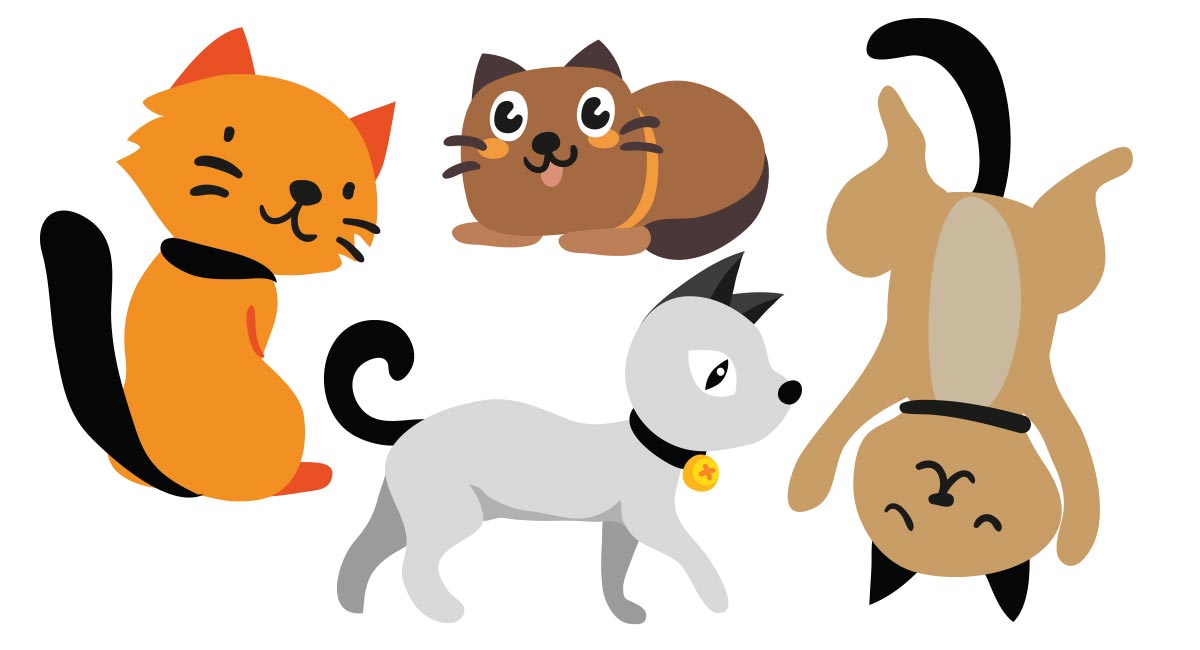 Cartoon cat names are a fun way to express yourself, encapsulate your cat's character, or shape people's first impression of them.
Bringing home a new kitten or rescue cat is as exciting as naming her. Should you pick cartoon cat names, family names or go for something more common?
Maybe you hadn't thought of naming the kitten until now. You were just ready to welcome a feline into your home.
Bonding, training and helping to acclimate your new kitty to family life are all important. But she has to know what to answer to.
Normally this would be stressful, but we're here to help.
This carefully curated article featuring popular and unique cartoon kitten names will help take the naming pressure off.
The Name Game
It sure isn't fun to draw a blank on names after you've brought home your new kitten or rescue cat.
But actually, this is quite normal.
It is not that different than meeting someone really intriguing and exchanging names.
You two strike up a riveting conversation. Then as you get ready to part ways, you realize you can't remember what she said her name was.
Repetition is key. Ask again. Sooner or later, the name will settle into your memory bank, as well as your pet's.
Naming Your Cartoon Kitten or Rescue Cat
What do you love about her? What cute quirks does she have?
Are there unusual markings on her body or face that make you think of cat or kitten cartoon characters?
Keep these general naming suggestions in mind:
Try to pick a short name (two syllables or less) or a name you can easily shorten.
Avoid choosing a loved one's name for your new cat without asking him first.
Pick a name that sounds different from other pets or family members' names.
If you want to train your kitten, steer clear of names that sound too much like training commands you plan to use.
Be sure you pick a name you don't feel embarrassed to shout publicly.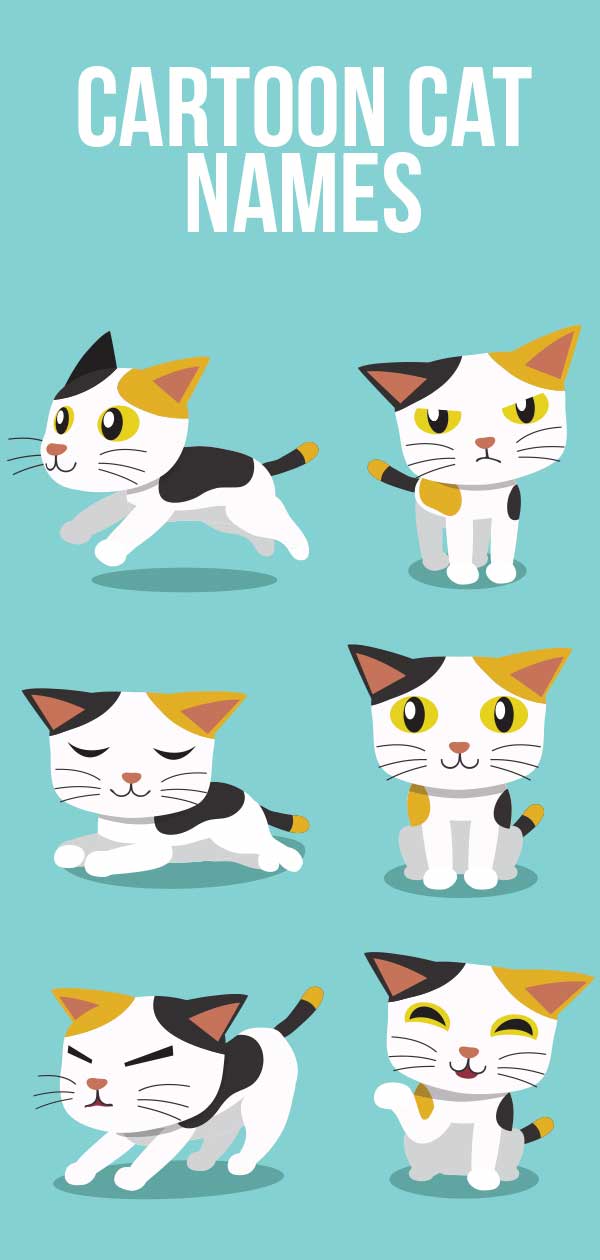 Best Cartoon Cat Names
Read on now for curated ideas for some of the best cartoon kitten names in a number of popular categories: female and male, cute and cool, funny, unique and tough.
Female Cartoon Cat Names
Did you choose a female kitten? You have so much variety to choose from in this list of female cartoon kitten names.
Nala
Hello Kitty
Duchess
Marie
Fancy-Fancy
Rita
Arlene
Josephine
Beverly
Cleo
Francis
Vitani
Garnett
Jess
Jenny
Henrietta Pussycat
Katerina Kittycat
Luna
Muriel
Nicole
Opalescence (Opal)
Yzma
Pantherlily
Dr. Paula Hutchison
Artemis
Cindy Lou
Cozette
Zira
Princess Carolyn
Misty
Male Cartoon Cat Names
Is your new kitty male? Maybe he looks like one of these famous felines; they may even share a breed.
Your new kitten's perfect name may be waiting for you right here in this list of male cartoon kitten names.
Garfield
Heathcliff
Felix
Tom
Tigger
Simba
Milo
Rufus
Jake
Hector
Claude Cat
Danny
Peppo
Billy Boss
Darwin
Floyd
Fritz
Leopold
Sebastian
Sawyer
Oggy
Nelson
Tony
Pete
Mr. Kitty
Bucky
Danny
Frosty
Oliver
Prince John
Cool Cartoon Cat Names
Let's face it. There are some pretty cat-a-strophically cool felines in pop culture today.
From brave to bossy, enigmatic to outgoing, you may find that one of these cool cartoon kitten names captures your own cool cat to a "t."
Pink Panther
Stimpson J. Cat
Salem
Cheshire Cat
Sassy
Bagheera
Snagglepuss
Thackery Binx
Musafa
Top Cat
Raja
Autocat
Mr. Jinks
Julius
Tiger
Mr. Mumbles
Nyamsus
Peg Leg Pete
Proud Heart Cat
Mirage
Master Korin
Klondike Kat
Hobbes
Meowth
Kat
Wild Bill Cat
Leodore Lionheart
Cake the Cat
Renato Manchas
Pete Puma
Cute Cartoon Cat Names
Oh, the cuteness. Thy four-legged friend is a kitten.
There are many reasons why cute kittens are so endearingly popular in cartoon culture. We just love looking at them.
These cute, cartoon kitten names highlight some of the most huggable, snuggly, squishable kitties of all time.
Nermal
Figaro
Binky
Doraemon
Pusheen
Choo Choo
Oliver
Dinah
Banjo
Branya
Boo
Chi
Chloe
Kitty Katswell
Chococat
Fluffy
Katnip
Furrball
Gnocchi
Happy
Gumball Watterson
CatDog
The Kitten
Meow
Snowball
Pussyfoot
Mittens
Punkin Puss
Mochi
Jiji
Funny Cartoon Cat Names
Funny felines, now there's a concept. Does watching kittens and cats at play make you laugh, smile and feel better instantly?
Perhaps one of these funny cartoon kitten names will perfectly capture the antics of your new kitty at play.
Scratchy
Cat in the Hat
Stimpy
Mr. Bigglesworth
Stinky
Mr. Tinkles
Meowth
Bagpuss
Spot
Top Cat
Brain
Benny the Ball
Felicia
D.C. (That Darn Cat)
Babbit
Catstello
Beans
Bonkers D. Bobcat
Cat
Catbus
Scaredy Kat
Chance T-Bone
Custard
Eek
Fat Cat
Fraidy Cat
Tom Cat
Streaky the Supercat
Snooper
Ruff
Unique Cartoon Cat Names
When it comes to deciding who wins the "most unique cartoon kitten names" award, it sure is hard to pick just one.
These unique cartoon kitten names are awesome in their own right.
If you dig a little deeper into each cartoon cat's personality, you might find the perfect match for your own fur sidekick here in this list.
Azrael
Thomas O'Malley
Berlioz
Toulouse
Nyan
Aslan
English Cat
Kyo Soma
Wordsworth W. Wordsworth
Mungo
Doc
Kuro
Kwazii
Tama
Shii-Chan
Salem
Poyo Satou
Maomolin
Sagwa
Sheegwa
Dongwa
Cringer Cat
Nuka
Super Snooper
Mooch
Battle Cat
Lippy the Lion
Snarf
Officer Meow Meow Fuzzyface
Sugar Bell
Tough Cartoon Cat Names
There is no doubt felines—real or make-believe—have everything it takes to be fierce.
From funny-fierce to ferocious-fierce and the whole spectrum in between, these tough cartoon kitten names recognize some of the roughest, toughest and most memorable tough cats in cartoons today.
Sylvester
Puss in Boots
Lucifer
Si
Ami
Crookshanks
Scar
Spook
Gideon
Shere Khan
Sabor
Beerus
Butch
Riff-Raff
Chaos
Courageous Cat
Diana
Dydo
Evil
Fantomcat
Razor
JIbanyan
Kirara
Krazy Kat
Rubbish
Scat Cat
Kovu
Tigress
Sergent Tibbs
Alex the Lion
Fun Facts About Cartoon Cats
We've gathered up some fun facts about cartoon kitten characters worth pondering as you continue to brainstorm your sweet feline's new name.
Name Garfield's Breed
Garfield character was based on an orange tabby cat.
Hello Kitty Is a Goldmine
Hello Kitty, a feline cartoon modeled after a Japanese Bobcat, is a cat franchise with an estimated net worth of $6.5 billion.
The franchise is so successful there is a Hello Kitty passenger plane, a Hello Kitty presidential bid (in 2016) and a Hello Kitty maternity hospital (in Taiwan).
The Mona Lisa Cartoon Cat
Do you remember the Cheshire Cat in "Alice in Wonderland?" This Cheshire is widely considered to be the Mona Lisa of felines.
Dr. Seuss' Most Popular Character Is a Cat
Dr. Seuss' feline creation "The Cat in the Hat" is said to be the author's most popular character.
Cartoon CryptoKitties
The open-source computing platform Ethereum counts "CryptoKitties" as one of its most popular programs.
Gamers recognize it as a game to breed cyber kittens, and also buy and sell them.
The worldwide platform estimates 4 percent of all online transactions come from CryptoKitties, with one CryptoKitty reportedly fetching the jaw-dropping price of $5,000.
A Cartoon Cat Has 9 Million Facebook Fans
Pusheen, the GIF kitty, has 9 million Facebook likes, more than 100,000 Twitter followers, and a range of animated emoticons to rival most cat owners.
The Best Cartoon Cat Name for Your New Pet
Congratulations on your new kitten or rescue cat.
We hope this curated article featuring some of the top funny, cute, unique and popular cartoon kitten names has given you lots of great naming ideas.
Please leave a comment below and share your kitty's new name. What inspired you to name her that?
References and Further Reading:
Keeley, M., 2016, "The True History of Pusheen, the Animated GIF Cat That's Taking Over Facebook," Hornet
Martinez, S., "20 Most Memorable Cats in Disney History," Babble
Peterkin, C., 2011, "The 20 Best Cats in Pop Culture," Paste Magazine
Won, J.I., 2017, "The Ethereum World Is Now Obsessed with Breeding Cartoon Cats," Quartz
Woodgate, D., 2017, "Hello Kitty's Multibillion-Dollar Success Story," Financial Review