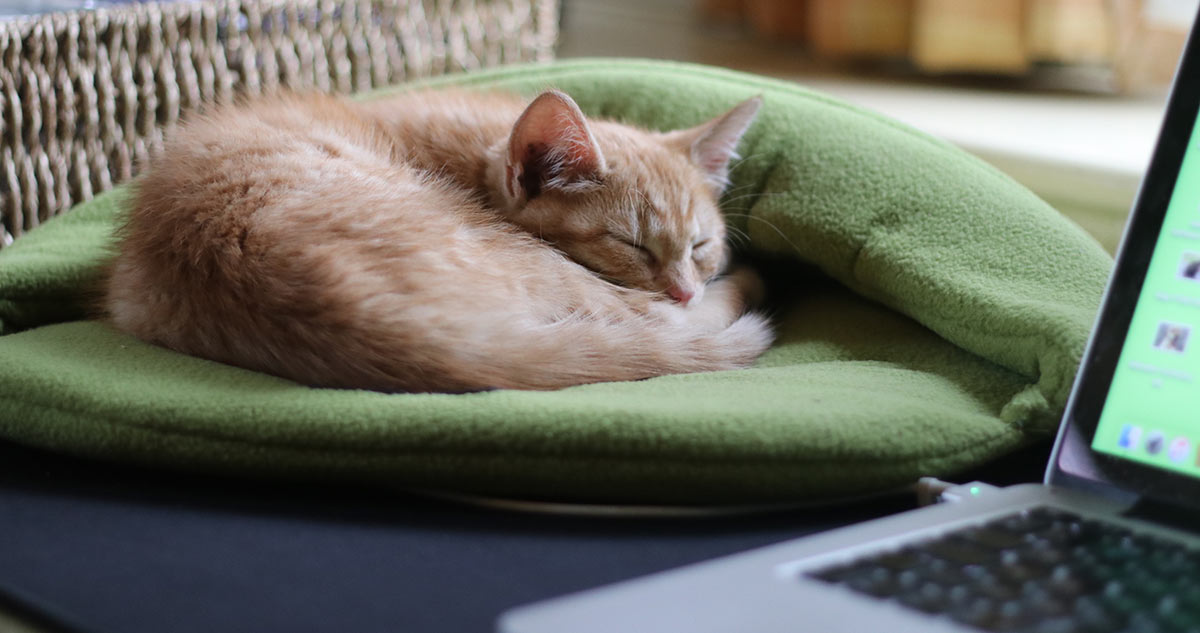 Tuesday 8th November – Billy is eleven weeks old today
He grows more affectionate with each passing day and is my constant companion.
He isn't allowed in my bedroom, but if I spend any time in there, he can almost always be found sitting outside the door waiting for me when I come out.
I have a kitten cave on the desk in my office and Billy likes sleeps next to me while I work. Or where he can sit and watch the birds on the bird table outside my window.
I try hard to remember to wash my hands every time I handle him.
Kitten allergy?
As my allergy appointment draws nigh, the allergy issue dominates our thoughts.
Yesterday I woke up with some significant swelling around my eyes for the first time since I was treated with steroids, and it has reminded me that the allergy problem is still not solved.
The swelling subsided as the day wore on, but was back again this morning
I can't take any anti-histamines now, until I have seen the allergy specialist, which adds to the worry, as does my husband, whom I caught hunting around the house for the Epipen he was prescribed years ago and has never needed.
It has made me think.
The time has come to seriously consider what will happen to Billy if the consultant advises that Billy is the cause of the facial swelling or angioedema as they like to call it.
I think that the only thing that would make me part with Billy now would be if the allergy specialist believes I am at risk of compromising my airway, and that it isn't safe for me to continue living with him.   
In that event, there are two homes waiting for Billy.  Both my younger daughter, and my younger son would be willing  to adopt him.
Homes for Billy
My daughter already has a lovely cat, Oscar, and I am worried that the arrival of a new kitten might upset the balance of their happy family.
Older cats have been known to leave home when new ones are introduced. And older cats may reject or even attack kittens.
Lucy and I also work together to she will inevitably have cat dander on her clothes which means potentially continued low levels of exposure for me.
So it might make more sense for Billy to go to my son and his girlfriend, who don't yet have any pets, and whom I see less often
It is just awful having to think of these things, but it seems to be the responsible thing to do.
I keep scouring the internet for stories of people who have successfully coped with cat allergies, without losing the cat.
But I can't find anyone with significant angioedema (swelling) that has written about doing so. All the published anecdotes seem to involve respiratory problems.
Wednesday 9th – Billy the kitten is eleven weeks and one day old
Tomorrow is the allergy appointment – looming large
Today was the day our central heating boiler chose to stop working. Not the coldest day of the year, but quite chilly enough.
Billy, me, and my puffy face, have spent the day camped in front of the wood-burning stove in our living room.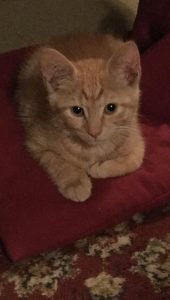 I sat on the floor right next to the stove, with my back against the couch, as that's the warmest place.
Sometimes Billy slept on a cushion on the hearth rug next to me.
And sometimes he got onto the couch and patted gently at my hair
He also thought it quite entertaining to sit on my shoulder then slide under my neck with his tail up my nose (just what the doctor ordered), until he reached the other shoulder.
All the while chirping quietly to himself
Every now and then I lift him down to the floor.
Then Billy and I have a conversation. It goes like this
Billy: Can I sit on your lap
Me: no, I'm trying to work
Billy: just for a minute
Me: get off the keys Billy you just typed >>kkkkkw!!!jjxhrr$
Billy: when can I have a cuddle
Me: when I have finished this article
Billy: there is something crawling around your screen – I'll get it for you
Me: NO Billy, that is my cursor
Billy: Have you seen me balancing on the top of the fireguard? Pretty cool Eh?
Me: Billy GET DOWN that's dangerous.
You know the kind of thing
But mostly he is pretty good and I just want tomorrow to come and the allergist to tell me I'm allergic to anything in the world apart from him.
Continue reading Billy's blog..
Free Updates For Cat Lovers!
Our cat care articles, tips and fun facts, delivered to your inbox