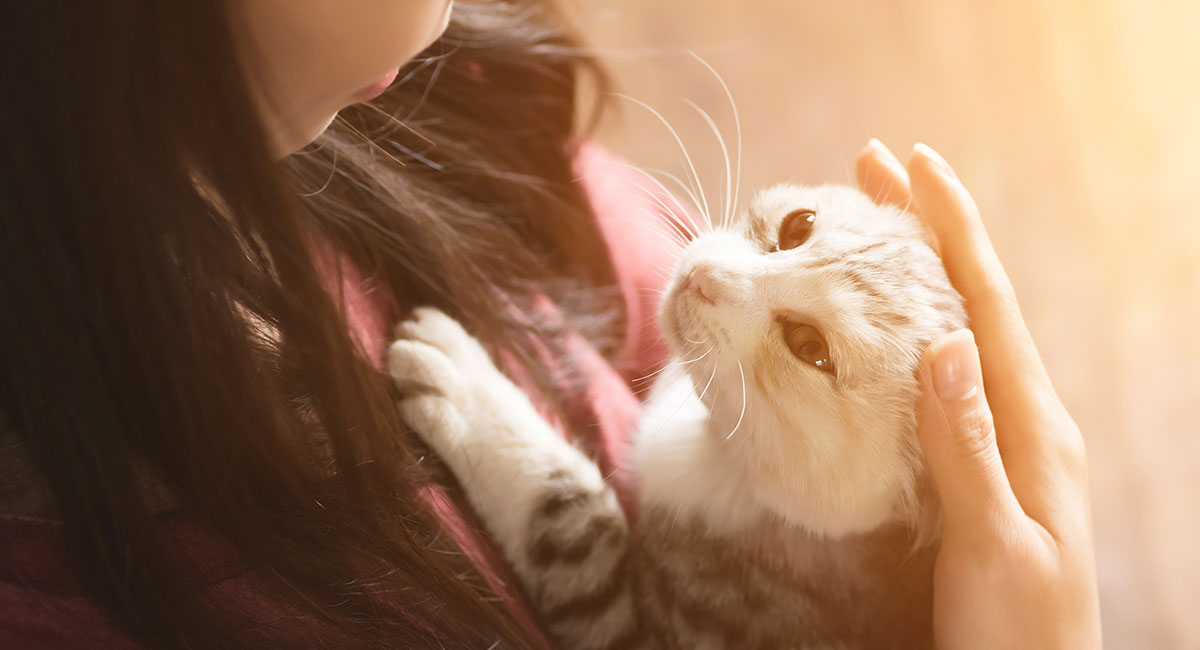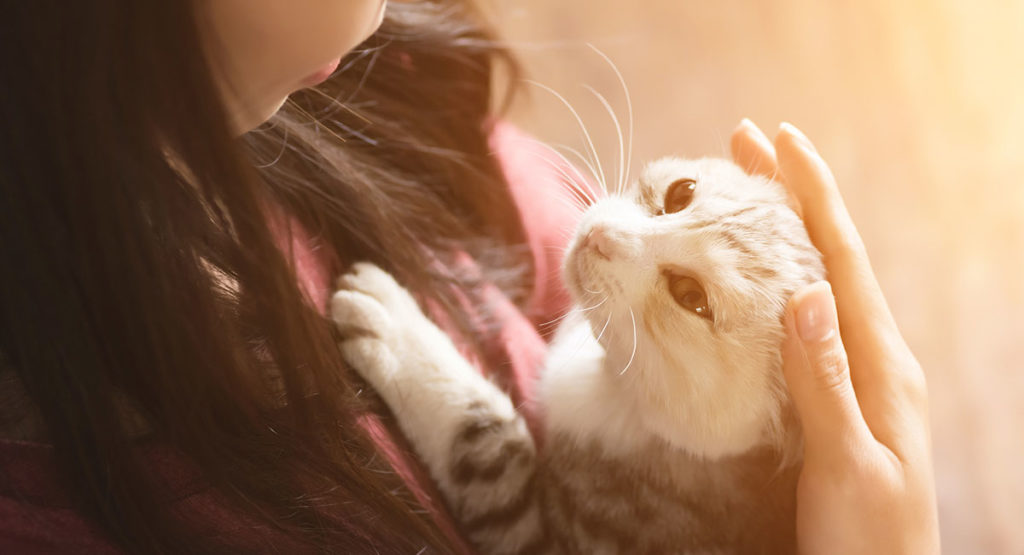 While we know these cat loss quotes won't make the loss of a beloved cat any easier to bear, sometimes it can help to simply know you are not alone in how you feel.
The truth is, pet grief can be particularly heart-wrenching on a number of levels. "Non pet" people may not fully grasp the depth of your loss. Work and personal life doesn't as readily allow for time away to rest, find support and heal.
Yet people all over the world have incredibly profound connections with their cats and it is important to remember that grief is grief, whether over a person or a pet. After all, as Anatole France said so well, "Until one has loved an animal a part of one's soul remains un-awakened."
We know that finding pet loss quotes cat lovers can relate to is easier when you are not coping with fresh grief. So we hope these hand-picked pet cat loss quotes and poems may offer timely support as you remember and mourn the passing of your beloved cat.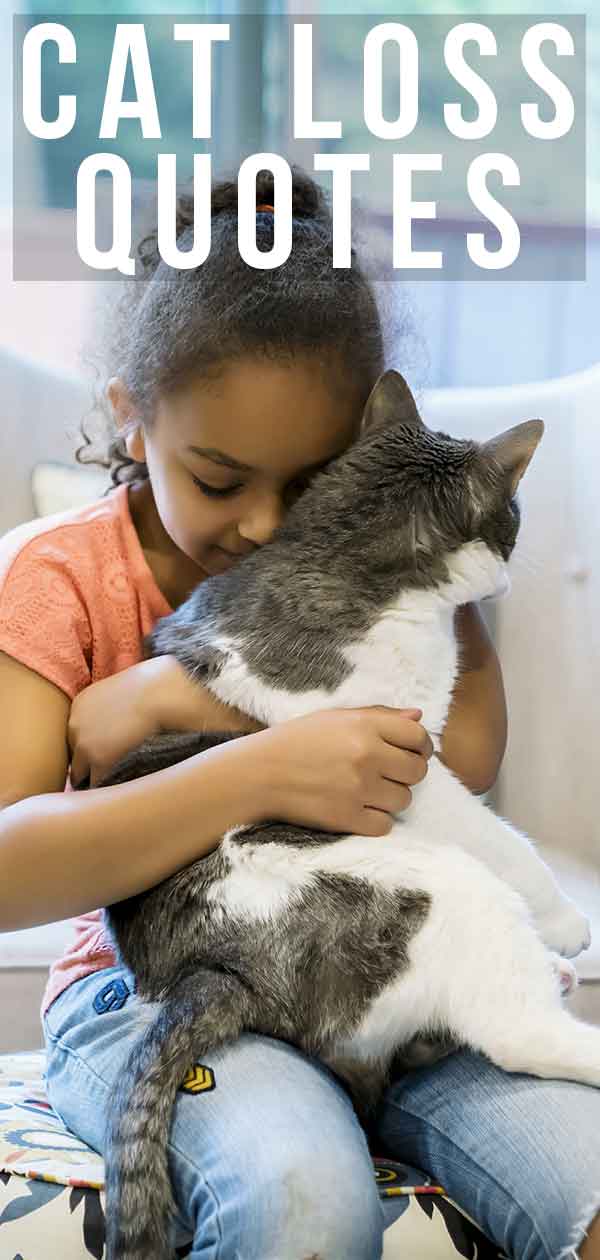 Cat Loss Quotes Only Cat Lovers Will Understand
A big part of grieving is understanding exactly what you loved and now miss about your departed feline family member.
Gratitude for all the gifts your pet cat gave you won't erase your grief, but sometimes it can help ease it by bringing a smile of remembrance to your face.
These cat loss quotes from other cat owners are a great reminder of the blessings we receive when a cat comes into our life.
Let's Take a Look
I have lived with several Zen masters — all of them cats. Eckhart Tolle
Cats regard people as warm-blooded furniture. Jacquelyn Mitchard
There are two means of refuge from the miseries of life: music and cats. Albert Schweitzer
What greater gift than the love of a cat. Charles Dickens
The smallest feline is a masterpiece. Leonardo da Vinci
Time spent with a cat is never wasted. Sigmund Freud
Here are Some More Options
It's funny how…cats know the inside of folks better than other folks do, isn't it? Eleanor H. Porter
The difference between friends and pets is that friends we allow into our company, pets we allow into our solitude. Robert Brault
I had been told that the training procedure with cats was difficult. It's not. Mine had me trained in two days. Bill Dana
One day I was counting the cats and I absent-mindedly counted myself. Bobbie Ann Mason
No amount of time can erase the memory of a good cat, and no amount of masking tape can ever totally remove his fur from your couch. Leo Dworken
Heaven will not ever Heaven be, unless my cats are there to welcome me. Unknown
Cat Loss Quotes From Famous Cat Owners
If there is one true levelling force in the universe, it is the loss of a precious pet.
These loss of your cat quotes from famous cat owners and from owners and fans of famous cats each offer glimpses into how other cat lovers have experienced the loss of a beloved feline.
Here are the Quotes
Mercy was a gentle and loving kitten and we are all going to miss her so much. Kim Kardashian West
Besides being our baby and a cherished member of the family, Grumpy Cat has helped millions of people smile from all around the world – even when times were tough. Her spirit will continue to live on through her fans everywhere. Family of Grumpy Cat (aka Tardar Sauce)
All who met you at the vet or at home were enchanted by you – you really were a very special little stray and I'm so glad you found me – thank you for the joy and companionship you gave me – I miss you terribly Tamby darling. Jan Leeming (read her full poem at this link)
A musical legend has passed. Bento (keyboard cat) survives in our memories and the millions of views he amounted on YouTube. RIP, Bento, you'll be missed by many. One of many fans of "The Keyboard Cat"
Molutty, we badly miss you. Family of Twitter-famous cat Chunchu Nair
It is with great sadness that we tell you that Leo has passed away. He will forever be missed by his human and fur family. May his star always shine bright. Family of Church (aka Leo), the famous Pet Sematary film cat
Pet Cat Loss Quotes from Art and Literature
These pet cat loss quotes come from some of the most talented writers, artists and poets of our time.
While some of them may not be exactly household names while others will likely never be forgotten, in this one area of life, grief over a departed cat unites us all.
Take a Look
To anyone who has ever been owned by a cat, it will come as no surprise that there are all sorts of things about your cat you will never, as long as you live, forget. Not the least of these is your first sight of him or her. Cleveland Amory
Cats are intended to teach us that not everything in nature has a purpose. Garrison Keillor
A cat has absolute emotional honesty: human beings, for one reason or another, may hide their feelings, but a cat does not. Ernest Hemingway
It is impossible for a lover of cats to banish these alert, gentle, and discriminating friends, who give us just enough of their regard and complaisance to make us hunger for more. Agnes Repplier
When you are sorrowful look again in your heart, and you shall see that in truth you are weeping for that which has been your delight. Khalil Gibran
Find Some More Options Below
And they all said 'I'm sorry for your loss,' as if you were someone who could ever be taken from me. Robert Brault
I believe cats to be spirits come to earth. A cat, I am sure, could walk on a cloud without coming through. Jules Verne
Grief is so painfully real, regardless of its origin. The love of, and attachment to, an animal friend can equal that of human relationships. Likewise, the loss of an animal can be just as devastating. Pastor Joel Morgan
I am stunned at how much I miss her and how empty the house feels without her soft round self asleep on the sofa. With her passing goes a chunk of my son Matt's childhood. He was 10 years old when he selected her out of a box of kittens abandoned at the wildlife center…. In Matt's raising of and caring for Luna, I witnessed an enduring trait in my son: his extraordinary gift for nurturing. Leigh Pretnar Cousins
Beautiful Cat Loss Poems
These cat loss poems capture so perfectly the conundrum of loss and love – when the physical form is gone from our lives but the feeling we have for them is just the same.
If you are struggling with grief that seems overwhelming, it might feel comforting to pen your own loss of cat quotes or poems and either read them privately or share them with understanding family members and friends.
"Cat Poem"
They will not go quietly,
the cats who've shared our lives.
In subtle ways they let us know
their spirit still survives.
Old habits still make us think
we hear a meow at the door.
Or step back when we drop
a tasty morsel on the floor.
Our feet still go around the place
the food dish used to be,
And, sometimes, coming home at night,
we miss them terribly.
And although time may bring new friends
and a new food dish to fill,
That one place in our hearts
belongs to them…and always will.
By Linda Barnes – Pet Loss Poems
"Separation"
Your absence has gone through me
Like thread through a needle.
Everything I do is stitched with its color.
By W.S. Merwin – Poetry Foundation
"Poem For Cats"
And God asked the feline spirit
Are you ready to come home?
Oh, yes, quite so, replied the precious soul
And, as a cat, you know I am most able
To decide anything for myself.
Are you coming then? asked God.
Soon, replied the whiskered angel
But I must come slowly
For my human friends are troubled
For you see, they need me, quite certainly.
But don't they understand? asked God
That you'll never leave them?
That your souls are intertwined. For all eternity?
That nothing is created or destroyed?
It just is…forever and ever and ever.
Eventually they will understand,
Replied the glorious cat
For I will whisper into their hearts
That I am always with them
I just am…forever and ever and ever.
By Author Unknown – Niles Animal Hospital
"My Little Cat Ghost"
The years I've worn you,
warm upon my shoulder
have led us here —
surprised to find us older.
And there was nothing left
to do today
but hold you close
and help you on your way.
Be still, my little cat,
be well, be free.
I know you're somewhere new
and loving me.
By Unknown – Cat Poems
Have Our Cat Loss Quotes Helped?
Do you have a favorite among these cat loss quotes that you find especially helpful or comforting? Have you found a perfect poem or quote to share with a loved one who has just lost their precious cat?
Did we miss one of your favorite cat loss quotes? Please let us know by sharing it in the comments section below for everyone to enjoy.
If you'd like to read some cat quotes to remind you of the great times you spent with your cats, make sure to take a look at the ones in this article.
We also have a collection of cat love quotes you may enjoy.
References