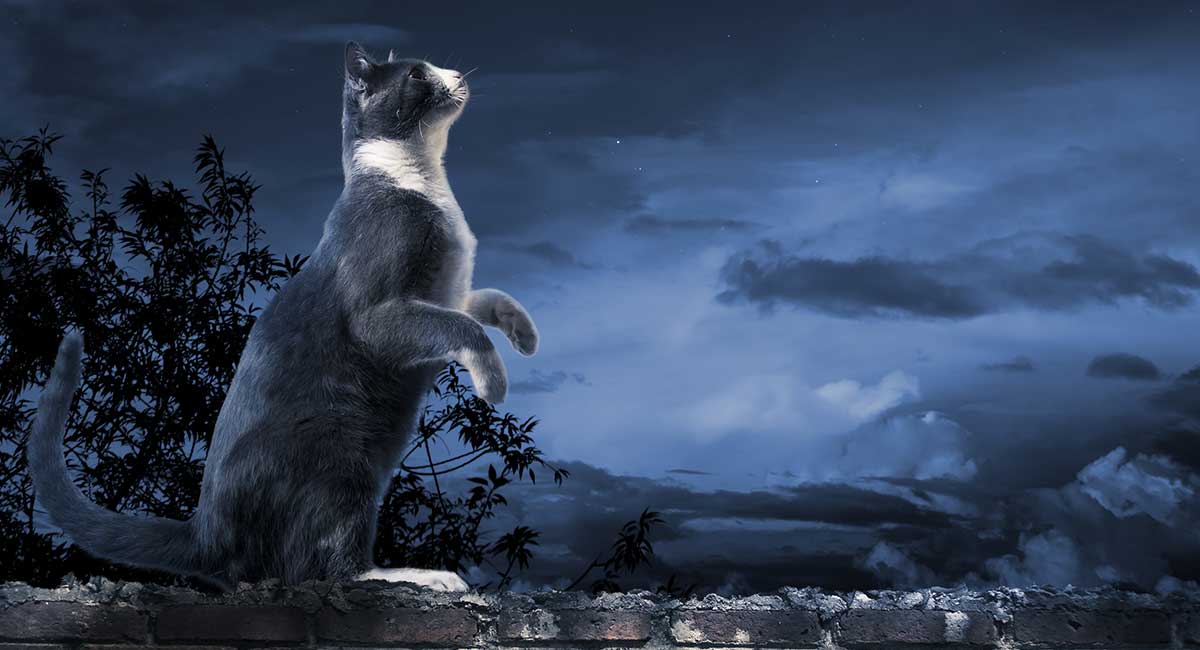 Is your cat meowing at night waking you up?
You're not the only one. Many cat owners have lost sleep due to their cat crying at night.
It can be difficult to understand why your cat meows all night, which is why we've put together this article.
We will explain why cats meow at night and offer some potential solutions that may help you get more sleep.
Why Do Cats Meow at Night?
There are many reasons why cats cry at night, and identifying them can help you figure out how to stop it, or at least reduce the frequency.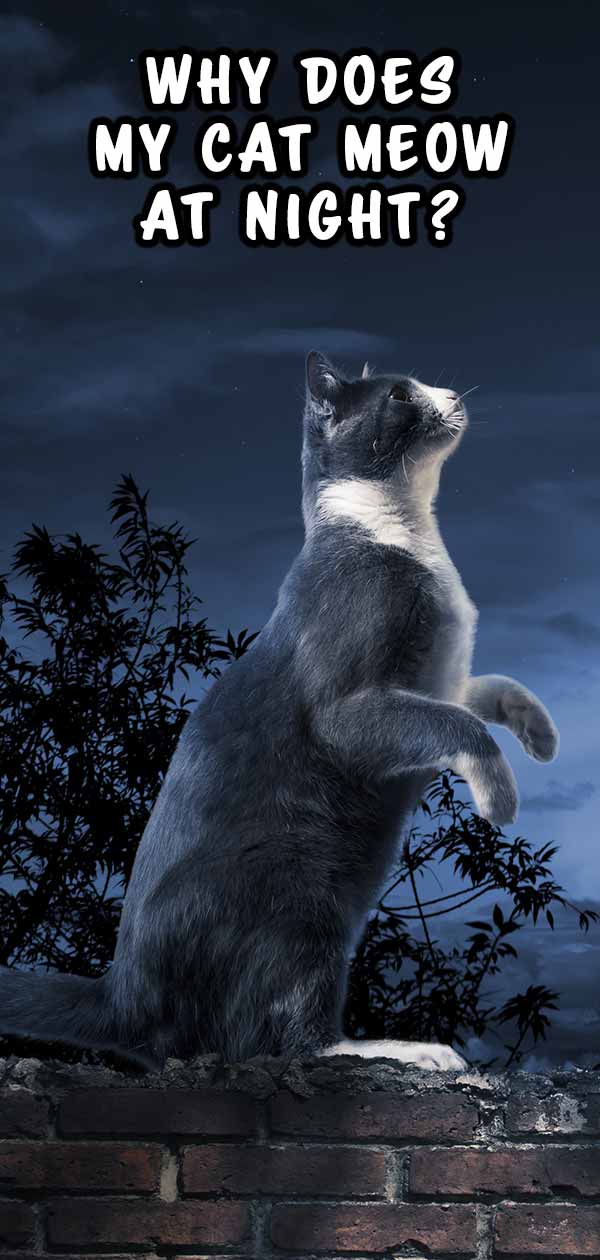 It is important to remember that cats are crepuscular (active at dawn and dusk) and nocturnal (active at night; there is still much debate over whether they are more one or the other).
This means that they are naturally prone to being awake at times that you prefer to be asleep. Luckily, your cat can adapt to different schedules with your help.
Aside from this, there are many reasons your cat meows all night.
The first task is to check that the cat has everything they need
Food, Water & Litter Checks
Your cat may be meowing because they are hungry, thirsty, or is trying to communicate some sort of need.
Perhaps your cat has to go potty but the litter box is dirty.
Check there is a bowl of fresh water available and fresh litter in the litter box
Is Your Cat Lonely?
Feelings of loneliness, boredom, or anxiety can also cause a cat to cry.
If you've recently moved or your cat is newly adopted, then it may need time to get used to a new environment.
Similarly, cats that lived with other cats but have become a single cat in your home may also need time to adapt.
Your cat may hear or see animals outside that it wants to hunt. Or, it may see other cats that it wants to interact with in some way.
Is Your Cat Sick?
Your cat meowing at night could also be due to something more serious, such as high blood pressure, hyperthyroidism, blindness, deafness, Cognitive Dysfunction Syndrome (CDS) or other illness.
Cats that are going blind have trouble seeing at night, which may cause distress and thus meowing. Likewise, cats with CDS can sometimes be confused by their surroundings.
A cat that is going deaf may meow loudly to hear itself, just as we humans talk louder when we're wearing sound-cancelling headphones.
How To Stop A Cat From Meowing All Night
Once you've figured out why your cat is meowing at night, it's easier to determine how to deal with it.
Firstly, visit your veterinarian. As we mentioned, your cat meowing at night could be due to a health issue.
If there is something wrong, your vet can prescribe medication or give you advice on how to deal with the illness.
Once you've spoken with your vet, you can try some of the following solutions.
Possible Solutions For A Cat Yowling At Night
Before going to bed, play with your cat, especially if they're an energetic individual, or they come from an energetic breed like the Abyssinian and Bengal.
This can help get rid of that energy and reduce the likelihood of them bothering you in the middle of the night out of boredom.
Feeding your cat right after this play session can help reset their prey drive to that time.
This will also make your cat less interested in what's going on outside because it has already done its "hunting."
This method of playing then feeding may mean a new feeding schedule. Changing your cat's routine may throw it off a bit, so the situation may get worse before it gets better.
In general, it is a good idea to feed your cat later to keep it from getting hungry overnight.
Make Sure All Their Needs Are Being Met
Aside from play and food, make sure your cat also has access to water and has a clean litter box at bedtime.
If your cat is left alone all day, there is a chance that it sleeps during that time and is active when you are home.
Interactive toys, or even hiring a cat sitter, can give your feline friend something to do while the sun is out. Keeping your cat from napping all day will help it (and you) sleep at night.
If you believe your cat meowing at night is caused by loneliness or anxiety, consider allowing it into your room. Being near you may help your cat feel calmer.
You'll have to use your judgement on this one, though.
If having your cat in your room means fending of his attempt to engage you in a game at 3am, he may need to spend the night elsewhere.
Could Music Stop Your Cat Crying At Night?
Another option to help calm an anxious or lonely cat is music.
You'd be forgiven for assuming this means soothing instrumental music, but there is such a thing as cat music that may work better!
Cat music mimics the types of sounds a cat already makes, like purring.
Though real cat music can be hard to find, there are countless options on YouTube that many commenters have claimed work wonders.
Find out more about these in our review of the best cat music, and why they like it.
How To Help A Cat With CDS At Night
If your cat has poor vision or CDS, it may feel disoriented, especially in the dark.
Setting up nightlights around your house can help.
Seeing their surroundings helps cats be less fearful and more confident, which may reduce night meowing.
How To Stop A Cat Meowing At Night
As long as you know it's not in any danger, then the best way to respond to your cat meowing at night is to not respond at all.
That's right: ignore your cat! If you give your cat attention whenever it cries, then you are reinforcing that behavior.
Your cat learns that if it meows, it gets what it wants, whether that be attention, a play session, food, or something else. Even negative attention (like yelling) can reinforce this behavior.
Ignoring your cat is difficult and it may take a while before you see results, especially if you've given it attention for meowing in the past.
However, if you are diligent, then your cat will learn that you aren't going to heed its every beck and call.
Conclusion
Many people lose sleep because of their cat meowing at night. However, it doesn't have to be that way.
Understanding why your cat is crying is the first step to figuring out a solution. Cats meow at night for a plethora of reasons, from hunger, to boredom, to serious health problems.
Consult your vet right away if you think your cat's meowing might be due to a health issue.
Some of the best ways to reduce the likelihood of your cat meowing at night are to play with it before bed, feed it before bed, and to ignore it.
Completely ignoring your cat when it meows teaches it that making noise will not get it what it wants.
With patience and diligence, you can reduce or eliminate your cat's meowing and get more sleep.
Does Your Cat Cry At Night?
Is this a problem you've encountered?
Perhaps you've already found the solution for your cat – we'd love to hear what worked for you in the comments section!
References
Karagiannis, Christos, and Daniel Mills. "Feline cognitive dysfunction syndrome." Veterinary Focus, vol. 24, no. 2, 2014, pp. 42-47.
Nagelschneider, Mieshelle. The Cat Whisperer. Bantam Books, 2013.
"Nocturnal Activity." Mobile Society for the Prevention of Cruelty to Animals.
Snowdon, Charles T., et al. "Cats Prefer Species Appropriate Music." Applied Animal Behavior Science, vol. 166, no. 1, Feb. 2015.