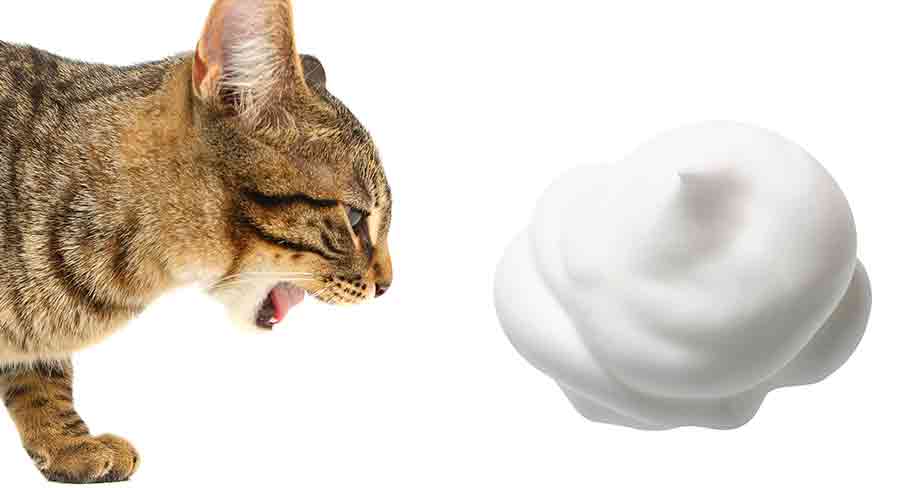 Today we'll take a look at what to do. when your cat is throwing up white foam. We will look at the possible causes of foamy cat vomit, what you can do to help your kitty feel better and when to call the veterinarian.
A cat throwing up white foam can be alarming, and can be triggered by a variety of causes. Some causes are more serious than others. If your cat is throwing up white foam, it's important to monitor them closely. Other symptoms can be a great way of narrowing down what's causing their sickness. And of course, keep in touch with your veterinarian. They may want to monitor your cat in person.
Why is My Cat Throwing Up White Foam?
A cat puking up white foam may also show other signs of illness, which could narrow down the cause of the issue. Or, it could be as innocent as some indigestion or something new in their diet not sitting well.
It's not always possible to diagnose the issue at home, so it's a good idea to inform your vet if your cat starts throwing up white foam. Especially if it is an ongoing problem, or your cat is showing other symptoms, such as lethargy, or refusing to eat. Let's take a look at some potential reasons that a cat would throw up white foam. Your veterinarian may diagnose your cat with one of the following!
Indigestion or IBS
Some cats may throw up white foam if they are experiencing stomach problems. This could be a lesser degree of gastrointestinal irritation, such as indigestion. Or, it could be a chronic problem, such as IBS (irritable bowel syndrome). Other signs of a digestive issue can include:
Constipation
Bloating
Diarrhea
Infrequent bowel movements
Digestive issues like this can have a number of causes, such as dietary problems, or even stress. If this is the problem affecting your cat, your veterinarian can help you to diagnose the cause.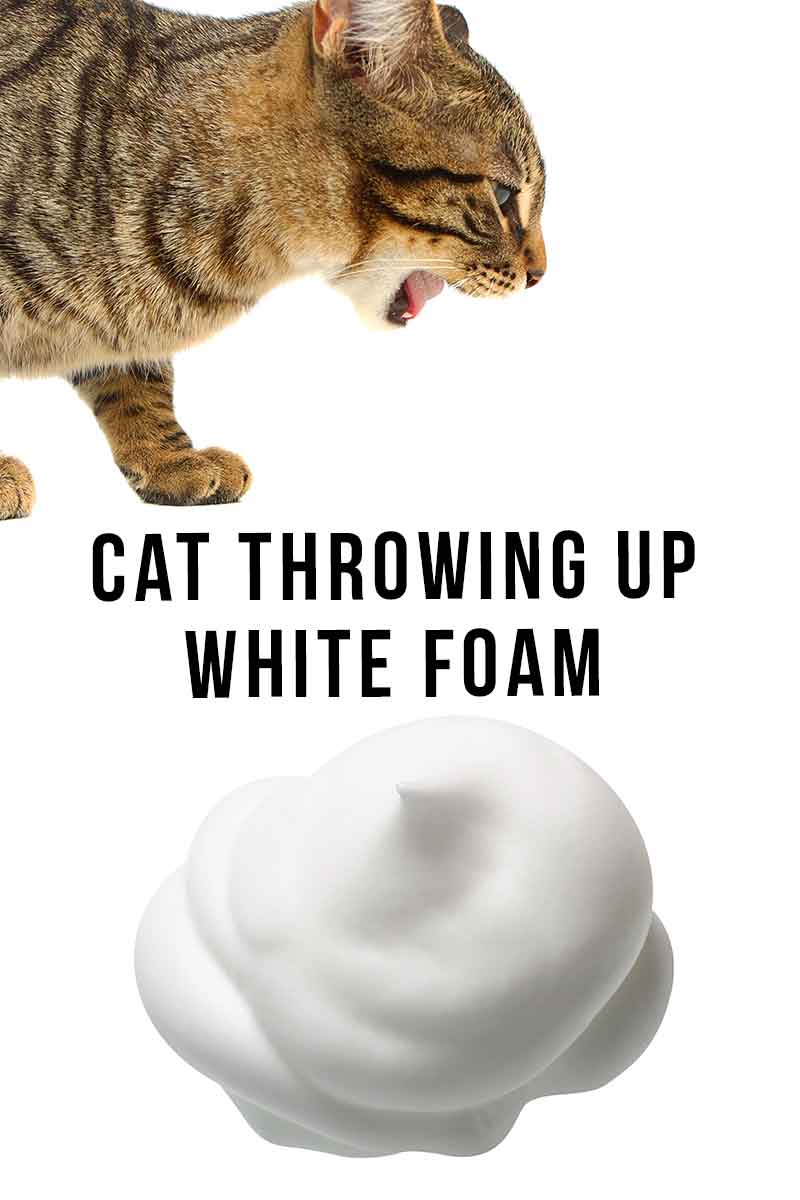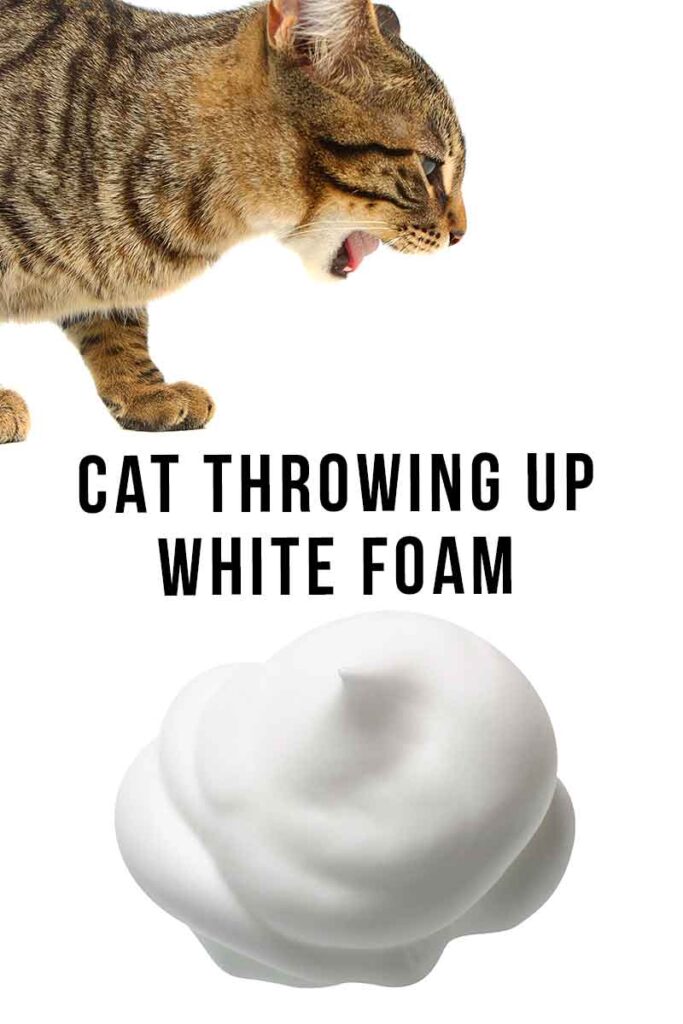 Hairballs
Some cats may also throw up white foam whilst trying to regurgitate a hairball, or fur that has become trapped in their throat and digestive tract. This is a common problem that most cats experience. Particularly if they have long, fluffy coats. They will remove the hairball by retching until it is regurgitated. And this can also bring up fluids from the digestive tract.
Most cats have no issues expelling hairballs. But, you can help to manage the frequency of hairballs in your cat by grooming them regularly to remove any loose fur. Your vet may also suggest dietary changes to reduce the frequency of hairballs, such as a more fibrous food.
Gastritis
Gastritis is the inflammation of a cat's stomach lining. This can cause discomfort and a number of physical symptoms, including vomiting. Other signs of gastritis in cats include lethargy, dehydration, and increased thirst. Gastritis in cats can be either acute or chronic, so it's important to communicate any symptoms with your vet.
There are a number of causes for gastritis in cats. From stress or dietary intolerances to reactions to medicines and more serious medical issues.
Pancreatitis
Pancreatitis in cats is the inflammation of your cat's pancreas. Like gastritis, pancreatitis can be acute or chronic. Not all cats with pancreatitis will vomit white foam, but many do suffer from nausea. And, some will experience vomiting as a symptom.
If your cat has chronic pancreatitis, your vet may try a number of different solutions to manage your cat's symptoms. This can include dietary changes, medication, or anti-nausea therapy. But, the management will likely vary from one cat to another.
Hepatic Failure
Hepatic failure is also known as liver disease in cats. Vomiting is just one symptom of liver disease in cats. Other symptoms include:
Loss of appetite
Abdominal swelling
Excessive urination
Excessive thirst
Jaundice
And more. Early treatment will really help your cat if they experience liver failure, so it's important to schedule a vet check-up if your cat experiences the above symptoms.
Diabetes
If a cat has diabetes, their body will either struggle to produce or to react to insulin. This, in turn, impacts the sugar levels in their blood. Vomiting is a less common symptom for this metabolic disorder, but it is seen in some affected cats. Other, more common, symptoms include: excessive thirst, excessive urination, sudden weight loss, and more.
Insulin therapy and dietary management are the most common treatment options for cats that experience diabetes. This is something you will work out with your trusted veterinarian.
Renal Insufficiency
Renal insufficiency refers to kidney disease in cats. There are a large number of kidney diseases in cats, but one of the most common is chronic kidney disease.
Your cat's renal system filters out impurities in their blood. So, if your cat has chronic kidney disease, they will experience a buildup of waste products which are normally removed by the kidneys through the process of urinating. Other symptoms of chronic kidney disease in cats can include weight loss, loss of appetite, and even anemia.
Your veterinarian will likely diagnose your cat through blood tests and urine analysis. So, if you think kidney problems could be the cause of your cat vomiting white foam, it's important to schedule a trip to the vet.
Hyperthyroidism
Hyperthyroidism is an increasingly common problem in cats. In fact, one study predicts that over 10% of senior cats develop hyperthyroidism.
Cats with hyperthyroidism will experience overproduction of the thyroid hormone from their thyroid glands. As well as vomiting, symptoms can include weight loss, increased appetite, and restlessness. Treatments can include lifelong medication, or even surgical removal of the thyroid gland. If left untreated, high thyroid levels can lead to other health issues, such as heart disease.
Parasites
Cats are at risk of a number of parasites. Parasites, particularly those that affect the gastrointestinal system, can cause symptoms like vomiting, lethargy, and loose stools. Some of the most common parasites that can affect cats and cause vomiting white foam include:
Roundworms
Hookworms
Stomach worms
Isospora
The most common treatment for parasites is medication. But, in some cases a parasite may go undetected, causing no symptoms of illness.
Allergies
Like humans, cats can suffer from allergies. Symptoms are often similar, including vomiting, diarrhea, sneezing, coughing, or itchy skin. It's possible to treat the symptoms of allergic reaction, but treating the symptoms alone will not eliminate the cause of the reaction. So, you should work with your veterinarian to identify what is causing your cat's allergies, if they think this is behind your cat vomiting white foam.
They could be allergic to something in their food, something in your house, or even a new body lotion or perfume ingredient that you are using.
Eating Something Toxic
Another common cause of vomiting white foam and vomiting in general for cats is eating something toxic. This could be something indigestible, or just something non-cat safe. Depending on the toxic item that your cat has ingested, treatment will vary. Some cats may need immediate action, including surgery.
You can work to minimize the risk of this cause by removing any toxic plants from your house and yard. Keep anything that isn't cat-safe, like cleaning products, locked away from your kitty. And, if you suspect your cat has ingested something they shouldn't, it's important to act fast to ensure their highest chance of making it through safely.
Cat Throwing Up White Foam – When to See the Veterinarian
There are so many different reasons that your cat may be throwing up white foam. The urgency of the situation can differ. Some cats may just be regurgitating a hairball. But others could be suffering from a much more serious issue, such as renal or liver failure.
If your cat is throwing up white foam, try to observe if there are any other symptoms off illness. A lot of the symptoms that you may recognise could be triggered by several of the causes identified above. So, you will need to make a list to take to your veterinarian. They will have the knowledge and ability to run tests and narrow down the options.
You can also observe how often your cat is vomiting white foam, and whether there are any recent changes to their diet or lifestyle. This is information that could help your vet!
My Cat is Throwing Up White Foam
A pet getting sick can be a stressful time for any owner, especially if the cause of the issue is not an obvious one. Sadly, vomiting in general, and vomiting white foam is a symptom shared by many problems. So, your best next step if this is happening to your pet is to schedule a trip to the vet's office.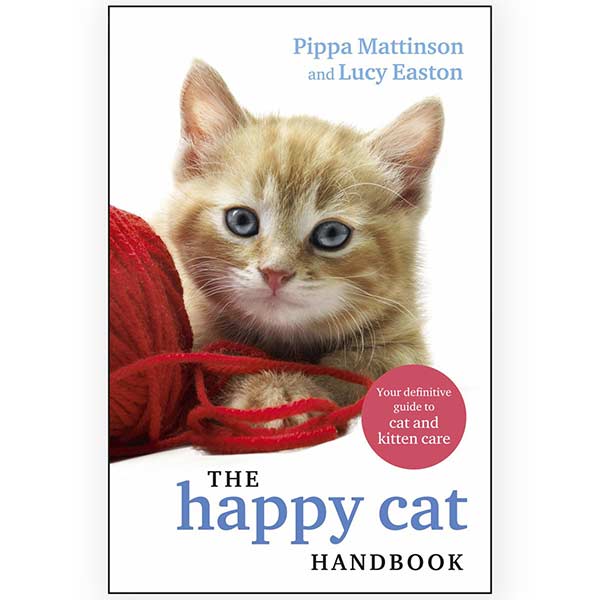 More Information
References and Resources
Your Amazing Cat!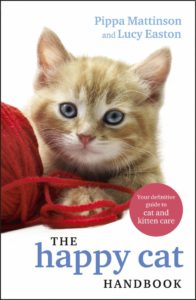 We are so excited to share our new book with you!
If you have enjoyed your visit to The Happy Cat Site we think you'll love The Happy Cat Handbook.
Written by the founders of this website including the author of the hugely successful Happy Puppy Handbook, it's packed with cat care information and fascinating cat facts.
Grab your copy today!
Free Updates For Cat Lovers!
Our cat care articles, tips and fun facts, delivered to your inbox