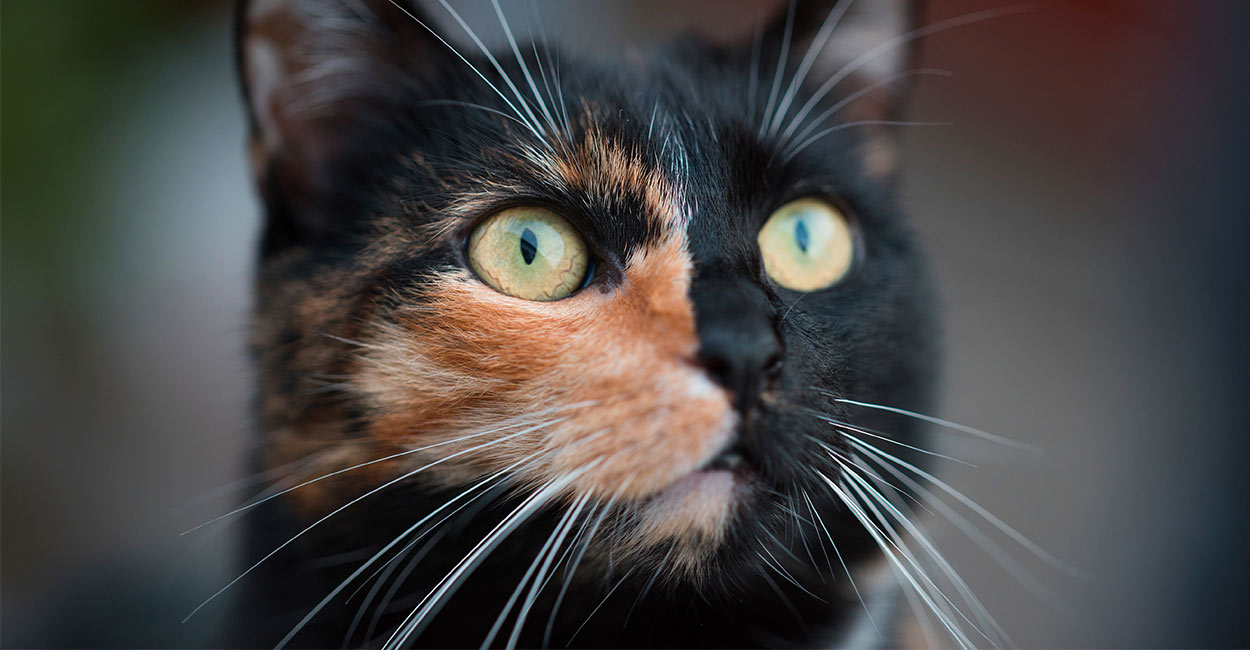 The legendary chimera is a half and half cat, split straight down the middle and appearing to have two faces. They look like two cats because for a very short time a long time ago, they were! Twin embryos merged during the dividing phase, and combined to make one powerhouse pet.
What is a chimera cat?
Being called two-faced is usually an insult, but in the case of a chimera cat it can only be considered a compliment!
And since a picture is worth a thousand words, let's start straight away with a quick look at Quimera, a chimera cat and stunning example of Mother Nature's creativity:
See her here, on Instagram.
And here is another chimera cat, Venus, who is quite possibly the most famous two faced cat on the planet; she has almost 1.5 million Instagram followers!
What does chimera mean?
Once you behold a stunning chimera cat, it's an amazing image you will never forget.
A chimera cat, aka, "2 faced cat," is blessed with an unforgettable face divided into two distinctly colored halves. What a gorgeous and precious animal!
This so called, "half face cat," is a result of chimera biology, a genetic condition that causes the appearance of a kitten with two faces.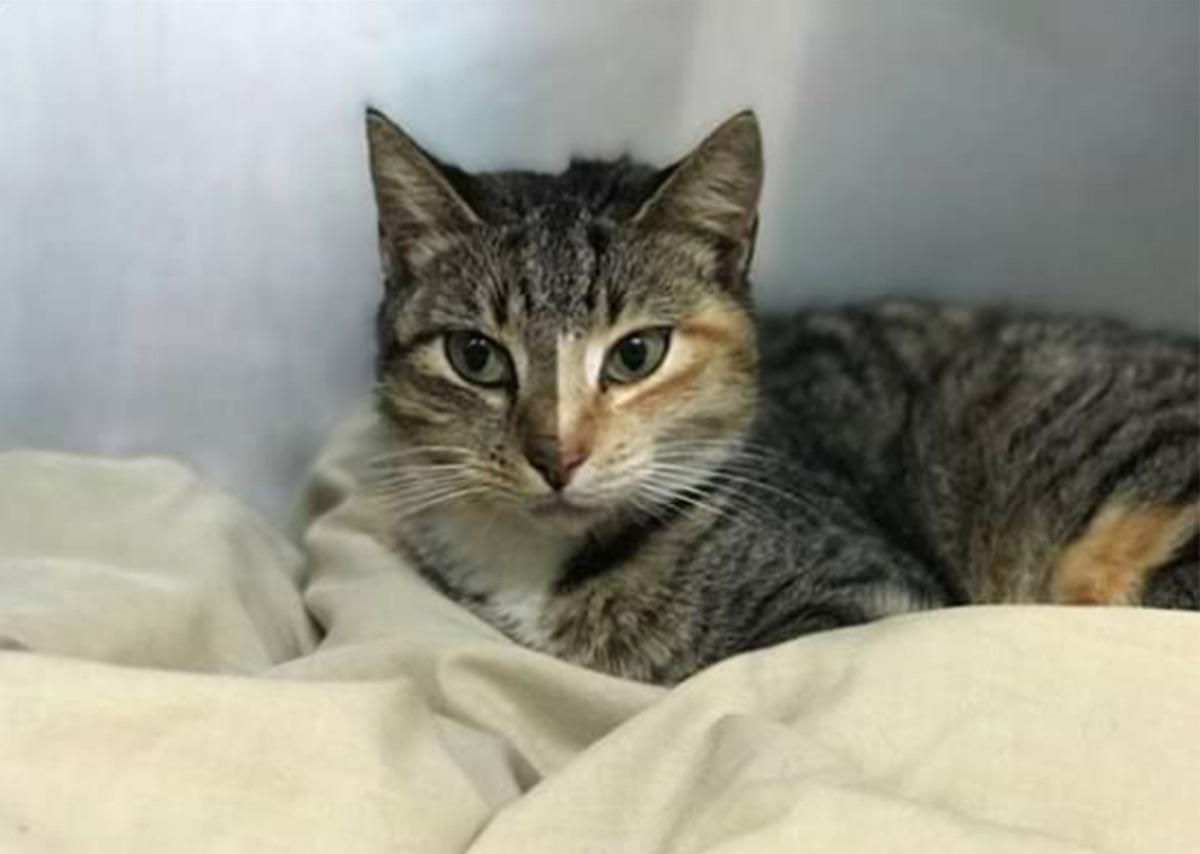 We're going to examine how this rare process unfolds, resulting in the one-of-a-kind chimera kitten.
We realize you're probably also wondering what it would be like to own such a sensational cat.
So we're going to give you an overview of feline personality, health, and even possible chimera cat price, so that you can gain a better sense of what sharing life with a chimera cat would be like.
What causes chimera cats' faces to develop like that?
First off, let's start with the obvious question in regard to the chimera cat: how did Mother Nature do that?!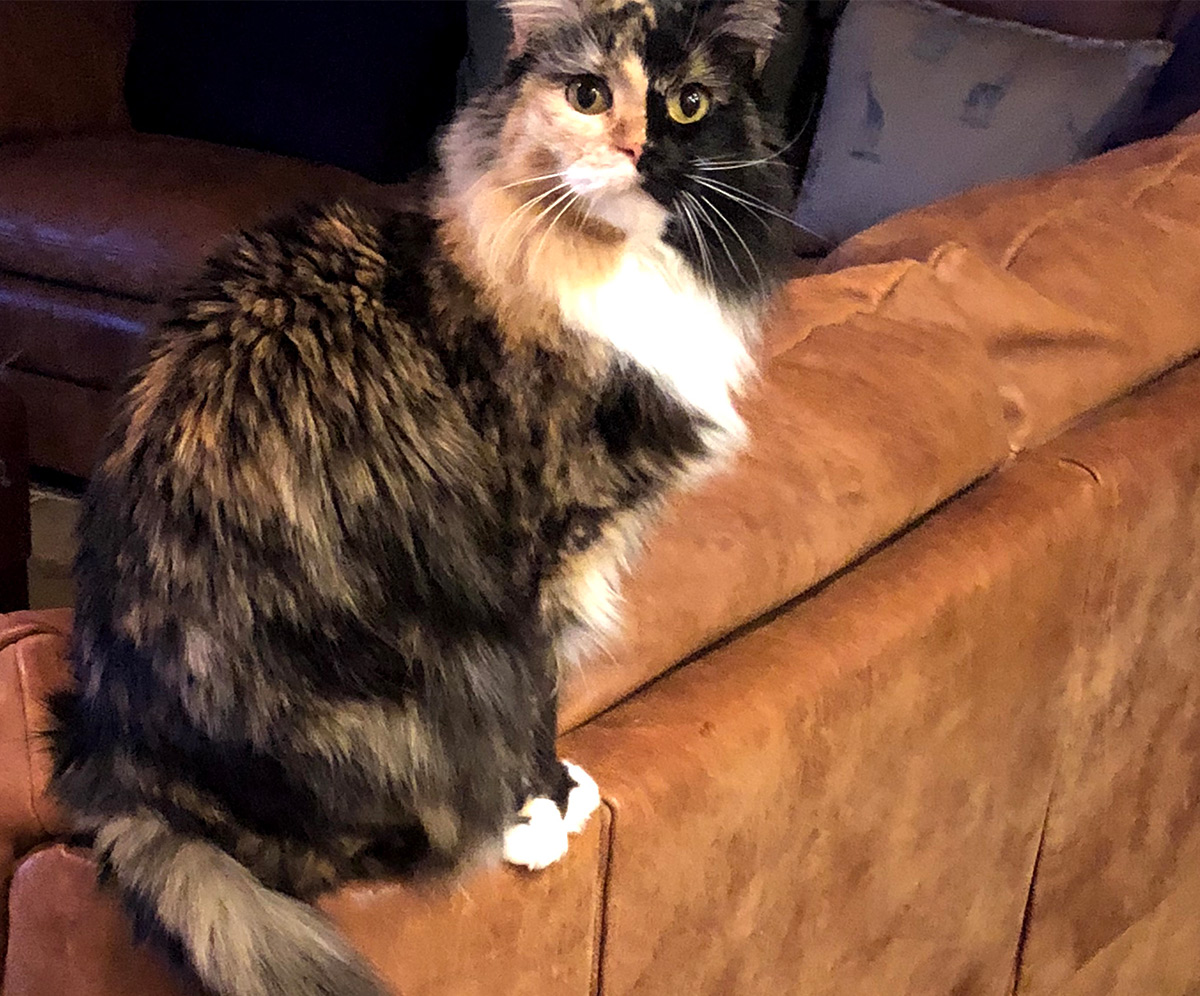 Both Quimera and Venus, with tabby/black fur halves and one hazel eye plus one blue eye, are excellent examples of how chimeric genetics works.
Half and half cat genetics
Chimera cats are a happy accident of nature.
The chimera cat's appearance is the direct result of two or more embryos merging in the womb at a very early point in their development.
In the case of the chimera we are seeing two possibilities in one cat.
At one point this incredible cat was destined to be two cats, until two initial-stage embryos – barely more than fertilized eggs – merged in the mommy cat's womb.
Before the merge took place, distinct cells had already begun to develop within each egg or embryo.
In other words, the physical features of both entities existed. Thus, it is these two separate entities that we behold when we gaze upon a chimera cat.
How common are chimera cats?
We don't have any statistics about how common chimera cats are.
The way Quimera and Venus make us gasp make it clear that chimeras with such a perfectly divided face are exceptionally rare.
But the total frequency of chimeras might be more common than we realize.
For example a chimera of two cat embryos both destined to be a white Persian… well then you've still got a white Persian cat when they merge.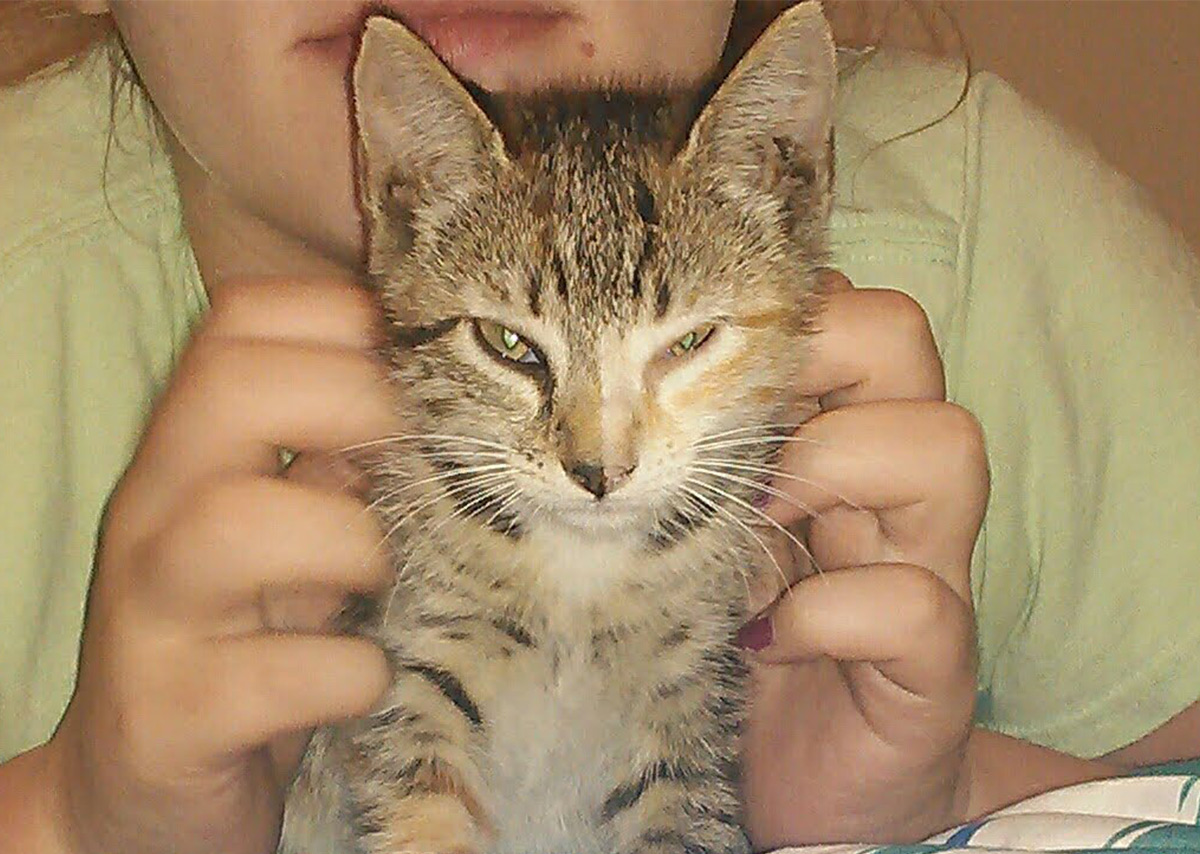 In fact, among species like cats who usually have multiple births, chimeras might be far more normal than we expect.
And it's not just cats who display the effects of this unique merging process.
Many animals, even us humans, can experience the same fascinating condition.
What is interesting about human chimeras however, is that most of the time we are not even the slightest bit aware that this fate has occurred. How can this be?
Signs you could be a chimera!
Unlike what we see in beautiful Venus and striking Quimera, the signs of human chimerism are more often extremely subtle, not wildly vivid.
Now I have you wondering if you, too, are a chimera, don't I? Well, there are a few signals to look for if you're curious!
One of these signs includes flashes of different colored hair atop your head.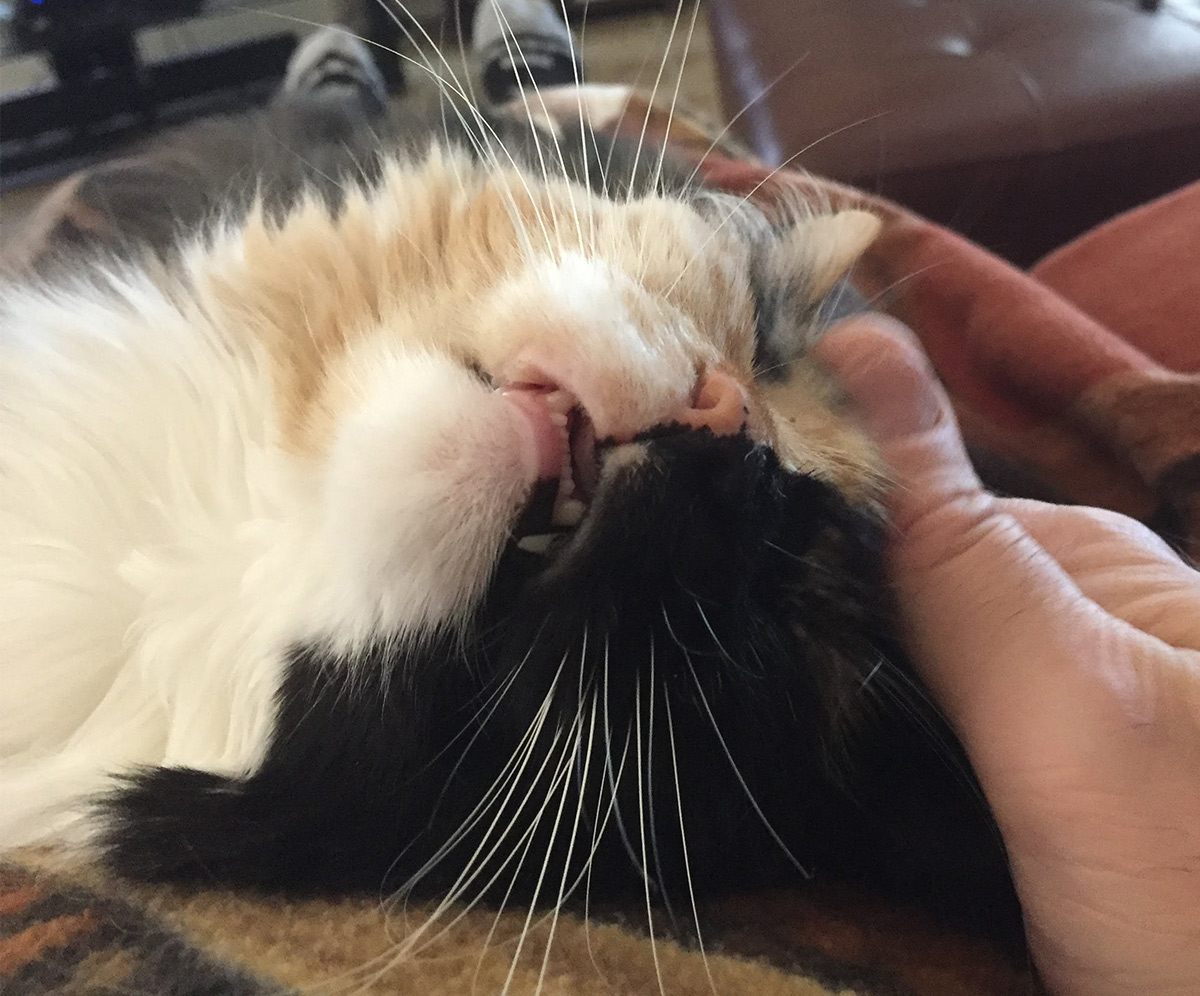 Have you ever seen a dark haired person with a startling pop or streak of light hair?
This feature doesn't guarantee that the person is a chimera, but it is one indication of the condition.
Now look at your thumbs: is one merely average looking while the other one is bent back as if you're about to hitch a ride (a condition called hitchhiker's thumb)?
This physical curiosity is another common chimeric signal, as are having eyes that have slightly differing hues.
And, some individuals have lines that resemble a string of arrowheads, known as Blaschko's lines, which tumble down their backs.
These idiosyncratic lines are associated with chimerism, but they can only be seen under an ultraviolet light!
Are Half and Half Cats Good Pets?
But now let's get back to our initial subject, the the two faced cat eyes of Quimera and Venus, in blue and amber.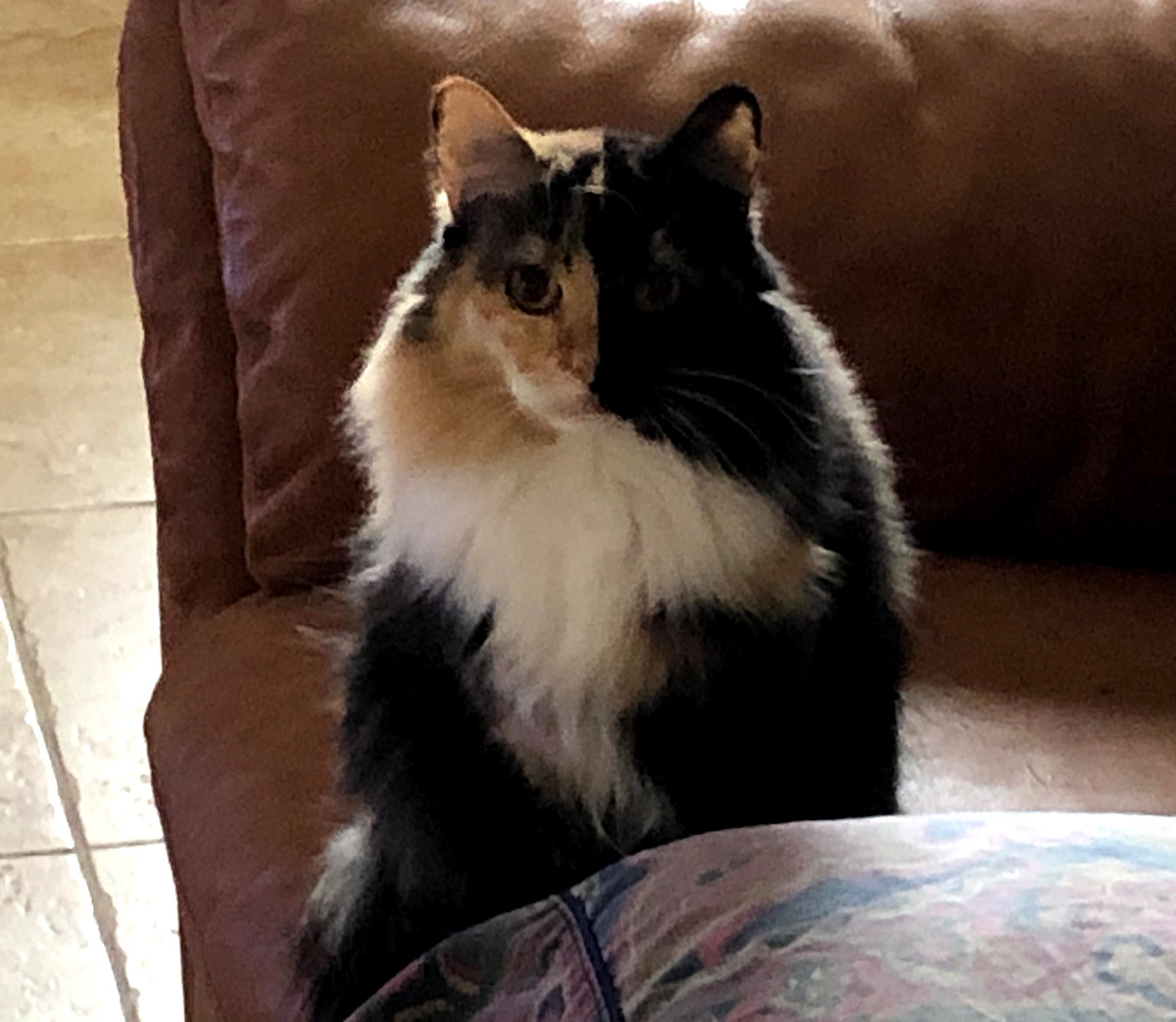 Since Quimera's online introduction, this moggy has been quickly gaining on her Internet rival Venus.
Can you believe that Quimera currently has over 81,000 Instagram followers?
Obviously there is a huge interest in chimera cats, so the natural question is, "is a chimera cat a good pets?"
All it takes is one look at Quimera's Instagram to clearly see her owner's unqualified answer: absolutely yes!
This adorably fuzzy, inquisitive cat looks for all the world like she's enjoying a typically feline lifestyle: sitting on laps, sticking out her tongue, and rolling about on fluffy pillows.
Isn't cat life great? Both Quimera and her people seem to think so!
Tabby chimera cats
If we take the examples of Venus and Quimera, each has the appearance of being a tabby cat, a commonly seen domestic cat.
With this in mind let's take a quick look at the humble little tabby cat, and give you an idea of what owning such a kitty entails.
Tabby cats are most usually moggies, although tabby markings are permitted for some purebreed cats too.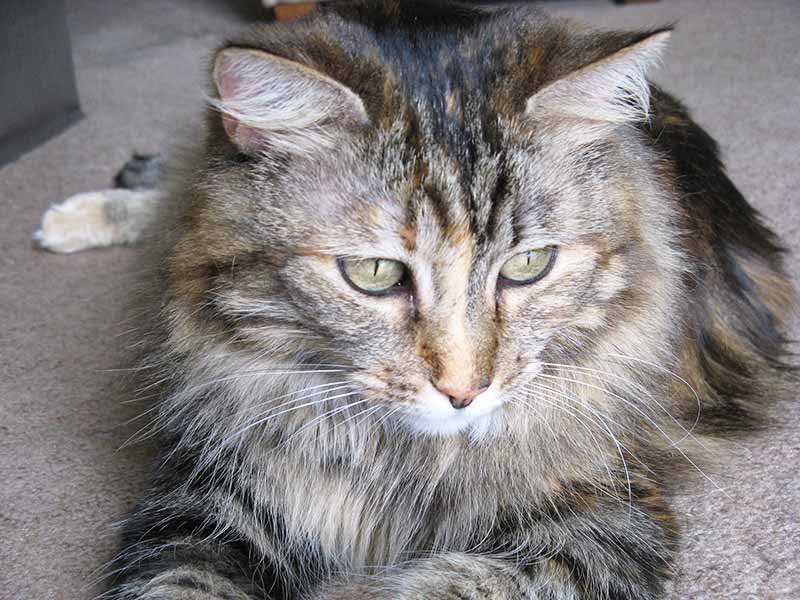 Tabby markings include lines, stripes, swirls and dots. Colors include orange, brown, beige and black.
My own black tabby Fuzzy has tan colored rings decorating his sides, stripes criss-crossing his legs, and the typical "M" shaped tabby marking atop his forehead.
Caring for a tabby chimera cat
While there is nothing in the scientific literature to suggest that chimera cats (tabby or otherwise) have known or specific health issues, there are a few domestic cat health risks that owners can anticipate.
Obesity among domestic cats is on the rise.
For felines, having a body weight more than 20% over its ideal weight is generally considered a mark of obesity.
Extra pounds alone can adversely affect your cat's health, but it is also a risk factor for diabetes and liver problems.
In addition, obesity has the potential to cut short your cat's life span.
Kidney and urinary tract problems are also common issues in domestic cats.
And, felines who spend time outdoors have a heightened risk for contracting worms, including tapeworms, roundworms and hookworms.
Tabby chimera cat personality and vital statistics
A chimera cat will have the personality of its breed.
Chimera and Venus' owners have nothing but praise for their cats' winning personalities.
And that could be because they're part charismatic orange tabby.
What is a tabby (possibly one that's also a chimera, too) cat's personality like?
Overall tabby's can be expected to share the overriding cat characteristics that owners have come to know and love.
A high degree of curiosity, a bit of aloofness and independence when it suits them, a love of snoozing (up to 16 hours a day), and a high level of rambunctiousness as kittens!
Oddly enough, some tabby kittens are born lacking the characteristic swirls and stripes.
If this is the case with your little one, you can expect these distinctive markings to show up slowly but surely as they make their way through the first few weeks of life.
Tabby kittens develop at an average feline rate, reaching their adult height at around six months of age and their adult weight at approximately one year of age.
So, where can you find a chimera kitten?
Well, run of the mill tabbies can be found at shelters, rescue organizations, and sometimes you will find a surprise litter/gift in your very own backyard (something that happened to me last spring!).
Conversely, chimera cats with such lucid markings as Venus and Chimera are incredibly rare; you might even say priceless!
But, Venus' owner did find her in a rescue center, and remains a passionate advocate of "adopt don't shop", proving that if you ever have the opportunity to bring home a chimera cat, they might not cost the Earth.
You can search online, but in some ways locating a chimera cat is like finding a needle in a haystack.
They cannot be bred in the traditional sense, and only Mother Nature knows where and when the next chimera cat will suddenly appear!
Do you have a cat with two colored face?
We hope that you enjoyed our look at the spectacular spectacle known as the chimera cat, or split face cat.
Do you have a cat with half black face or bi-colored face?
If you do, we would love to hear about your one-of-a-kind kitty in the comments section below!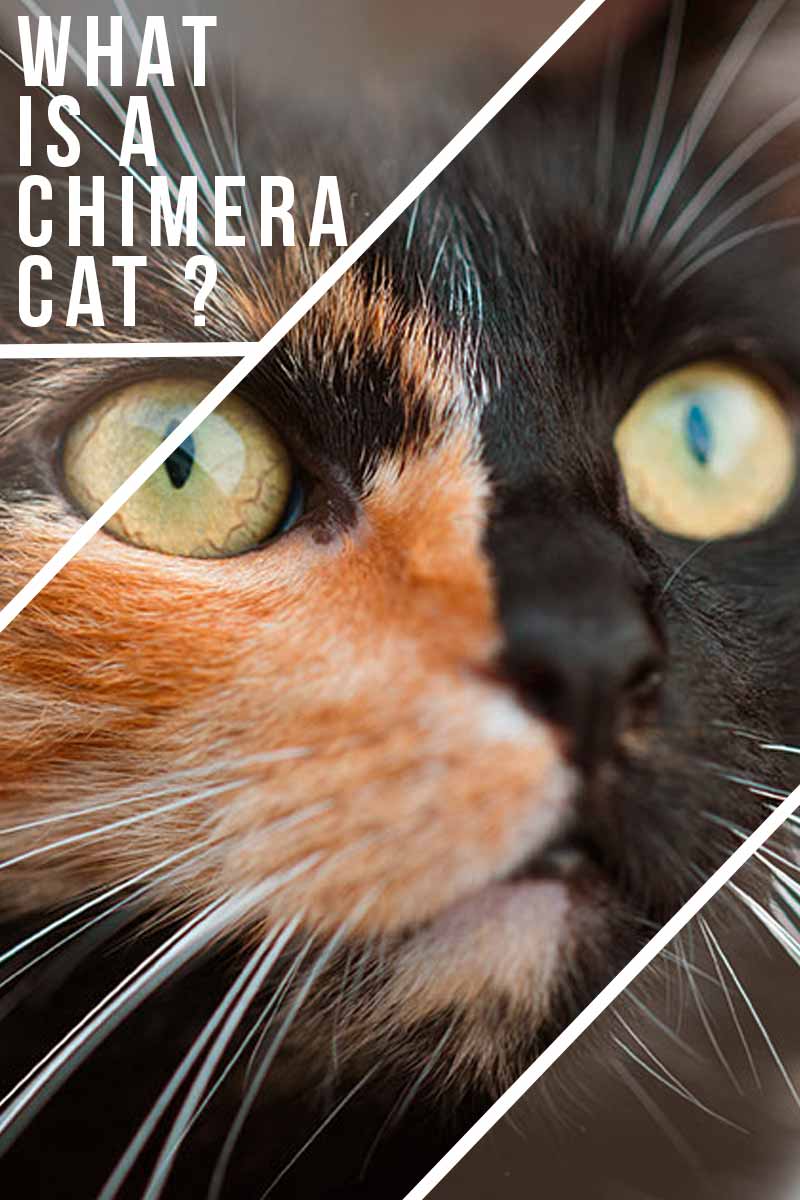 Sources
Jackson, R., The lines of Blaschko: a review and reconsideration, British Journal of Dermatology, 1976
Malan, V., et al, Chimera and other fertilization errors, Clinical Genetics, 2006
Zoran, D.L., Feline obesity: clinical recognition and management, Compend. Contin. Educ. Vet., 2009