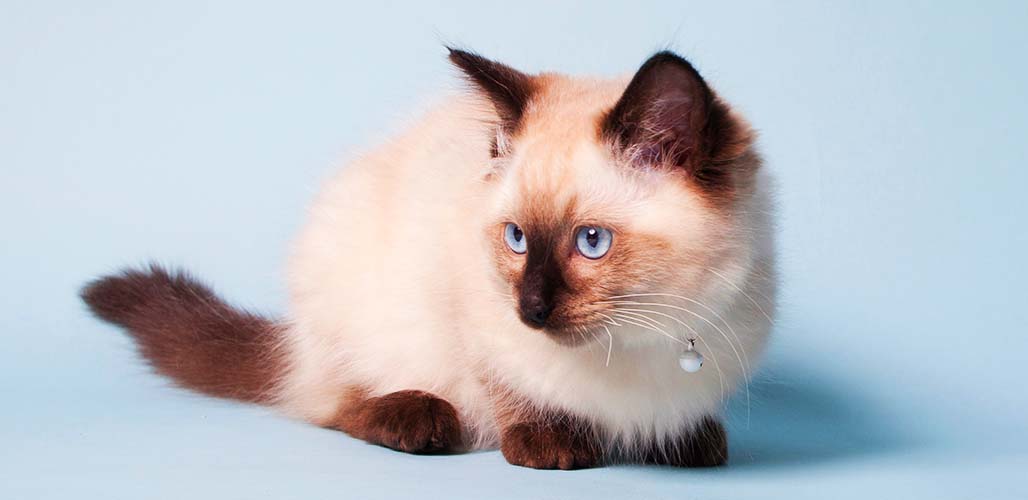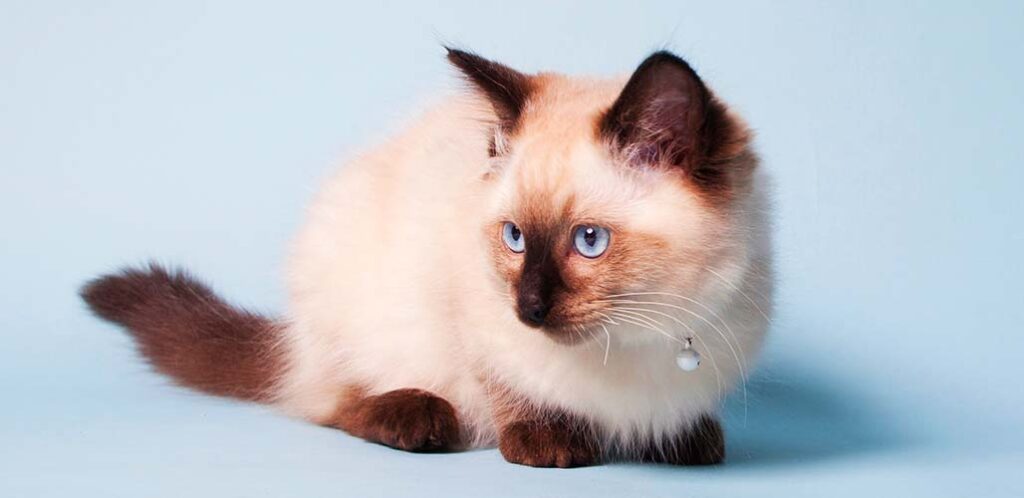 The chocolate point Ragdoll is one of the most popular Ragdoll colors. Is this friendly, affectionate cat the right choice for your home?
The chocolate point Ragdoll has warm, brown fur at their extremities, and a lighter, creamy coloring over the rest of their body. Their points are usually solid in color, but you may also find chocolate lynx point Ragdolls with tabby markings in their darker fur. This Ragdoll shade is popular, and chocolate points will have the same temperament that all beloved Ragdolls share!
About the Chocolate Point Ragdoll
Chocolate Ragdolls come in many different patterns. The chocolate point variety is just one of the many options available! The term 'chocolate' refers to a certain shade of warm brown in cats. But, chocolate pointed Ragdolls can have different amounts of pigment at their extremities. So, each one is still unique!
Despite potential differences in the distribution of color, chocolate point Ragdolls will also share the same temperament, potential health concerns, and general care needs as other Ragdoll cats. So, new owners should do plenty of research to ensure a chocolate point Ragdoll is the right new cat for them.
What do Chocolate Point Ragdolls Look Like?
A chocolate point Ragdoll will have a creamy white body, and warm brown fur on its face, ears, front feet, back feet and legs, and tail. The amount of pigment in each of these areas can vary, so some may have more brown coloring on their faces than others, for instance.
Chocolate point Ragdolls will have solid brown coloring at their points. But, there are other Ragdoll varieties with chocolate coloring whose markings will differ. Some, like the chocolate bicolor Ragdoll and the chocolate mitted Ragdoll, will also have patches of white fur. And the chocolate lynx Ragdoll will have tabby stripes in their chocolate points.
A chocolate point Ragdoll will be a medium to large cat. Males tend to be larger than females. This breed has very soft, medium to long fur that can make them look a little larger. They will also have striking blue eyes, no matter what color their points.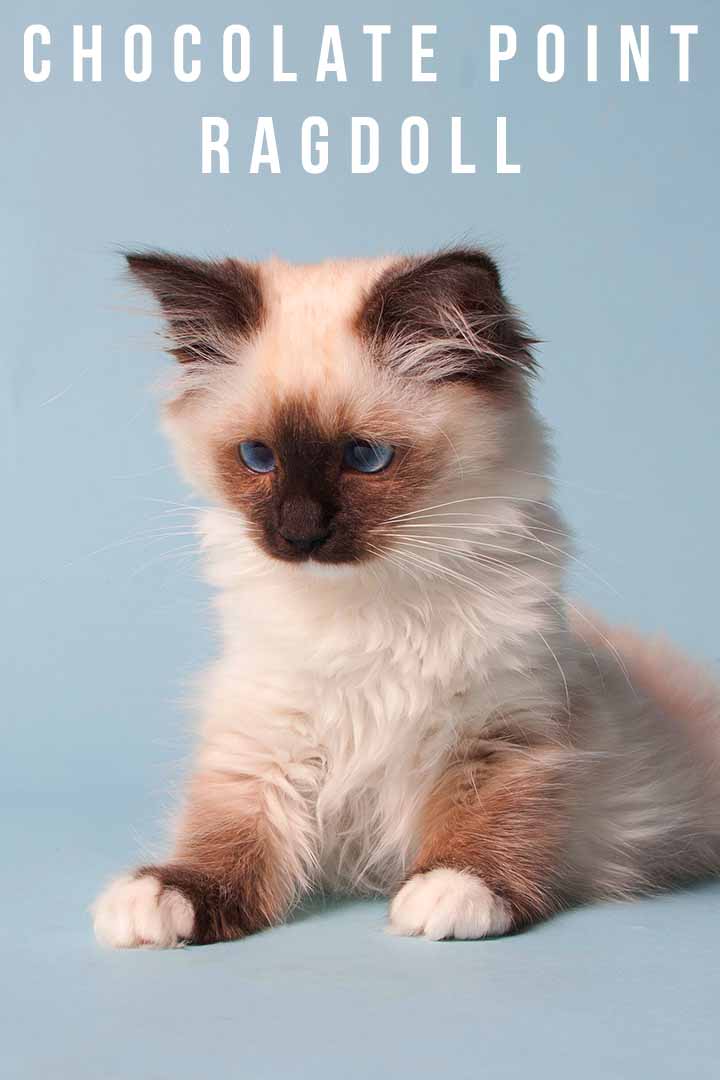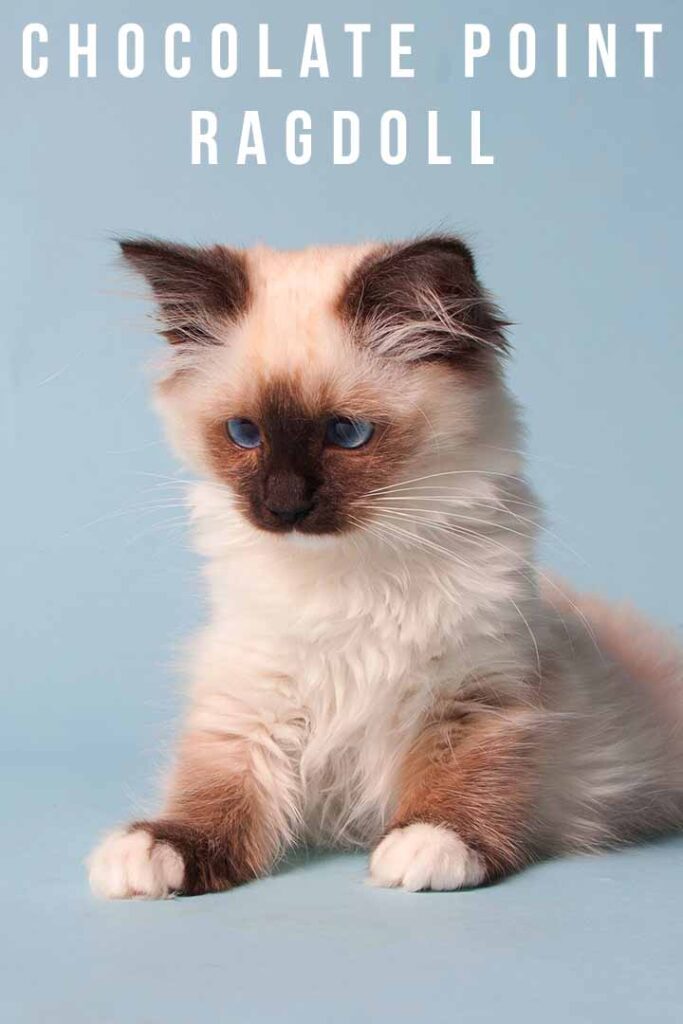 Chocolate Point Ragdoll Genetics
Ragdoll cats get their pointed coloring from a form of temperature sensitive albinism. Fur at the coolest parts of their bodies will have more pigmentation than other areas, which is what creates the popular pattern. But, the actual color at these points is determined by whatever fur color genes your cat inherits.
Chocolate coloring is recessive. So, kittens must receive a copy from each parent in order to show up as brown. The dominant gene at this locus causes black fur. But, black is not an official pointed color. So, it's very unlikely to find a purebred Ragdoll with black coloring.
Are Chocolate Point Ragdolls Friendly?
Ragdoll cats are friendly, affectionate and playful. Though owner perception of cat personality can change depending on the color of the cat, chocolate Ragdolls will be the same as any other. These cats are loving and physical, but not clingy. So, they'll enjoy spending plenty of time with you, but also entertaining themselves with fun games and toys.
Ragdolls will relax and go limp when you pick them up for a cuddle. They are also pros at making their own fun around your home. So, you might find them playing with bits of furniture as much as with their own toys! Ragdolls are well known to get along with children and adults alike.
Chocolate Point Ragdoll Health and Care
Like other Ragdoll cat colors, the chocolate point Ragdoll can be prone to certain health conditions. In particular, heart problems and kidney disease can trouble the Ragdoll breed. So, good breeding and regular veterinary trips are important. On top of this, Ragdolls are a social breed that shouldn't be left alone for very long periods, as this can lead to stress and problematic behaviors.
Ragdolls have medium to long fur, but are relatively low maintenance in terms of grooming. They need a balanced, nutritious diet with plenty of real protein. And, as intelligent cats, they need plenty of exercise and mental stimulation to keep them engaged and happy.
Finding Chocolate Point Ragdoll Kittens
All Ragdoll kittens look quite similar when they're born. This is because the color at their points takes some time to develop. This process will usually begin before you bring your kitten home, so you will have a good idea of the color or marking at their points. But, it can take up to two years for a Ragdoll's pigmentation to develop to its fullest.
Experienced Ragdoll breeders will be best at predicting the colors of their kittens. But, they will also prioritise the best possible health and temperament. Ragdoll kitten prices normally start at around $1000, but can rise depending on the parents, the markings, and the color. Chocolate point Ragdolls are usually cheaper than some more uncommon shades. But, this coloring is popular, so you may need to sign up to a waiting list.
An alternative to kittens from breeders is choosing an older Ragdoll in need of rescue. Ragdolls in rescue centers will usually be fully developed in terms of color, so they won't change after you bring them home. They will also usually be just as affectionate and loving as any kitten would grow up to be! And, rescue cats are often much cheaper than kittens from a breeder.
Chocolate Point Ragdoll – A Summary
A chocolate point Ragdoll has warm brown pigmentation at their points. This coloring is popular, but also one of the more common Ragdoll shades! Chocolate point Ragdolls will be friendly, affectionate and playful, like any other shade. They can make a wonderful companion for families and individuals alike!
Do you have a chocolate point Ragdoll at home? We would love to hear about them in the comments!
Readers Also Liked
References and Resources
The International Cat Association
Cat Fanciers' Association
Delgado, M. (et al), 'Human Perceptions of Coat Color as an Indicator of Domestic Cat Personality', Anthrozoos (2012)
Meurs, K. (et al), 'A Substitution Mutation in the Myosin Binding Protein C Gene in Ragdoll Hypertrophic Cardiomyopathy', Genomics (2007)
Borgeat, K. (et al), 'Association of the Myosin Binding Protein C3 Mutation (MYBPC3 R820W) with Cardiac Death in Survey of 236 Ragdoll Cats', Journal of Veterinary Cardiology (2014)
Paepe, D. (et al), 'Prospective Evaluation of Healthy Ragdoll Cats for Chronic Kidney Disease by Routine Laboratory Parameters and Ultrasonography', Journal of Feline Medicine and Surgery (2013)
Kaelin, C. & Barsch, G. 'Genetics of Pigmentation in Dogs and Cats', Annual Review of Animal Biosciences (2013)