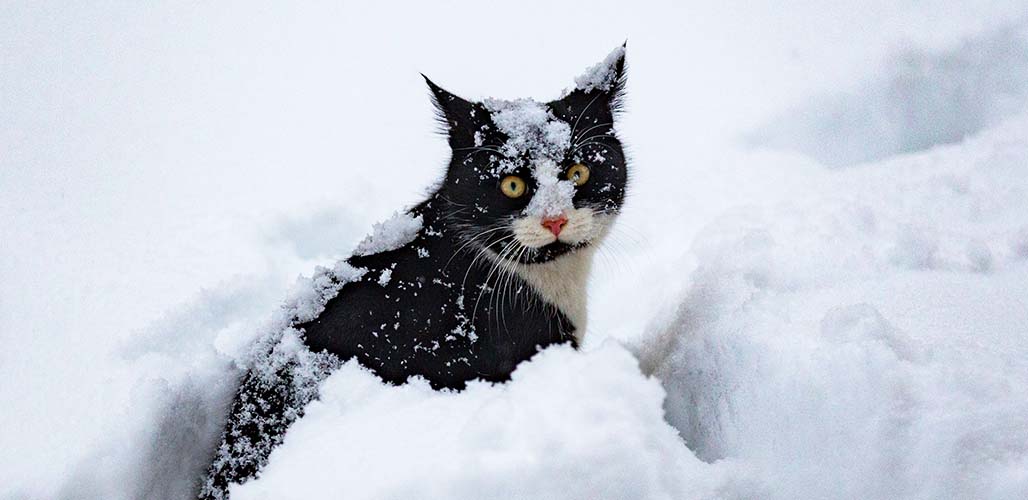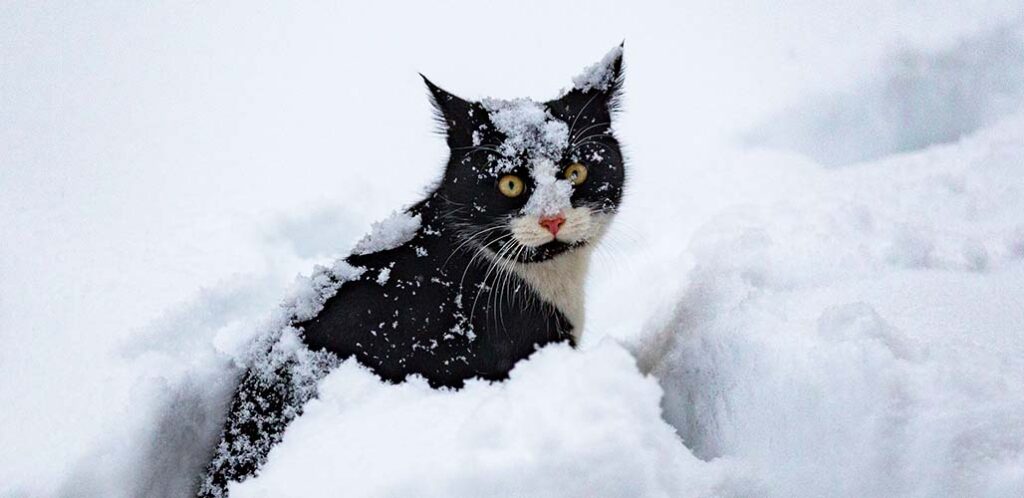 All cats get cold sometimes, especially in the winter months. Whether you've got an outdoor cat who is padding through snow or an indoor cat in a house where the heating isn't as high as you'd like, these tough felines are probably not as chilly as you are. But there are limits for every breed. Today I'll share how cold resistant cats are, and when it's time to bring them indoors or turn up the heating.
Contents
Do Cats Feel The Cold In Winter?
There are mainly two factors that impact whether or not your cat feels the cold. The first is the type of coat your cat has, and the second is the type of life your cat is used to. Having fluffy, thick fur is the best way for your kitty to keep warm, and just like humans, cats who spend a lot of time outside develop a natural resistance to weather changes.
Knowing how much cold your cat can handle and when you should take them indoors is a sure way to keep them happy and safe.
How Easily Do Cats Get Cold?
The temperature of a cat's body is about the same as ours, so if you start to feel cold, your cat probably will too. Most cats can handle cold weather very well. Outdoor cats that spend a lot of time outside build up body immunity, which helps them adjust to cold better.
Cats are also clever creatures; they know when it's time to go back inside. All you need to do is be prepared to let your kitten in.
That being said, even cats with thick coats can be in danger when the temperature drops. Don't let your kitten out on cold days when you are not home if they don't have access to somewhere to keep warm.
Is It Too Cold For My Kitty?
Several factors can affect how well your cat does in the cold, including the breed you have and how often you take your cat outside. Cats with thick coats, regardless of whether they have long hair or short hair, can stay outside until the temperature drops below 45 degrees Fahrenheit.
If your cat is a breed that has very short or no fur at all, it will have a much more difficult time controlling its body temperature.
For them, staying home and enjoying winter from the inside would be better.
Similarly, ill or elderly cats shouldn't be allowed outside in the winter.
When it comes to obese cats, who have a lot more body fat, it is much simpler for them to maintain their body temperature when it is cold outside. On the other hand, they stroll slowly, which can be a problem if they get stuck away from home in bad weather.
How Can I Tell if My Cat Is Cold?
If your cat has been outside in the cold for an extended period and you are becoming worried, here are some signs to determine whether your cat is experiencing cold-related symptoms.
Rolling Up Into a Ball
This is a common sleeping position for cats, so it does not necessarily indicate that your cat is cold. However, suppose you notice your cat lying down as tightly as possible while hiding its paws under its body. In that case, your cat could be trying to use its abilities to keep warm as efficiently as possible.
Ears, Paws and Tail
The parts of a cat's body that lose heat fastest are the ears, paws, and tail tip. If your cat is cold in these places, try gently warming it to ensure its body temperature slowly rises.
Frostbite
Frostbite is caused by extreme cold and causes damage to the skin and other tissues. Symptoms may take a few days to show up, especially if the concerned area is small:
skin discolouration – frequently pale, grey, or bluish
pain
swelling
blackened or dead skin patches, skin ulcers, or blisters
If your kitten has frostbite, you shouldn't rub its skin because it could do more damage. In this case, you need to get a vet's help immediately.
Hypothermia
A cat that has been outside for a long time in freezing temperatures and is showing signs of cold exposure could be suffering from hypothermia.
Cats' body temperatures range from 100.5 to 102.5 F. If your cat's temperature drops much lower than this, it may suffer from hypothermia. Feline hypothermia symptoms include:
Trouble breathing or/and low rate of breathing
Lack of awareness
Shivering
Cold skin
Slow heartbeat
Coma
Rigid muscles
The condition can become life-threatening if you wait too long to take your cat to the veterinarian for hypothermia treatment. However, most cases of hypothermia are easy to prevent and treat.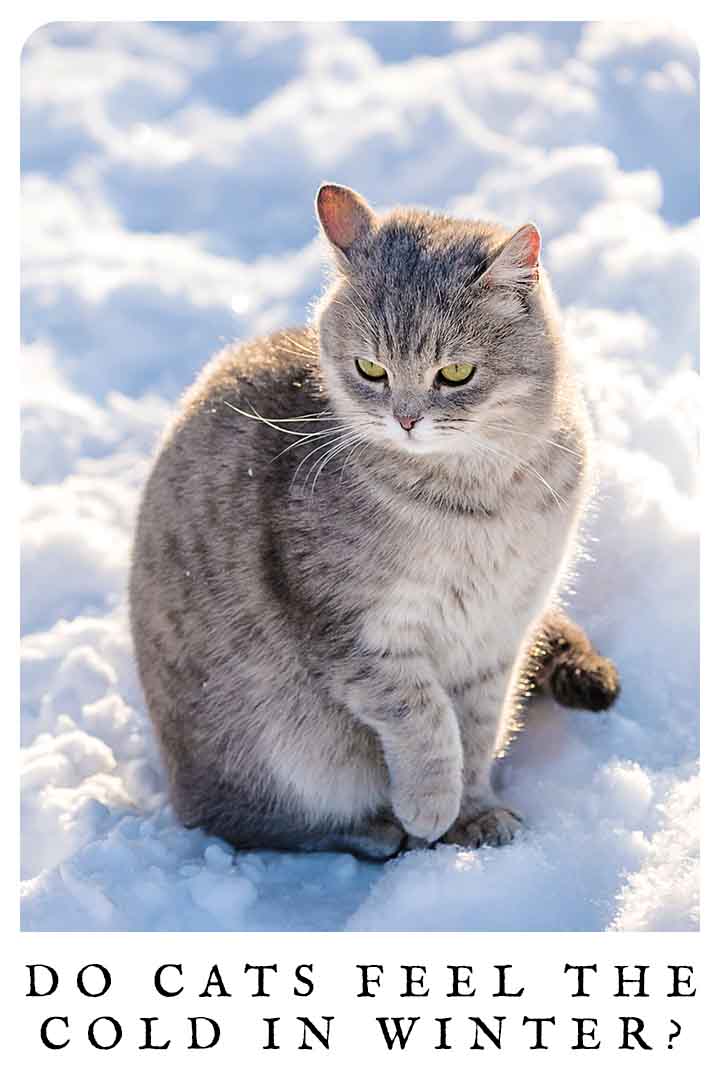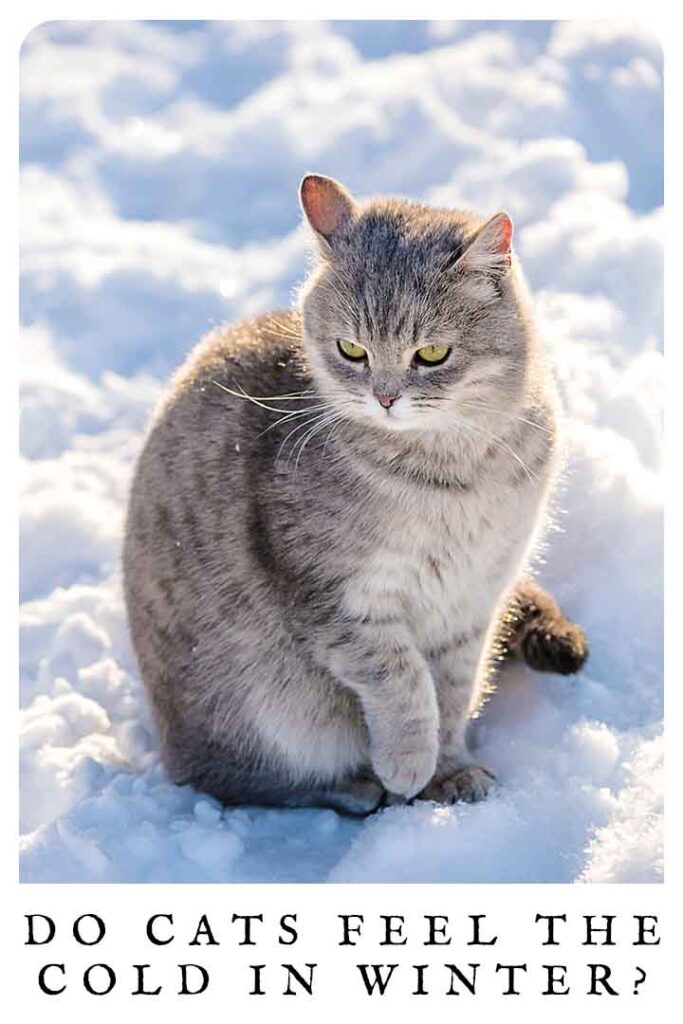 How Can I Help Cats Stay Warm Outside During the Winter?
During the colder months, stray cats need your help and support more than ever. To ensure they stay healthy, warm, and safe. Here are some ways you can help outdoor cats.
Shelter
The key to supporting stray cats is giving them a warm, dry, and safe place to hide from bad weather. The shelter should be relatively small because the cat's body must be able to heat up from the inside. Ensure the cat's house is well insulated and the front entrance shelters the wind.
Provide Food
During a cold winter, feral cats will expend most of their energy trying to stay warm. A constant food supply will help them sustain the energy they require to keep warm. A full stomach will also help outdoor cats develop thicker coats and more body fat.
Ensure the cats get proper nutrition by feeding them the best products during the colder months. You could give feral cats dry kitten food that is high in calories and full of vitamins and proteins.
Make Sure They Have Access To Water
Most water sources freeze during the winter, leaving many animals, including cats, dehydrated. Provide water in a heated water dish. You can find heated dishes in most pet stores or online. If you don't have a plate that you can heat, use a thick, insulated plastic container and change the water often.
Do Cats Feel the Cold in Winter?
Although the ideal temperature for cats can vary from one cat to the next, most felines do well when the temperature outside is around sixty degrees Fahrenheit. Even though their fur coats keep them comfy, like humans, cats feel the effects of the cold during the winter months.
It's best to keep your kitten indoors if it's sick, old, or doesn't have a thick enough coat for the weather. To protect outdoor cats from the cold, providing them with a dry, warm place to sleep and a high-quality, fat diet is crucial.
More Cat Guides
How do cats show signs of love?
Why do cats roll in dirt?
Are Christmas decorations safe for cats?
Resources