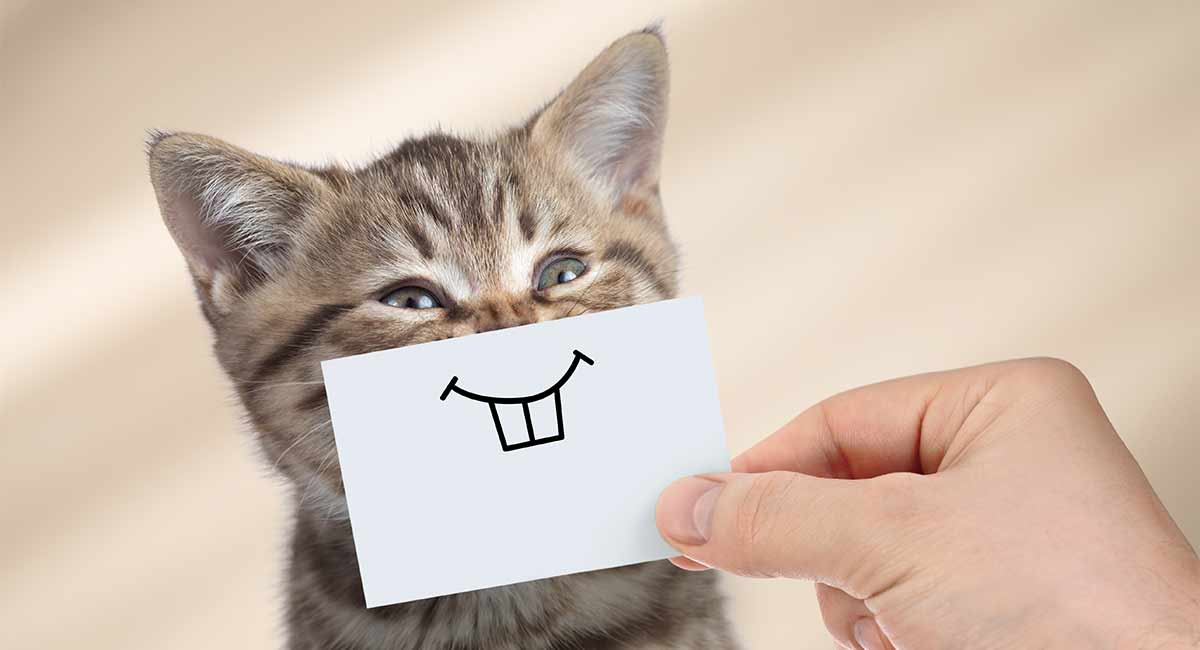 Do cats smile, or are their open mouthed grins a sign of something more sinister? Cats do not smile in the same way as humans. Although they might sometimes appear to be smiling, the turning of their lips is a response to another kind of emotion entirely! Usually if your cat is showing their teeth it's because they are feeling defensive, aggression or even smelling the air around them. But there are some clear signs of happiness in cats that go past the upturned cheeks we instinctively want to see.
Contents
Have you seen the heartwarming, viral pictures of smiling cats across the internet? They're pretty incredible, but do cats really smile? Do they portray their happiness through smiling, just like we do? Or do cats only appear to smile?
What is smiling?
Though we all smile every day, the act of smiling is a lot more complicated than many people think. Unlike most animals, when humans show their teeth in the form of a smile, it is interpreted as friendly. This is a very unique development, however.
When you think about all sorts of other species, most of them show their teeth in a threatening manner. Just think about a hissing jaguar, angry baboon, or growling dog; most animals definitely do not show their teeth to be amicable.
How Did This Friendly Show of Teeth Develop?
Scientists think that it developed firstly as a submissive behavior. In other words, it is thought smiling began as a way to appear non-threatening.
When many animals show their teeth in a threatening manner, their lips are pulled back and their teeth parted. It is basically a threatening "I will bite you" display. Yet, when humans smile, our teeth are pressed together and our lips are relaxed.
We are obviously not going to do any damage. Instead, we are showing the exact opposite – we intend to do no damage.
Interestingly, this is an innate trait in humans. Humans do not have to learn how to smile; it is written into our genes. Babies who are born blind never see anyone smile, but they will still grow up to smile themselves.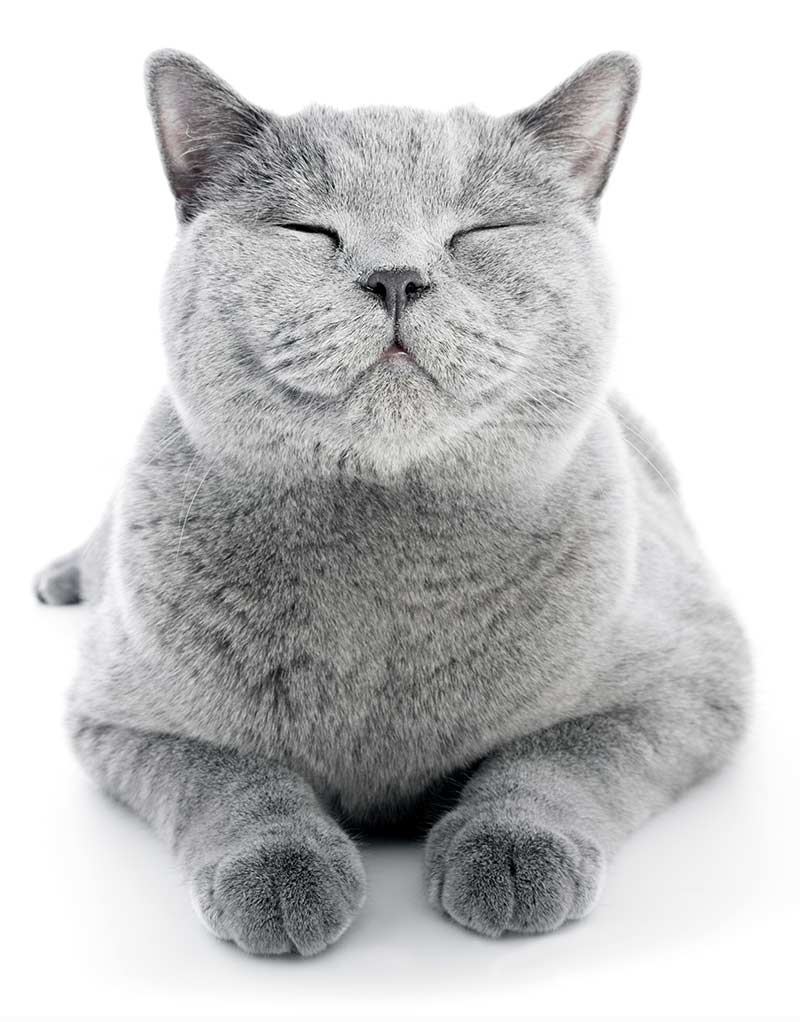 Can Cats Smile?
Anatomically, cats do have the ability to use their facial muscles in the same way we do when we smile. That is to say, they can raise their lips and show their teeth. But, they have not evolved to do this in the way that humans do.
Their "smiling" is not a sign of friendship like it is for us. Instead, a cat showing his or her teeth is more likely to have an aggressive message than one of friendship.
The Flehmen Response
Uniquely, cats have extremely sensitive "smelling" organs on the roof of their mouth. If they finds something with an interesting smell, it is not uncommon for them to open their mouth and test the air.
This can look a lot like a grimace, and it might even appear like your cat is in pain. There is no need to worry, however, since this is completely normal.
It is called the flehmen response, and is simply a way for your feline to gather more information on the object. After all, cats have a very sensitive sense of smell.
Exactly why your cat is showing her teeth can be determined by looking at her other body language.
If your feline is hissing, raising her fur, and backing away, it is probably an aggressive display. But, if your cat is exploring a new object and sniffing the air a lot, it is probably simply the flehmen response.
How Do Cats Smile?
Just like humans, cats have facial muscles that they can contract to move certain parts of their face. This is how cats open and close their eyes, twitch their nose, and even pull their lips up to show their teeth. But, since cats show their teeth for different reasons than humans, their cat smiles can look a lot different.
Cat smiles also look different because of their different facial features. After all, cats are not humans, and therefore their expressions look a lot different.
Cats That Smile
All cats will show their teeth at some point in their lives. Of course, every cat is different and some might show their teeth more than others.
It really depends a lot on personality and situation. A cat faced with scarier situations will show his teeth more than others.
At the same time, a feral or skittish cat might show her teeth more even when faced with calmer situations.
Some cats are also more likely to do the flehmen response than some others. For example, one of my cats uses the flehmen response nearly daily. Yet, I've never seen my other cat do it. Once again, this largely depends on your cat's specific personality.
Which Cats Are Most Likely To Show Their Teeth?
Whether or not your cat performs a flehmen response might also depend on their gender and the presence of other cats. One study discovered that the flehmen response is performed more commonly during marking behavior and by males. Another study also found that the flehmen response is most common when a cat detects the urine of another cat. This backs up the idea that the flehmen response is tied to marking behavior.
Signs of a Happy Cat
If cats don't show their happiness through smiling, then how can we tell if our feline friends are happy? Though they don't smile in the human sense, cats do show their happiness in a number of ways. After all, cats do form social bonds, and therefore do have feelings for their owners.
Purring is one of the most obvious signs that a cat is happy. Yet, it is important to note that cats purr for other reasons besides happiness as well. For example, one study found that cats also "purr when they are severely injured or frightened."
Furthermore, it was also found the frequency most cats purr at is the same as the frequency used to treat bone fractures, pain, edema, dyspnea, and other disorders in humans.
Because of these findings, it is thought that purring also helps cats heal when they are wounded or sick.
So, cats don't only purr when they are happy; purring can actually have a lot of different meanings. To figure out if your cat's purr is one of contentment, fear, or something else, you must look at the rest of his or her body language.
Happy Cat Kneading
Another popular "happy cat" sign is kneading. Kneading is simply a common motion cats perform that involves pushing into a soft object repeatedly with their paws. This is usually done in a rhythmic fashion, though I have seen cats seemingly randomly do it.
It is actually a behavior that felines use when nursing.
The kneading literally helps the kittens push the milk out of their mother's milk ducts. This is actually a very common behavior in many species, including humans!
No one is exactly sure why cats retain this behavior into adulthood. Some suggest that it is simply a behavior the cat associates with feeling good, and therefore something they do when they are happy. Others think that kneading might be a territorial display.
Cats have scent glands in between their toes, and are literally leaving their scent all over whatever item they're kneading. This might be a way for them to claim what is "theirs". Yet, another theory is that kneading is just one of those things adult cats began to do with they were domesticated.
Humans naturally liked cats that act and appeared more like kittens. Therefore, we bred cats that had kitten like traits. Kneading might simply be a holdover of this earlier breeding.
Happy Cat Body Language
Besides the two obvious behaviors that indicate happiness, cats also portray their feelings very subtly through their body language. One good example of this is through their tail movements.
Cats actually use their tails a lot in their communication. They are just so versatile and can move in so many different ways! For example, if a cat flicks his or her tail from side to side, it could mean that they want to play.
Some cats will even "flutter" or shake their tail very fast to indicate that they are paying attention to you. My cats tend to do this a lot when I'm about to feed them!
A cat can use their tail to tell others that they are happy as well. An upright, relaxed tail can indicate that a cat is happy and content.
In a lot of ways, this is the "default" tail setting. If a cat flicks his or her tail when you walk into the room, it is a sign that they are happy to see you!
There are also a number of other happy cat signs, such as head butting and high-pitched meowing.