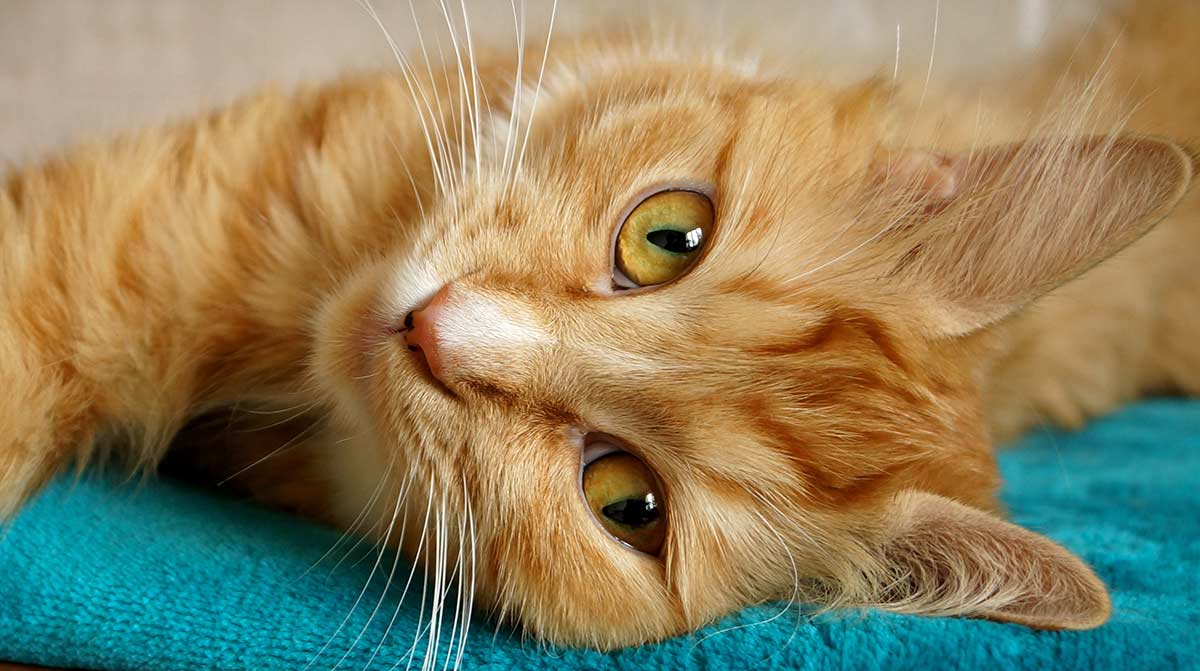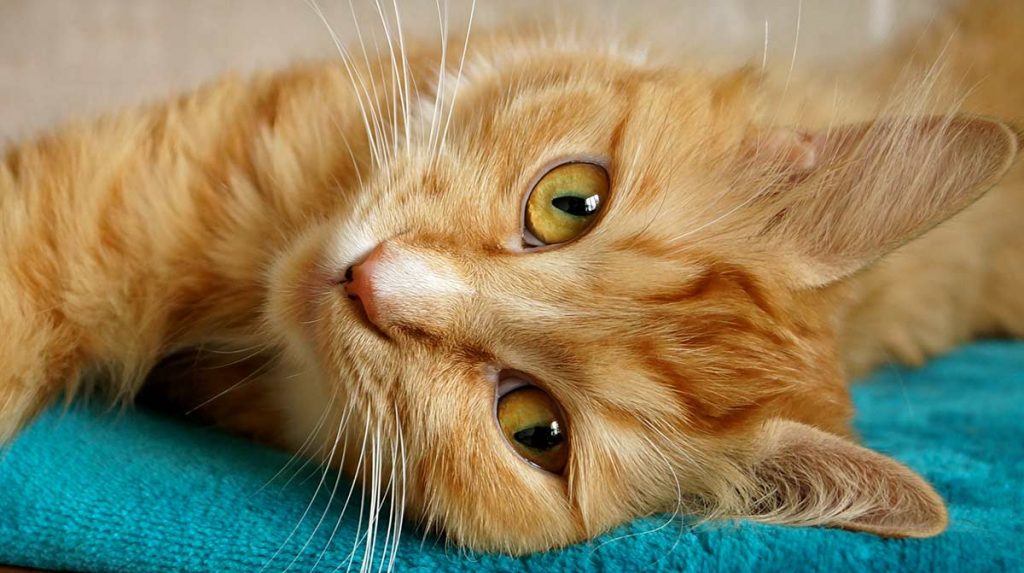 The sound of a cat purring is quite magical and we tend to take is as a sign of cat happiness. But does purring mean a cat is happy? Or is there sometimes another explanation?
The answer is that cats do purr when they are happy, but that purring is much more than just a sign of happiness. And just to complicate matters, sometimes cats purr when they are not happy. So we are going to look at why cats purr, how cats purr, and explore the amazing healing power of a purring cat.
Contents
Check out the gorgeous cat purring recording above – you can leave it running while you scroll down and discover the fascinating facts behind that lovely sound.
What does a cat's purr mean?
Why DO cats purr? It's a unique sound, almost mystical sound. None of our other pets make a noise quite like it.
For most of us, purring and happy cats go hand in hand. But what does purring mean, why do cats do it, and how?
We tend to accept that our cat's purr is a sign of happiness, or contentment and affection. But is there more to it than that? Let's find out
Do all cats purr?
The first question to ask is do all cats purr? Or are there some cats that don't purr at all? Scientist Elizabeth von Muggenthaler set out to find the answer
She discovered that all domestic cats appear to be able and willing to purr. And some big cats too.
It used to be thought that big cats, tigers etc, couldn't purr because they needed a different voicebox structure to make loud and aggressive roaring sounds. We now know that this isn't the case and quite a few larger wild cats species can and do purr.
Von Muggenthaler recorded domestic and wild cats, including cheetahs and pumas, and found that they all purred.
Every cat in Elizabeth von Muggenthaler's study was able to purr at between 25 and 150 hertz. We'll look at just why that frequency is important in a moment
How do cats purr?
The purring noise is generated by the cat's voicebox or larynx. But the complex pathway of neurological signals that generates the purr are less well understood.
What we do know is that the purr is unusual in terms of an animal vocalisation. A lot of animals only make a noise as they breath out.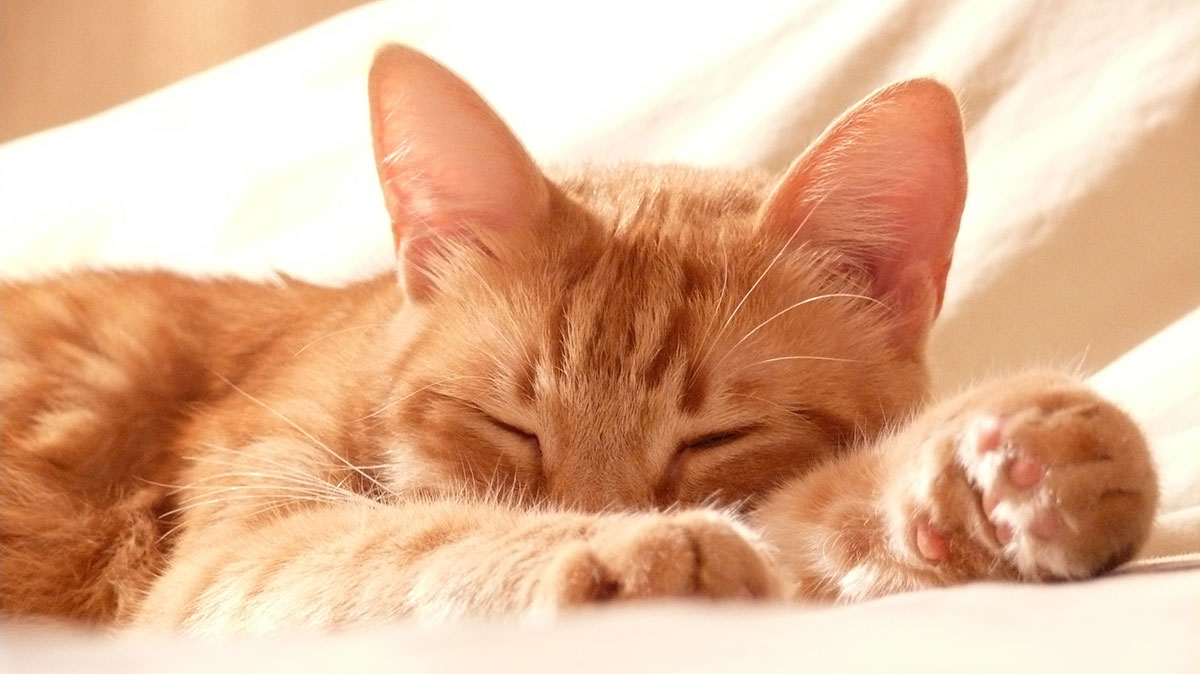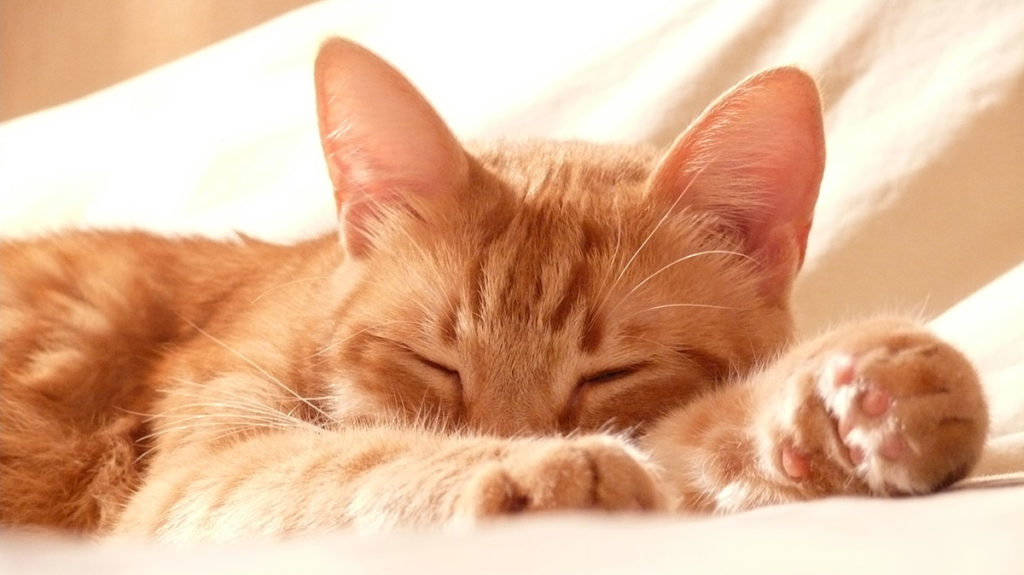 The purr is unusual because a cat can make the same sound when he breathes in, as the sound he makes when he breathes out.
That gives us that distinctive continuous 'thrumming' that we know so well. Purring is a bit special!
Does purring mean my cat is happy?
We all know that kittens purr when they are nursing and that cats purr while we prepare food, while we stroke them or while they settle down for a snooze on our laps.
In other words, cats purr when they are pleased or contented.
So sometimes, purring does mean your cat is happy. But this kind of happy cat purring is not the only reason that cats purr!
Purring to make friends or appease enemies
Purring is also a form of communication. Cats purr when they greet us after a long day at work.
Some friendly cats purr when they greet anyone new.
But vets have noticed that some cats also purr when they are stressed – visiting the surgery for a vaccination for example.
From this, many experts conclude that cats sometime purr when they are upset or want to appease someone. In other words, cats are using their purring power to get us to be nice to them.
And why not!
Could purring be a healing mechanism?
You may have heard rumours about the healing power of a cat's purr.
If you are a bit of a sceptic, like me, you might be surprised to discover that rumours of the healing properties of purring have a solid foundation in fact.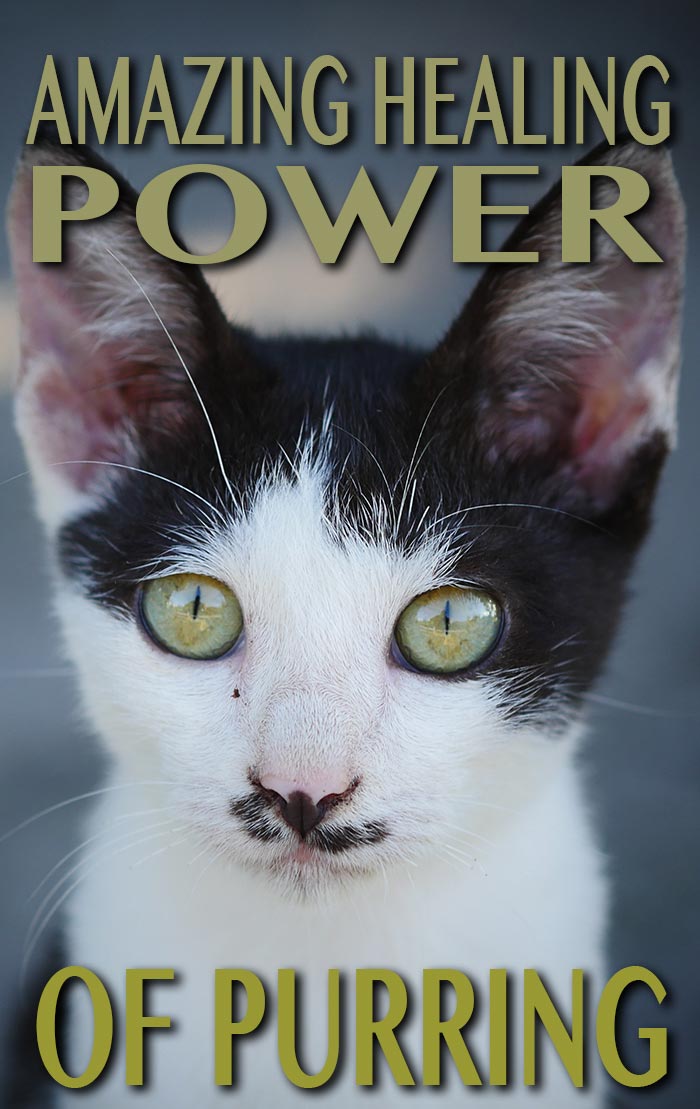 Scientists have known for some time that bones respond well to low frequency sound vibrations.
It just so happens that the sound frequency which improves bone density and the healing process in bones and muscles, is the same frequency as our cats' purr.
While we could be tempted to assume that this is a massive coincidence, it's worth considering that purring requires energy. And animals don't ever waste energy. If they are doing something it usually has a benefit. Either directly or indirectly
And it is interesting to note that in a study of high rise syndrome in cats – where cats had fallen from a great height and some had quite serious injuries, 95% of the cats in the study survived.
This is a far greater proportion than you would expect when an animal of this size falls from this kind of height.
It looks as though purring may be more than just a sign of contentment.
The power of purring!
Unlike dogs, many cats are enthusiastic and skilled climbers. In an animal that spends a lot of time balancing at heights, occasional falls are inevitable.
It may be that purring has evolved as an internal healing mechanism that enables cats use to improve their own health and recovery rate from injury
Von Muggenthaler points out that it may also play a role in "keeping muscles and bone strong when sedentary"
This is a pretty powerful benefit for a simple noise. And what is more, the benefits go beyond the ability of the cat to help heal himself.
How purring helps people
Is it possible that the frequency of a cats purr could help healing processes among the humans he lives?
We don't know for sure, but is seems that purring may well help to heal humans.
A ten year study by the University of Minnesota showed that people who owned cats had a significantly lower risk of heart attack.
Some other studies have shown that pet ownership especially dog ownership may improve health, possibly because dog owners feel obliged to walk more. But very few people take their cats for a walk.
So it is not unreasonable to speculate that purring could be involved here too.
Hopefully further studies will reveal more fascinating information about cats and purring
Why do cats purr – conclusion
Cats purr when they are contented but purring in cats may be much more important than that. Purring may help cats heal themselves when they are injured and calm themselves when they are scared. It could be a clue as to why cats recover so quickly from physical trauma.
Even better, purring may have benefits to those of us that are lucky enough to live alongside our feline friends.
The sound that a purring cat makes could even have healing properties for their owners! Another great reason to cuddle your cat today!
When Does Your Cat Purr?
Does your cat have a loud purr? Does he or she purr more for some people than for others? Has cat purring ever helped you heal?
Don't forget to share your thoughts on purring in the comments box below!
Related Articles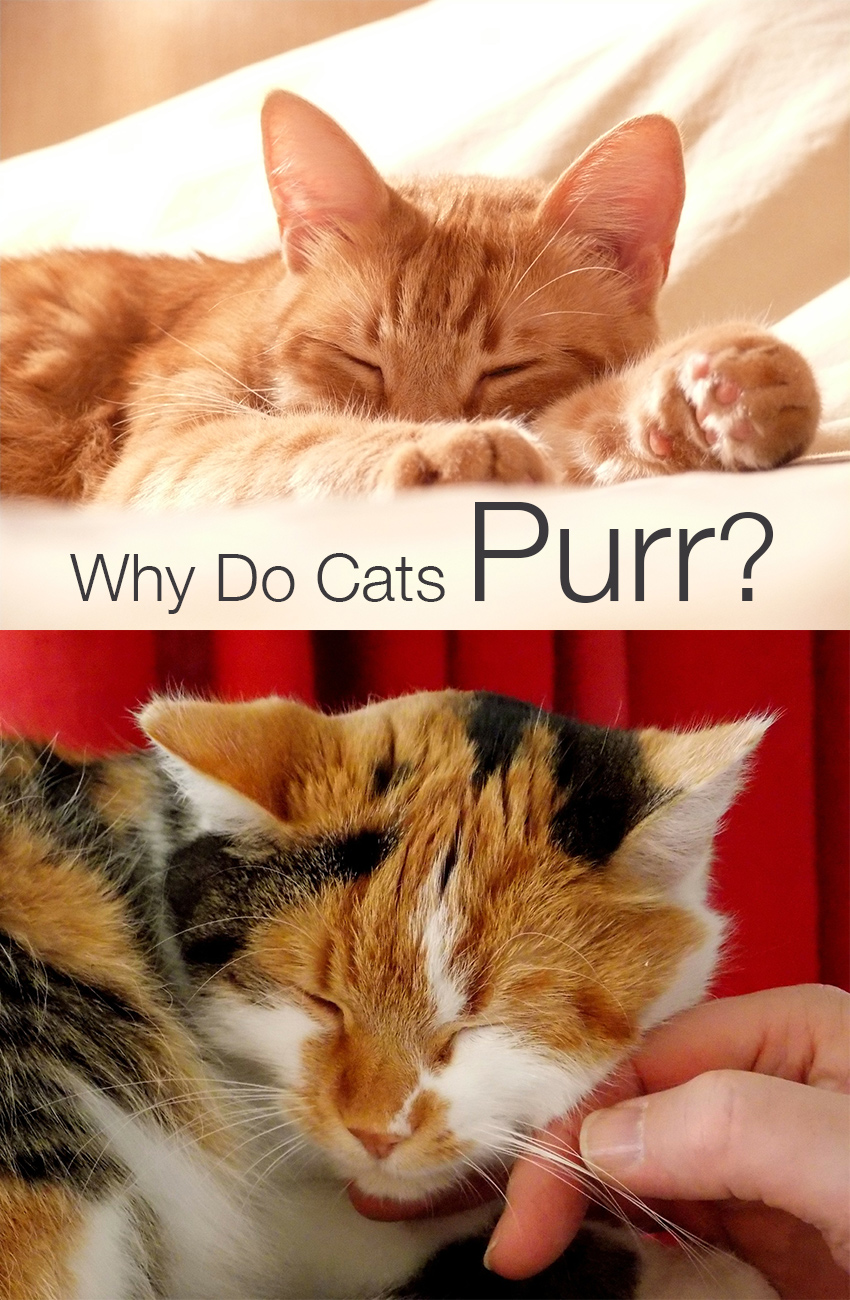 References
Von Muggenthaler, E. (2001) "The Felid Purr: A healing mechanism?" The Journal of the Accoustical Society of America
Whitney, W.O, & Mehlhaff, C.J. (1987). "High-Rise Syndrome in Cats." Journal of the American Veterinary Medical Association, 191(11), pp. 1399-1403.
Arhant-Sudhir K1, Arhant-Sudhir R, Sudhir K. (2011) Pet ownership and cardiovascular risk reduction: supporting evidence, conflicting data and underlying mechanisms. Clin Exp Pharmacol Physiol.
Chen, L.P.; Han, Z.B.; & Yang, X.Z. (1994). "The Effects of Frequency of Mechanical Vibration on Experimental Fracture Healing." Zhonghua Wai Ke Za Zhi (Chinese Journal of Surgery), 32(4), pp. 217-219.
Rubin, C.T.; Judex, S.; & Qin, Y.X. (2006). "Low-Level Mechanical Signals and Their Potential as a Non-Pharmacologic Intervention for Osteoporosis." Age and Ageing