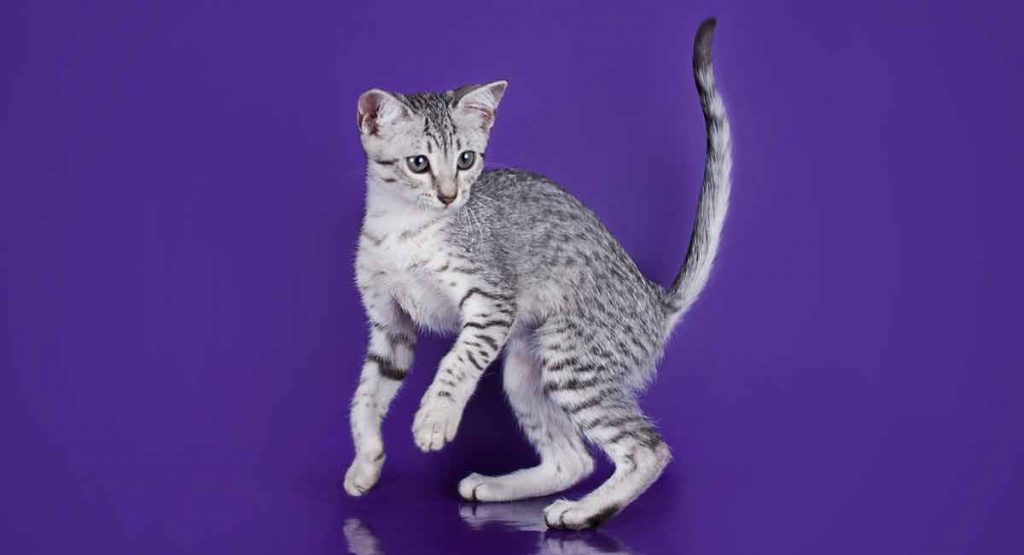 Welcome to our guide to the amazing Egyptian Mau personality.
The Egyptian Mau is a striking cat with a unique temperament.
Are you trying to better understand the personality of your Mau housemate?
Or are you thinking about getting one of these beautiful cats?
Either way, you've come to the right place!
In this article, we'll look at Egyptian Mau characteristics, temperaments and personalities.
Egyptian Mau Characteristics
The Egyptian Mau is considered one of the oldest breeds of domestic cats.
They are usually black, smoke, silver, or bronze in color, with natural spots and beautifully patterned coats.
Combined with their characteristic forehead markings and gooseberry-green eyes, this makes them very striking animals.
Interestingly, research shows that orange cats are typically viewed as the friendliest, while white and tri-colored cats are seen to be more aloof.
For this reason, Maus are likely to be seen as having shyer, calmer or more standoffish natures than other cats due to their coloring.
These cats played a well-known role in the mythology, religion, and life of ancient Egyptians.
They were not only adored pets but also protected by law, mummified and mourned upon death, and sometimes worshiped as deities.
It's possible this long and rich history of domestication and adoration is responsible for the character traits these cats appear to have today.
Personality and Physical Traits
The Egyptian Mau personality is highly intelligent, fiercely loyal, and very social.
Maus have also retained the cheetah-like gait of their ancestors, as well as a unique loose skin flap that stretches from their flanks to their hind legs.
These two characteristics allow Maus to move, twist, and jump with greater speed and flexibility than most domestic cats.
In fact, some people believe they have the fastest reflexes of all felines.
Domestic cats have inherited personality traits such as dominance, impulsiveness, and neuroticism from their wild counterparts.
Although the Maus have been domestic for an incredibly long time, they still have these traits to varying degrees.
Egyptian Mau Temperament
Egyptian Maus are wonderful companion animals.
They are playful cats who enjoy talking to and interacting with their family members.
Of course, each cat will have its own unique personality and quirks, but in general, the Egyptian Mau personality is a very affectionate one.
However, these cats will only snuggle on their terms.
In other words, be prepared for your kitty to demand cuddles only when it wants them. It won't simply allow you to lavish attention whenever you feel like it.
Egyptian Maus may be standoffish or timid with strangers, so proper socialization is important.
They are more likely to appear shy and skittish if they have not been properly raised and handled by adults and children.
Studies have shown that cats will tend to have a bolder personality if they've received positive handling within their first eight weeks.
Remarkably, Egyptian Maus do not exhibit the normal cat dislike for water.
In fact, they're generally quite fond of playing in their water dishes as well as your sink, bathtub, or shower.
Egyptian Mau Personality Traits
An Egyptian Mau cat personality can seem opinionated, and they tend to prefer one human companion over all others.
This is not to say they will not bond and play with the rest of the family, but they likely will show favoritism toward one person.
With a moderate to high energy level, these cats love to play, especially with their humans.
They are also very physically expressive and enjoy rubbing and kneading. Maus have even been known to enjoy riding on shoulders!
Egyptian Mau cats can become depressed if they don't have sufficient playtime and interaction with you.
Their intelligence, activity level, and natural curiosity can sometimes result in these cats being viewed as troublemakers.
Egyptian Mau as a House Pet
The Egyptian Mau personality is well suited for a family environment.
These cats need to be mentally stimulated, played with and loved to be kept happy.
They are incredibly fast and very athletic but can happily adapt to indoor-only life given enough play time and attention.
Socialized Egyptian Maus typically do well with children.
However, they can be startled by loud noises and act shy around new kids or other strangers.
Due to their natural sense of curiosity, Egyptian Maus can get into mischief, and have been known to open cupboard doors and even fridges!
Maus are likely to greet you at the door, play fetch, engage in hunting-type play and enjoy warmth and snuggles, on their terms.
Are you looking for a confident cat that likes riding on your shoulder and showering you with affection on its terms?
This beauty might be the perfect cat for you.
Egyptian Mau Personality
The Egyptian Mau personality is full of intelligence, curiosity, love, and play.
These cats make beautiful housemates for families willing to put up with lots of love and a little bit of naughty antics.
Of course, proper socialization and care are critical to keeping any cat happy and healthy.
If you're considering getting an Egyptian Mau, make sure it's from a registered, reputable source.
For a full introduction to the Egyptian Mau, check out our detailed breed review.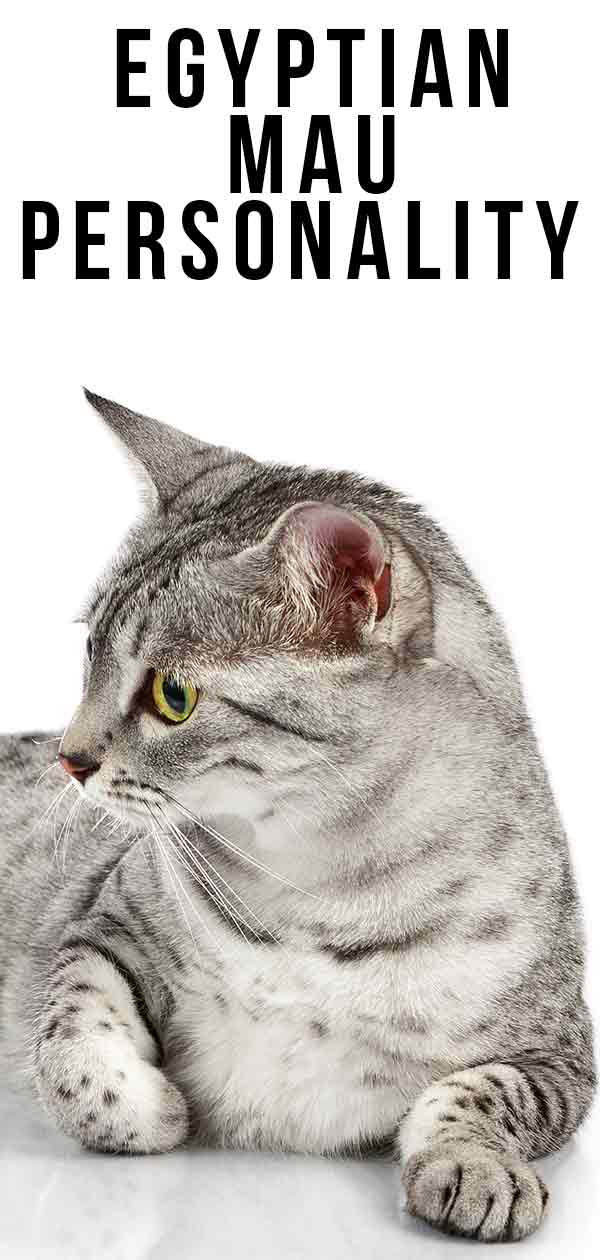 References & Further Reading
Delgado, M., Munera, J., Reevy, G. Human Perceptions of Coat Color as an Indicator of Domestic Cat Personality. Anthrozoos, 2015
Gartner, MC., Powell, DM., Weiss, A. Personality structure in the domestic cat, Scottish wildcat, clouded leopard, snow leopard, and African lion: A comparative study. Journal of Comparative Psychology, 2014.
Feaver, J., Mendl, M., Bateson, P. A method for rating the individual distinctiveness of domestic cats. Animal Behavior, 1986.
Lowe, S. Bradshaw, J. Ontogeny of individuality in the domestic cat in the home environment. Animal Behavior, 2001.
Turner, D., Bateson, P., The Domestic Cat: The Biology of Its Behaviour. Cambridge University Press, 2000.
Turner, D. C., Feaver, J., Mendl, M., & Bateson, P. Variation in domestic cat behavior towards humans: A paternal effect. Animal Behavior, 1986