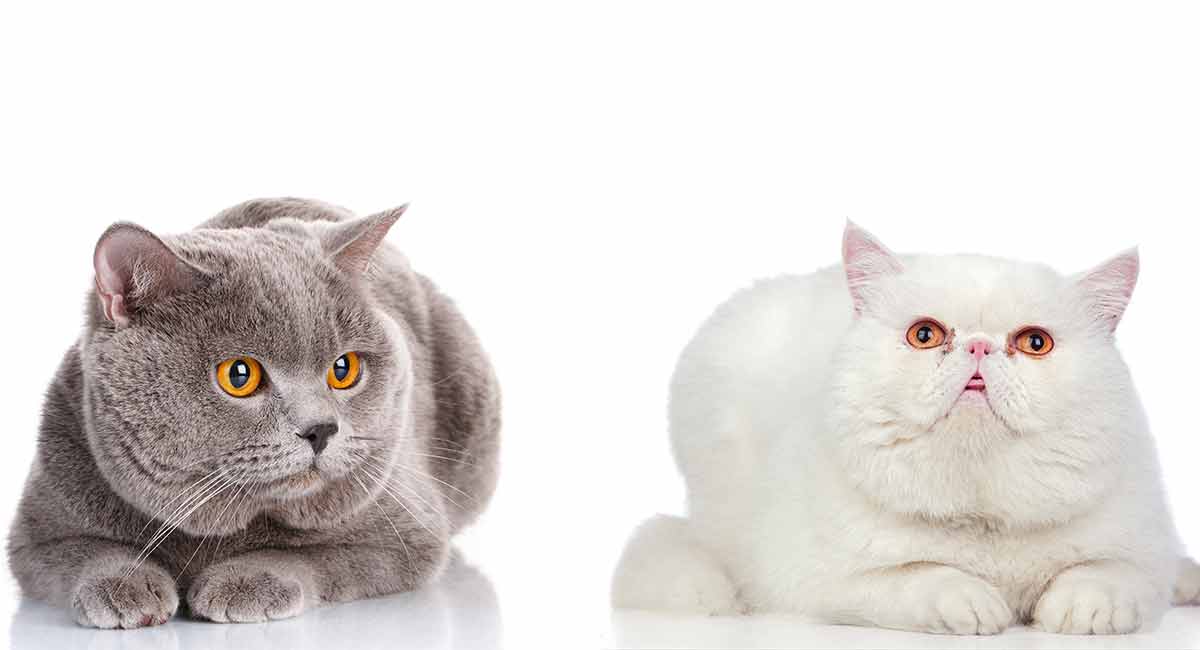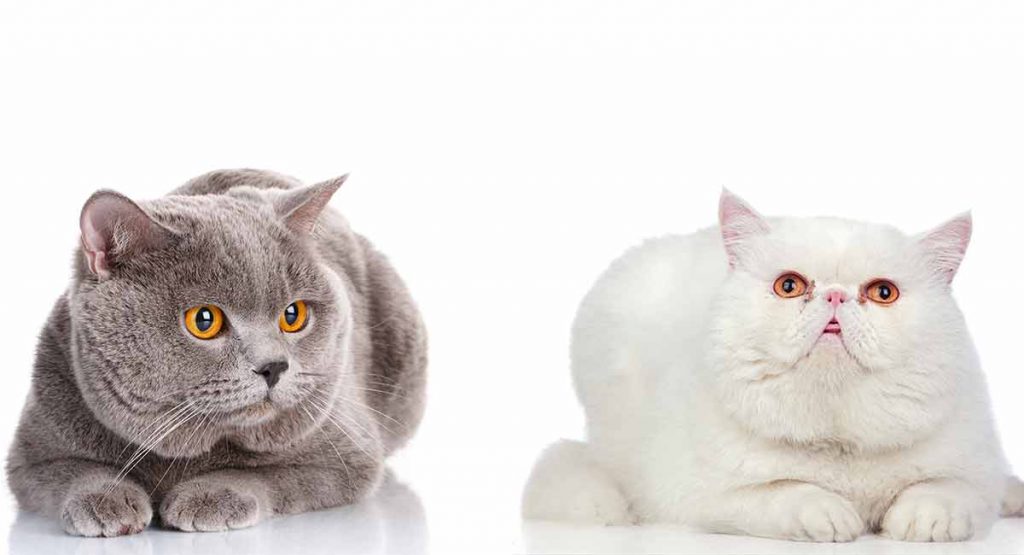 Truthfully, you really can't go wrong with either the exotic British Shorthair cat or the Exotic Shorthair cat personality wise. Even better, both breeds are frequently cited as two of the best pet cats for families with kids. But there are some health differences you will want to consider. So now let's take a look at a few key similarities as well as the most important ways in which their care might vary.
Contents
The Historical Exotic Shorthair vs British Shorthair
Comparing the Exotic Shorthair vs British Shorthair cats brings a few differences to light. One important difference is the age of the breed itself. The Exotic Shorthair cat is quite a new cat breed that only began to gain steam in the late 1960s. However, its close relative, the Persian, is one of the world's most ancient and respected cat breeds.
The British Shorthair cat is arguably one of the oldest cat breeds in the world! Breeders trace this cat breed's lineage back to the time of the ancient Romans, when this cat endeared itself to ship captains as an expert on-board mouser.
Exotic Shorthair vs British Shorthair Size & Weight
The Exotic Shorthair cat can weigh anywhere from 7 to 14+ pounds, with males outweighing females by at least a few pounds. This cat has big, dense bones and shorter legs, giving it a stocky appearance and contributing to overall weight.
The British Shorthair cat has a wider weight spectrum which can span from 7 to 17+ pounds, with adult males outweighing females by a few pounds. This cat's long legs and overall height (12 to 14 inches from paws to shoulder) give it the appearance of being even larger and stockier than it is.
Grooming & Shedding
The Exotic Shorthair cat has strong ties to the Persian cat lineage with one important difference – coat type. Where the labor-intensive Persian's coat is long and silky and requires continual grooming, the Exotic Shorthair cat can get by with a weekly brushing or two!
This has led to the Exotic Shorthair being nicknamed the "lazy man's Persian," and this nickname isn't far off. Its other nickname, the "shorthair Persian," is also right on target. However, this cat does have a double layer coat and will shed seasonally, which is something to be prepared for.
The British Shorthair cat also has a short, dense, plush coat which, combined with its overall large and stocky appearance, has given it the nickname of the "feline bulldog." This cat has a thick insulating undercoat as well as the plush outer coat, which means you can expect some seasonal shedding.
Exotic Shorthair vs British Shorthair Personalities
Both the Exotic Shorthair and the British Shorthair cat breeds are known to be more laid-back, mellow and amiable felines. In some circles, the Exotic Shorthair is actually called "furniture with fur" because it is so fond of simply lying about and resting near to you.
The British Shorthair cat is not particularly graceful or coordinated for a feline. They also are fond of resting and relaxing near "their" people (and sometimes on you, depending on their mood).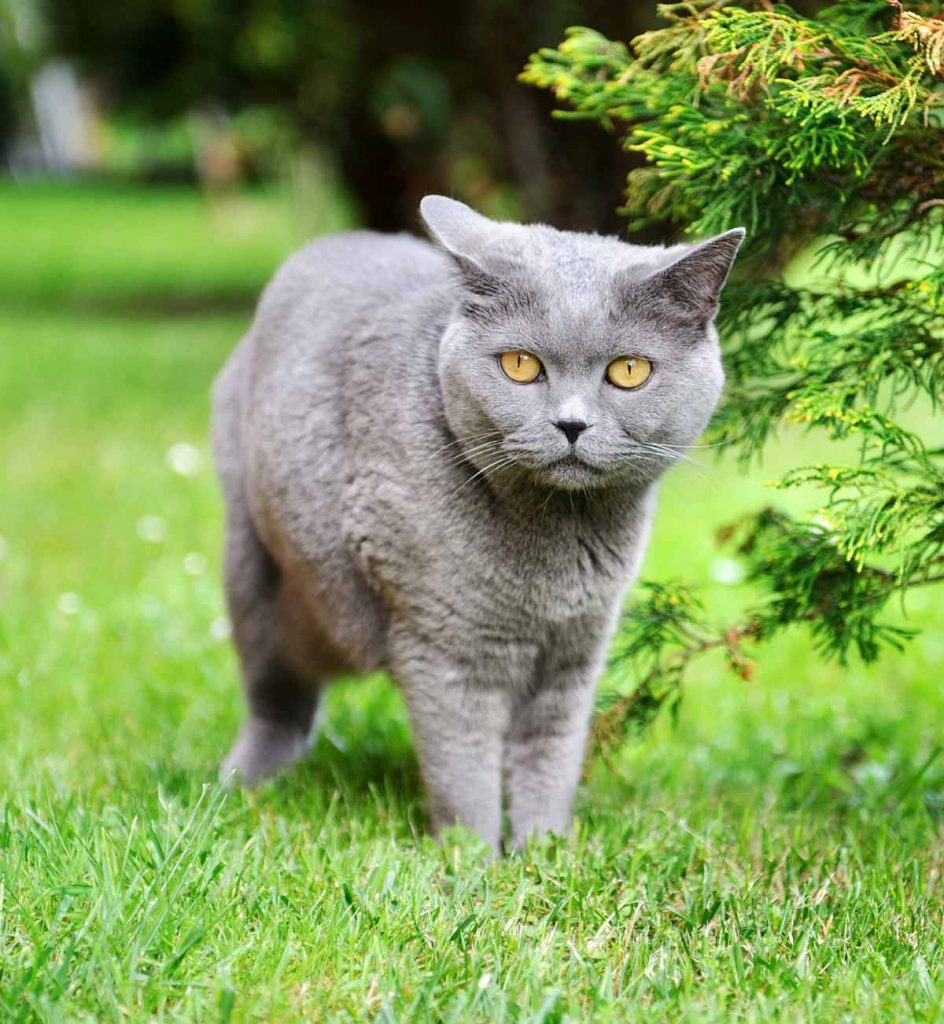 Which Cat Is Healthier?
The Exotic Shorthair cat, like the popular Persian cat, is a flat-faced (brachycephalic) breed. Flat-faced cat breeds tend to have more trouble keeping cool. Their eyes tear more readily and they can have difficulty breathing due to shortened airways.
Other Exotic Shorthair health concerns to be aware of include calcium oxalate urolithiasis (bladder stones) and feline polycystic kidney disease.
British Shorthair cats can also suffer from feline polycystic kidney disease, but the main health concern with this cat breed comes from issues of feline overweight/obesity and diabetes. The British Shorthair cat can also develop heart issues and gum disease later in life.
The health problems caused by the Exotic Shorthair's flattened face are a serious concern for most potential pet owners. This structural issue is far greater than those potentially experienced by the British Shorthair.
Exotic Shorthair vs British Shorthair Lifespan
British Shorthair cats have a medium lifespan of around 12 years, although they have been known to live past 18. Exotic Shorthair cats may live from 12 to 15 years. Although their lifespans are similar, the quality of life of the British Shorthair as a non-brachycephalic breed will almost certainly be better.
Which Pet Is Best?
When it comes to personalities, both the Exotic Shorthair and British Shorthair have a lot going for them. But when it comes to health, the British Shorthair has the edge, and will be more likely to have a higher quality of life.