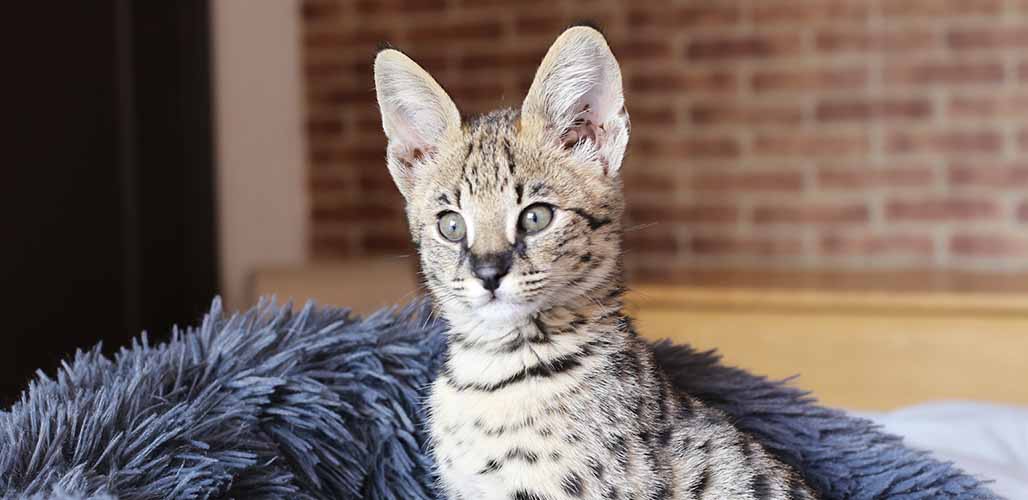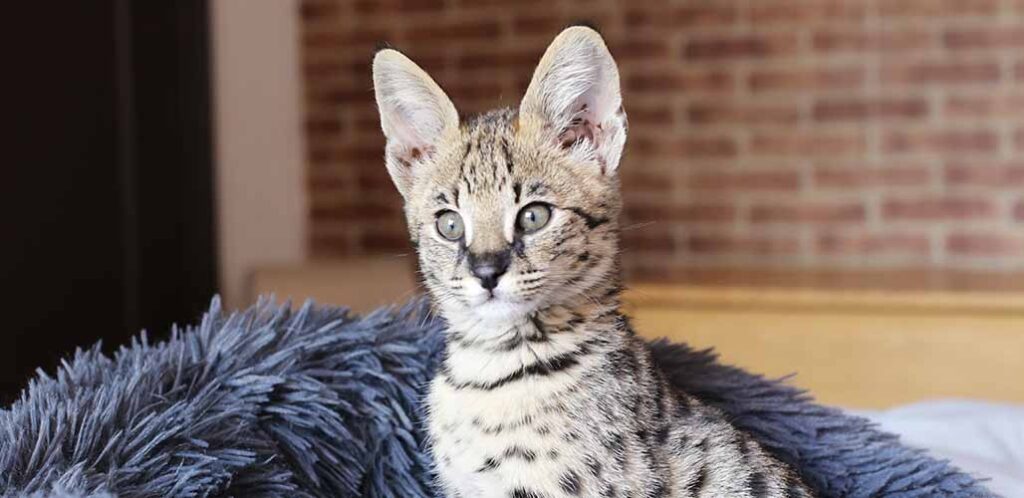 An F1 Bengal cat is not a very common pet, and has more complex care needs than later generations. Bengals are popular domestic pets for their wild appearance. And, first generation hybrids are the closest that most people will get to having a real wild cat at home. F1 Bengals have one domestic parent and one Asian Leopard Cat parent. But, this means they tend to have more intense hunting instincts, and will be less affectionate and cuddly than later generations.
Contents
This guide to the F1 Bengal mix will help you decide whether or not this unique cat is right for your home.
What is an F1 Bengal Cat?
Unless you're familiar with mixed breed pets, terms like "F1" and "F2" can be pretty confusing. These terms are common for modern cat and dog breeds, and mean different things depending on the number attached. Some may also include a b, such as F1B, or F2B. So, let's break down what each part actually means.
The 'f' in this term stands for 'filial'. This means relating to the offspring of a cross. So, the 'F' tells you that the cat is a mixed breed. The number in the term refers to the number of generations away from a wild cat your Bengal is. So, an F1 Bengal is a kitten bred from a domestic cat and an Asian Leopard Cat. An F2 is another generation away, most often bred from two F1 Bengals.
Some breeders may keep track of the generations beyond this, but many will start calling their kittens multi-generational Bengals after the third generation. And, Bengals aren't generally considered domestic cats until at least the fourth generation.
The 'B' that you will sometimes see in this term stands for 'backcross'. This means breeding a mixed cat back to one of its purebred ancestor breeds. For instance, mixing an F1 Bengal kitten with an Asian Leopard Cat to try and encourage some of the popular wildcat traits. However, backcrossed Bengal cats are not a common sight.
What Does an F1 Bengal Cat Look Like?
One of the major appeals of the Bengal cat breed is their appearance. Having a Bengal cat at home is like having your own wild cat! An F1 Bengal is a cross between an Asian Leopard Cat and a domestic cat. Nowadays, multi-generational Bengals are the most common domestic cat used by breeders. So, F1 Bengal mixes can be more predictable than other mixed breeds.
An F1 Bengal will have a short, dense coat. They come in a few different colors. But the base of their fur will be a lighter shade than their markings. Markings are usually black and brown rosette or spotted. Overall, they'll look just like a miniature leopard.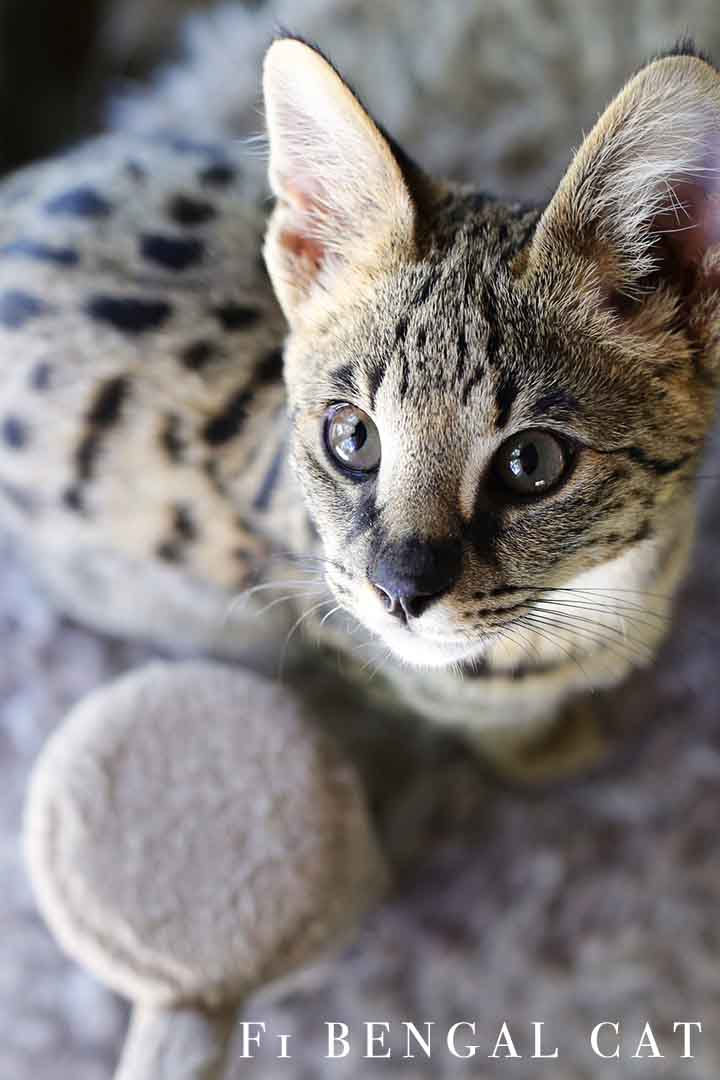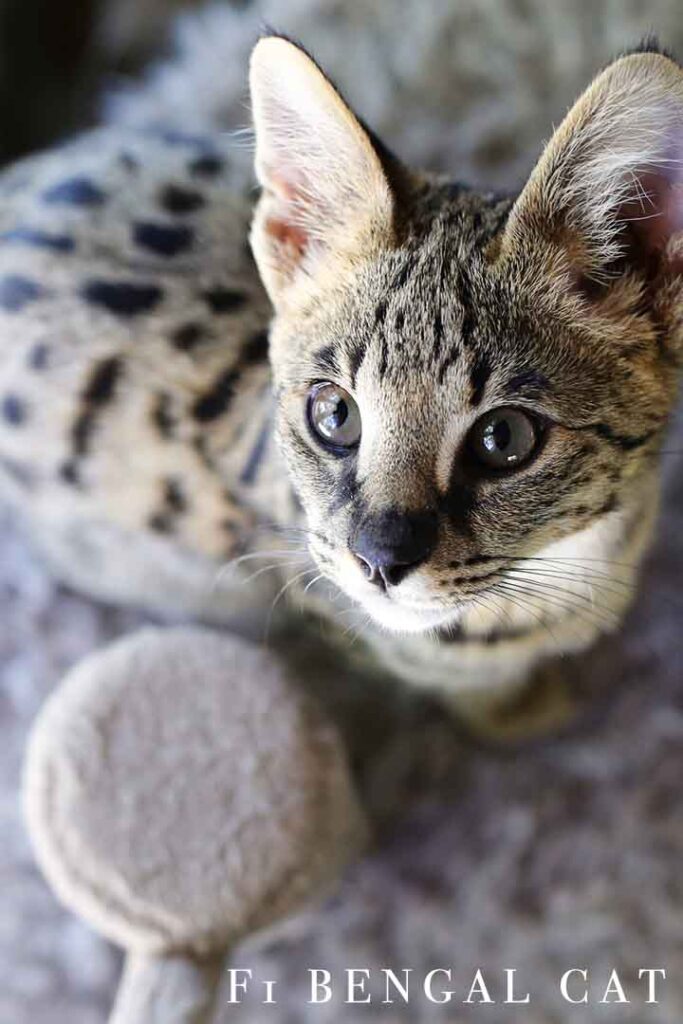 How Big Does an F1 Bengal Cat Get?
F1 Bengals have sleek, muscular bodies. They'll have long, slender tails, large ears, and expressive faces. Though they'll be much smaller than your average wild cat, Bengals are bigger than a lot of domestic cat breeds. They are considered medium to large in size.
Most Bengals will grow up to be between 8 and 15 lbs. But, a few can fall outside of this average. Male Bengals tend to be larger than females, as is the case with most cat breeds! Bengals will reach their full size at around two years old.
Are F1 Bengal Cats Friendly?
Bengal crosses earlier than the fourth generation are generally still considered wild cat hybrids. This is definitely the case for F1 Bengals with one wild cat parent. And, it can become more obvious when looking at this Bengal's temperament. F1 Bengals are, on the whole, 'wilder' than domestic cats and later generations.
These Bengals are likely to have very strong hunting instincts. So, they don't tend to suit homes with other pets, like rabbits, guinea pigs. Some Bengals are happy in homes with dogs and other cats, but first generation mixes may be too territorial for this. Bengals are clever cats with lots of energy. So, they'll need plenty of opportunities to exercise and play around your house, and outside in a safely enclosed space. A lack of these opportunities can lead to unwanted, destructive behaviors.
On top of this, Bengals are known for being quite vocal and mouthy cats. And, they're very curious. They'll make their own fun around the house, often seeking out water to play in! F1 Bengals are rarely cuddly, affectionate cats, though some might break this stereotype. They are usually more content to keep themselves busy in your company. If you're looking for a calmer, friendlier Bengal, choose a later generation with more influence from domestic breeds.
F1 Bengal Cat Health and Care
Like all cat breeds and mixes, an F1 Bengal cat can be prone to hereditary health problems. And, since these mixes are a wild cat hybrid, you may need to check that your local veterinarian will be happy to work on them if any issues arise. In some cases, you may need to find someone more specialist. Some of the most common problems that Bengal cats can experience are:
Obesity and being overweight
Cataracts
Hip dysplasia
Patellar luxation
Erythrocyte Pyruvate Kinase Deficiency (PK deficiency)
Progressive Retinal Atrophy
Hypertrophic Cardiomyopathy
Like all cats, Bengals are obligate carnivores. They need a meat-based diet that includes a wide range of nutrients. Some owners prefer to feed their Bengals on a raw diet, but this should be done with your vet's guidance, as it's more likely your cat will miss out on essential nutrients.
As well as an appropriate diet, Bengals need plenty of exercise and mental stimulation to stay happy and healthy. It's a great idea to purchase interactive toys. But, these cats are happiest in homes with owners who can dedicate a lot of time to their care and attention.
Are F1 Bengal Cats Good Pets?
An F1 Bengal is not going to suit every home. These mixes are wild cat hybrids, so they tend to display more 'wild' traits than a standard, multigenerational Bengal cat. They can have higher prey instincts than later generation Bengals. And, they're known to be vocal, energetic cats that need to burn off energy every day. On top of this, they'll need plenty of mental stimulation to avoid destructive, unwanted behaviors.
Some owners find it hard to train their Bengals to use a litter tray, and some find their early generation Bengals to be particularly territorial. This can complicate things when you have other pets or young children at home.
For most people, a later generation Bengal will be a better pet than a first generation mix. But, if you are an experienced cat owner with lots of time to dedicate to your next pet, you might choose to consider an F1 Bengal. If you do, make sure you do plenty of research and only commit to a kitten once you're certain it's the right option for you. It's much harder to rehome first generation Bengals!
How Much is an F1 Bengal Cat? Finding Kittens
It's important to find a reputable breeder when looking for a new kitten. And, finding a breeder that breeds first generation mixes might be quite tough, since the Bengal breed is more well established these days. If your heart is set on getting a first generation mix, get in touch with your chosen breeder to see if this is something they can help you with.
Bengals are a popular cat breed, thanks to their wild looks and personality. But, this is usually reflected in the price of kittens. On average, these cats will cost anywhere between $1500 and $3000. But, some can cost even more.
A good breeder will prioritise the health and care of all of their cats and kittens. They should ask you plenty of questions to ensure their kittens are going to a good home. And, they'll have a good knowledge about the Bengal breed as a whole. If you're having trouble finding a breeder, you can also consider rescue cats. There are plenty of rescues dedicated to Bengals, since it is so common for owners to misunderstand just how complex and taxing these cats' care needs can be.
Is it Legal to Own an F1 Bengal Cat?
Another thing to check before purchasing or bringing home a first generation Bengal cat is whether or not owning a wild cat hybrid is legal where you live. In some places, wild cat hybrids are not legal as domestic pets. And in others, they are only legal as long as you can meet certain criteria.
The answer to this question will depend entirely on where you live and on local legislation. If you're thinking about bringing home an F1 Bengal cat, speak to your local council to ensure that you're able to do so. Do so before bringing home your cat, otherwise you might end up needing to rehome them elsewhere.
The F1 Bengal Cat – A Summary
Since the first generation Bengal cat mix is a wild cat hybrid, it may not be a legal pet in all parts of the world. This mix is generally not suited to a novice owner, and can have some complex care needs. This includes a higher prey drive, and potentially less affection than a later generation Bengal. But, for an experienced owner, this mix could be a wonderful addition to the home.
It's much harder to rehome a first generation Bengal cat. So, you must make sure you're definitely able to meet all of their needs before committing to this mix. And, consider looking in rescues before searching for a kitten! Do you have an F1 Bengal cat at home?
Readers Also Liked
References and Resources