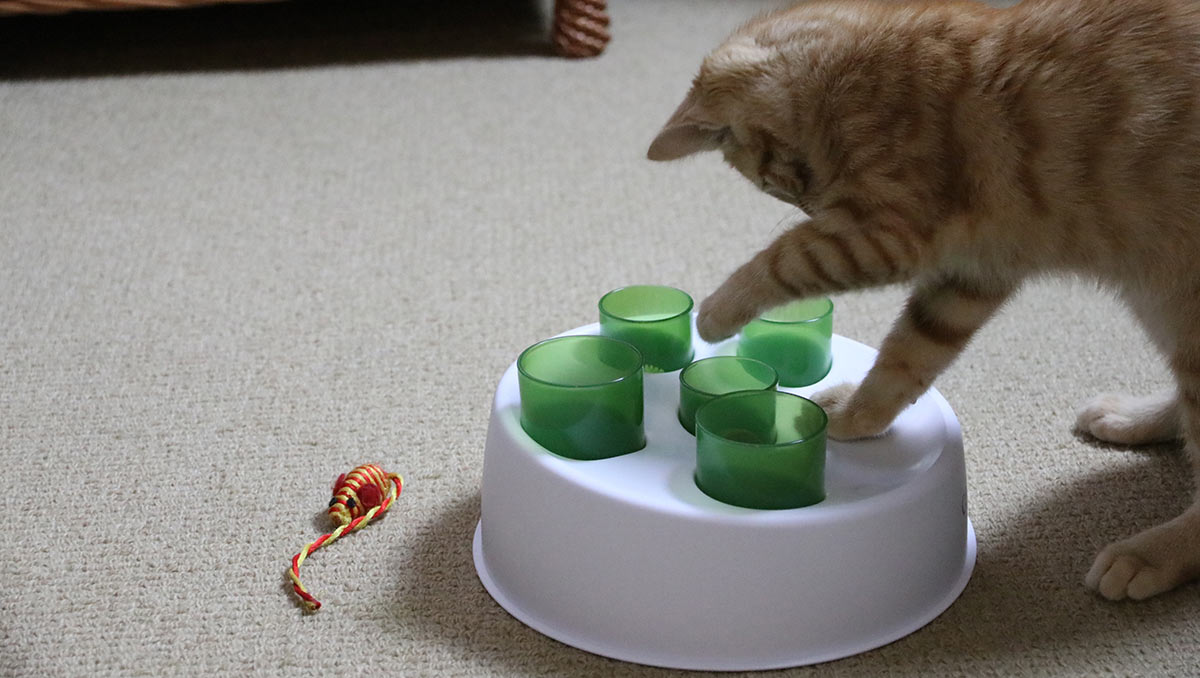 If you have been following along you'll know I started publishing Billy's journal entries retrospectively.  This is because, when I wrote them, I didn't know whether I would be able to keep him.
Fortunately, I discovered on the 10th November that I don't have a cat allergy, and Billy can spend the rest of his life with our family.
At last, I have caught up and am writing about Billy in 'real time'.
I've kept records of how much Billy weighs, what he eats and how he behaves on a weekly basis, and today Billy is fifteen weeks old, so it's time for another update.
And some photos of Billy testing out a new toy
First I should probably recount an interesting experience that Billy had a couple of days ago
Billy and Meg fall out
Billy was lying on the bench in the kitchen, watching my elderly spaniel, who was fast asleep curled up next to me while I worked.
Meg is pretty stern around puppies so I have been slightly surprised at how tolerant she has been with Billy
But suddenly, without warning, Billy launched an attack on Meg's face.  This was not just a playful bat with mittens on, but a full on facefull of teeth for poor Meggie
I can only assume the kitten was bored and needed his day livening up a little.
Well, he certainly got his wish
What he did was bite Meg pretty hard on her face. Gripping her muzzle with his claws out and sinking his teeth right into the soft skin around her mouth.
Ouch!
What she did was to put him firmly in his place. But she certainly frightened both Lucy and I.
With lightening speed, she pinned Billy to the bench with one paw, and took his whole body in her mouth and held him there. With a short growl, she then dropped him.
I saw Lucy's hand fly to her mouth in horror, mine probably did the same. And for one awful, silent, moment we both thought Billy was harmed.
But no
Billy was fine, if a little damp with dog spit.
He gave a  shake, and settled down for a wash. Clearly embarrassed, but trying to make light of being told off.
Then, to show Meg how unbothered he was, he wandered off to beat up one of his toy mice.
Meg went back to sleep, and my heart rate gradually returned to normal.
I assumed that Billy had learned his lesson, but made a mental note not to leave the two of them unsupervised until I am confident that Billy has learned not to use his teeth on Meg's muzzle.
Later that evening I had an opportunity to observe interactions between them again.
Meg had settled down for a snooze in her favorite position on the couch.
Billy was prowling along the back of the couch, considering his next move.  We were poised ready to intervene should he decide to get in her face.
Instead, and again, without warning, he suddenly launched himself onto Meg's back and began batting at the air just behind her long spaniel ears with his paws.
If dogs could roll their eyes, she would have done so.
Instead, with great restraint and dignity, she climbed down from the couch and retired to the dog basket in the dining room. I was so proud of her.
Billy was left with no alternative. He spent the rest of the evening pursuing Tess's tail before settling down next to Meggie for a nap
What do fifteen week old kittens weigh
As a rough guide, kittens between 3 and 10 months tend to weigh around 1lb for every month of age.
Billy is about 3 and a half months old, and today, on my bathroom scales he appear to weigh 4lbs (which is 1.8 kilos).
Now that could mean he is anywhere between 3 and 3/4lbs and 4 and 1/4lb, because my scales only measure to the nearest half pound.  And as he weighed in at 3 and 1/2lbs  (1.6 kilos) at the vet only a week ago, I'm guessing he isn't quite 4lbs yet.
But still, it looks as though he is going to be a good sized cat.  Which may be an advantage if he becomes an outdoor cat in due course.
What do fifteen week old kittens eat
Billy has the same as last week
1 tin thrive for breakfast – just over 2 and 1/2 ounces  (75g)
1 pouch of James Wellbeloved or Royal Canin Kitten Instinctive for lunch  – 3 ounces (85g)
3/4 of 1 tray of Lily's kitchen – just over 2and 1/2 ounches 75g for supper.
so that is 1/2lb of wet food a day.  He is starting to look on the lean side now, so I will add the other quarter tray of Lily's kitchen to his breakfast from tomorrow.
That will be
Breakfast: 3 and 1/2 ounces  (100g)
Lunch: 3 ounces  (85g)
Supper: 2 and 1/2 ounces (75g)
A total of 9 ounces (255g) of wet food per day
What do fifteen week old kittens do all day
Apart from bothering dogs and playing with toys, one day is pretty much the same as another for Billy.
He still loves his cuddles, being picked up and carried around, sleeps in his crate all night, and is faultlessly clean in the house.  He does occasionally nap in the cat cave on the desk in my office, but mostly likes to sleep on my lap or next to me.
His other favorite napping spot is behind whoever happens to be reclining on the couch!
Billy doesn't scratch much yet, so I still only have one scratching post in my office.
The only other place he scratches regularly is on the sides of the log basket, and on the logs inside it.  Which is absolutely fine.
We are surrounded by woodland and have trees in our garden, so once he goes outside, he'll be able to scratch on trees outdoors.
In theory, he could go outside in a week or so when his vaccination cover is complete.
In practice, he'll be staying indoors for several months yet.  At least until we are confident that he is big enough and agile enough to stay out of trouble.
Testing out the new Catit toy
This toy is actually meant to be more of an interactive feeding device than an actual toy.  But Billy found it worked pretty well as a toy too
Because I know Billy loves to get toys out of things, I started off by putting some of his stripey balls, his hedgehog balls, and some of his tiny toy mice, into the cups.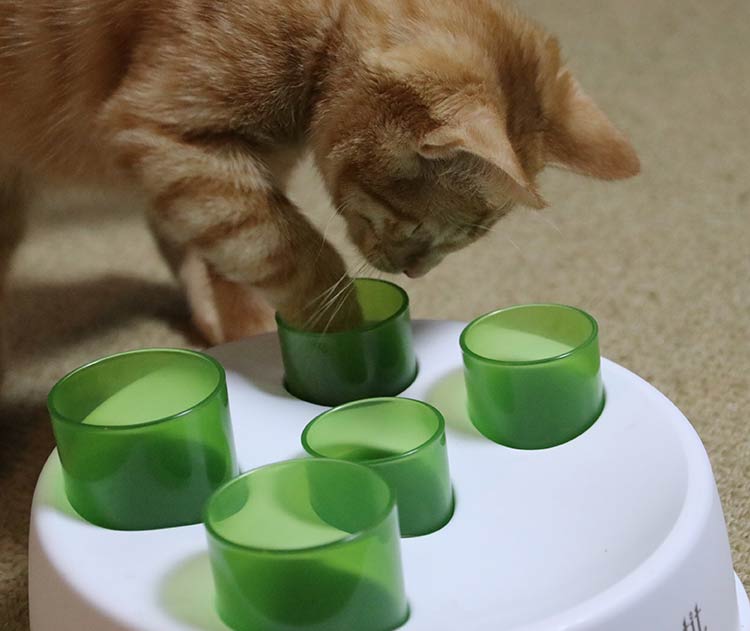 The mice came out really easily, but he struggled a bit with the balls, and went off to play with a mouse for a while.  Then he came back and had another go.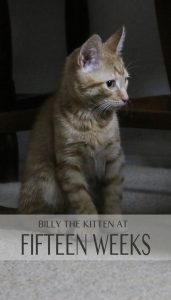 I then took the remaining balls out and put a few pieces of kitten kibble in the green cups.
He though this was brilliant, and purred like crazy while he fished them out.
I'd definitely consider using this to feed a bored cat.
It would be a bit messy with wet food, but the whole thing appears to be washable.
Finally, this is Billy looking thoughtful, and a more little grown up.
Free Updates For Cat Lovers!
Our cat care articles, tips and fun facts, delivered to your inbox