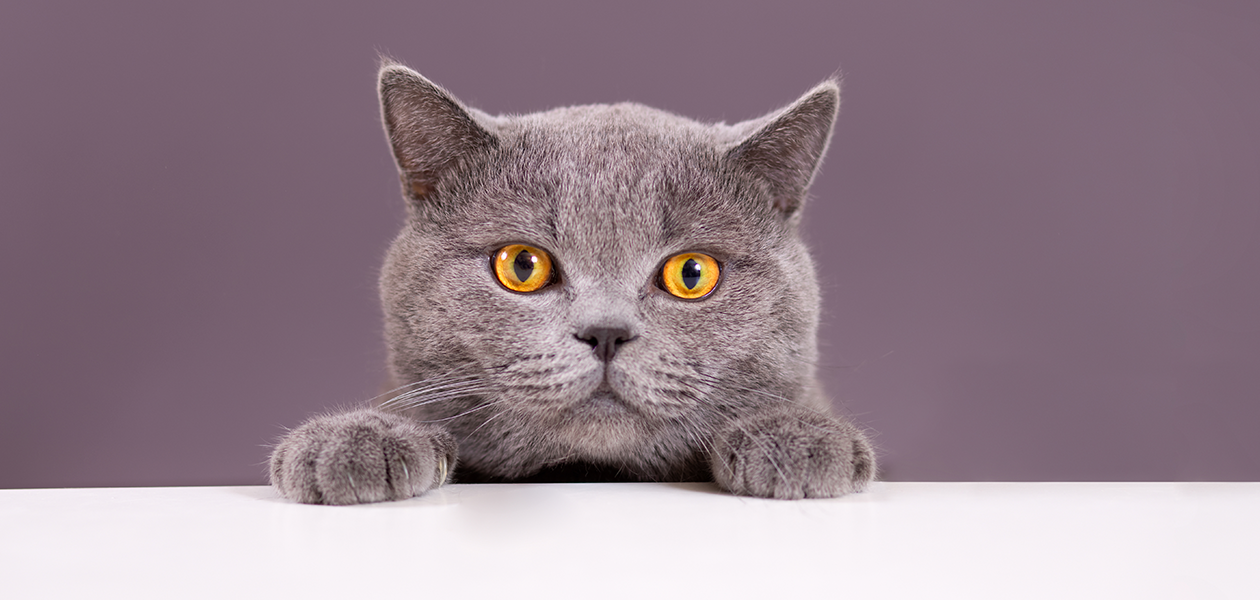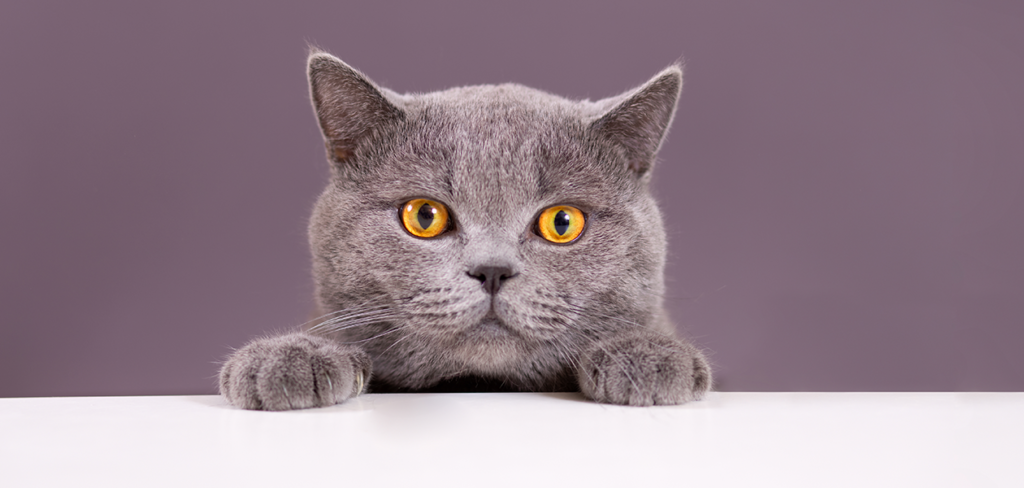 Gray cat breeds come in a number of shapes and sizes. This gray shade is most often called blue.
Cats need two dilute genes in order to express a gray fur coat, so this color can be quite hard to come by. But there are three breeds who only come in this shade.
Even though the cat breeds in this guide share a common fur color, they all have different personalities and health concerns.
Read on to find out which ones will best suit your home.
Contents
Here are some quick links to each of the cats we will include in this guide.
But first, a little more about this coloring.
Gray Cat Coat Colors
Interestingly, there are only two pigments that create all cat colors. The one we need to create gray is eumelanin (black).
To have a gray coat, cats also need to have two dilute genes.
Cats who inherit a dilute gene from both parents will have a gray coat. Other colors that can be created with the dilute gene are: lilac, fawn, and cream.
Dilute genes are always recessive. So, if your cat only inherits one dilute gene, it will be overridden by the color black.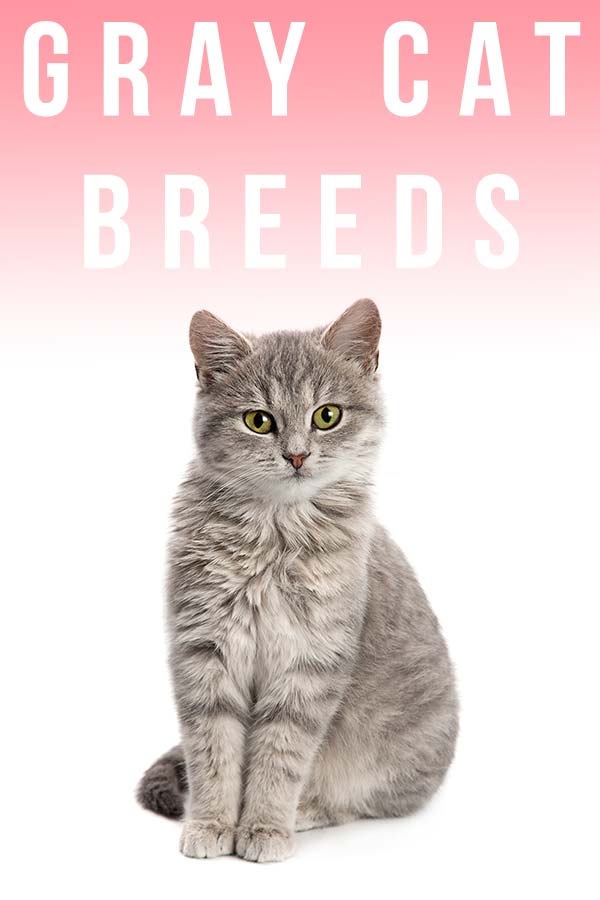 Are Gray Cat Breeds Rare?
Gray cat breeds aren't that uncommon. However they're less common than colors like black.
This is because a cat needs two dilute 'd' genes to achieve the gray coat.
If they have none, or even just one, they will not be gray.
There are three cat breeds that only come in the color gray – the Chartreux, the Korat, and the Russian Blue.
Let's take a look at each of these breeds first.
1. Chartreux
The Chartreux breed is one of three cats that only comes in the color gray. This breed has a wooly, medium length coat.
Chartreux cats will usually grow to weigh between 12 and 16 pounds as adults.
They have relatively large bodies on top of slender legs.
The Chartreux has a round head and medium-sized ears. The most striking feature on this gray cat breed is its striking orange eyes.
This breed is playful and intelligent, but most often calm and reserved. However, don't be surprised if you see them climbing and hunting throughout the day.
2. Korat
The Korat is the second type of gray cat breed that only comes in one color. These cats have an ancient history in Thailand, and didn't actually arrive in the USA until the 1950s.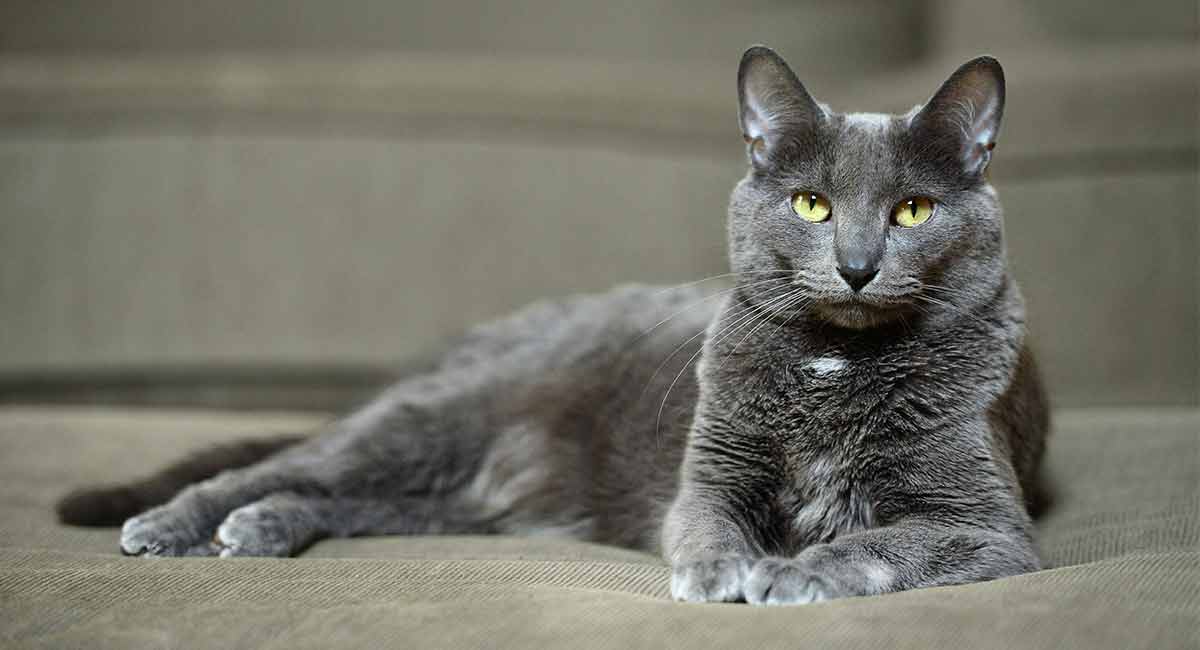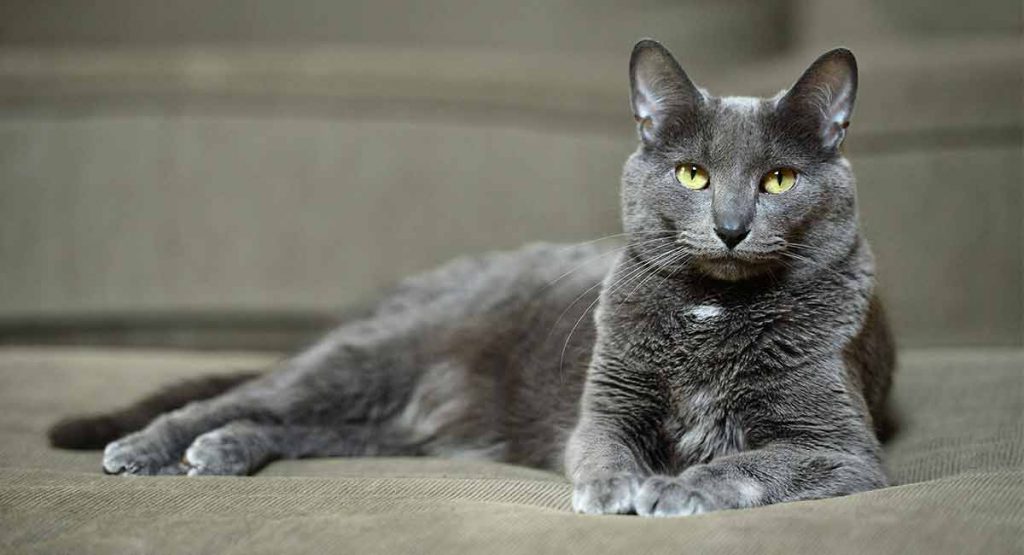 This medium to small gray cat breed will be around 6 to 10 pounds as an adult, with males slightly larger than females.
A healthy Korat will have a muscular appearance. They have large eyes that turn from blue to amber as they age.
Korats are affectionate, playful, and intelligent. Some will be a lot more vocal than others, but you might not be able to tell until your Korat is older.
You can read more about this gray cat breed in our complete guide here.
3. Russian Blue
The Russian Blue is the third type of gray cat that only comes in this color. Their history stretches back to 17th Century Russia, but where they quickly spread throughout Europe.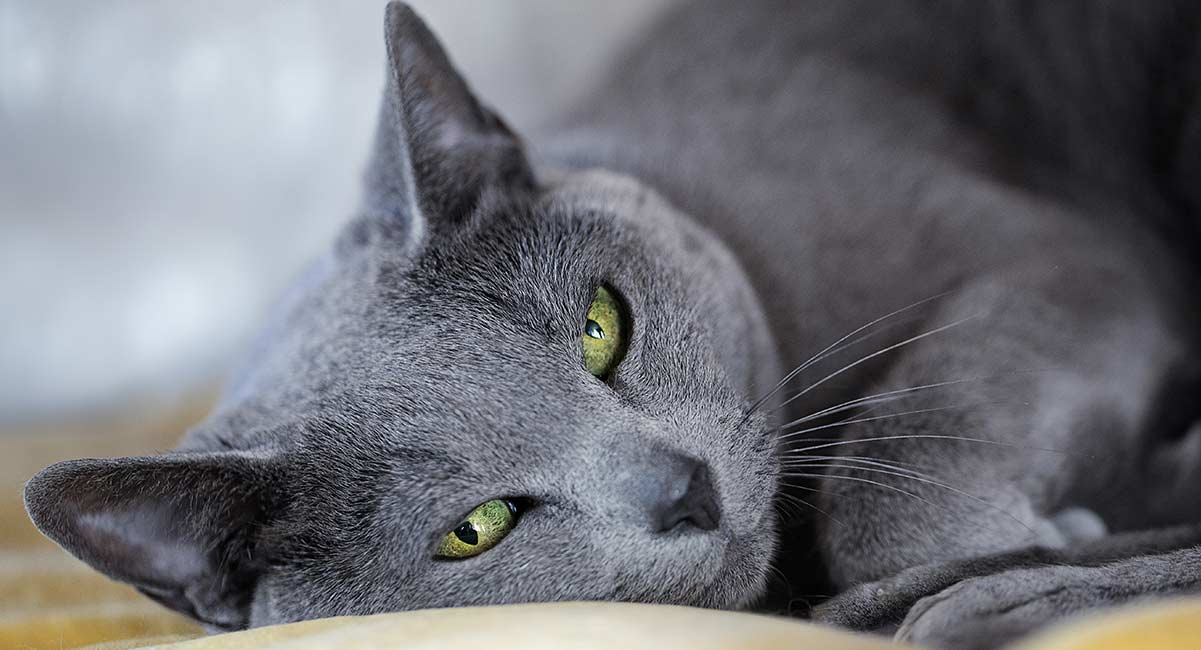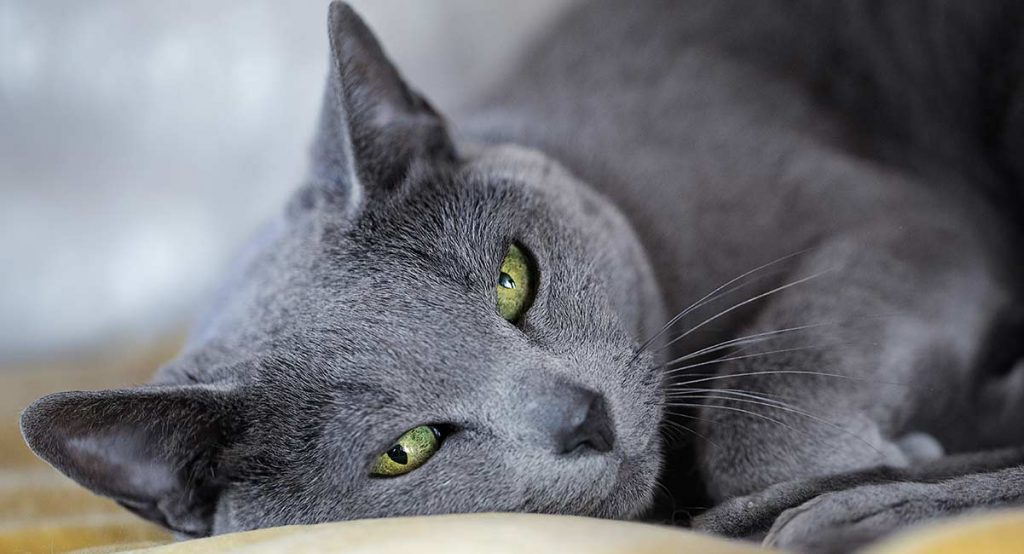 Their coat is only ever short and blue. This silvery shade provides a wonderful contrast for their green eyes.
Russian Blues have a wedge shaped head and large ears. Their medium-sized bodies are typically muscular.
This is another intelligent breed. They tend to be very affectionate and friendly with their closest family, but may be reserved and wary of strangers.
Some may find this breed to be quite dog-like. They can be quite talkative, and will love games like fetch.
You can read more about the Russian Blue in this complete guide.
4. British Shorthair
British Shorthair ancestors stretch back to cats from ancient Egypt. But, the breed as we know it today was developed in Britain.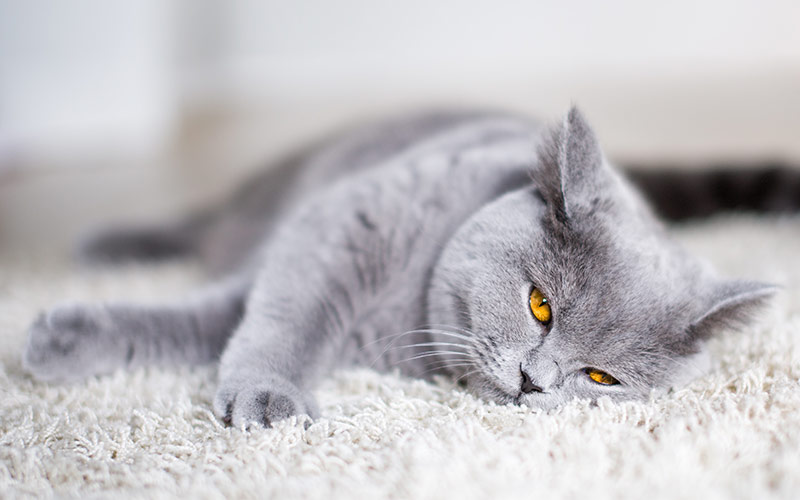 This is a calm and intelligent cat breed that tends to be friendly and affectionate with everyone they meet.
Whilst they love to spend time with you, these cats are also perfectly happy to entertain themselves.
These cats have a short, dense coat. Blue is the most popular color that they come in. Their coat will need combing and grooming to keep it in its best condition.
Take a look at our complete guide to the British Blue Shorthair for more information on this gray cat breed.
5. Oriental Shorthair
The Oriental Shorthair is a member of the Siamese group that can come in a beautiful blue, gray color. This could be with a tabby pattern, or as a gray and white cat breed.
These cats have wedge-shaped heads and large, wide ears. Their bodies and overall appearance is slender and delicate.
Orientals also come in a longhair variety. So, if short fur isn't your preference, you can still choose a cat with this general appearance and temperament.
This breed is intelligent and social, so they will love spending time and playing games with you. However, some individuals in this breed may be aloof with strangers.
You can find out more about this breed in our complete guide if you think this is the gray cat breed for you.
6. Blue Persian
If the types of gray cat breed you're looking for are fluffy ones, look no further than the blue Persian!
This gray cat breed is ancient, but has quite an unknown history.
Persians have thick, fluffy coats, and flat faces. This is known as brachycephaly and can cause serious health issues in your cat.
Aside from these issues, Persians are gentle and sweet-natured. They will happily play with you, but are not a particularly boisterous breed.
Take a look at our complete guide for more information on the health and temperament of this gray cat breed.
7. Norwegian Forest Cat
Another of our favorite gray cat breeds is the Norwegian Forest Cat. In blue, these cats have a similar fluffy coat to the Persian, but a healthier facial conformation.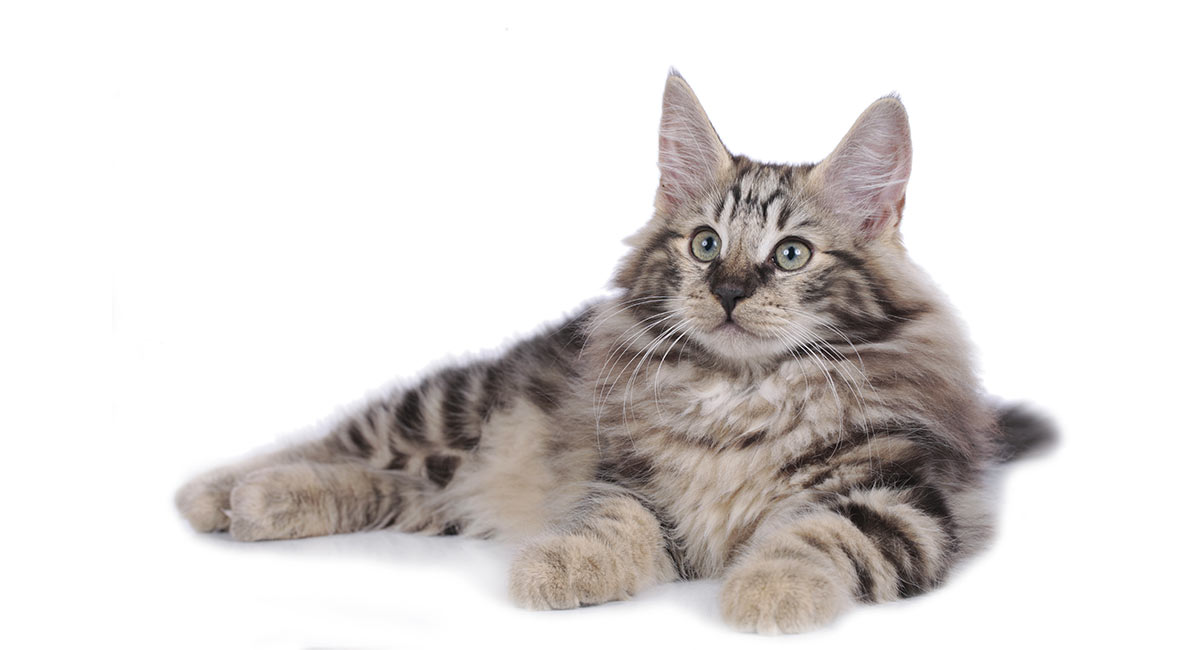 Norwegian Forest Cat history stretches back to Viking legend and mythology, although they didn't arrive in the US until 1979.
This breed is playful, interactive, and intelligent. So, they'll do best with a family that wants a pet they can play with.
They are relatively large cats with full coats, but don't have a huge amount of care needs.
You can find out more about the Norwegian Forest Cat in our complete guide.
8. Nebelung
The Nebelung is a medium-sized cat breed that has the ever-popular long silky coat.
This is a relatively recent breed, with the first registered Nebelung's being born in the 1980s.
These gray cats are devoted to their families, but they may be shy around strangers. They are very intelligent, so need plenty to occupy them.
As they get to know you, these cats will only become more playful and affectionate.
They have wide set eyes, and a medium length coat that needs regular grooming to keep it from getting tangled.
9. Domestic Shorthair
The term 'domestic shorthair' describes local short-haired cats with mixed ancestry. It doesn't actually refer to a specific breed, so you won't find any registered domestic shorthairs.
These cats can have pretty varied temperaments and appearances, simply because of their mixed ancestry.
However, they all have a short fur coat in common.
You can find a domestic shorthair kitten with gray fur. But, their adult appearance and temperament will likely only reveal itself to you as the cat grows older.
Read more about this breed in our full guide to see if it will suit your home.
10. Devon Rex
The Devon Rex is one of our most unique looking gray cat breeds. The main thing that makes it stand out is its wavy fur!
These interesting cats come from their home in Devon, England.
Devon Rex cats are intelligent, cheeky, and energetic. This is a cat breed that wants to be involved in everything you do.
They need plenty of entertainment and activity to stay happy.
As adults, they reach a medium size, usually weighing between 6 and 9 pounds.
11. Scottish Fold
The Scottish Fold is another unique-looking cat that can come in a beautiful blue, gray shade.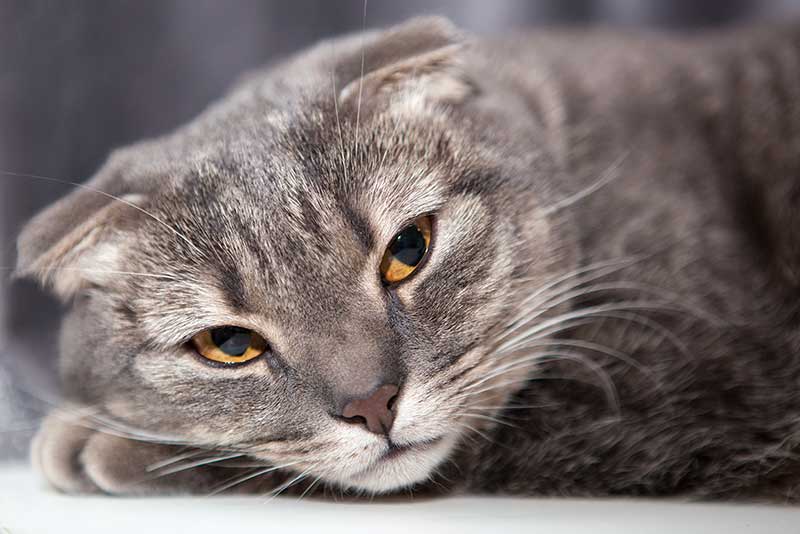 The standout feature of this breed is their ears, which tilt forwards towards their face. All modern Scottish Fold cats can be traced back to a cat named Susie in Scotland.
This is another breed that likes to spend time with its family. You'll often see it following you around the house as you carry out your daily tasks.
As well as their gray coats, they can have a large variety of eye colors.
Make sure to check out our full guide for the full health and temperament of this breed before bringing one home.
12. Siberian
The Siberian is another one of the fluffiest gray cat breeds on this list. They have a history that spreads back to 1000AD.
In winter is when your Siberian will be at its fluffiest. But, in the summer their coat becomes much less dense, and much shorter.
This is an intelligent breed that is great at problem solving to get what they want.
They are playful, and love spending time with family and other people. Just as much as they love exploring.
You can take a closer look at the Siberian cat breed in our full guide.
13. Sphynx
When looking at types of gray cat breeds, you might not expect a hairless cat to appear on the list!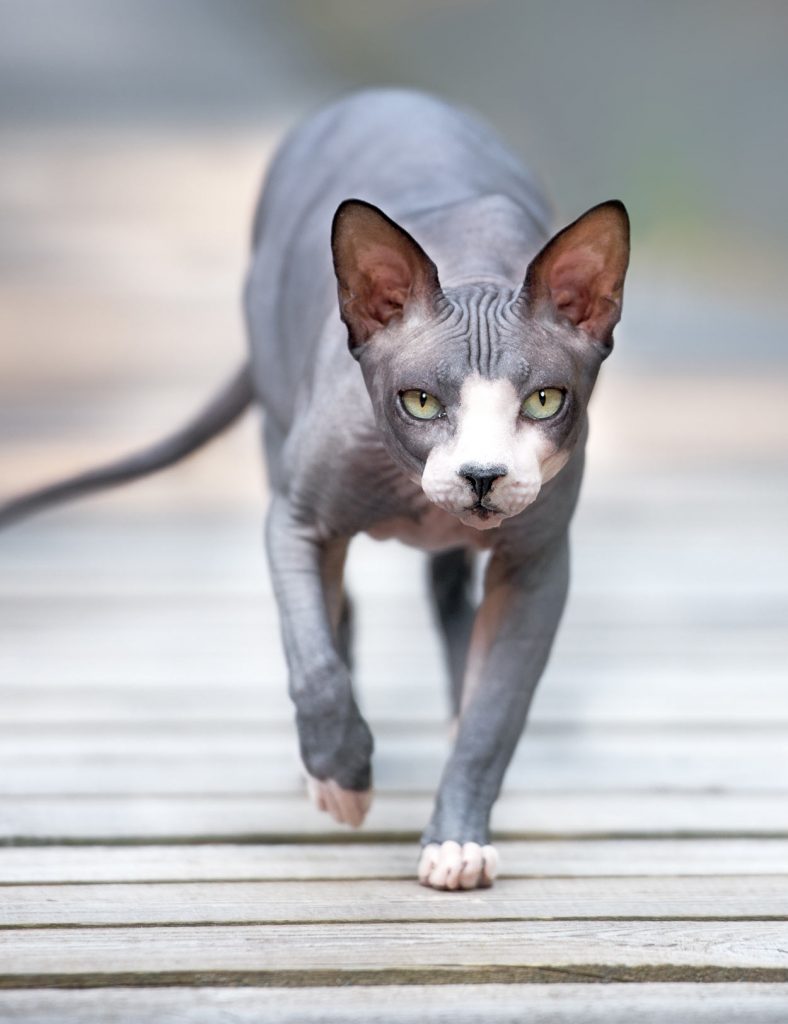 But, the Sphynx breed can come in a variety of colors, including gray/blue.
This interesting cat can trace its origins back to breeding in 1960's Canada. The modern breed is known for being clever, friendly, and curious.
Sphynx cats will be happiest when they're with you. This has earned them the nickname 'velcro cat'!
But, make sure that they don't get cold if you're choosing to bring this cat into your family.
Read more about the breed here.
14. American Bobtail
The American Bobtail cat is a medium to large breed that can come in gray or blue. It is distinguished by its naturally short tail.
This breed has been present in America for a long time, but was only officially developed in the 1960s.
American Bobtails can have short or long fur, so there's a type for every family. Neither type requires a large amount of grooming, but the long-haired type is slightly more high maintenance.
This breed is affectionate, and will form strong bonds with its family. They are usually also good with other pets.
If you want a cat that will want to spend a lot of time with you, the American Bobtail is a great choice.
Find out more about the health and temperament of this breed in our complete guide.
15. Tonkinese
Gray is one of the many colors that the Tonkinese cat breed comes in. This gray cat breed has a short coat that is easily maintained.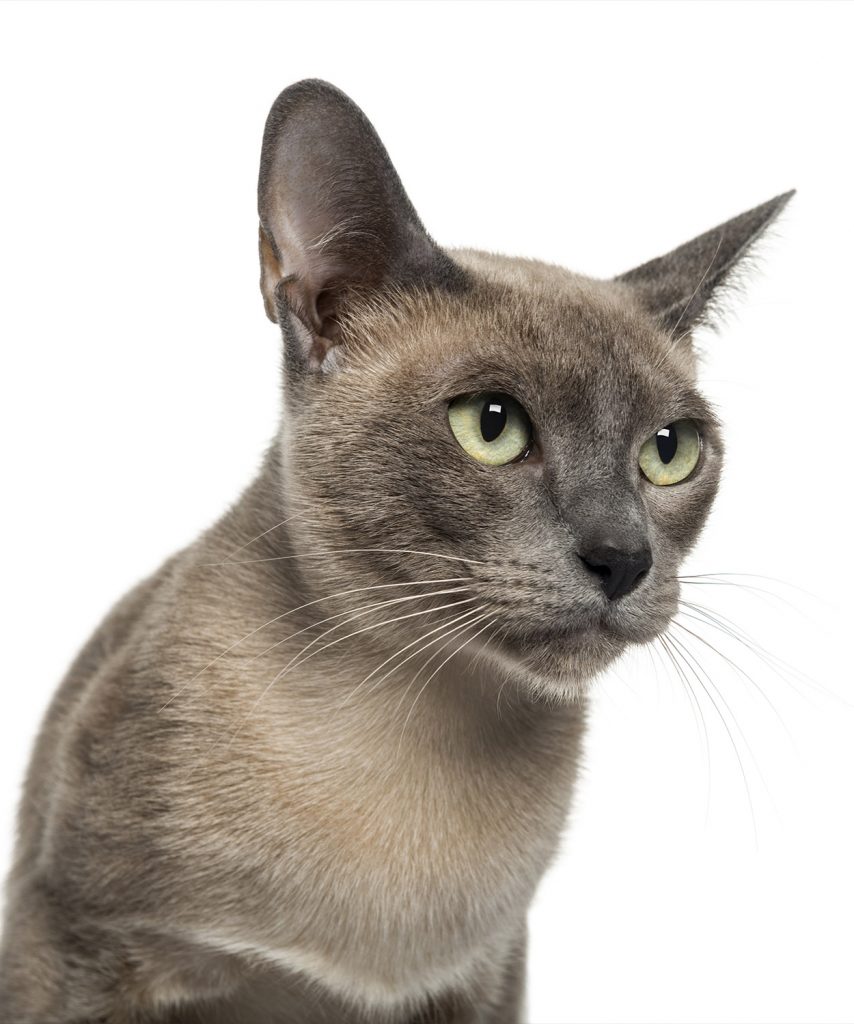 They are medium sized cats that can weigh anywhere between 6 and 12 pounds when they're fully grown.
In the eyes of this breed, everything is better if they can do it with you. They are affectionate, loving, and cuddly.
But, they also have a playful streak. Expect this cat to spend a lot of time with you, whether curled up on your lap or playing a fun game.
This is a chatty breed that tends to get on well with all people and animals.
Gray Cat Breeds – Summary
Do you have one of the types of gray cat breeds that made it to our list today?
Make sure to tell us about your gray cats in the comments. If you can think of a gray cat breed that we should add to the list, make sure to mention them!
Readers Also Liked
References and Resources