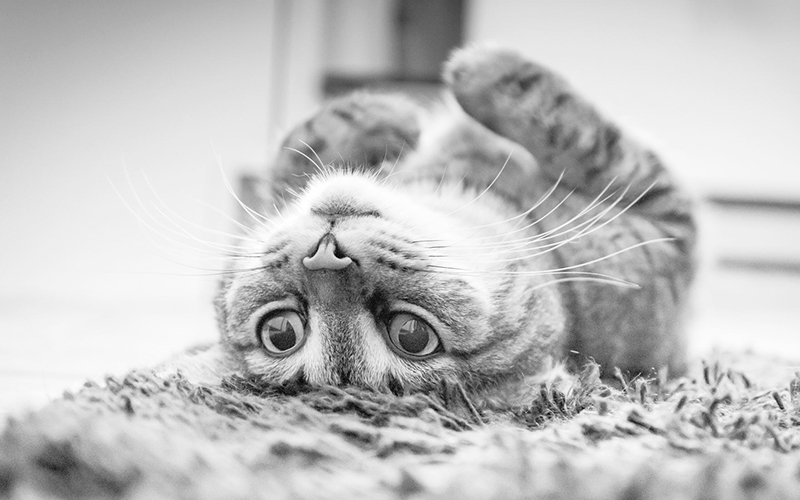 Welcome to our complete guide to head pressing in cats. Packed full of advice from professional cat behaviorist Clare Hemington.
Find out what cat head pressing, head bumping and head rubbing mean. And why your kitty is doing them.
Throughout the ages cats have been described as enigmatic, aloof creatures.
Perhaps this is one of the reasons why we're so addicted to watching videos of them losing their dignity
Falling off things or jumping at the sight of a cucumber!
However, for many of us it's this air of mystery that makes them such attractive pets.
We love the fact that much of the time we're never quite sure what they're feeling or why they're doing what they're doing.
This is why we relish the moments when our cats drop their guard and show us that they really are rather fond of us.
Aloof Cats, Showing Affection
One of the ways they might choose to do this is by rubbing their forehead or cheeks against our legs, hands, or even our faces.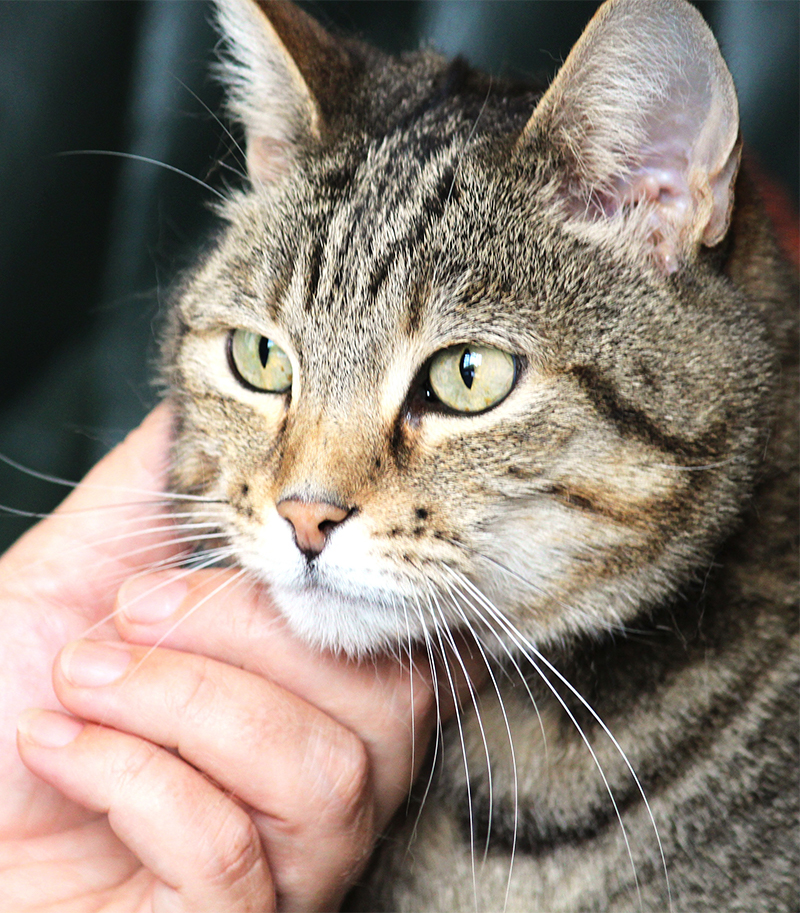 This is not only a lovely positive sign of their willingness to interact with us.
It also allows them to deposit their scent on us, which helps to reinforce their perception of safety in their own environment.
Whilst we might think that this is one of the easier to interpret expressions of cat behavior, the complex nature our family felines, means that it's entirely possible for us to confuse it with another behavior.
In fact, something much more serious, commonly called 'head pressing'.
So let's take a look at both head rubbing and head pressing in cats to help us identify the differences between them.
And understand when we need to take action.
What is Head Pressing in Cats?
So, what is head pressing in cats?
Head pressing in dogs and cats is one of a number of specific behaviors performed as a result of an underlying neurological disorder or central nervous system problem.
The specific causes of the behaviour ww.expertvet.com may include:
brain tumors
liver shunts (where the blood flow to and through the liver is compromised)
damage to the forebrain and thalamus
stroke
toxic poisoning
metabolic disorder
inflammation of the brain (caused by bacteria, viruses, parasites, or fungus)
infection of the nervous system (such as rabies, parasites, bacterial, viral or fungal infection)
liver disease
head trauma
All of these are potentially life threatening conditions so, the sooner we can identify the head pressing as abnormal behavior the better.
What Does Cat Head Pressing Look like?
The important thing about identifying any medical condition is identifying your own cat's normal behaviour versus what's unusual.
This is especially important for conditions where the symptoms may closely resemble a normal feline behaviour.
A head pressing cat will persistently press his head against a solid surface for no apparent reason and for extended periods of time.
If the object is moveable, the pressure of the cat's head against it may be enough to force the object towards the nearest wall or corner. This can lead to the cat getting 'stuck', unable to go any further.
Head Pressing Cats Symptoms
Head pressing in cats may be accompanied by other symptoms including:
staring into space
walking in circles
pacing
loss of balance
general disorientation
depression
problems with vision
abnormal vocalization
head tilt
head tremors
lethargy
loss of appetite
weight loss
seizures
Confusingly, not only can head pressing in cats be mistaken for innate feline head rubbing behavior. It can be a behavior performed by cats that develop age-related cognitive impairment known as Cognitive Dysfunction Syndrome.
This is a condition similar to Alzheimer's in humans, that is recognized primarily in cats over 12 years of age but can affect cats from the age of 7 years.
Symptoms of CDS include:
becoming lost in previously familiar environments
aimless wandering (often pacing at night)
difficulty navigating the stairs
general disorientation
Owners might notice their cat walking towards household objects and appear not to know how to maneuver around them.
A cat might walk into a corner and be unable to turn around. Something which an owner might describe as 'head-pressing', as it appears that the cat cannot turn his body. And being unable to figure out what else to do, will press his head against the wall or in the corner.4
What to Do If your Cat is Head Pressing
So, you can see why identifying the reasons for cat head pressing behavior can be a tricky business.
However, the bottom line is, if your cat, is displaying any of the above symptoms it is vital that you get veterinary help immediately.
Depending on the nature and severity of the symptoms your veterinarian may then refer your cat to a neurological specialist.
One final note about head pressing cats is that the behavior shouldn't be confused with a cat that occasionally appears to be head pressing while sleeping.
Some cats naturally like to sleep with their head down or tucked against the side of an armchair or their bed, and they look all the sweeter for it.
Cat head rubbing, is an entirely different story.
Why Do Cats Rub Their Heads on Things?
Even though cat behavior can sometimes be difficult to read, cats do in fact have a lot of communication signals.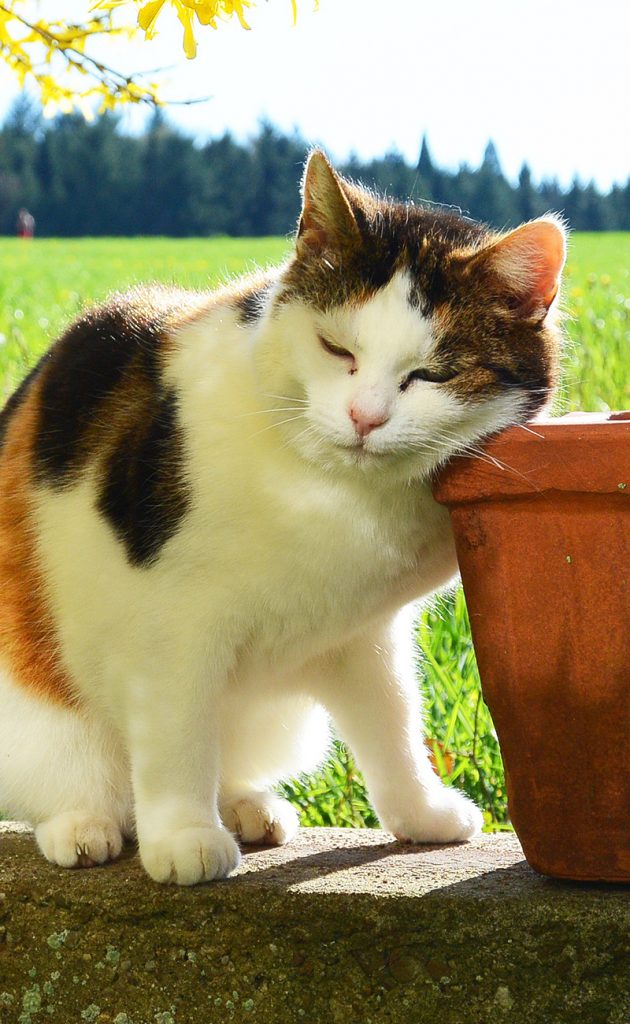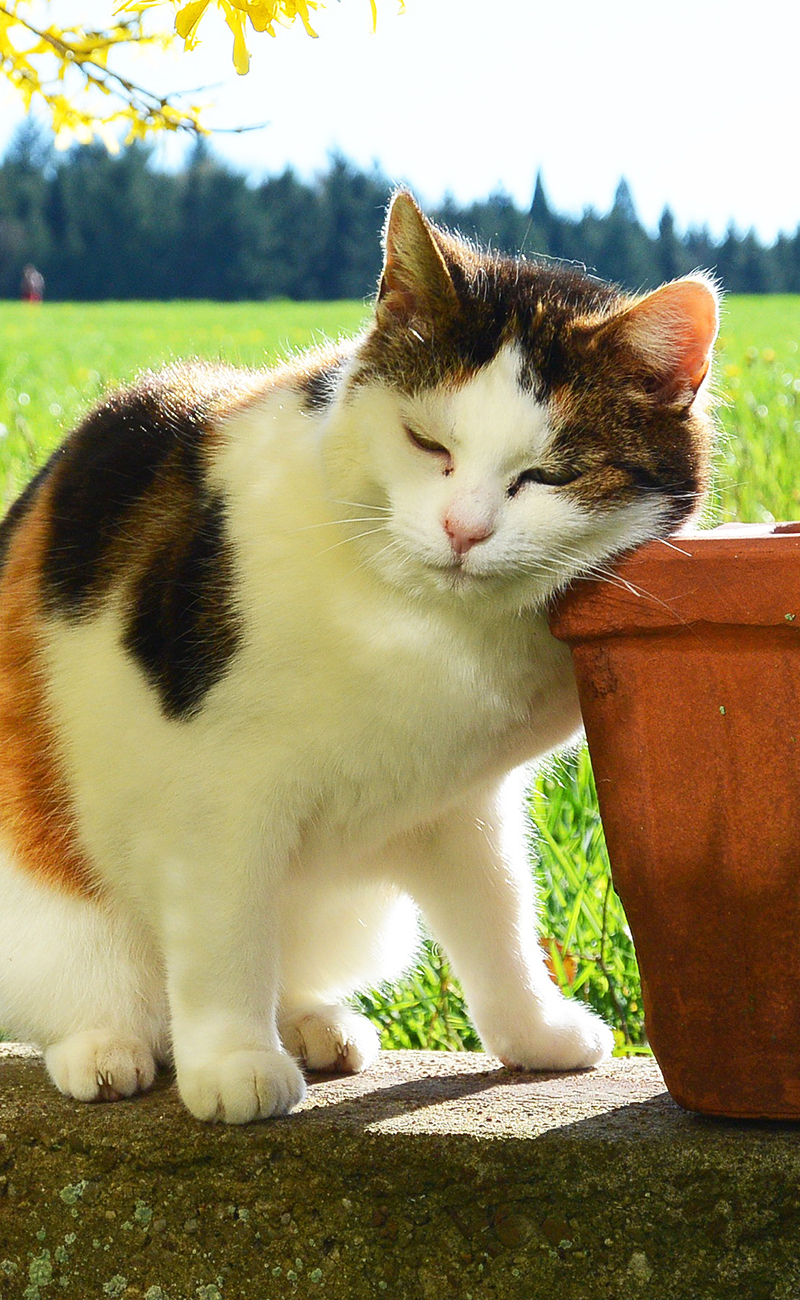 Amongst these are the head butting and cheek rubbing behaviours that we so much enjoy watching, but don't necessarily fully understand!
What we do know is that there are a number of glands on cats' bodies that produce fatty secretions.
The locations of these glands include the corners of their lips, under their chin and on each side their forehead.
All these areas being only lightly covered with fur.
When cats head bump you, or rub their cheeks on a piece of furniture, what they are doing is depositing scent from these glands.
The scent, known as pheromones, contains chemical information to help cats evaluate their surroundings. It can also maximize their sense of security within the environment and solicit attention.
Its thought that the action of head rubbing is associated more with social interaction with people and other cats.
Whilst rubbing using the cheeks, chin and lips may be used more as a means of marking inanimate objects in and around the house.
Why Do Cats Head Bump You?
Cat heading butting, also known head bunting, head bumping or head rubbing is a behaviour associated with a positive emotional state.
It may be performed by your cat as a sign of familiarity, for example greeting you when you've been out at work or when you let him in after he's been out hunting in the garden.
In fact, adult cats perform head rubs on people in a very similar manner to the way they rub other cats.
So, if you respond by stroking or scratching them around the head, you are 'grooming' them just as another cat might do!
It's no wonder then that cats respond best to us when we stroke them in these areas, unlike stroking them on other areas of the body such as the back and tummy which might lead to a more confrontational response!
It's also worth bearing in mind that some cats might not want any stroking at all in response to a head butt, so it's important that you understand your cat's individual preferences when it comes to physical interaction.
You also need to be careful that you don't misinterpret your cat's head butting as a sign that he's hungry and wants food.
If you do offer your cat a tasty morsel, you'll be rewarding him for the behavior, and he'll soon learn that he can control when you give him food simply by head butting you!
Why Do Cats Rub Their Cheeks on Things?
It is believed that cats rub their facial areas on items as a means of 'marking' them.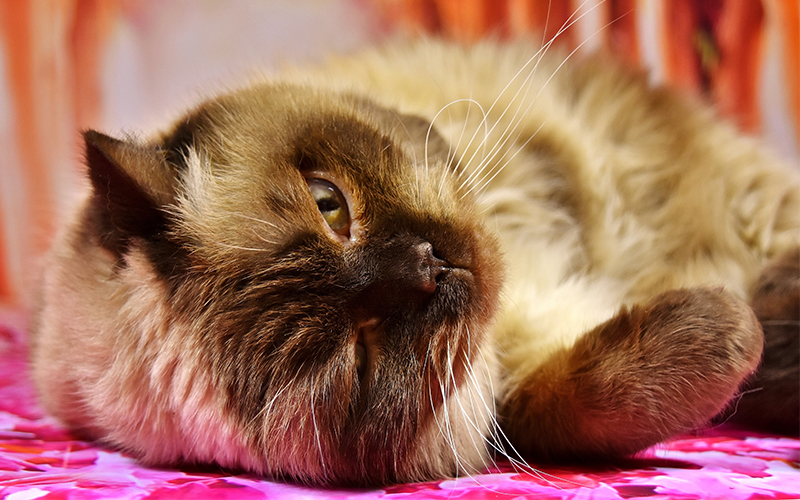 As described above, cats have scent glands around their face and when they rub their cheeks, chin and lips on an object they are transferring secretions from the glands onto the object.
This allows them to spread their scent around their core environment. Helping them to feel safe and secure which in turn can help reduce their levels of stress and anxiety.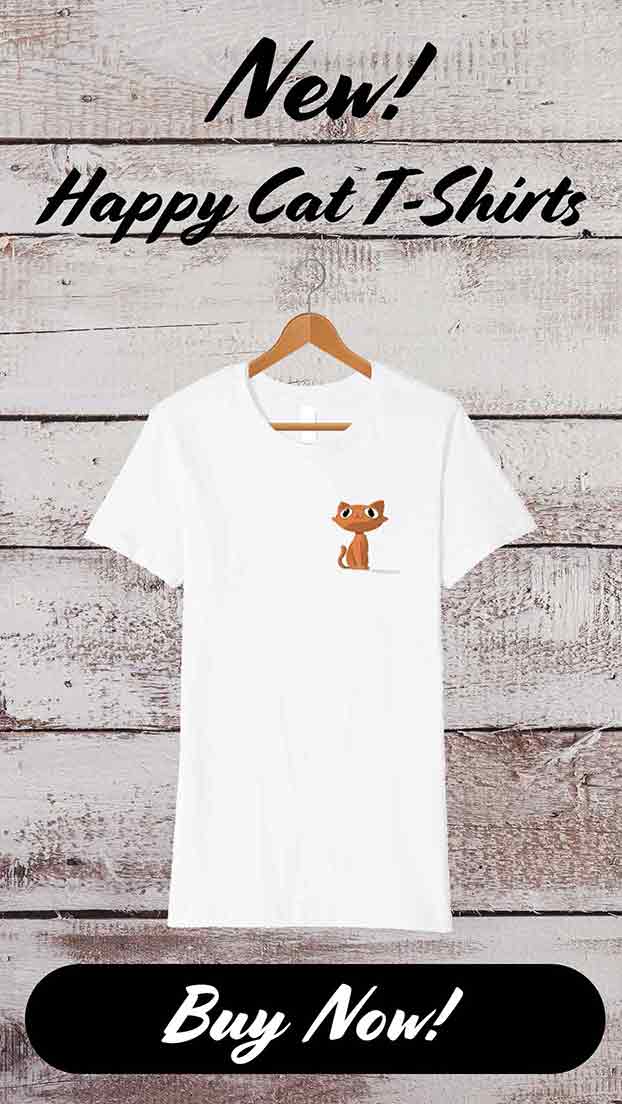 The information left by the scent not only serves to reassure your cat, but is also a means of chemical communication with any other cats in the environment.
Research is still ongoing as to what the exact nature of these chemicals are and what messages they're sending out.
When a cat facial rubs, he'll usually start at the corner of his mouth and rub in the direction of his whiskers.
You may see him closing his eyes as he does this. He may rub the same area several times in succession and use alternate cheeks.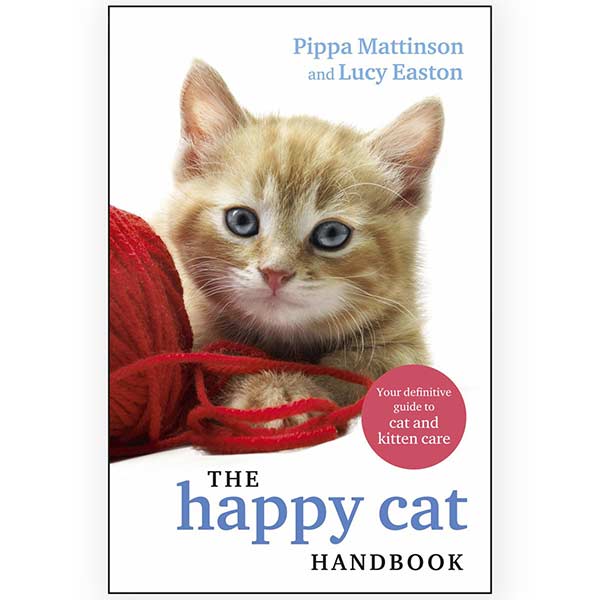 The objects he chooses to cheek rub will usually be the corner edges of walls, doors and furniture, as well as fences and gates outside the home.
He will usually return to these areas each time he performs the behaviour.
Head Pressing Cats
Hopefully this will help you identify the differences between normal feline head rubbing and the potentially much more serious compulsive head pressing behaviour.
The key thing to remember, is to ask yourself "Is this a new behaviour or is it different to anything I've seen my cat do before?"
If the answer is the latter, then it's time to get your cat checked out by a vet.

Free Updates For Cat Lovers!
Our cat care articles, tips and fun facts, delivered to your inbox
References and Further Reading
Your Amazing Cat!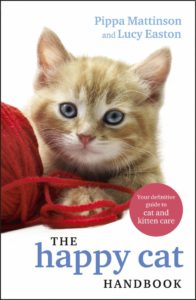 We are so excited to share our new book with you!
If you have enjoyed your visit to The Happy Cat Site we think you'll love The Happy Cat Handbook.
Written by the founders of this website including the author of the hugely successful Happy Puppy Handbook, it's packed with cat care information and fascinating cat facts.
Grab your copy today!
Free Updates For Cat Lovers!
Our cat care articles, tips and fun facts, delivered to your inbox