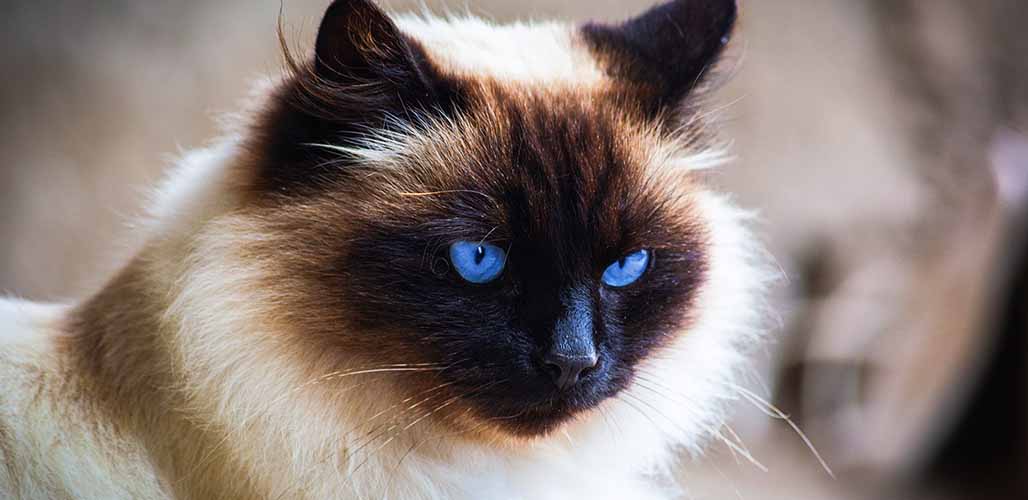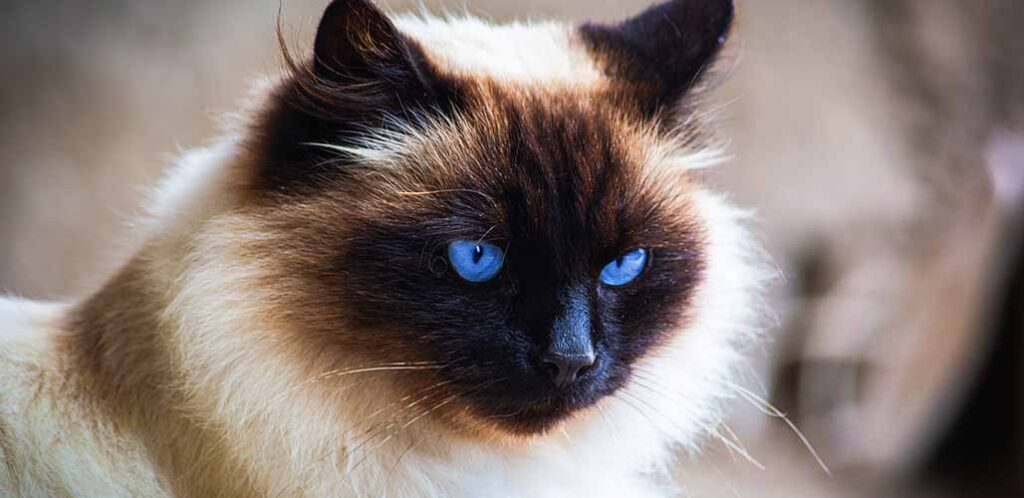 The Himalayan Ragdoll is one of my favorite new designer cat breeds. It combines two stunning-looking cats; the sweet-natured Himalayan and the laid-back Ragdoll. But as with any mixed breed, it is difficult to predict the outcome, as kittens may inherit more traits and characteristics from one parent breed than the other. In this guide, I'll explain all of the potential traits a Himalayan Ragdoll can have to help you decide if this is the right pet for you!
Contents
What is a Himalayan Ragdoll?
The Himalayan Ragdoll was first bred in 1998 by cat breeder Dr David MacNab in the UK. This breed combines the Himalayan cat with the Ragdoll cat. Both breeds are among the most popular in the world, with gorgeous looks and sweet temperaments. Since this is such a new mix, you have to look at its purebred parents to get a better idea of its history.
The Himalayan cat was developed in the early 1930s in the USA. This breed is a hybrid breed of Persian and Siamese cats. Breeders aimed to produce a Persian body with the pointed pattern of the Siamese. The 1950s saw the official recognition of the Himalayan, accepted by all United States cat registries by the 1960s. However, some years later, the Cat Fancier's Association and other organizations stopped recognizing the Himalayan as a separate breed and instead identified it as a division of the Persian.
Like the Himalayan, the Ragdoll hasn't been around for very long. It was developed during the 1960s by Ann Baker, a Persian cat breeder in Riverside, California. Ann's cat breeding program consisted almost entirely of free-roaming cats. She first bred Josephine, a long-haired white female found running loose in the neighborhood, to other cats she owned or found. Josephine's offspring had unique and desirable temperament traits. By selecting individuals with the characteristics she sought for her breeding program, Ann created the Ragdoll.
Himalayan Ragdoll Appearance
The Himalayan and the Ragdoll are similar in appearance but also have some key differences that could show in their kittens. Both breeds are known for their stunning blue eyes, but their facial features differ. The Ragdoll has a triangular face with oval eyes. Whereas the Himalayan has more of a flat, round face and round eyes.
Regarding body type, the Himalayan is heavy-boned. It has a short body and legs and a thick, shiny long coat. Ragdolls are also heavy-boned, but with a longer body and long legs. They sport a silky soft coat with a texture similar to that of a rabbit and have a distinctive mane around the neck. Their lack of an undercoat gives them a gorgeous fluffy look.
The appearance of your Himalayan Ragdoll depends on which features they inherit from which parents. But, on the whole, you'll have a kitten with striking blue eyes, and a plush coat.
How Big is a Himalayan Ragdoll?
Ragdolls are one of the largest cat breeds around. A full-grown adult measures 18 to 24 inches in height. Males are typically on the larger end of the spectrum. Males can weigh 12 to 20 pounds or more, while females generally weigh between 8 and 15 pounds.
Himalayans are medium-sized cats. Females typically stand 9 to 13 inches, with males slightly taller, standing 10 to 14 inches in height. They can typically weigh between 7 to 15 pounds depending on their family line rather than their gender.
Because the Himalayan and Ragdoll cats differ in body type and shape, your cat's size will depend on which parent breed it takes after. But, a Himalayan Ragdoll will usually be around 10 to 15 inches tall, weighing between 8 and 13 pounds.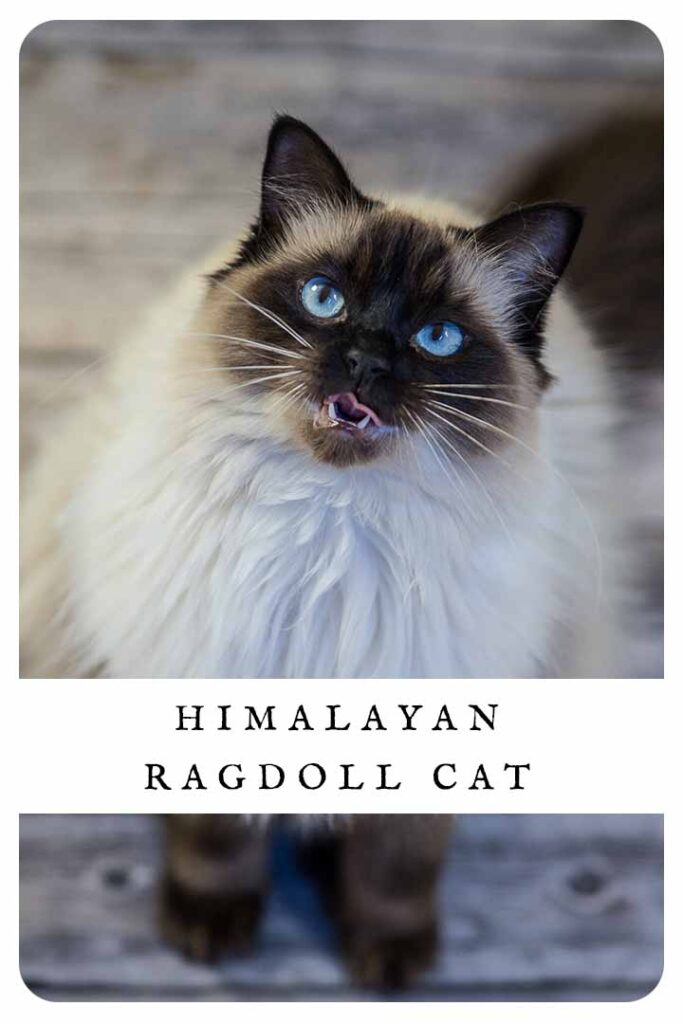 Coat Colors
You can find both the Himalayan and Ragdoll in similar colors, which include:
Seal
Red
Blue
Lilac
Chocolate
Cream
Ragdoll and Himalayan parents can also pass down distinct coat patterns. From the Ragdoll side, kittens can inherit mitted, bi-color, and colorpoint patterns. And, from the Himalayan side, kittens can express tortoiseshell, lynx, and tabby coloring.
Himalayan Ragdoll Cat Temperament
Himalayan Ragdoll mixes are friendly and loving cats, devoted to their owners. These traits come from both of their parent breeds. Although each cat has its own distinctive personality, your Himalayan Ragdoll is likely to be warm and affectionate. They'll likely love to be around people, children and other animals. They can also be quite chatty!
Himmies are very people-oriented cats. They love attention but are not over-demanding. Although they are not overly vocal, they can be pretty talkative due to their Siamese ancestry. These cats are playful, eager to please, and able to get on with children and other pets.
The Ragdoll has a calm and easy-going nature. They're a true gentle giant. They can be very chatty, having endless conversations with their owners! Raggies tend to go relaxed and floppy when picked up. Many owners describe them as "dog-like," probably because they always want to be with their people and follow them around and can be taught to do tricks.
Himalayan Ragdoll Cat Health and Care
Mixed breeds are considered healthier than purebred cats, but much depends on genetics. A Himalayan Ragdoll mix can inherit any hereditary health problems that the parent breeds can suffer from.
Because Himalayans have flat faces, they often suffer from breathing problems. They are also prone to genetic heart and kidney conditions. Ragdolls are relatively healthy cats but have a genetic predisposition to heart conditions. They also have a higher chance of developing feline infectious peritonitis (FIP), an incurable disease.
The Himalayan Ragdoll has an expected lifespan of between 12 to 18 years. You can extend your cat's lifespan by choosing a good breeder and providing a high level of care throughout your cat's life.
Himalayan Ragdoll Grooming
The Himalayan and Ragdoll have very different coat types. So, your Himalayan Ragdoll cat's grooming needs depend on which coat they inherit. Himmies shed, and their long, luxurious coat require daily brushing. The Ragdoll, on the other hand, has no undercoat. So, it sheds very little and only requires brushing once or twice a week.
Because your cat's coat type can vary, you may need to play it bear ear until you're familiar with the specific shedding patterns your cat has.
Finding Himalayan Ragdoll Kittens
Choosing a reputable breeder is a great way to encourage the best possible health. Good breeders will avoid breeding unhealthy cats, and will raise their kittens to be as healthy and happy as possible.
This mix is quite new, so you may need to be patient when searching for a cat to bring home. Start by searching for breeders that specialize in this mix. If you're struggling to find any, you can also search for kittens or mixes in rescue centres.
Some rescue centres will specialize in certain breeds. So look at those dedicated to the parent breed cats too! Rescue cats are generally cheaper than kittens from a breeder. They may also be older, but are bound to be just as loving. Be patient when helping them get used to your home. The time you put in early on will be worth it in the long run.
Are You Bringing Home a Himalayan Ragdoll Cat?
You can never predict the outcome of a mixed breed. But, a Himalayan Ragdoll will be a beautiful fluffy cat with stunning blue eyes. This mix is gentle and affectionate, making a loving, family pet. Have you already got a Himalayan Ragdoll kitten at home?
More About These Parent Breeds
References