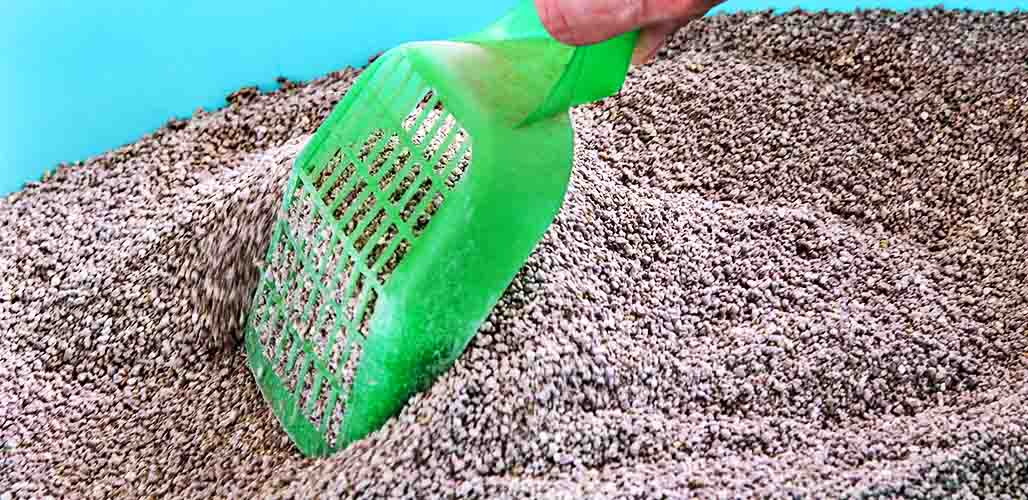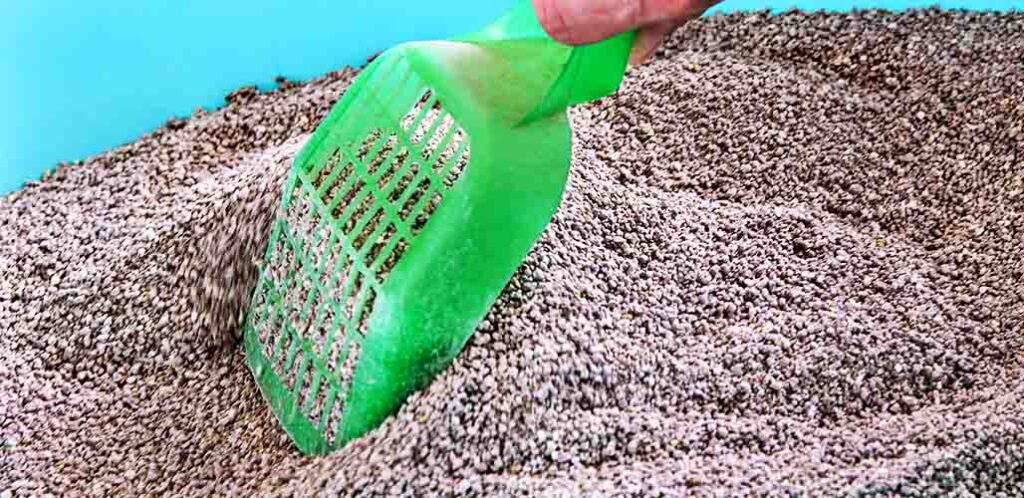 How deep should cat litter be? When I got my first cat, this was a question I realised I didn't know the answer to. But, I soon discovered cats are fussy animals. If their litter tray is too small, in the wrong place, or if their cat litter isn't deep enough, then they may completely avoid their litter tray altogether and go to the toilet elsewhere in unfavorable places. So, if you think you've been overfilling your litter tray, or if you think you haven't been filling it enough, then you've come to the right place. In this article I'll discuss the ideal amount of cat litter for a litter box, along with the signs that your cat's litter depth isn't right, and some tips and tricks to keep your cat loving its indoor toilet.
Contents
How Deep Should Cat Litter Be?
There are several different factors that can impact the perfect depth of your cat litter, including the type of tray you use, the type of litter you use, and the number of cats that use the tray.
As a general rule, you will need around three inches of litter for a single cat. This will provide plenty of litter for your cat to feel comfortable digging around in and covering their leavings.
How Many Cats Are Using the Tray?
For homes with numerous cats and only one litter tray, the recommended depth of litter will differ from the advice above.
As I've already mentioned, you should add three inches of litter to a litter tray for a single cat. But if you have more than one cat, then you'll need to add another few inches to help accommodate the increased amount of urine and fecal matter. You won't need more than five or six inches of litter for numerous cats, however.
Why the Correct Amount of Cat Litter is Important
It never occurred to me how important the correct amount of litter would be when I first started caring for my cat. But, I quickly learnt that there are a few problems you can experience with the wrong levels of cat litter. Here are some of the main problems you should keep in mind.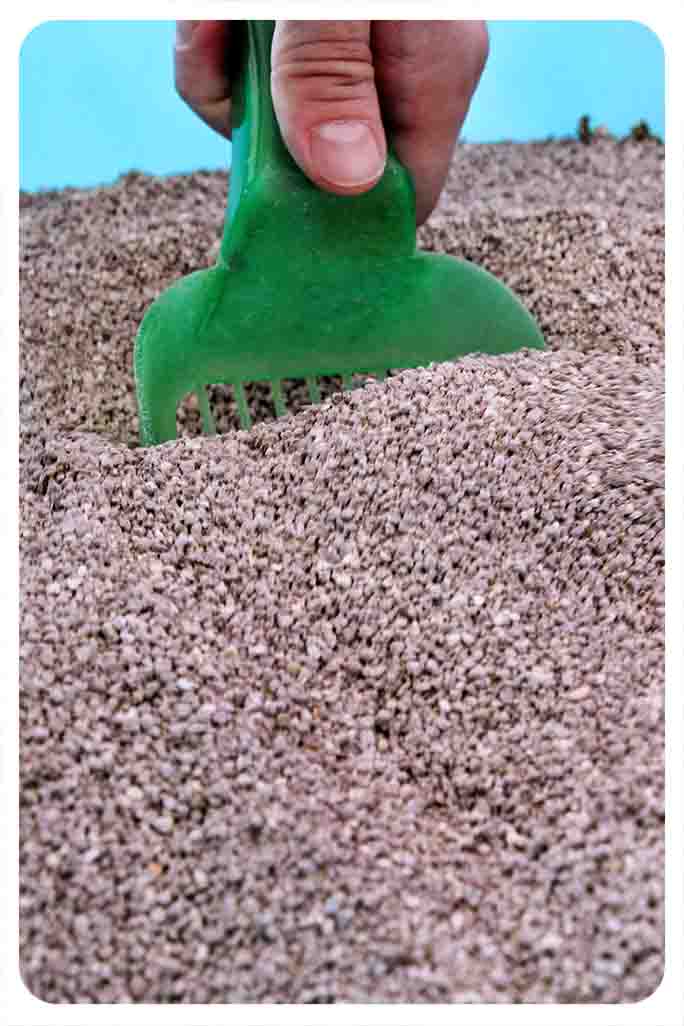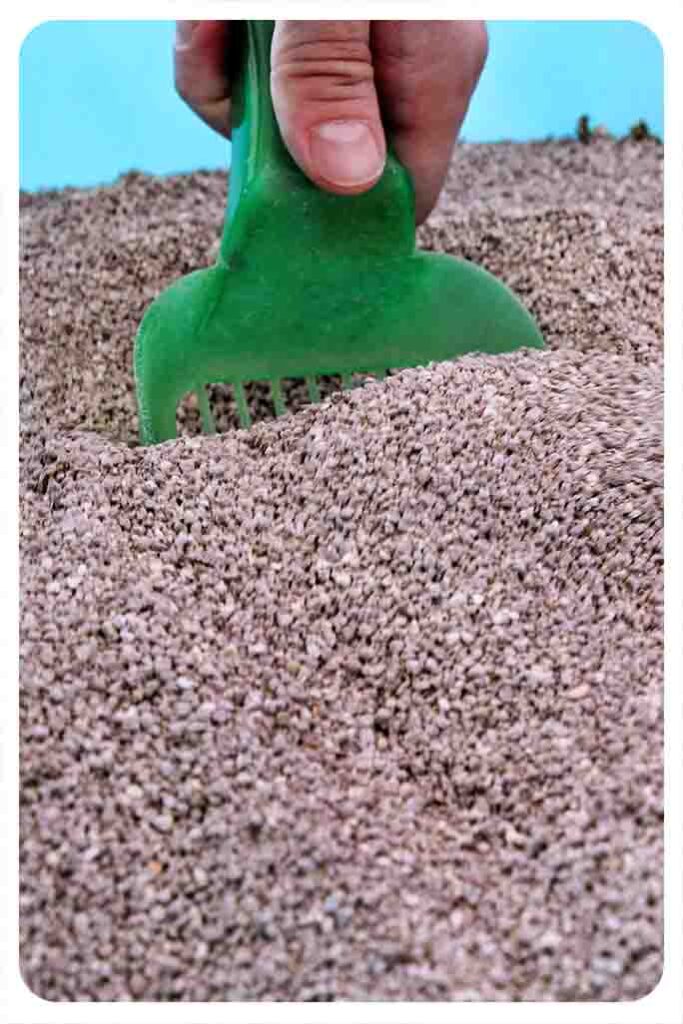 Cats Like to Bury Their Business
Cats have the instinct to bury their business as they dislike the smell. You can't really blame them for that. If you've ever cleaned up cat number twos, then you'll know exactly what I'm talking about. If you don't include enough cat litter in the box, then your cat will be unable to bury their business which could cause them to be put off by their litter box entirely.
Cats Will Kick Litter Out of the Box
Alternatively, if you include too much litter in the box, then your cat may begin kicking litter out of the box. This kicking of litter isn't an issue for them, but more so for you, as it requires an extra step in your cat litter box cleaning regime.
Urine and Feces Could Seep Through
By not including enough litter in the tray, you could run the risk of the urine and fecal matter seeping down into the box, making a sticky, yucky, and smelly mess that will be a pain to clean up.
How to Tell if the Depth of Litter Isn't Right
So, how do you tell if you're using too much or too little cat litter? Well, there are three tell-tale signs to look out for.
1. Your Cat is Slipping and Sliding in Their Litter Box
One of the biggest signs of whether your cat litter box is too full is if your cat seems unsteady or off-balance while going to the toilet. You will need to watch your cat do their business to determine whether the box is too full, but don't worry, I'm sure they've watched you on the toilet from time to time.
The off-balance appearance occurs because the excessive amount of cat litter replicates the feeling of shifting ground, and no one wants to go to the toilet while the ground beneath them is shaking, your feline friend included.
2. Your Cat Doesn't Go All the Way Into Their Litter Box
Cats who feel unstable in their litter box may only edge themselves halfway into their box to do their business. If you see your cat displaying this behavior, then you need to assess not only the depth of your cat litter but also if the cat litter box is big enough. Your cat needs to be able to turn around in the box, so if that isn't possible, it's time to upgrade to a bigger box.
3. Your Cat is Kicking Litter Out of Their Box
As I mentioned before, cats with too much litter in their box may start kicking litter out. And if you're sick of having to clean up the floor around the litter box, then it's probably a sign that you need to cut back on the amount of litter you put in.
How Things Change if You Use Clumping Litter
One of the best types of litter to use in a cat litter box is clumping litter, as it binds the urine to the litter and prevents it from spreading throughout the entire box. As the litter and urine do bind together, you can simply scoop out the litter clumps and dispose of them, adding in a small amount of fresh litter to replenish the box. For this reason, clumping litter doesn't need to be as deep as other types of litter, and you'll only need to completely change the litter every one to two weeks.
In Summary: How Deep Should Cat Litter Be?
Getting the litter depth correct is essential to keep your cat happy during their indoor toilet breaks. It may take some trial and error to get the amount of litter just right for your particular cat, but for the most part, you should include between two and four inches of litter in the tray, depending on the type of litter you prefer to use.
More Tips and Advice About Cats