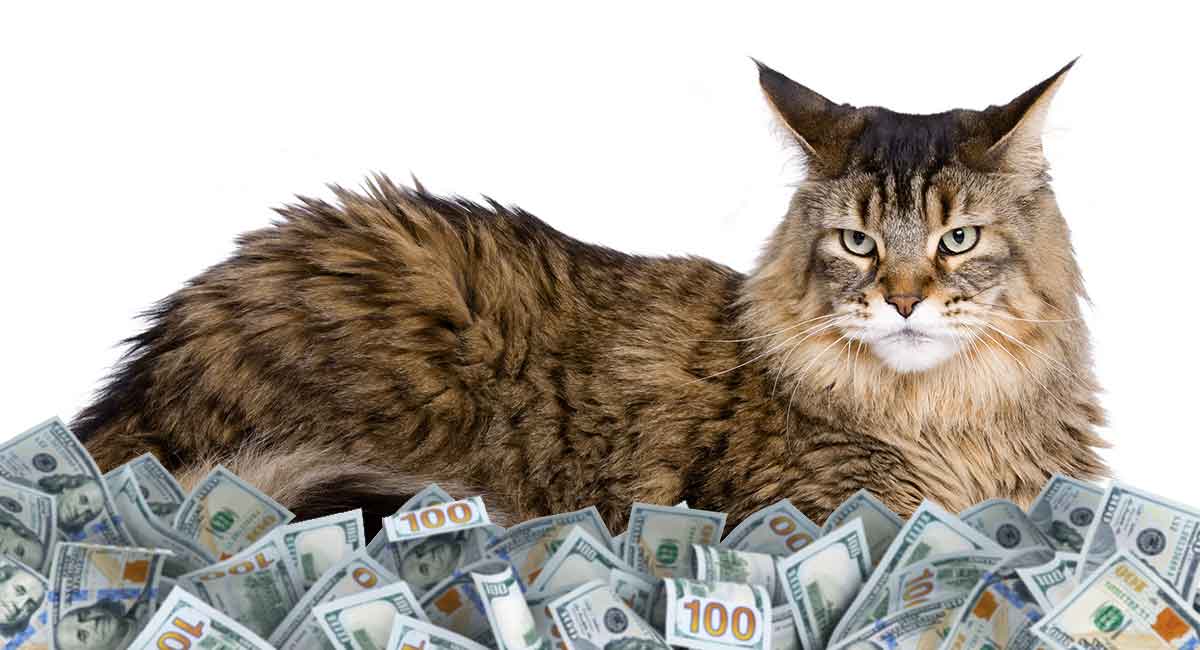 If you're besotted by this large and characterful cat breed, you might be wondering how much are Maine Coon cats.
Before you buy a kitten, it's important to consider the long-term finances required to keep your new feline family member happy and healthy.
Because once you've bought your kitten, the costs definitely won't stop there.
You'll have to budget for plenty of other expenses, including veterinary care, food, toys, and more.
So first of all, let's take a look at a breakdown of just what ongoing expenses are associated with Maine Coon ownership.
The Cost of Owning a Maine Coon Cat
While Maine Coon cats can often cost more than some other breeds, the cost of buying your Maine Coon kitten will actually be a much smaller investment than caring for them over their lifetime!
Before you take the plunge and put that deposit down on a kitten, it's a good idea to work out a budget for everything they're going to need.
These expenses can include:
Microchipping
Yearly vaccinations
Veterinary visits for health checks
Insurance
Spaying/neutering
Bedding
Collars, ID tags, and bells
Worming
Flea medication
Food
Food and water bowls
Grooming brushes
Toys
Litter tray plus litter
While some of these expenses will be things that you only need to buy once, others such as flea treatments will be a regular and ongoing cost.
Many veterinarians offer loyalty programs where you pay a monthly fee that will include things like vaccinations, plus medications such as flea treatments and wormers.
You can also sign up to receive regular deliveries of food, calculated to suit the amount your Maine Coon should eat per month.
The Cost Of Buying a Maine Coon Cat
Maine Coon cats are relatively rare as a breed, and that comes with a higher price tag.
In the USA, expect to pay anywhere from $700 to $1,500 for a Maine Coon cat.
The Maine Coon Breeders and Fanciers Association has a list of member breeders.
In the UK, Maine Coon kittens can be bought for £400 to £1,000.
The Maine Coon Cat Club also has a list of breeders.
We highly recommend selecting a kitten that has been health tested and whose parents have been tested also.
While these kittens might be at the higher end of the price bracket, it's definitely worth it.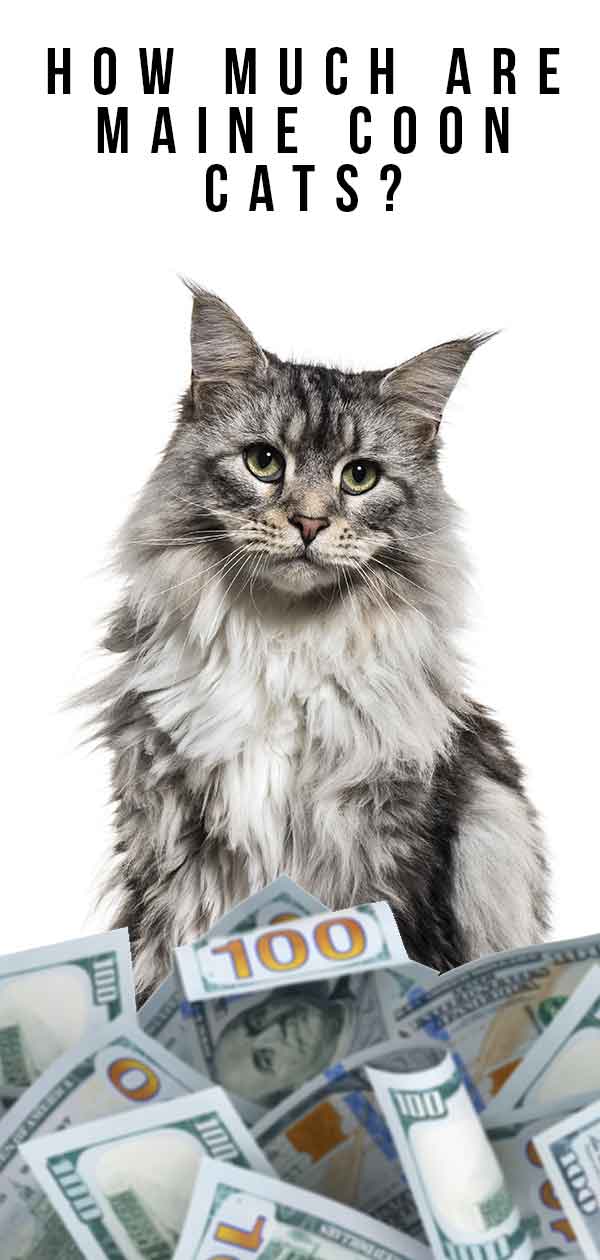 Why Do Breeders Cost So Much?
The higher price of kittens from a reputable breeder also reflects the amount of love, care, and time that has gone into raising those kittens, as well as expenses including:
Health tests for kittens and parents
Birthing supplies
Initial vaccinations
Initial wormers
Supplies for kittens
Veterinary checks
Food
New owner information packs
Registration with breed association
Once we see a breakdown of expenses like this, it makes the cost of your new kitten seem like a very good value!
Any reputable breeder should be more than happy to answer any questions you might have about health tests, genetics, and temperaments of the kittens they have for sale.
If possible, it's also an excellent idea to try and meet both parent cats if you're visiting the breeder.
Remember we mentioned that the price of your kitten is likely to be your smallest expense over your cat's lifetime.
Deciding to buy a cheaper kitten from an unregistered breeder means you'll have no idea of their health, and you may well end up with higher veterinary bills over the lifetime of your cat.
You might also choose to adopt an older Maine Coon from a rescue shelter.
You'll still have to pay an adoption fee, which covers things like vaccination and neutering, but the price will probably be lower than from a breeder.
How Much Do Maine Coon Cat Toys Cost?
Maine Coons can have a personality more similar to a dog than many other cat breeds.
This means they will love playing with a wide variety of toys.
Toys suitable for your Maine Coon can start at just a couple of dollars, but the sky's the limit in terms of cost if you're looking to spoil your kitty!
Make sure any toys you select are robust enough to stand up to the extra size of your large Maine Coon.
It's a good idea to select a range of toys you can use to play with your cat and others they can use to entertain themselves while you're out of the house.
Here's a selection of our favorite cat toys, but you may also like to choose from a range of enrichment toys, treat toys, or some chew toys to provide variety.
How Much Does Maine Coon Cat Food Cost?
It's important to feed your Maine Coon a high-quality cat food right from the start.
Their large size combined with the fact that they are slower to reach maturity than other breeds mean they should be fed a high protein, low carbohydrate food.
Maine Coon cats continue to mature until they're around 4 years of age, while most cat breeds are considered mature by age 2.
There are some brands of cat food designed specifically for Maine Coons, and the price of these depends upon factors such as whether you choose wet or dry food and whether you have the means and the storage space to order in bulk.
Royal Canin Main Coon kibble and tinned wet food are good examples of Maine Coon specific meals to use as a yardstick.https://www.amazon.com/Royal-Canin-Maine-Coon-400g/dp/B01E8WVRMU/ref=sr_1_5?keywords=maine+coon+cat+food&qid=1563975830&s=gateway&sr=8-5 https://www.amazon.com/Royal-Canin-Maine-Slices-Multipack/dp/B07QS4MD6J/ref=olp_product_details?_encoding=UTF8&me=&qid=1563975651&sr=8-1
You can also choose to feed them any high-quality cat food.
Food Resources
You can read more about feeding your Maine Coon kitten in this article, plus standard kitten feeding information here.
Here's our article all about feeding your Maine Coon cat. It includes plenty of advice for feeding these giant kitties, plus recommendations of both dry and wet food.
You can also head to the food section of The Happy Cat Site for full details on a range of feeding options for all cats.
You can expect your Maine to eat around 5–6 ounces of food per day once they're fully grown.
Full grown, males can weigh up to 18 pounds, while females may reach 14 pounds.
Over the course of a year, you should budget for spending $250 to $500 on cat food, depending on the brand.
It's best to speak to your veterinarian to calculate exactly how much food your Maine Coon needs each day.
Feeding them too much can cause obesity, which may make health conditions such as hip dysplasia worse.
Other Maine Coon Cat Expenses!
Once you've covered the cost of your new kitten, plus their toys and food, there's still other expenses to consider.
Let's take a look at those now.
Veterinary Care
Veterinary expenses are something that you'll definitely need to consider with this breed, and unfortunately, you can expect your bills to be above average.
Due to the fact that the population of Maine Coon cats fell to a very low level in the early 1900s, the genetic diversity of this breed is very low.
That increases the risk of genetic health problems.
We've summarized these below, but you can read about them all in more detail in our full breed review.
If your Maine Coon cat is affected by any of these conditions, then they will need additional support from your veterinarian.
Hip Dysplasia
Hip dysplasia is a painful joint condition that can affect Maine Coons.
Cats are very adept at hiding pain, but this is only one symptom of hip dysplasia, alongside lameness and arthritis.
The Orthopedic Foundation for Animals (OFA) carries out hip evaluations for cats, so it's a good idea to speak to any breeder to find out if their cats have been tested.
A study into hip evaluations carried out by the OFA found that 99% of cats evaluated for hip dysplasia were Maine Coons, with a slightly higher incidence in male cats.
Other Conditions
Maine Coon cats are also prone to a heart disease known as feline hypertrophic cardiomyopathy.
If affected, your Maine Coon cat will need additional veterinary care.
This condition is usually diagnosed at around 2.5 years of age.
Spinal muscular atrophy is another disease affecting this breed.
It is painless but causes a lack of movement in the back legs.
This means your Maine Coon can't run or jump.
While affected cats can live up to at least 8 years, you may have additional veterinary and care expenses during this time.
Grooming
Due to their long coats, Maine Coons do require additional care in terms of grooming.
You'll need to invest in a good quality set of brushes.
You may also decide to treat your Maine Coon to the occasional trip to the grooming parlor to keep their coat in tip-top condition.
Special Equipment
If your cat uses a litter tray, you might find the jumbo size of your Maine Coon means they need an extra large litter box!
Combining this with a nonclumping brand of litter is essential to prevent it getting caught in their long coats.
Holidays
Other expenses can include making plans for your cat when you go on holiday.
You may decide to employ a house sitter to look after your Maine Coon while you're away or use a local cattery.
So as you can see, buying and bringing home your new Maine Coon kitten is just the first in a long step of investments you'll make as your cat grows.
But, as cat lovers, we bet you can agree that it's worth every cent!
Tell us about it in the comments below.
References and Resources
Trehiou-Sechi et al. (2012). Comparative echocardiographic and clinical features of hypertrophic cardiomyopathy in 5 breeds of cats: a retrospective analysis of 344 cases (2001 – 2011). Journal of Veterinary Internal Medicine.
Keller et al. 2005. Hip dysplasia: a feline population study. Veterinary Radiology and Ultrasound.
Fyfe et al. (2006). An ~140kb deletion associated with feline spinal muscular atrophy implies an essential LIX1 function for motor neuron survival. Genome Research.
He at al. (2005). Inherited motor neuron disease in domestic cats: a model of spinal muscular atrophy. Pediatric Research.
Graeme. (2000). Radiographic features of feline joint diseases. Veterinary Clinics: Small Animal Practice.
Food. The Happy Cat Site.
Best Cat Food For Maine Coon Cats. The Happy Cat Site.
Loder and Todhunter. (2018). The demographics of hip dysplasia in the Maine Coon cat. Journal of Feline Medicine and Surgery.
Long Haired Cat Breeds – Different Breeds, Care, and Grooming. The Happy Cat Site.
Maine Coon Cats. The Happy Cat Site.
Maine Coon Kittens: Choosing and raising a Maine Coon. The Happy Cat Site.