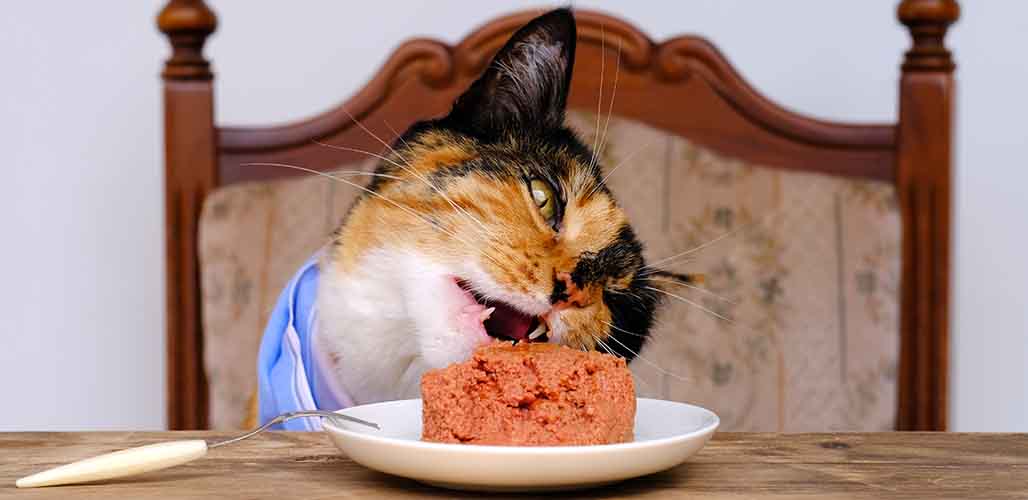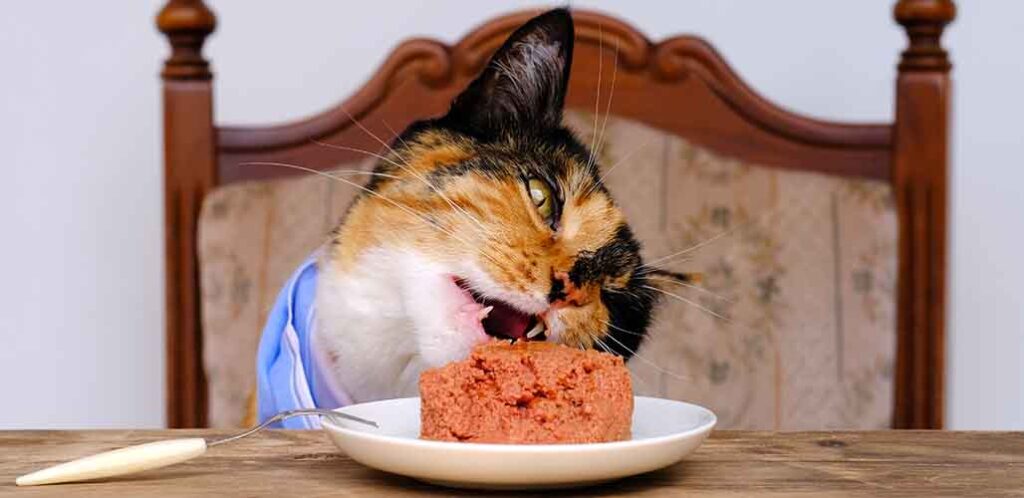 How much protein should a senior cat eat? It's a sad fact that our pets never live as long as we want them to. I made quite a few changes when I was learning how to care for my senior cat, and their food was one of those things. Protein should make up the majority of a senior cat's diet. Unfortunately, many senior cat foods do not meet this requirement. Feeding a senior cat can also be tricky because your feline friend may have different health concerns as they age. So, in this guide, I'll take a closer look at the ideal senior cat's diet, including how much protein a senior cat needs, and when cats might need less protein.
Contents
How Much Protein Should a Senior Cat Eat?
Your kitty cat becomes a senior citizen when they reach the old age of 7. At age 11, your cat becomes geriatric. (Some vets say a cat is a senior when they are 11 and geriatric at 15). Senior cats and geriatric cats have different dietary needs, but both age groups need a higher protein diet.
So, senior cats should have high protein diets – unless they are struggling with certain health issues. But what counts as high protein? Ideally, senior cats should receive diets made up of around 50% protein.
What Does High Protein Food Do for Cats?
High protein food is great for cats, helping them to keep a good weight. Some senior cats may struggle with obesity when their metabolisms slow down, but others may have a hard time keeping weight on. Either way, including plenty of easily digestible protein in your senior cat's diet is the best way to help them maintain a healthy weight.
High-protein cat foods are often more expensive, but they are worthwhile for your kitty's health. You may even save some money on vet bills, in the long run.
Why Do Some Senior Cats Need Less Protein?
Your senior cat may need slightly less protein if it is very overweight or suffering from kidney disease. If your cat is dieting, the decreased protein levels should be temporary, and no cat over age 11 should have protein restriction in their diet – unless they have kidney disease.
Cats with kidney disease need special diets that include special vitamins and antioxidants as well as protein limitation. If you are concerned your cat is suffering from kidney disease, please contact a veterinarian immediately. Symptoms to look out for include weight loss, poor grooming, lethargy, and an animal that appears ill.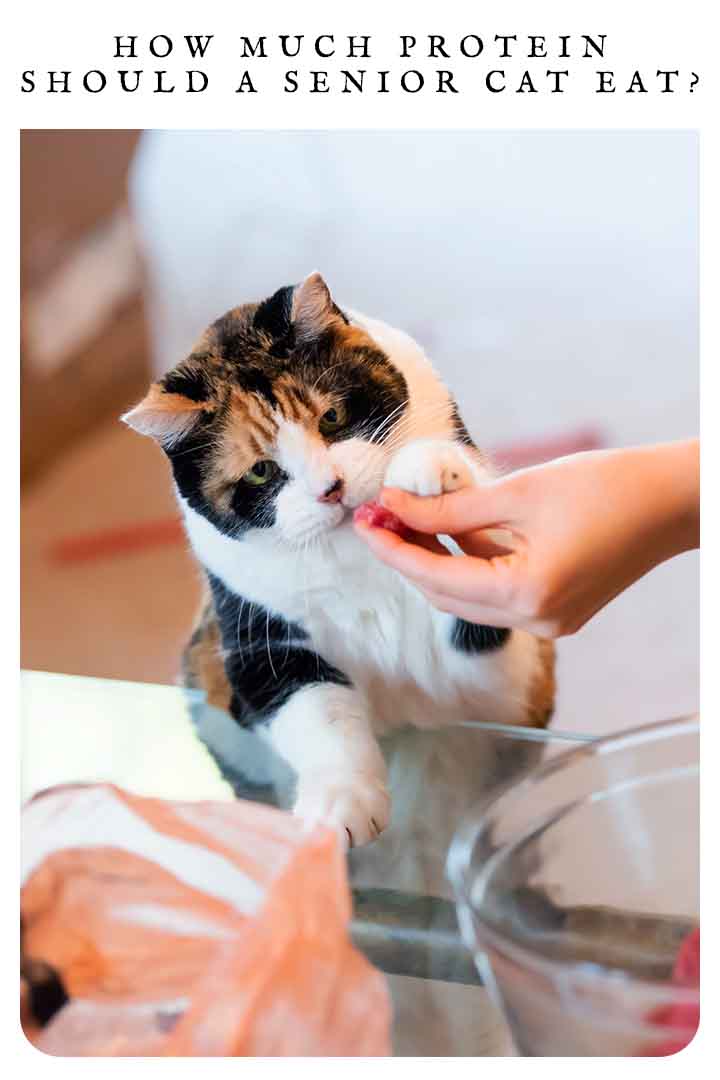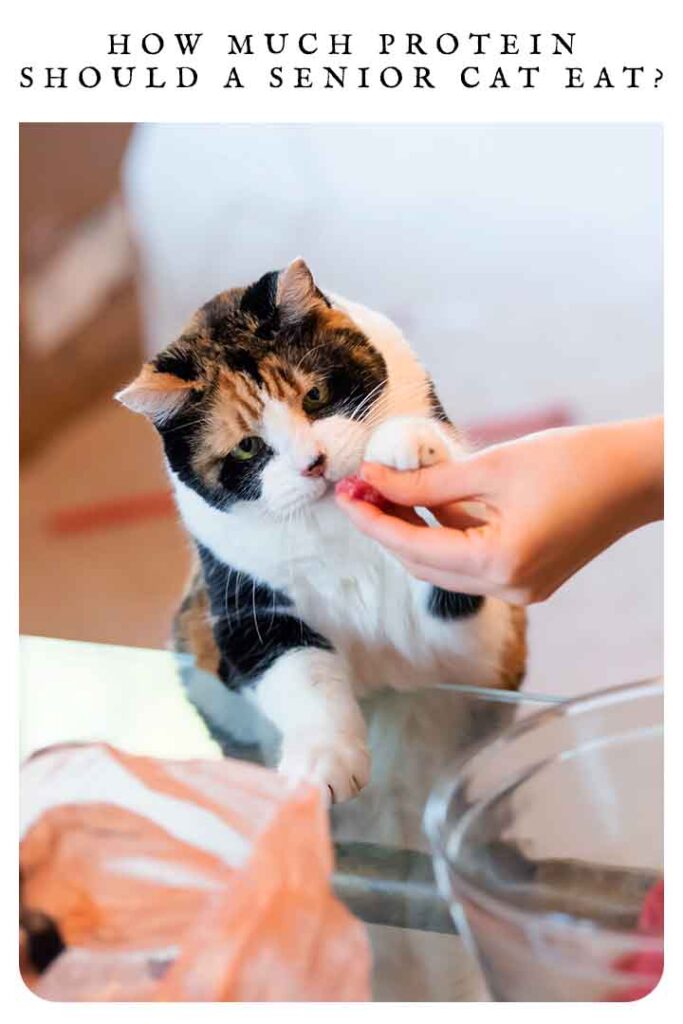 Can You Feed a Cat Too Much Protein?
In the wild, cats' eat meat based diets. While high-protein diets are not always beneficial, they are rarely harmful. Just make sure your cat gets enough carbohydrates, fat, and water in their diet, as well. High-protein food will not go very far if your cat's other dietary requirements are not met.
Also, cats with kidney disease and liver disease may need specialty, low-protein diets, so you should always consider a vet visit before updating your kitty's diet.
40% Protein Cat Food
In fact, growing cats need a minimum of 30% protein, and adult cats need at least 26% protein to maintain their health. As we discussed above, you cannot feed a cat too much protein, but feeding them too little may be harmful to their health – especially for senior cats. Most senior cats benefit from over 40% protein.
Is 30% Okay?
Cats should have a minimum of 30% protein, but 40% protein is even more favorable for growing and maintaining muscle mass. Senior cats should have 50% protein in their diets. More protein can help your cat, as long as you choose a high quality, easily digestible formula that includes other key nutrients, too.
What is the Best Source of Protein for Cats?
Cats must get their protein from meat because they are "obligate carnivores," and need animal protein to survive. In particular, cats need the amino acids taurine and arginine and vitamins like A, D, and niacin. Many of these ingredients are only found in animal tissue. Meats like chicken and salmon are great protein sources for cats.
Is Wet Food High in Protein?
Yes, many wet foods are high in protein. Because wet food is usually more appetizing and easier for cats to eat, it is a great choice for your senior cat, as well. Wet food also has a higher moisture content than dry food, and making sure your cat gets enough water is just as important as making sure they get enough protein.
To calculate how much protein is in wet food, subtract the moisture content from one-hundred and divide the remainder by the percent of protein. For example, pretend your cat food has a 70% moisture minimum and a 15% crude protein minimum. 100 minus 70 is 30, and 15 divided by 30 is 50%, so the wet food contains 50% protein – a purrfect choice for your senior cat!
So, What Should I Feed My Senior Cat?
If your cat is between the ages of 7 and 10, feed them a diet with at least 40% protein and keep an eye out for muscle loss and other health problems (increase your cat's protein or talk to the vet if you notice them losing weight).
Once your cat reaches age 11, feed them a diet with 50% protein – unless they are struggling with kidney disease. Healthy geriatric cats must have high-protein diets to maintain their body weight. Don't worry about feeding your cat too much protein, but do make sure the protein comes from animal sources, like chicken and salmon.
How Much Protein Should a Senior Cat Eat?
Senior cats need more protein in their diet than younger cats, unless they have specific health concerns that rule this out. As a general rule, 50% protein is right for senior cats. But, no matter which food you choose, pay special attention to your older cat's diet and health. If you notice any changes, or your cat seems sick, call a veterinarian as soon as possible because your cat may need a special diet.
More Advice for Older Cats
References