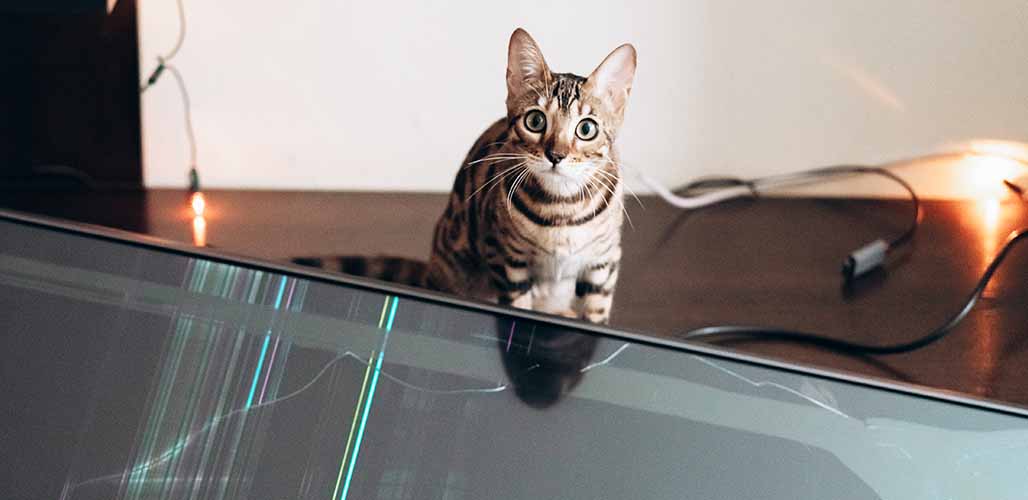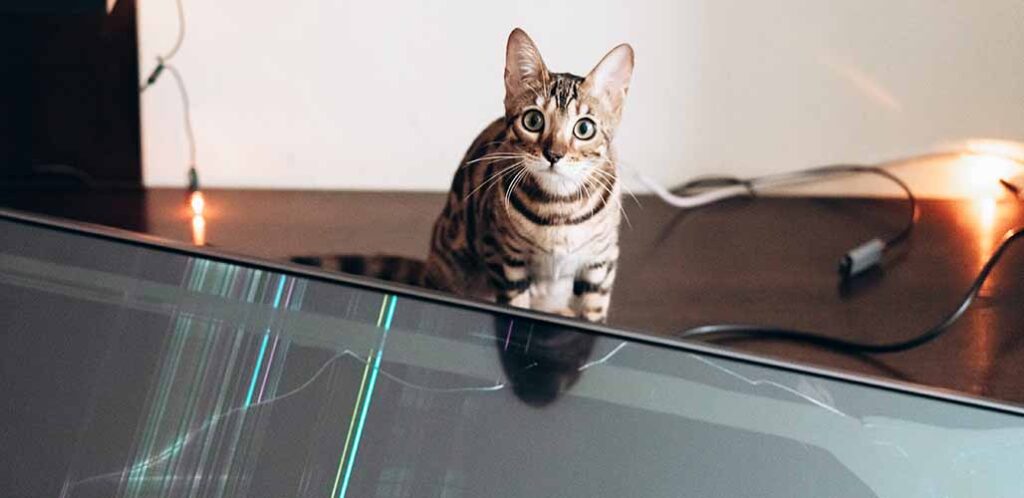 Back in the day, the top of our large console TV set was a nice, warm place for my cat to take a nap. Today's ultra-thin TVs are not a cozy place to sit, but cats may try to use them as an aerial walkway anyway – a recipe for disaster since they can easily topple over. We'll tell you how to avoid this expensive mishap by sharing expert tips on how to stop your cat from jumping on the TV. From enticing them with alternatives to booby-trapping the top of the screen. Many of these techniques can be used to prevent jumping on other undesirable places too.
Contents
How to Stop Cat from Jumping on the TV
Cats like to jump up to high places. Whether it's to get a better view of the world or find an out of the way spot to sleep, it's normal for cats to jump up on windowsills, furniture, kitchen counters, and yes, the television. Before we get to how to stop it, let's talk about why it happens – because often the two things go together! So, why do cats like to jump up on things, including the TV, in the first place?
Why Do Cats Like to Jump on High Places?
Domestic cats and many species of wild cats like to spend time in high places. There are many reasons for this behavior.
Sitting or napping on a high perch is safer than being on the ground. From a high spot, your pet can scan the environment for any threat that might necessitate a quick exit.
Some people like to feed their cats on the counter to keep the family dog from eating their food.
Cats are athletic animals that enjoy jumping for play or exercise, especially kittens.
They enjoy the different perspective from being on different kinds of high places.
Even though the top of a slim TV is not a comfortable place to sit, some cats may use one as a walkway between two other locations.
Perching on top of the TV may seem like the best place to view something interesting happening on the screen.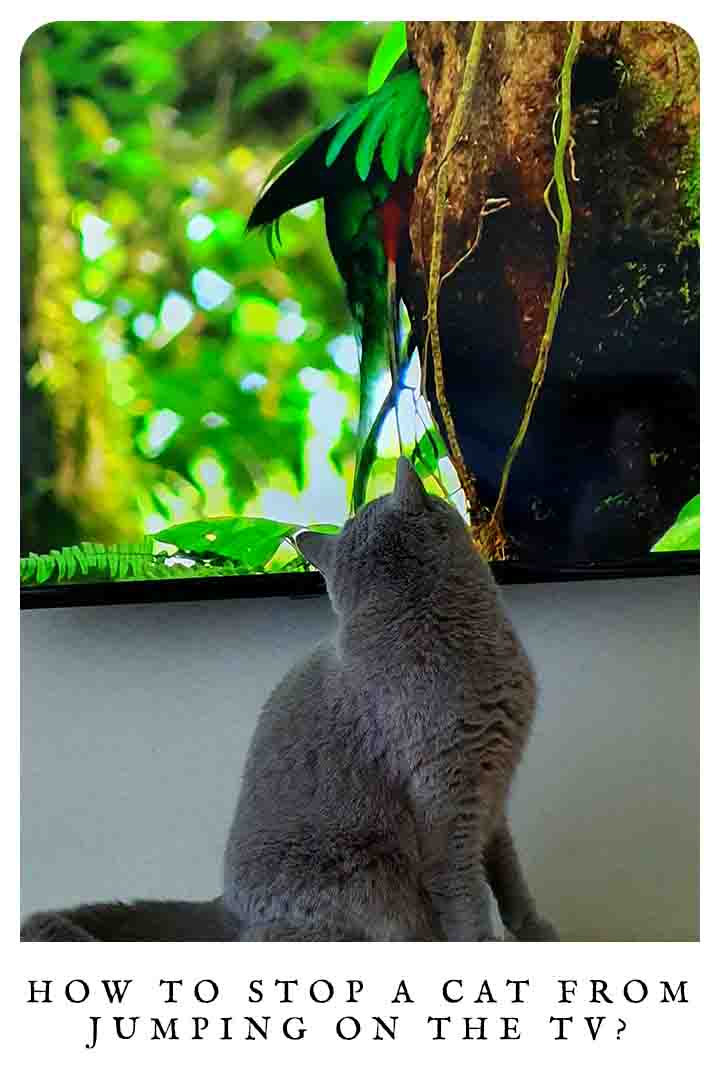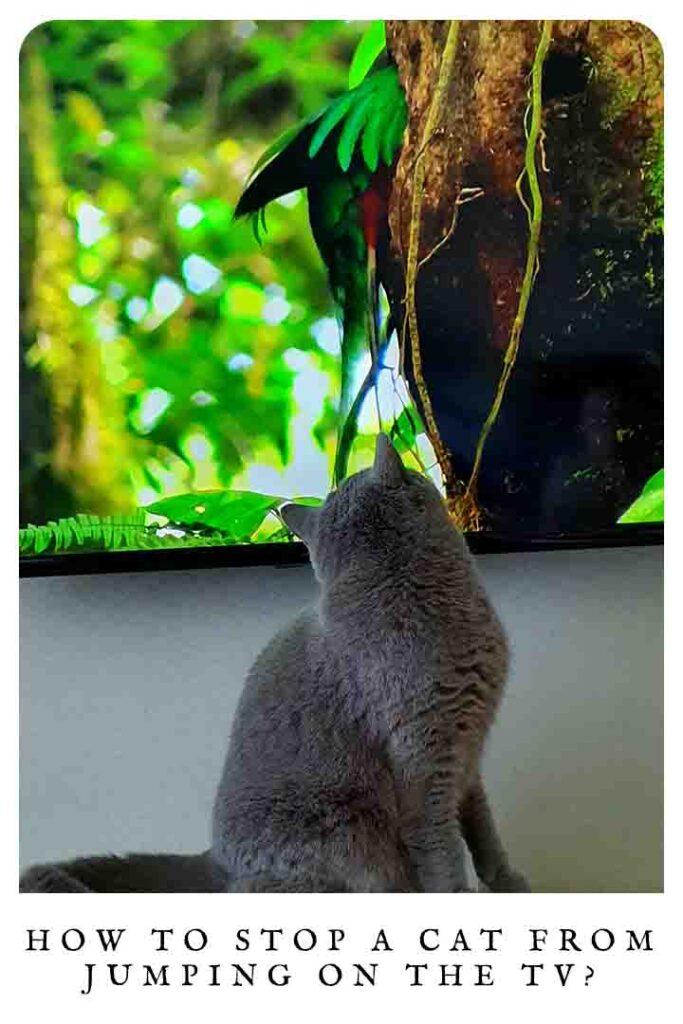 Whatever the reason, you probably don't want to risk having your cat knock over the TV by jumping on it.
How to Stop a Cat from Jumping on the TV
Can you train a cat not to jump? Here are the ingredients of a successful TV-protection plan:
Make the TV inaccessible
Provide an appealing alternative
Prime it with treats
Make top of the TV an unsatisfactory place to land
Make the TV inaccessible
Your cat may use a medium height object as a jumping platform to get to a very high spot. Remove the lower object to prevent access to the higher place. Alternatively, hang the TV on the wall, if you can.
Provide an appealing alternative
One of the most effective ways to keep a cat off the TV or other forbidden spots is to provide an appealing, cat-friendly alternative. Place a tall cat tree in the room where your cat enjoys spending the most time. Look for a kitty condo with multiple levels of perches, including enclosed sleeping spots. You can also place a cat bed on a piece of furniture that's not off limits to provide a cozy elevated place to sleep. Many people also mount cat shelves on walls, placing them on the diagonal, like steps.
Prime them with treats
Make these alternative spots as tempting as possible by placing toys on them, sprinkling a little catnip, or interacting with your cat while on them. This can take the form of pets, brushing, play, or treats. Positive reinforcement is more effective than punishment. Avoid physical or verbal punishment. Punishment can lead to stress and more undesirable behaviors.
Make the top of the TV an unsatisfactory place to land
A jump onto a thin TV could cause it to fall over and startle your cat, so the likelihood of your cat trying it a second time is small. But if they are light and agile enough to enjoy jumping on the TV over and over, you can make their new walkway as unappealing as possible by placing obstacles or something with an unpleasant feel on top of it. Many cat owners like to use low-tack double-sided tape. Unpleasant smells can also be a deterrent. Many cats dislike strong smells like citrus, pine, or herbs, so placing a scented candle or reed diffuser next to the TV might keep them away.
Why Does My Cat Keep Jumping at the TV?
Now that we've covered jumping on the TV, what about jumping at the TV? Many cats enjoy watching TV and some can get excited and jump at the TV screen if they see something that triggers their instinct to pounce. Jumping at the TV screen can knock it over or damage it with scratches. How can you stop this type of jumping? Some of the same techniques we mentioned earlier can apply here too, like providing toys as a distraction or making access to the TV less appealing.
You can also mount a flat screen TV on the wall in a spot that's too high for your cat to jump up to from the floor. Remove any nearby jumping off platforms.
Distract your cat from the TV with a cat-friendly video on an old laptop or tablet, if you don't mind possible screen damage.
Keep your cat out of the room where you watch TV if your cat continues to jump at the screen.
How To Stop A Cat From Jumping On The TV
Keeping your cat off the TV and other forbidden spots can be a challenge, since cats are good jumpers and like to sit in high places. A little creative problem solving can help prevent your cat from jumping on things that are off limits, without resorting to punishment.
Let us know how you discourage your cat from jumping on the TV using the comments box down below.
More Help With Unwanted Behavior
How to stop your cat using the furniture as a toilet
References and Further Reading
8 Reasons Why Cats Love Elevated Perches. Cat Behavior Associates.
Why Cats Like to Relax and Sleep Up High. Killeen Veterinary Clinic.
How to Stop Cats Jumping. The People's Dispensary for Sick Animals.
Keeping Your Cat Off the Counter. Animal Humane Society.