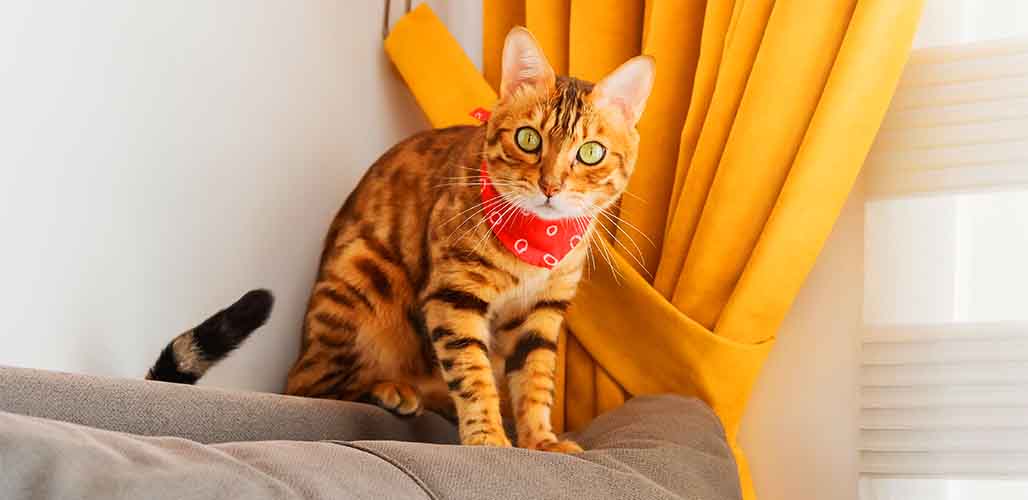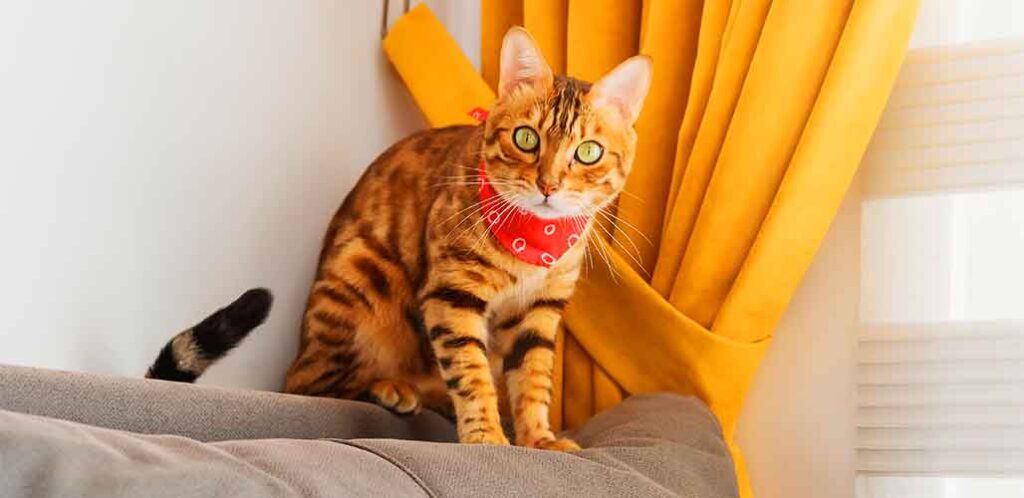 If you need to know how to stop cats from peeing on furniture, you're far from alone. Since I started having this problem, I've discovered that there are literally thousands of cat owners struggling with inappropriate toileting. Luckily though, it's a well understood problem among professionals. Several medical and behavioral causes have been documented, together with ways of solving them. I managed this with a little help from our veterinarian, and in this article I'm hoping to help you too.
Contents
How to stop cats from peeing on furniture
The ASPCA estimates that over 3 million (yes, 3 million) cats are surrendered to animal shelters every single year in the United States. And researchers believe that inappropriate toileting on carpets and furniture is a leading cause of that. So, it's obvious that for human feline harmony, and to save other cats the same fate, lots of owners need to know how to make it stop.
There are several potential medical and behavioral reasons why cats pee on furniture instead of in the litter box or outside. You'll need to work out which one applies first, so that you can pick the most effective solution to go with it.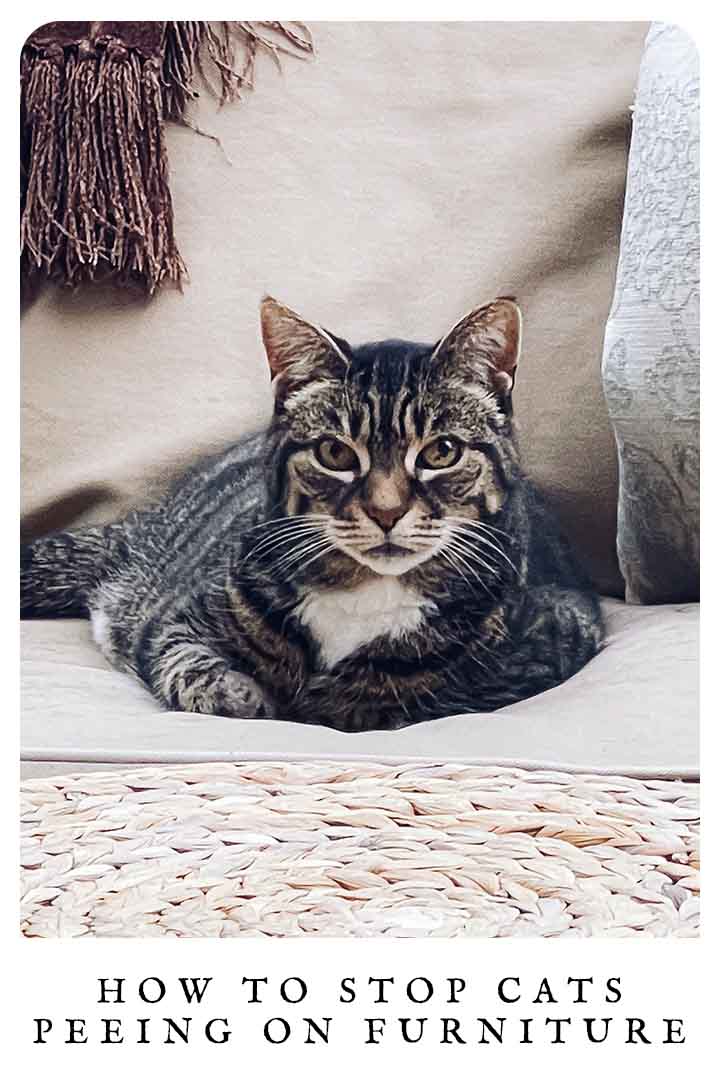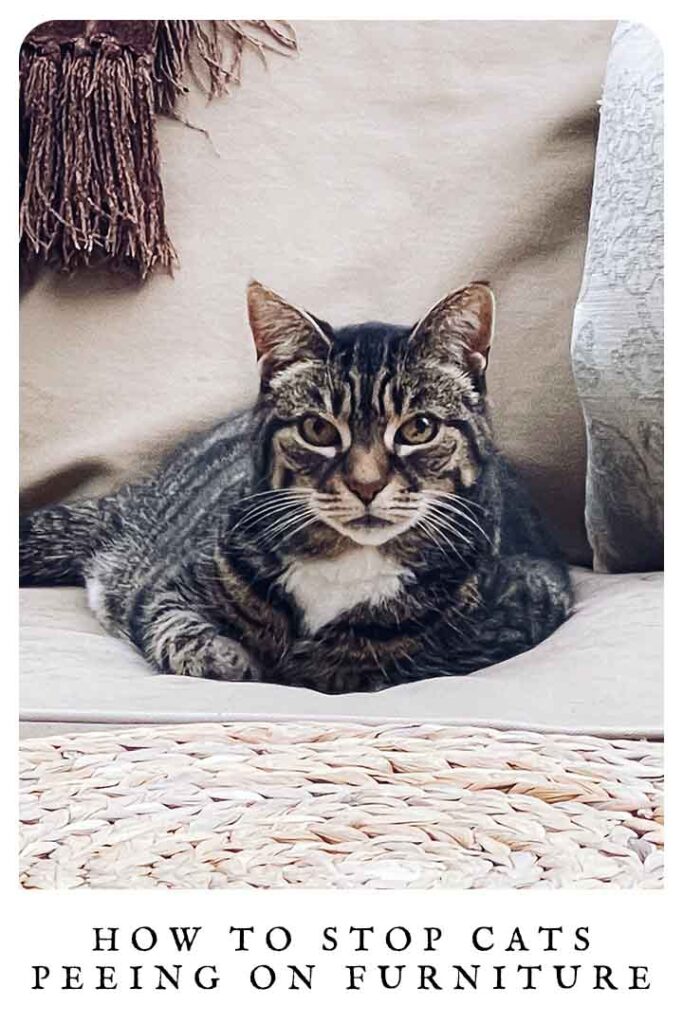 Why Do Cats Pee on Furniture?
The reason cats pee on furniture are broadly either medical, or behavioral. We'll look at both in turn.
Medical Reasons for Peeing On Furniture
Your feline friend's peeing problem could result from a medical problem. This is particularly something to consider if it hasn't been a problem before, and has begun recently, and suddenly. But whenever they are urinating inappropriately, it's important to consult your vet to rule out medical reasons. Your cat could be suffering urinary incontinence due to one of the following conditions:
Urinary tract infection. Bacterial infections in the bladder or urinary tract can cause inflammation and incontinence. This is often an increasing problem for older cats. Your vet can prescribe antibiotics for the treatment and follow-up testing to ensure the infection is gone.
Metabolic disease. Excessive peeing can also result from kidney disease, diabetes, or thyroid issues. Your vet may run blood tests and rule out these conditions.
Bladder stones. Your cat could also have bladder stones that cause irritation or blockage. Your vet may run X-rays to confirm the stones' size and recommend the best treatment.
Cats are naturally fastidious about their personal hygiene. So if they have an ailment which is causing them incontinence, they're likely to find it very distressing. Which is why getting a medical diagnosis or all-clear is all the more important.
Behavioral Causes of Peeing On Furniture
Peeing on furniture can also be purely behavioral. Common behavioral causes of peeing in the wrong places are:
Stress due to changes
Dirty or unsuitable litter box arrangements
Territorial marking
Stress Due to Changes
Inappropriate toileting can be a stress response to changes in a cat's environment. For example a new baby or pet, a house move, or a loved one moving out. All these significant changes can impact your cat – they're animals of habit, and would much prefer everything to stay the same.
Dirty or Unsuitable Litter Box Arrangements
Cats are sensitive animals that are specific about their toilets. Lots of things can put them off using an available litter box, including:
Not enough space
Being covered on uncovered, depending on their preference
Poor choice of location
Disliking your choice of litter
Having to share with other cats
But most of all, cats strongly dislike using a litter box which is already soiled. So, when the litter box is too dirty for your pet to pee, they'll prefer doing it elsewhere.
Territorial Marking
Both male and female cats spray urine against vertical surfaces to mark their territory. However it is especially common in non-neutered males. It is associated with mating behavior, and often coincides with the onset of puberty and sexual maturity. It can also be exacerbated by things like a new cat joining the household.
How To Stop Cats From Peeing on Furniture
Now that you know why cats pee on the furniture, it's time to look at the ways of stopping this behavior. Some solutions are quick – like getting medicine for an underlying medical problem, or adding an extra litter box to a two-cat household so they can have one each. But others might take several weeks of persistence and perseverance. For example changing long-established behavior habits. In all cases, we recommend starting with this simple step:
Clean Cat Pee With Enzymatic Cleaners
Cat pee contains proteins and hormones which linger for a long time. Whether or not you can detect the odor yourself, your cat will be able to, and is likely to keep returning to the same spot. Enzymatic cleaners are designed to break down the compounds in urine so that your cat can't detect where they've peed before. So your furniture is restored to a beautifully clean condition, and you've taken the first step in breaking a behavioral connection to peeing there too.
If you don't like using store-bought cleaners try using a little dilute laundry detergent, or vinegar in water instead. Use a rag to wipe down affected areas, starting somewhere discreet to make sure your cleaning product doesn't damage or stain your furniture itself.
Visit a Veterinarian
We've already touched on this once, but the importance of it can't be over-stressed. If you cat's peeing habits have changed, or they're a nuisance, ask your vet for a check up to rule out medical reasons. Veterinarians are also a huge source of wisdom about behavioral problems, and better placed than most people to offer advice which is tailor made to your specific cat, and not based on generalizations.
Look For Ways To Relieve Stress
Some changes in your cat's life just take time to adjust to. But look for ways you can help them, like
Spending a bit more timing with them, either playing games or petting them
Create sanctuary spots in your home. For example if they're stressed by the arrival of a puppy, put a baby gate at the bottom of the stairs, so that your cat can retreat upstairs and the puppy can't follow.
If they enjoy it, give them catnip toys to help them chill out.
Try a pheromone diffuser, like Feliway plug ins, to help them relax.
Keep The Litter Box Clean and in a Stress-Free Location
Ensure you remove soiled litter from your cat's box every single day, and give it a deeper clean weekly. The litter box's location might also be an issue. Just as you do your own bathroom business with a good working door, your cat also deserves some pleasantry and privacy. Therefore, ensure the litter box isn't in a busy area or next to a noisy appliance such as a furnace or clothes dryer.
Avoid using litter that is in crystal form, scented, or corn-based, as most cats dislike the feel of these types of litter on their paws and favor unscented. If you have more than one cat, the ideal number of litter boxes is the same as the number of cats, plus one. So a two cat household needs three litter boxes, a three cat household needs four, and so on.
How to Stop Cats From Peeing On Furniture – Summary
Your cat may pee due to a behavioral or health problem. To solve the issue, you must first understand why your cat is peeing on your furniture and other areas. If the problem is beyond your control, consult your vet to treat your cat correctly. For behavioral issues, spend more time with your feline friend so that they can get rid of anxiety and stress.
More Troubleshooting Guides
References