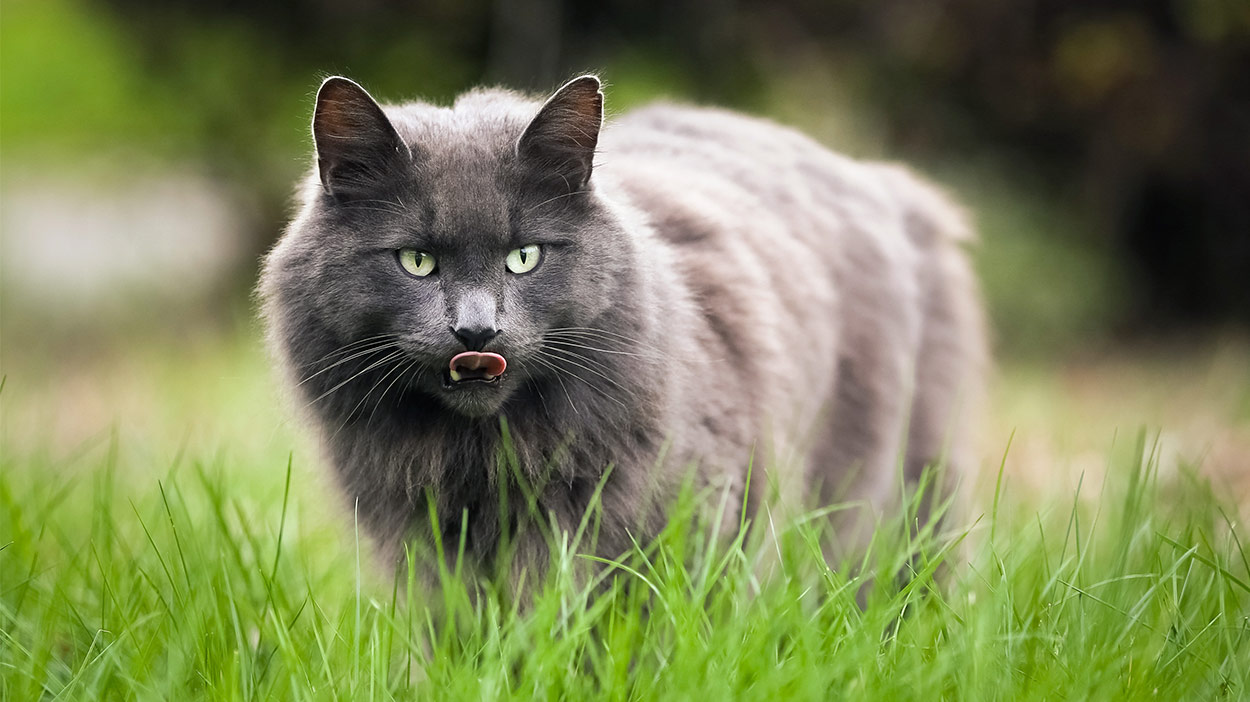 Welcome to our article all about colloidal silver for cats!
There is quite a buzz surrounding the use of colloidal silver in humans.
There are claims that this product can cure everything from eye infections to cancer, and just about every condition in between.
In light of such claims about the use of colloidal silver on humans, it is natural that you may want to know more about the potential benefits of colloidal silver for cats.
So, let's jump in.
Colloidal Silver for Cats
First let's have a look at colloidal silver in general.
How is the treatment meant to work? And are the claims made about its health benefits reliable?
Then, let's talk about colloidal silver for cats.
We will answer such questions as: Can I give my cat colloidal silver? Is colloidal silver safe for cats?
What about using colloidal silver for my cat's eye infection, or other specific infections?
Why Do People Use Colloidal Silver?
The medical use of silver has a long history, largely due to its antimicrobial properties.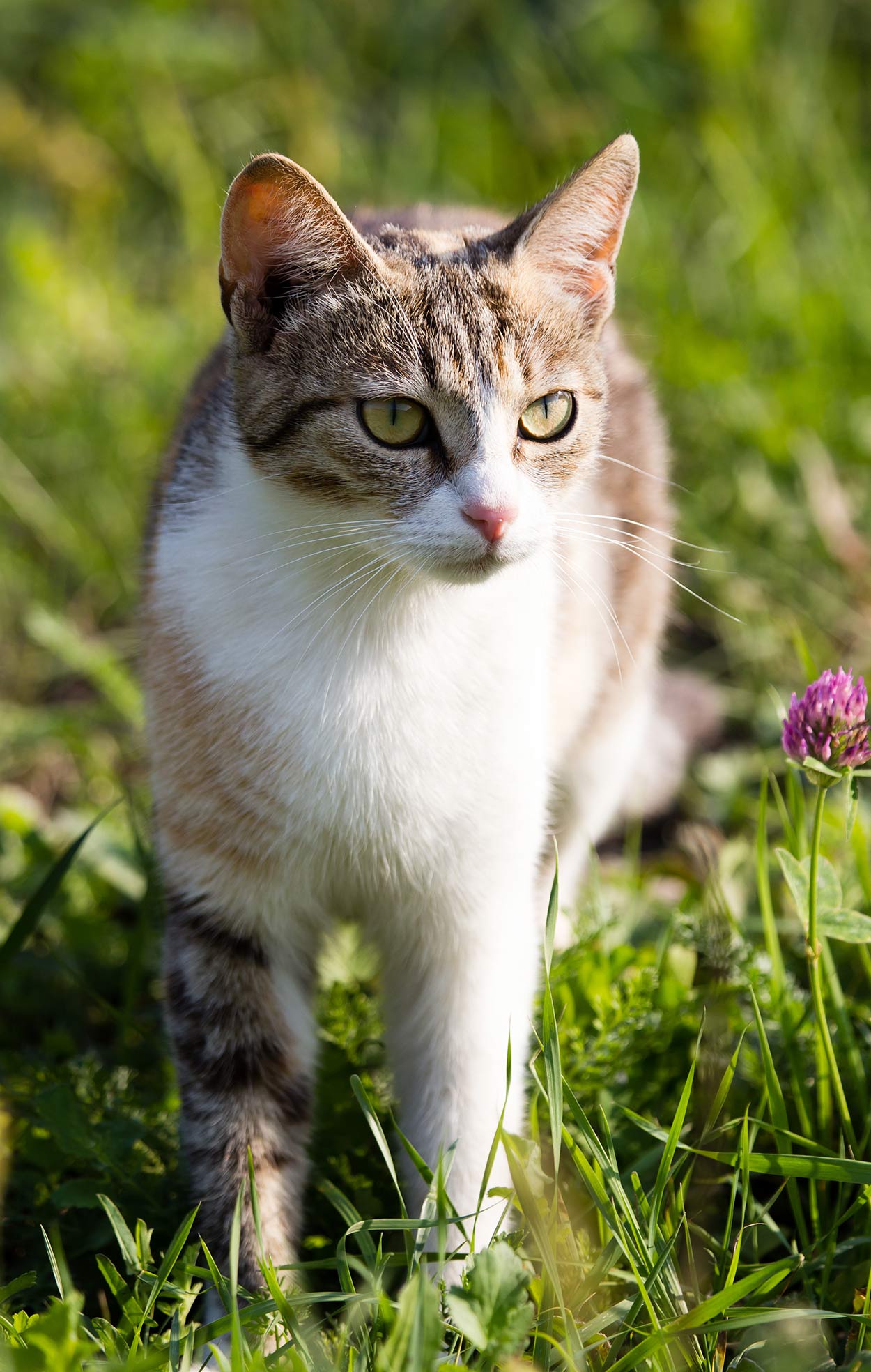 In fact, it has been used to treat a wide variety of illnesses throughout the ages, ranging from epilepsy to syphilis and many things in between.
While these uses for silver date back hundreds of years in some cases, the results have not been studied or documented scientifically.
Therefore, the actual efficacy of these treatments is not proven.
And down to the present day, the list of ailments that colloidal silver is claimed to treat is suspiciously exhaustive.
Just about all of these claims are only backed by anecdotal evidence, or by "professionals" whose commercial connections to the product being sold should be closely examined.
Appropriate Use of Colloidal Silver
In fact, given that silver is proven to have antimicrobial properties, it's use without medical supervision is a real concern.
Just as with antibiotics, the unregulated use, or misuse, of this product has led to a very real risk of resistant bacteria.
For now, suffice it to say that colloidal silver's antimicrobial properties are legitimate.
But we will talk discuss how silver compounds can be used properly in a medical setting below.
Is Colloidal Silver an Effective Treatment?
As we mentioned earlier, not all uses for silver compounds fall into the 'snake oil' category.
Very low concentrations of silver in combination with other compounds are routinely used in the form of creams and bandages to treat burns in both humans and animals.
Some medical equipment such as tubes and catheters have also even been coated with silver.
These products have been successful in preventing infection.
However, a word of caution is needed.
These treatments and surgical products which have been regulated, tested and proven to work are a far cry from unregulated silver compound products that are ingested.
Not only is the efficacy of self-administered colloidal silver still unknown, but the potential side effects or even dangers of ingesting silver to both the individual and the wider community is not fully understood at this point.
How About Colloidal Silver for Cats?
No doubt those who are interested in treating their furry friend with colloidal silver have the best intentions and may be looking for a 'natural' way to treat their pet.
It may also be tempting to believe the claims that this product is a miracle cure for many conditions that are hard to treat otherwise.
But there are two things that are important to keep in mind.
First, most of the claims made about the benefits of colloidal silver in humans are not backed up by legitimate scientific studies.
The evidence found online is largely anecdotal and unfounded. So, the real mechanisms at play are not understood in humans, let alone animals.
Secondly, even if the use of colloidal silver, under the supervision of a medical professional, was found to be beneficial in humans, the benefits do not always translate across to animals.
Preparations that work well for humans can be toxic, even deadly, to animals; if not in the short term, in the long term.
Lavender oil is a great example of this.
It is worth waiting for reliable information on both of these fronts to become available before administering colloidal silver to your pet (or yourself, for that matter).
Colloidal Silver for Cats: What are the Claims and Are They Legitimate?
A quick search for "colloidal silver for cats" reveals not only what people are using the preparation for, but also what proponents of the treatment claim it will fix.
"Silver for Cats UTI", "Colloidal Silver for Cats Cancer", "Colloidal Silver for Cat's Eye Infection" and "Colloidal Silver Cats Stomatitis" are just some of the results. And the list goes on.
However, when digging around for studies that back up these claims, quite the opposite is true. There aren't any.
There are studies related to the human application of colloidal silver, and the results of these are mixed and inconclusive.
Even so, the results simply can't be applied to cats.
One study carried out in 2013 tested the effect of silver on bacteria in mice.
Results were positive.
However, the conclusion the researchers drew from this was that further research into the properties which make silver effective needs to be carried out, so that non-toxic treatments can be developed.
Safe Colloidal Silver Uses for Cats
There are safe ways the antimicrobial properties of silver can be harnessed.
The MSD Veterinary Manual mentions the use of silver solutions for the treatment of burns, as a mild antiseptic and in ophthalmic preparations.
You should consult your veterinarian, who can recommend the where to find such products.
The MSD Manual also notes that in the wrong ratios, silver can be irritant.
Therefore, using colloidal silver from an unregulated source is a dangerous gamble.
Aside from these applications, it is really not a good idea to "experiment" with colloidal silver for cats.
In time, after specific research has been done, more facts might come to light.
But for now, even articles encouraging the use of this product admit that there are no real studies available to support the claims.
Colloidal Silver: Side Effects
Again, as no studies have been done on the use of colloidal silver in cats — we can only default to the ones that have been done on humans.
While silver does not appear to be as dangerous as other metals, it does build up in the system.
The most startling and well documented effect is called 'argyria'. You turn blue. And I am not kidding.
The bluish grey coloring is the result of silver particles building up in the skin.
It tends to build up more in areas with sweat glands and hair follicles. It also darkens when exposed to sunlight.
The mechanism is actually somewhat similar to how a photo develops.
And best of all: this pigmentation is permanent.
Side Effects Of Colloidal Silver for Cats
Granted, cats are covered in fur, and they may not feel quite as self-conscious as a person if they turn a bluish grey color.
However, the condition can affect the gums and whites of the eyes as well.
A "safe" amount of colloidal silver to take before toxicity occurs and you turn blue has never been scientifically established.
As such, an appropriate colloidal silver dosage for cats cannot be determined.
The National Center for Complementary and Integrative Health (NCCIH) also warns that taking colloidal silver can inhibit the absorption of other drugs in humans.
Therefore, if your cat is on medication for other conditions and colloidal silver works the same way in them, then experimenting with it could have serious implications.
The Bottom Line Regarding Colloidal Silver for Cats
Some claims made about colloidal silver for cats indeed make it a tempting option if you have a sick cat that you want to treat "naturally".
The truth is that this product has not been properly tested, and the claims made about its effects are therefore, in reality, only stories.
It is true that silver does have some properties that are useful in the treatment of some skin and eye infections.
However, your veterinarian is sure to be well aware of these applications.
These treatments, unlike colloidal silver, are tested and available from trained medical professionals.
Have You Been Tempted to Use Colloidal Silver For Cats?
It's easy to want the false information around colloidal silver uses for cats to be true, especially when you're worried about your pet.
Perhaps your vet has prescribed a medicine for your cat which did include silver as one of the ingredients?
We'd love to hear about your experiences in the comments section.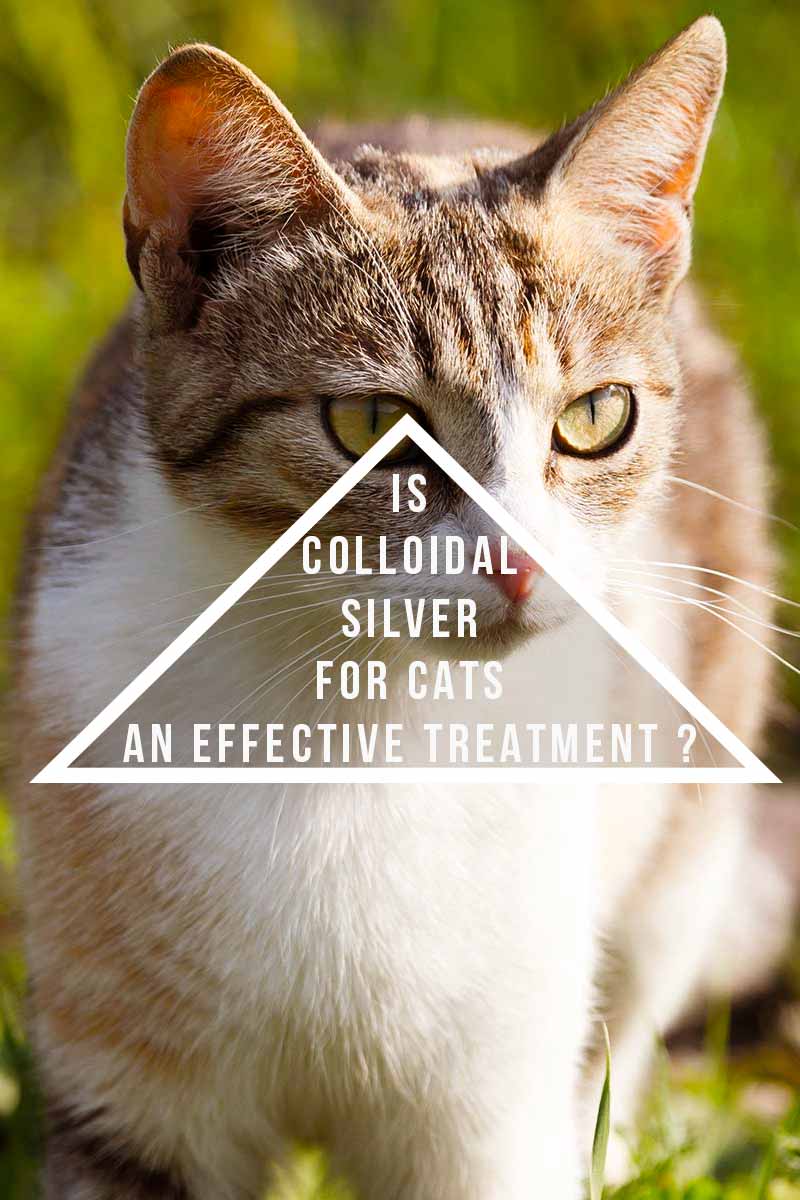 References
Silver, S., Bacterial silver resistance: molecular biology and uses and misuses of silver compounds, FEMS Microbiology Review, 2006
Drake, P., Hazelwood, K.J., Exposure-Related Health Effects of Silver and Silver Compounds: A Review, Annals of Work Exposure and Health, 2005
MSD Veterinary Manual – Metals as Antiseptics and Disinfectants 
NIH – National Center for Complementary and Integrative Health 
Owen, B., Silver makes antibiotics thousands of times more effective, Nature, 2013
Gulbranson SH , Hud JA , Hansen RC Argyria following the use of dietary supplements containing colloidal silver protein. Cutis, 2000