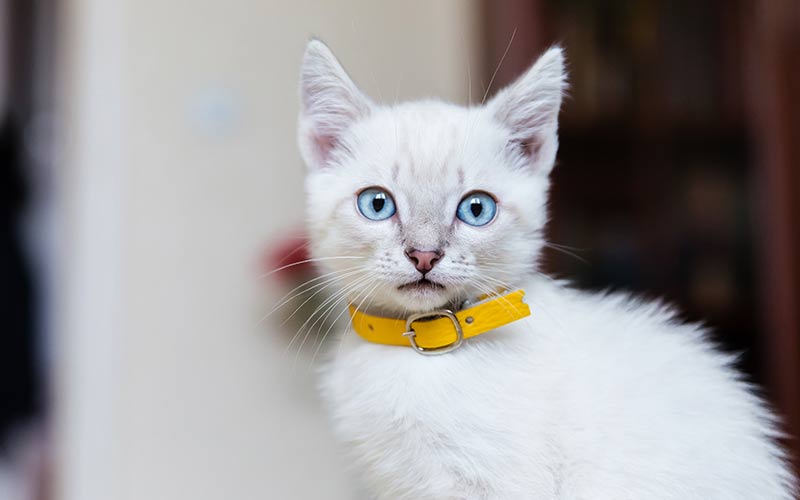 The best kitten collars fit comfortably, come in a durable material and fun colors, and have a safe quick release catch too.
If you've just got a new kitten, or have never before used a cat collar, you might be wondering whether or not your cat needs a collar, and if so, what the best type is.
Not only will this article discuss the pros and cons of kitten collars, but it will also look at the different types of collar you can get.
Collars come in hundreds of different styles and colours, so finding the right one for you and your kitten can be tough!
Plus, it can be hard to find a fashionable collar that also has practical qualities.
We're here to make the search for a perfect collar easier.
In a rush? Here are some of our favorites:
| | KITTEN COLLAR | BENEFITS | OUR RATING |
| --- | --- | --- | --- |
| | Blueberry | Breakaway, Adjustable Kitten Collar With Bell | |
| | Pettsie | Breakaway, Adjustable Safety Kitten Collar | |
| | GoTags | Breakaway, Custom, Adjustable Kitten Collar | |
| | Bing Pet | Adjustable, Safety Kitten Collar With Bell | |
| | Pawtitas | Adjustable, Glow In The Dark, Safety Kitten Collar With Bell | |
You can find out more about them below, along with lots of other great kitten collar options.
Showing you a few of the many different collars available on the current market!
All of these products were carefully and independently selected by The Happy Cat Site team. If you decide to make a purchase from one of the links marked by an asterisk, we may earn a small commission on that sale. This is at no extra cost to you.
Pros and cons of kitten collars
Getting your kitten a collar is a more complicated process than it first seems.
There are lots of positives and negatives about kitten collars in general, which can affect your final decision.
Let's look at the positives about kitten collars first!
If you think you will want to use a collar during your cat's life, then getting them used to it as a kitten is very sensible.
It's easier to get a new kitty used to a collar than an adult cat who is likely to be more wary.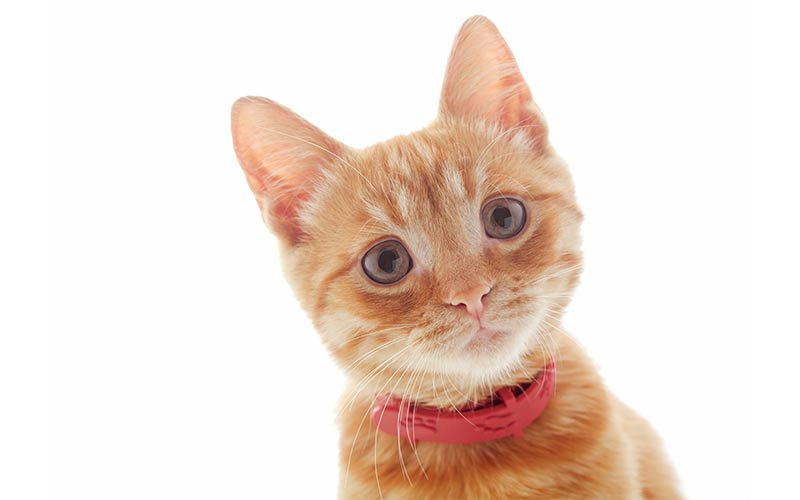 Collars often hold important information, like your contact details and address.
This can be great if your cat gets out of the house.
It will allow people to easily access your information and get your kitty safely home.
Some people also like to get their kitten a collar with a bell, in order to prevent it from catching as many birds or other creatures, or to know where it is.
As well as a variety of cute colours, you can also get reflective collars for your cats to keep them extra safe at night.
They are also a great way of showing off your own personality, being colourful or eye-catching, or being simple and unobtrusive.
However, there are some cons to our kittens wearing collars.
Collars can get easily caught things. This isn't such a risk indoors, but if your kitten gets outside then some kitten collars can get tangled in the undergrowth.
Fortunately, this problem can be solved with something called a breakaway collar, which we will look at later on in the article.
A second con is that collars can damage your kitten's neck or fur, if the collar doesn't fit properly.
If your kitten is long-haired, or your collar doesn't fit well, the friction of it rubbing on your kitten's neck can cause your feline friend pain!
But you can avoid this by making sure to fit it properly.
Introducing the kitten collar
Also, wearing a collar in general can seem uncomfortable for some cats, especially the first few times they wear one, as it is a completely new feeling!
When my cat, Lulu, first wore a collar, she would continuously find ways to get rid of it. We would find it discarded all over the house, or even halfway up the garden!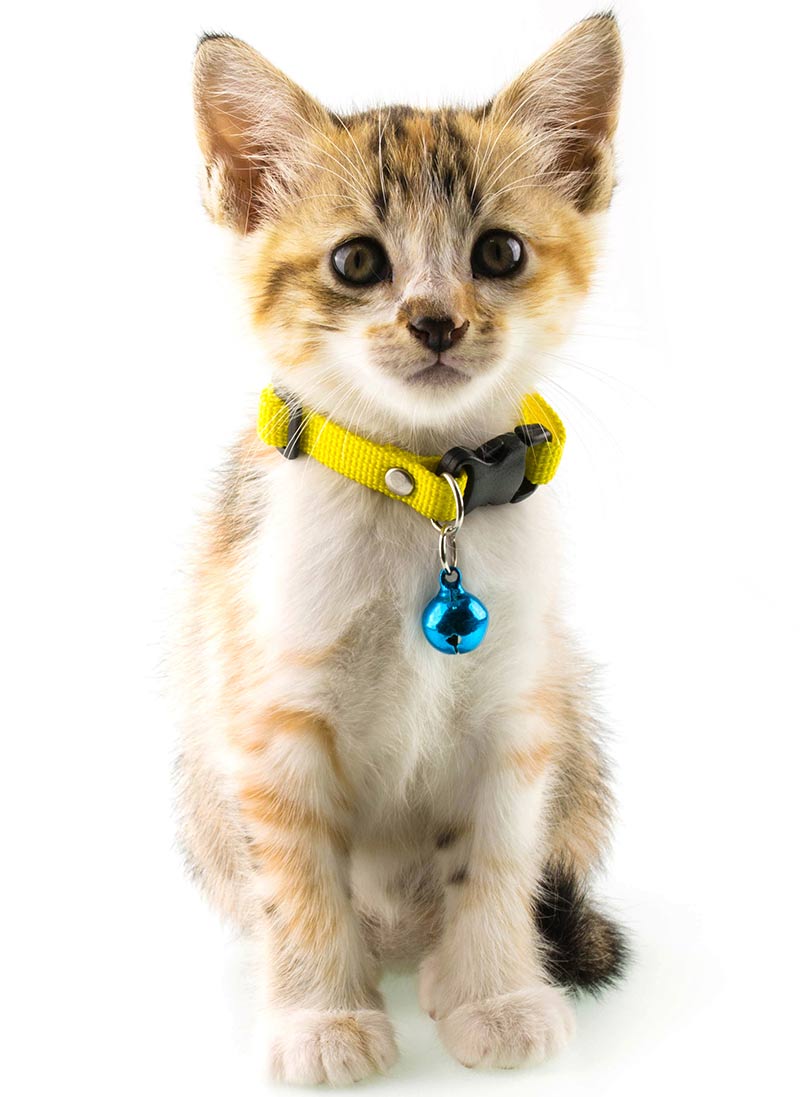 This can lead to the assumption that collars are uncomfortable or annoying for our cats!
But she soon got used to it, and didn't notice it was there anymore.
And indeed, some cats don't appear bothered by collars at all from the word go. Others get used to the feeling after a few days!
These pros and cons may affect your decision on whether or not to get your kitten a collar
But, if you're still loving the idea of a collar, read on to find out what different types are available to you!
Kitten collar with bell
Kitten collars with bells are a fun way to know where your kitten is – whether it's running around the house or stalking prey outside!
This is one of the biggest reasons people choose to get a cat collar with a bell.
However, just because your kitten collar has a practical purpose doesn't mean it can't also look great!
Lanyar Fashion Leather Collar
Here is a great option for a collar with a bell, the Fashion Leather Collar* by Lanyar.
This collar comes in seven different colors, from cute pink and blue shades, to more neutral colors like beige, red and green.
Additional color selections are a great way to add a bit of individuality and personality to your kitten's collar!
Plus, this collar is adjustable.
Adjustable collars are great for kittens, because of how tiny our kittens can be!
Having an adjustable collar means you can have a small, or extra small kitten collar at first, but keep using it as your cat grows!
Pawpitas Pet Glow In The Dark Kitten Collar
This glow in the dark Kitten Collar* is another cool choice.
This cute collar with safety buckle and bell comes in a range of colors and patterns. So you can choose the style you like the best.
It is adjustable and will fit kittens with neck sizes of 8 to 12 inches. So it should last you a while!
Blueberry Kitten Collar
A lovely choice for slightly older or larger kittens is the Blueberry pet kitten collar*.
These adorable collars come in packs of two, and will fit neck sizes from 9 to 13 inches.
They are adjustable, breakaway collars with fun little bells to boot.
Cute kitten collars
Collars don't all need to look simple.
It's easy to find collars that are just as adorable as our pets!
Bingpet crystal collar
If you're after something cute with lots of variation in color, the Bingpet crystal collar* is a great choice.
This cute kitten collar is adjustable, from 8 to 10 inches.
It also comes in five different colors, each featuring a cute crystal heart on the side!
The velvet material is also perfectly soft to match our kitten's fur!
Pink Cat Small Collar
Another of the cutest kitten collars is the Pink Cat small collar*.
This adorable kitten collar is made of high quality leather and also comes with a bell.
It's adjustable from 8.5 to 10.5 inches.
CollarDirect Pink Leather Collar
When it comes to cute, CollarDirect's pink leather collar* is another adorable option.
This collar comes in two different sizes and a range of colors.
It also has a safety elastic strap, and a bell too.
Breakaway kitten collars
Despite the focus on fashion, kitten safety collars are just as important as collars that look good.
One of the biggest problems cats have when wearing collars is that they get caught on things whilst our kittens explore outside!
A breakaway collar is the perfect solution to this problem.
For those that haven't heard the term before – breakaway collars feature a clasp that comes apart very easily when pulled
This means that if the collar gets caught on something outside, as soon as your kitten starts to struggle, the clasp will open and your cat will be free!
Best Breakaway Kitten Collars
Breakaway collars can still come with multiple designs, like these Blueberry collars*.
They are adjustable from 9 to 13 inches, perfect for slightly older kittens.
These breakaway kitten collars also feature an easy-to-open breakaway clasp, and have lots of different patterns, so you can still show your pet's personality!
Fashion doesn't need to be sacrificed when buying a kitten safety collar!
Pettsie Breakaway Collar
Another cute, but also practical, collar is the Pettsie breakaway collar*, found here.
Not only is this collar breakaway and adjustable, but it has an adorable bow on the side and comes with a matching friendship bracelet for you!
Breakaway collars are great for cat owners that worry about their cat as it goes exploring outside!
However, if your cat is anything like mine, it will learn how to get out of these collars easily, and leave them everywhere!
This may mean you have to keep putting it on your kitty, or even buy more if it gets discarded where you can't find it!
Personalized kitten collars
Lots of kitten collars look very similar – you might want to find something that show off the uniqueness of your cat!
You might be wondering if you can even get a custom kitten collar!
The answer is, yes you can!
Embroidered Custom Kitten Collars
Here are some embroidered custom kitten collars* that you can customise with your name and phone number!
You can choose the color of each individual letter on these collars, meaning it will be one of a kind for your kitty!
Designer kitten collars
You might want to get a collar that shows off how fashion-forward you and your pets are!
Blueberry Collar
This Blueberry Collar* is a beautifully fashionable collar!
It comes in multiple different designs and colors, and features detachable accessories, such as flowers and bow ties!
Getting a collar that can have numerous different accessories means your cat can have a fresh look every day!
This collar is a great way to keep your kitten looking stylish!
Fancy kitten collars
A lot of the collars we've looked at so far have featured bright colours and big accessories.
Whilst this is a perfect fit for some pets, other people might want something that looks a little more sophisticated.
Reflective kitten collar
Keeping your cat safe at night can be a huge concern for all cat-owners.
Unfortunately, cars are a huge danger to cats, especially at night when our kittens become camouflaged against dark backgrounds!
Getting a reflective collar can help with this!
Reflective collars help people driving at night see where our pets are, giving them more notice to slow down.
Pawtitas Reflective Collar
A good option for a reflective collar is the Pawtitas collar*.
Not only is this collar reflective, but it also has a bell.
Reflective collars are great for cats that live in urban areas, where there are lots of cars, but also more rural areas, where people may not be expecting to see pets running across roads!
Best kitten collars
Choosing the best kitten collar will be a different process for each individual.
Generally speaking, the best collars are adjustable – a collar that doesn't fit right can hurt, or irritate your cat, and can slip off easily.
Adjustable collars can also be used for a kitten as it grows through to adulthood, meaning you get a great value for money.
People with outdoor cats that like to explore might be best suited to a collar that keeps their cat as safe as possible – for instance a reflective collar with a bell and breakaway clasp.
Whereas people with indoor cats may be more interested in something that just makes their cat look cute!
Let us know what type of collar is your favourite in the comments!
Does your cat love wearing its collar or hate it?
Affiliate link disclosure: Links in this article marked with an * are affiliate links, and we may receive a small commission if you purchase these products. However, we selected them for inclusion independently, and all of the views expressed in this article are our own.