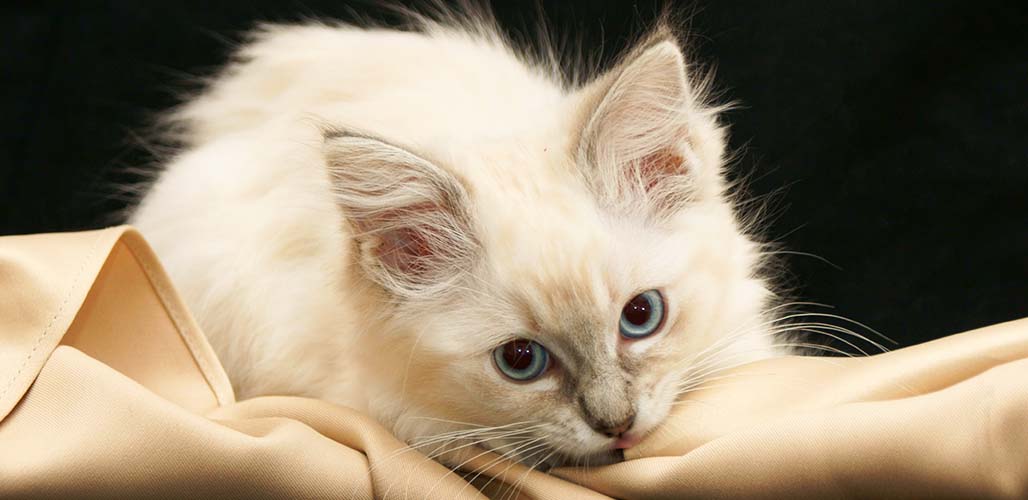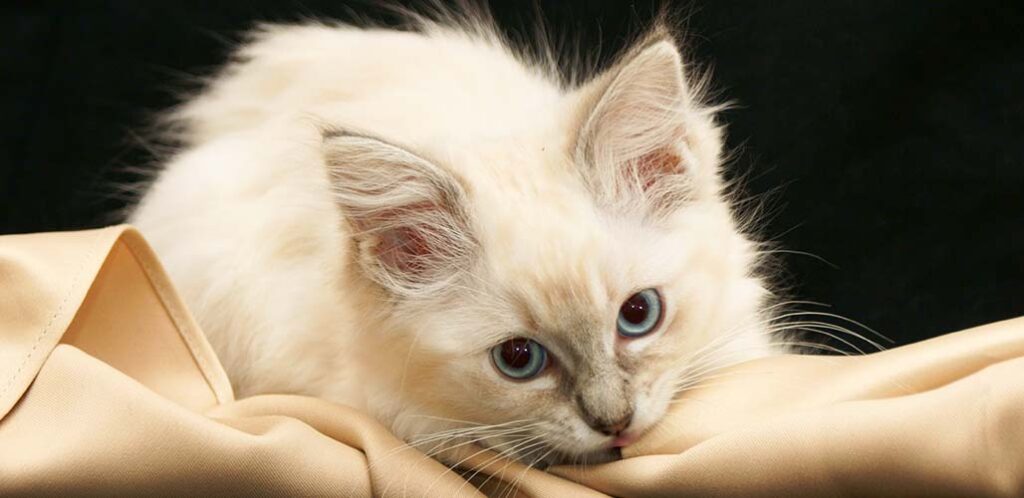 A lilac point Ragdoll cat is friendly, social, and gentle. All Ragdoll cats are pointed, but those with lilac points have a frosty grey-pink coloring at their extremities. The rest of their body will be white, but the contrast between this and their lilac coloring can look lower compared to some other types of points, like chocolate and seal. Lilac point kitties have the same soft fur and blue eyes as all other Ragdolls.
Contents
What is a Lilac Point Ragdoll?
Ragdoll cats come in 6 official point colors. Lilac is one of these official shades! Most often, when people say "lilac point Ragdoll", they are referring to the colorpoint pattern. But, lilac points can also be seen on Ragdolls with bicolor, van, or mitted coat patterns.
Other than their point color, they will have the same general appearance and temperament as other Ragdoll cats.
What Do Lilac Point Ragdoll Cats Look Like?
Like all other Ragdolls, the lilac point Ragdoll will have a medium length, soft coat and blue eyes. They are large cats that can weigh anything from 10 to 20 lbs when they are fully grown. But, as a large breed, it can take a few years for kittens to reach their full size!
The main thing that sets lilac point Ragdolls apart from other Ragdolls is their coloring. These cats have white bodies and pinky-grey points. Their points show up on their tail, paws, face, and ears. These points can be solid, tortie, or tabby. And, you can also find lilac points on bicolor Ragdolls and mitted Ragdolls.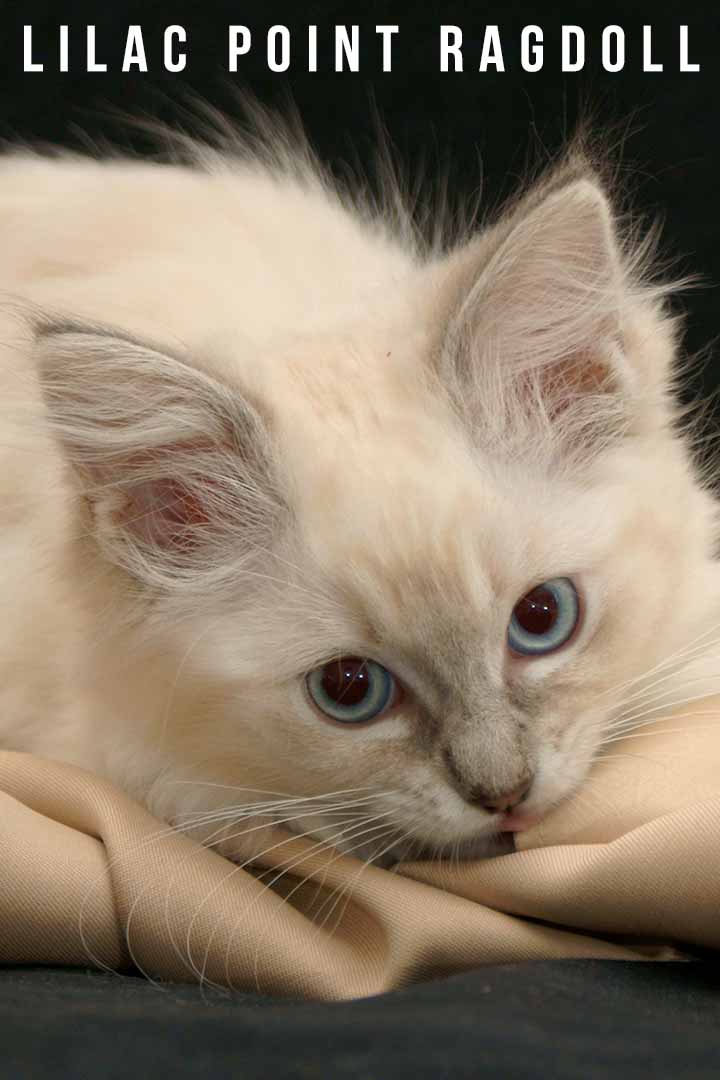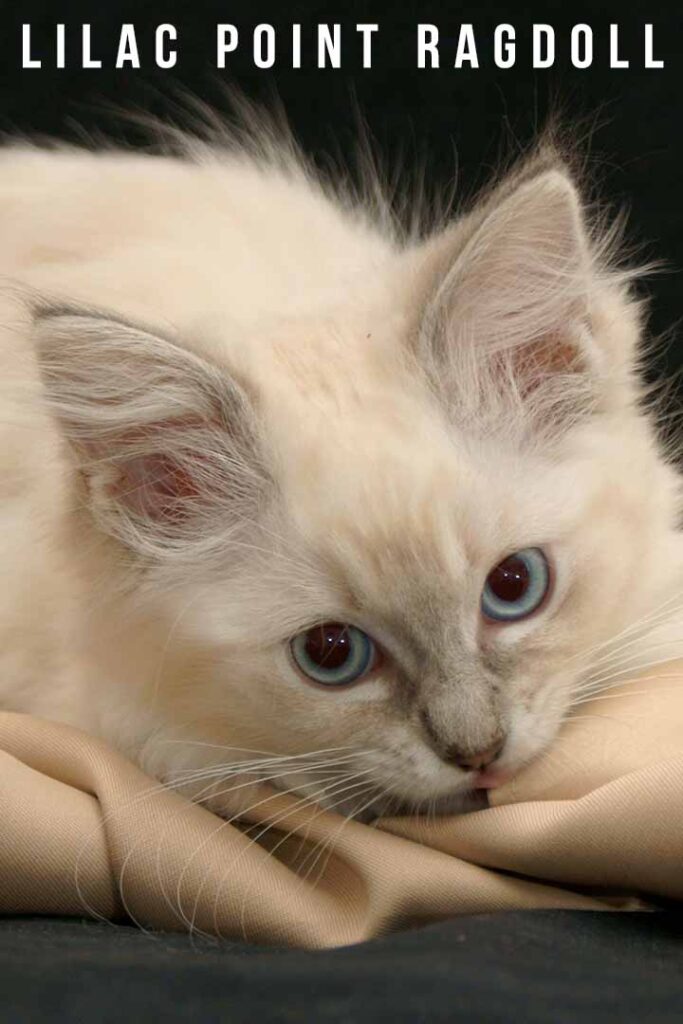 Are Lilac Point Ragdolls Friendly?
Typically, these cats are intelligent, curious and affectionate. The name of the breed comes from their tendency to go limp in your arms, like a ragdoll! These cats love spending time around people, especially when socialized well as a kitten. And, thanks to their intelligence and playful side, they can even be taught tricks. Many people call the Ragdoll a dog-like cat.
This all sounds great, right? But, this personality won't suit everyone! If you're considering a Ragdoll, you must be prepared to spend plenty of time with them. If these cats are left alone too often, for too long, they can become stressed and depressed. And, Ragdolls aren't very vocal. So, if you're looking for a chatty cat, the gentle and calm Ragdoll might not be right for you.
And, some studies have suggested that cats with color points, like the lilac point Ragdoll, are more prone to separation anxiety. So, these cats need families that can dedicate plenty of time to them.
Are Lilac Point Ragdoll Cats Rare?
Lilac is a dilute color. So, cats need to inherit two copies of the recessive dilute gene in order to express with lilac in their fur. If they don't receive two copies of this recessive gene, their fur will be brown.
Color points, like the lilac point is caused by a type of albinism – a temperature sensitive albinism. In simple terms, this means fur color depends on the temperature of skin at the root of a strand of hair. The points are cooler than the rest of the cat's body, so more color pigment is produced in these areas.
But, even though it seems like these cats must check a lot of genetic boxes to have lilac points, lilac point Ragdolls aren't too rare. All Ragdoll cats have points, and lilac is one of 6 official colors. So, you won't struggle to find breeders who specialize in this color. You may need to wait on waiting lists depending on demand near you, since Ragdolls are a popular breed. But, if lilac points are your favorite, it shouldn't be too hard to find them!
Are Lilac Point Ragdoll Cats Healthy?
Lilac points haven't been linked to any specific health issues. But, white fur has been linked to deafness in some purebred cats. So, you should make sure to choose a reputable breeder that doesn't include any cats who have hearing issues in their breeding program.
Other than this, Ragdoll cats in general are prone to certain health issues, like Hypertrophic Cardiomyopathy (a heart disease). Many Ragdolls can live into their teens with good care and good breeding. But, many factors can influence this. To give your lilac point Ragdoll the best chance at a long life, choose a reputable breeder, attend regular veterinary checks, and give them great daily care, like a nutritious diet.
How Much Do Lilac Point Ragdoll Cats Cost?
On average, their price will range from $800 to $2,500. Some show-bred Ragdolls can cost well over $2,500. But, remember that price isn't always an indicator of quality. Make sure you see evidence of health testing, and ask your breeder plenty of questions before committing to ensure you're getting the best.
Other Ragdoll Colors
Although all Ragdoll cats have points, there are six different point colors. Lilac is just one of these beautiful shades! The others are:
Chocolate
Seal
Blue
Red
Cream
Some people also include colors like cinnamon and fawn.