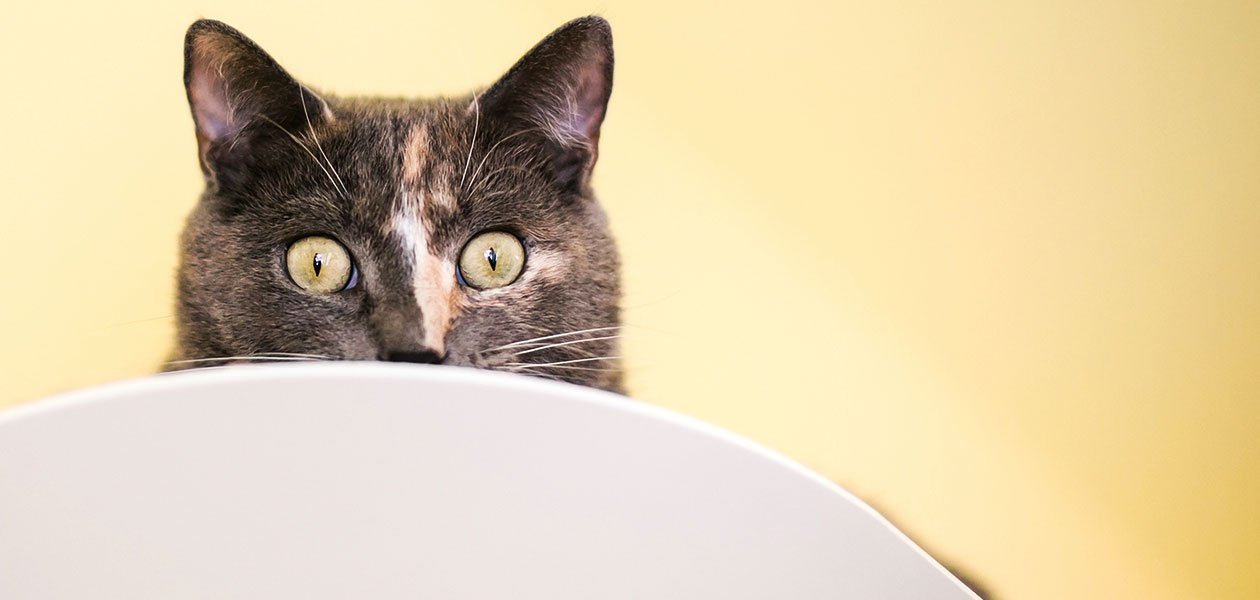 A nervous cat might be experiencing a temporary reaction to something very specific, or they might be constantly nervous of very many things.
The best way to soothe a nervous cat depends upon what's worrying them.
Luckily, we have suggestions for even the jitteriest of cats, no matter what the circumstances!
Products included in this article were carefully and independently selected by the Happy Cat Site team. If you decide to make a purchase from one of the links marked by an asterisk, we may earn a small commission on that sale. This is at no extra cost to you.
Nervous Cat
If you have a nervous cat, you've probably already discovered that all the ways we calm down a nervous human don't work on felines.
In this article we take a look at why cats get nervous, and was is the right way to build their confidence back up.
You can use these links to navigate to specific parts of the article, or read along from the beginning.
Do Cats Get Nervous?
Yes, just like us, cats can feel nervous in all kinds of situations.
Such as meeting someone new, going into a new environment, or encountering something they have never come across before.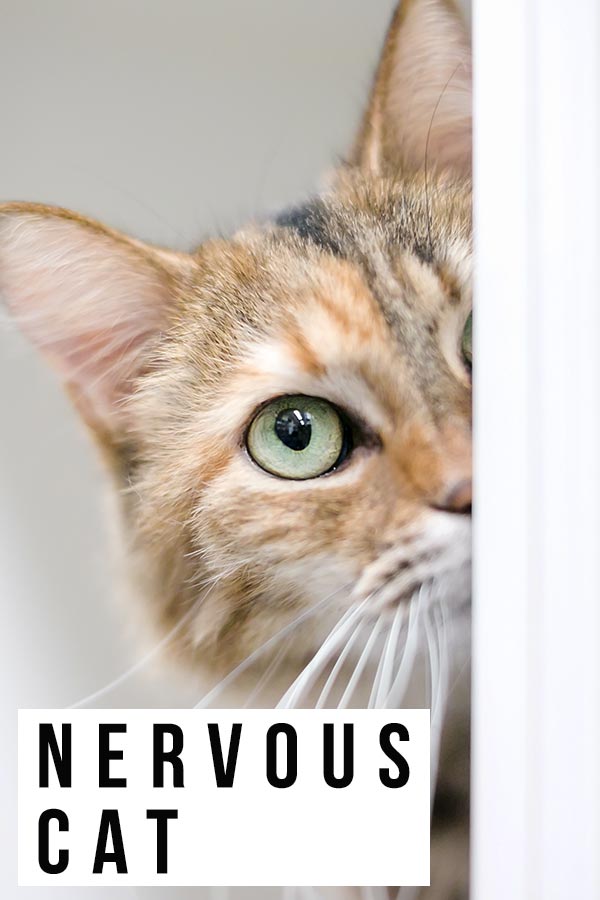 Some cats also simply have a nervous disposition, and tend to be more skittish and jittery than others.
Fear, stress, anxiety and nervousness have a lot in common, but they aren't the same.
Anxiety and nervousness, especially, are terms that we tend to use interchangeably.
The Difference Between A Nervous Cat And An Anxious Cat
Sometimes distinguishing nervousness from anxiety in cats is very difficult.
After all, we can hardly ask them to explain the subtle details of how they feel.
They can both be normal, healthy emotional responses too. For cats' wild ancestors, they would have played an important role in survival.
From a clinical point of view, anxiety is described as the emotional response to being unable to escape or control a situation which frightens them, or some other unidentified threat.
Which could also be said of nervousness.
Telling them apart
In general, anxiety is more likely to be thought of as a long term condition.
If your cat's emotions start to cause physical symptoms as well (such as an increase in urinary tract infections), this is also more likely to be described as anxiety.
We've written about anxious cats, and how to recognize an anxious cat in this article.
On the other hand, nervousness is more likely to be a short-lived feeling, brought on by a specific set of circumstances.
Alternatively if lots of things worry your cat, but their nerves don't make them physically unwell, then we're more likely to describe them as nervous rather than anxious as well.
In this article, we'll consider examples of both kinds of nervous cat, and how to help them
What Makes Cats Nervous?
Lots of things can make cats nervous.
All cats are individual, and some cats are nervous of some pretty surprising things.
Several years back, there was a pretty unpleasant and thankfully short lived trend for people putting cucumbers on the ground behind their cat, to startle them when they turned around.
Why did it work?
Probably because when caught unexpectedly out of the corner of a cat's eye, the silhouette of a cucumber resembled a lizard or snake.
Cats have a deep rooted instinct to react fast to something which could hurt them.
So even mundane and inanimate objects which we think nothing of, can make them nervous.
Other common triggers of kitty nerves
Other things which frequently make cats nervous include:
trips to unfamiliar places, such as the vet or the groomer
visits from strange people
new arrivals in the household, such as babies or new pets
sounds they haven't heard before, or hear infrequently, such as fireworks, heavy good vehicles, and TV noises
new smells
and their owner acting strangely (climbing a ladder, singing, anything you don't usually do!)
Some cats are hardly ever affected by these, and breeze through life with all the confidence in the world.
Whilst others are seemingly nervous of all of them.
The difference is partly nature, and partly nurture. Let's see why.
Why Is My Cat Nervous?
Some cats are simply born nervous.
They spend their whole life on high alert, and assume that everything is a threat to them.
Some researchers and behaviorists believe that this starts even before they are born.
If a cat has a hard life during pregnancy, stress hormones inside the womb may hard wire her developing kittens to be more prone to nervousness.
Other cats are nervous of specific things in adulthood because they weren't exposed to them as kittens.
Young kittens need lots of positive encounters with a wide range of people, noises, and places while they are young, so that they remain confident around them as grown ups.
An finally, cognitive dysfunction (dementia) can make elderly cats disorientated and anxious, so they're more likely to react nervously to new things, or even things which didn't bother them before.
How Can I Tell If My Cat Is Nervous?
We've looked at why cats might feel nervous, but how can you tell if your cat is feeling nervous?
These behaviors are all signs of a nervous cat:
Running away.
Hiding in their bed, under furniture, or on top of tall furniture.
Flattening their ears against the back of their head, or turning their ears out sideways with the backs pointing up towards the sky.
Moving their ears around a lot, literally to try and listen for sounds from every every direction at once.
Widening their eyes, and having large pupils.
If the thing making them nervous doesn't go away, their behavior might escalate to fearful actions such as arching their back, fluffing up their coat, baring their teeth, or hissing.
Long term exposure to things which make them nervous might also eventually tip into clinical anxiety.
Caring For A Nervous Cat
One of the toughest things about caring for a nervous cat is forgetting everything you know about supporting a nervous human, and basically doing the opposite.
It goes against all our instincts, but the best way to care for a nervous cat is to completely ignore them.
Don't attempt to approach them or interact with them, unless they initiate it.
But equally, don't tiptoe around them, and go to extremes to be quiet.
Simply act as if they weren't there at all.
This works because when a cat feels invisible, they feel safe again.
From a human perspective, it sounds like a pretty miserable solution. But cats are accustomed to a very different way of survival.
To them, becoming invisible when they're nervous feels great.
Making Space For A Nervous Cat
Besides ignoring them, the best way to make sure a nervous cat feels safe and unseen is to make sure they have plenty of space.
We know that our homes are safe for our pets, but there are some cats who are struggle to take that for granted.
It's not a criticism of anything you have to offer – they are simply hardwired to be constantly vigilant for the next threat.
A little-used room in your house which they can have free access to is a perfect bolthole. But we'll look at alternatives in a moment if you're not blessed with that much space!
Getting it right
In their safe space they need to be as undisturbed as possible.
But also have a think about how they will reach things they need, like the litter box.
A cosy den under the guest bed is wonderful, but if they have to pass through a busy kitchen to reach a litter box in the utility room, they might soil somewhere else, or attempt to hold it in and risk a UTI or constipation instead.
How To Help A Nervous Cat
Here are some more practical steps you can take to help you nervous cat feel at ease:
Create lots of hide spaces using furniture, or purpose-made cat dens
Perfect for permanently nervous cats, if you don't have any quiet rooms.
Cats with lots of options may eventually feel confident enough to use ones in busier places.
And a nervous cat with a rock solid escape plan might even get bold enough to come out and say hello!
Put cat trees or shelves up
Cat trees, and even wall shelves if you're short on floor space, enable your cat to watch everything that goes on from a safe distance.
Use pheromone sprays and diffusers
Products like Feliway* use a synthetic version of feline facial pheromone to reduce feelings of anxiety.
These are great for predictable but infrequent events which make your cat nervous.
Like fireworks at New Year's, or a house sitter coming to stay while you're on vacation.
Try counter-conditioning
Counter conditioning means changing your cat's emotional reaction to something from nervous, to neutral or positive.
It works best if your cat is nervous of something very specific.
For example, if they're nervous of sirens, find a siren track online and play it as quietly as possible whilst feeding them a delicious treat.
Then very gradually over a period of days or weeks, increase the volume whilst offering more treats.
If you're unsure about how to get this right, ask a behaviorist for some help!
Try a specialized diet
Some cat food manufacturers even sell meals, treats and supplements formulated to soothe nervous cats.
Such as this complete kibble diet by Royal Canin* supplemented with L-tryptophan and alpha-casozepine.
L-tryptophan is an amino acid which is turned into serotonin in the body. Serotonin in the brain reduces feelings of anxiety.
Alpha-casozephine is a peptide which regulates sleep and reduces fear reactions.
Trials of this kibble found that it reduced nerves in unfamiliar locations, but not around unfamiliar people.
Nervous Cat – Summary
There are lots of reasons why cats might be chronically nervous, or suffer bouts of occasional nervousness.
Luckily, there are lots of ways in which you can help them too!
If you're worried that your cat's nerves are escalating out of control, chat to your vet about managing anxiety.
Do You Have A Nervous Cat?
What coping techniques have you found which really helped them?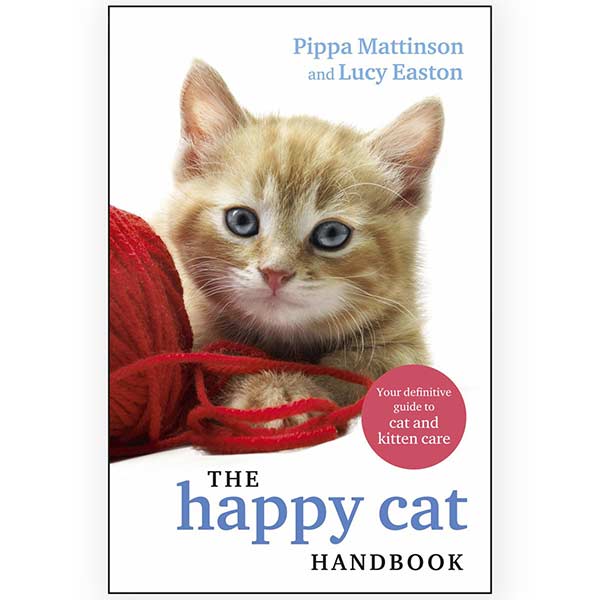 Let us know in the comments box down below!
Affiliate link disclosure: Links in this article marked with an * are affiliate links, and we may receive a small commission if you purchase these products. However, we selected them for inclusion independently, and all of the views expressed in this article are our own.
References & Further Reading
How To Help A Nervous Cat, PDSA, accessed May 2020.
Anxious Cats, International Care Care, 2018.
Levine, Feline Fear and Anxiety, Veterinary Clinics of North America: Small Animal Practice, 2008.
Alho, Guardians' Knowledge and Husbandry Practices of Feline Environmental Enrichment, Journal of Applied Animal Welfare Science, 2016.
Herron, Advances in Understanding and Treatment of Feline Inappropriate Elimination, Topics in Companion Animal Medicine, 2010.
Landsberg et al, Therapeutic effects of an alpha-casozepine and L-tryptophan supplemented diet on fear and anxiety in the cat, Journal of Feline Medicine & Surgery, 2016.
Landsberg et al, Cognitive Dysfunction Syndrome, Veterinary Clinics: Small Animal Practice, 2012.
Your Amazing Cat!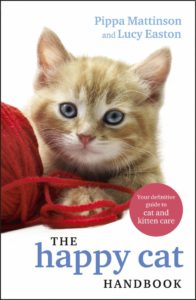 We are so excited to share our new book with you!
If you have enjoyed your visit to The Happy Cat Site we think you'll love The Happy Cat Handbook.
Written by the founders of this website including the author of the hugely successful Happy Puppy Handbook, it's packed with cat care information and fascinating cat facts.
Grab your copy today!
Free Updates For Cat Lovers!
Our cat care articles, tips and fun facts, delivered to your inbox