October 18th  Billy is 8 weeks old today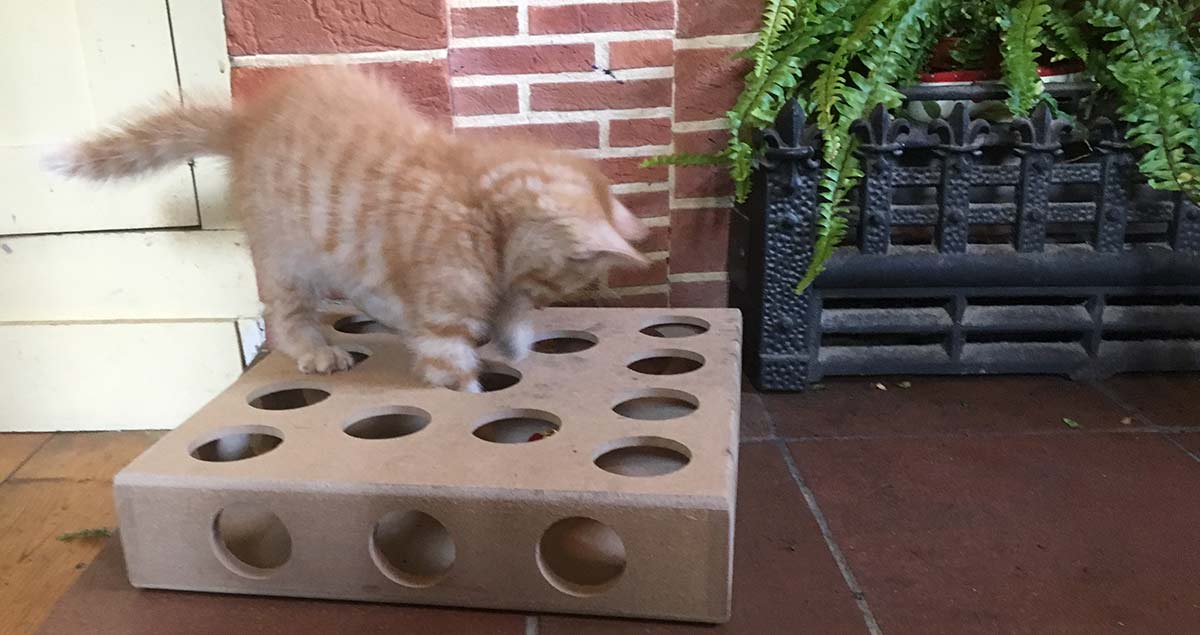 Today was Billy's first full day in his new home, and it started early!
My alarm went off at 5:30 and I went downstairs in the dark,  to let Billy out of his crate.  We had not heard a sound from Billy all night and he seemed to be asleep when I turned on the light.
What a lovely welcome I got!
I opened the crate door and Billy came rushing out purring and stretching and rubbing himself against me, as friendly and happy as could be.
He followed me into the kitchen, winding himself around my legs while I scooped his breakfast into a dish, polishing it off with relish while I started my laptop and drank my coffee.
A great start to kitten toilet training
I felt the vet-bed in his crate and it was warm and dry.
A trip to the litter tray followed his breakfast and Billy then spent a happy hour playing on the kitchen floor while we had our breakfast and more coffee.
Billy's hearing
A couple of things have happened early on in the day that make me think Billy might not be deaf.  One was a 'soot fall' down the chimney which he appeared to notice.
It could have been coincidence that he looked up at this point, but I don't think so.
Another was Billy seemed to have a slight reaction one of the dogs 'blowing' under the kitchen door. He does still seem very unaware of sounds around him generally, but I am encouraged by these two reactions
Billy helps out
After the family had left for work and college, Billy and I repaired to the office where he typed a q and a z on my current Word document, then played with his cat puzzle toy while I did some work.
At one point during the morning he managed to shut down my Macbook and apparently sign me out of iCloud, while walking across the keys.
I have no idea how – but apart from that – an hour or two passed pleasantly enough.
Photographing and filming our kitten
I love taking photos. I'm not great at it, but getting Billy has been a good excuse to replace my ancient Canon 350D.
I'm finding all the photos of him on my iphone a bit blurry as it doesn't capture movement very well.
And I'm hoping to really get to grips with my new Canon 80D and learn to use it properly. So I've bought a 'for dummies' manual to go with it.
This morning I filmed Billy playing with his puzzle toy, using my iPhone, and tried to take some decent still photos with my new camera, only to discover that it had no memory card.
So it is back to the iPhone for photos this morning
Introducing the kitten to the dogs
As far as I know, Billy has never met a dog.  There were no dogs in the house where he was born and his first reaction to seeing one of  mine was a typical feline reaction to a threat.
He made himself as big as he could by arching his back and puffing up the hair along his spine and down his tail.  For added impact he kept himself turned sideways.
It is very comical to see such a tiny creature attempting to look tough, but my heart went out to him.
It's the first time he'd shown any real sign of fear.
I have three dogs, two labs and a very elderly cocker spaniel.  The young labrador is bouncy and a bit 'in your face' and the old spaniel is not particularly tolerant of puppies and other young animals, so I decided to start Billy off with my older, very gentle Labrador Tess.
I brought Tess into the hall outside my office for the morning.
There's a baby gate across my office door and she slept on one side, while Billy watched her from the safety of the other.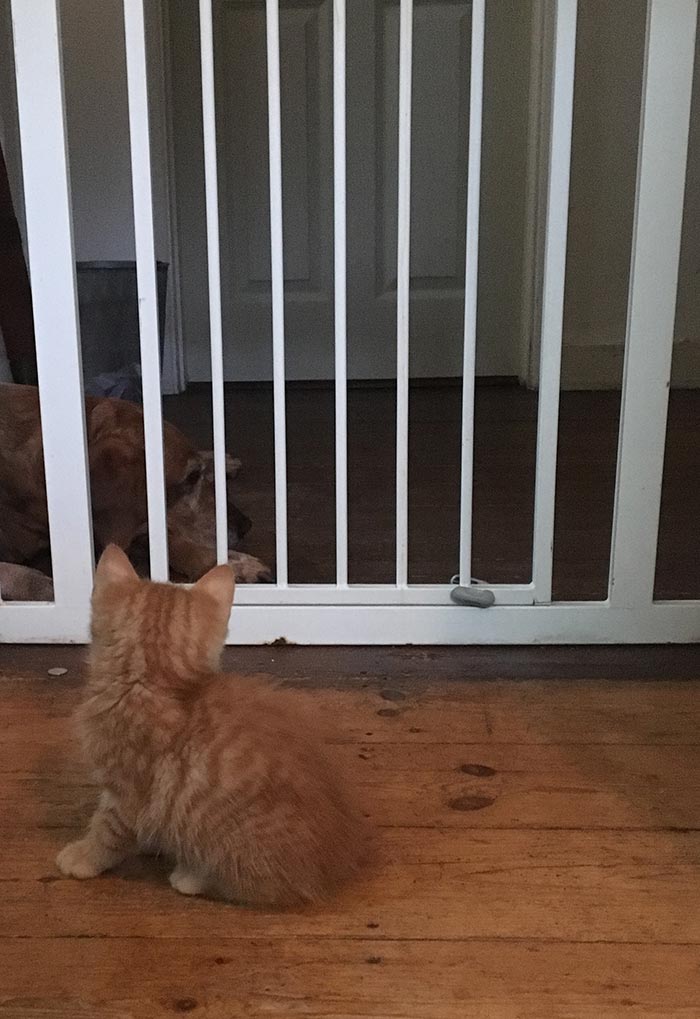 Billy can walk easily between the bars of the gate but he seems to know that she can't follow him.
After a short while he stopped making himself BIG and sat down to regard her with interest.  She responded by thumping her tail at him.
Although Billy can walk between the bars of the gate, but he didn't quite pluck up the courage to do that today while she was there.  I think we made progress though, and I'm confident that his natural fear of her will be replaced by interest and curiosity.
I won't push things.  Billy can do this in his own time.  But Tess will be there, every morning for an hour or two, and he'll have to get used to that.
A kitten's afternoon
The afternoon passed swiftly as I was very engrossed with work.
Billy seems to like taking a nap in my lap. He has progressed from climbing up my legs using his claws as crampons (ouch) to jumping into my lap from the floor in one leap.
Less painful, but more surprising.
He enjoys kneading with his claws out so I have been putting the 'kitten cave' on my lap to save my thighs from needles.  It also means I can lift the kitten cave onto the desk once Billy is asleep.
He slept for a couple of hours like this after lunch.
Where's Billy?
At one point during the evening, I thought I had lost Billy.
I couldn't see him anywhere in the room.  We found him eventually asleep inside his scratching post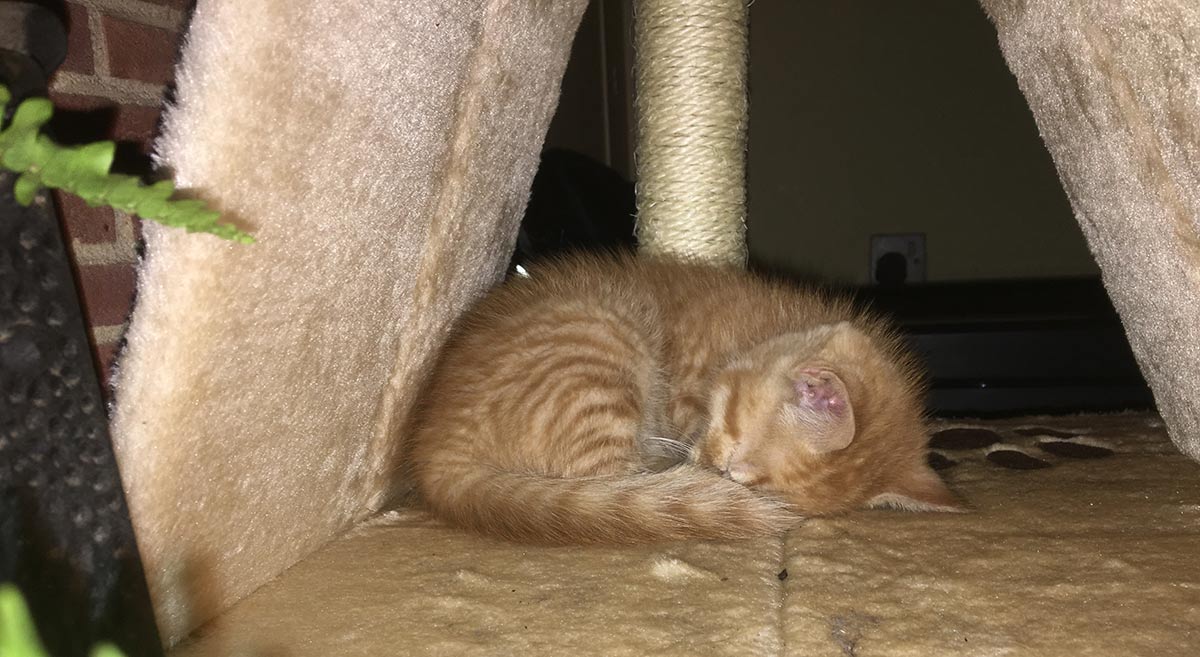 Despite the question mark over his hearing, I am giving a little whistle each time I feed Billy.  If he can hear, then I can build on this in the future.
He is still very fascinated by the cables in my office and though I have ordered some trunking to tuck them away, it hasn't arrived yet.
So for the second night running, I put Billy into his travel crate at bed time with a couple of tiny bits of kibble, crossed my fingers that he wouldn't be upset, or wake us up too early, and went upstairs to bed.
In the event, it wasn't Billy that woke me up in the early hours of the morning.  But that's a story for another day
Continue reading Billly's Blog…
Free Updates For Cat Lovers!
Our cat care articles, tips and fun facts, delivered to your inbox