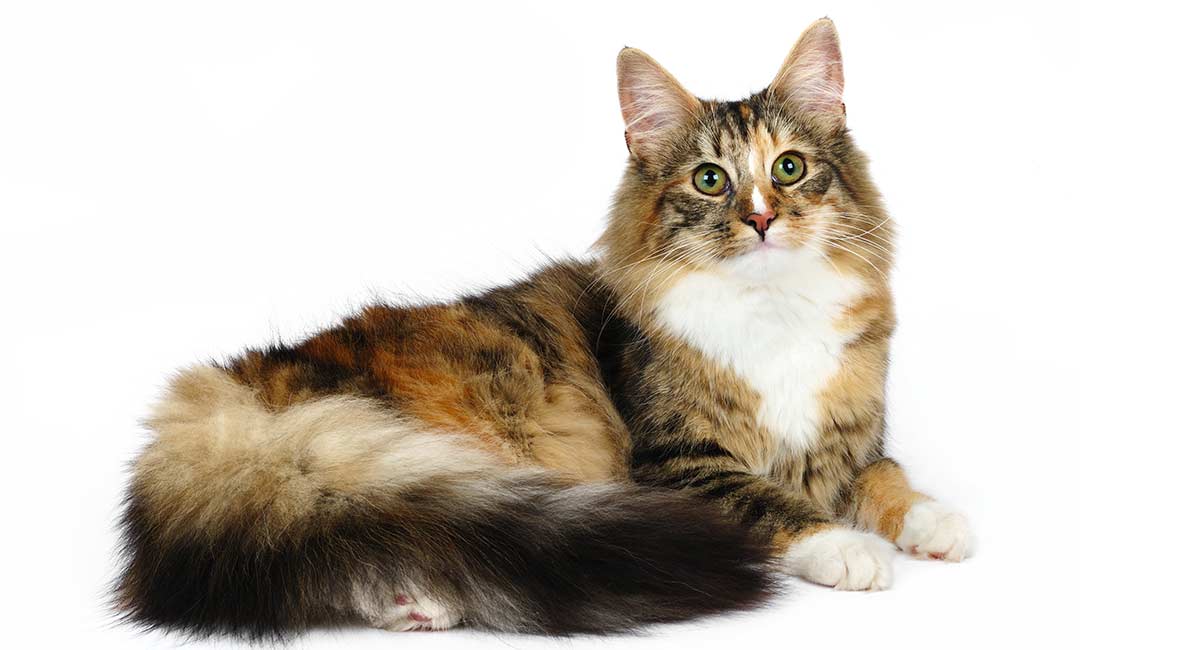 The stunning and sizable Norwegian Forest cat has many spectacular qualities, but Norwegian forest cat colors have got to be at the top of the list!
Along with the Maine Coon and Ragdoll breeds, the Norwegian Forest cat is one of the world's largest pedigreed cats.
With 16 pounds of muscle on their frames not unheard of, these sturdy cats are covered in semi-long hair and have two coats.
With a massive body showcasing its splendid fur in a range of glorious colors, from black to orange to white, this moggie is a veritable four-legged furry model!
Today we're going to focus on the rainbow of shades the Norwegian forest cat comes in, but there is much more to admire about this sweet-natured feline.
Want to know more about what owning such a magnificent moggie entails?
Click here to discover all you need to know about the Norwegian forest cat.
The price range of Norwegian forest cat colors
Norwegian Forest cats are found in just about every color (with and without white) and patterns except for color point.
Keep in mind that some Norwegian Forest cat colors are more popular than others and therefore cost more.
What aspects factor into the color/price equation?
The more closely a feline comes to the ideal show qualities of the Norwegian Forest cat breed standard, the higher the price it commands.
In a bit we'll explore in depth the full range of colors, but first a word about how these exquisite colors come about.
How do Norwegian forest cat colors come about?
Genetics is the final arbiter of Norwegian forest cat colors.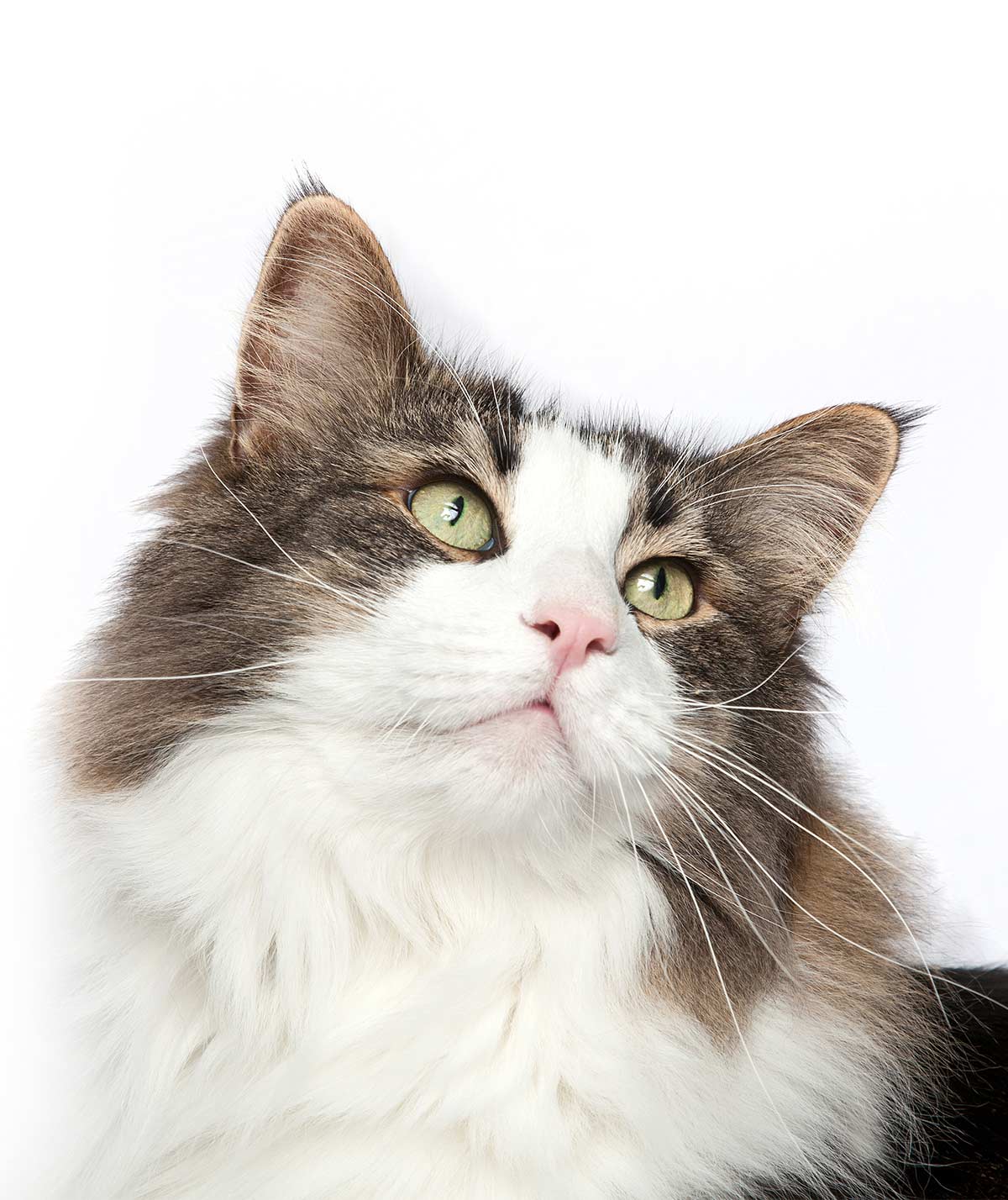 Every cat, whether pedigreed or not, has two genes involved in determining characteristics such as coat color.
One gene is inherited from the mother and one from the father.
If a gene carries the same form from each parent, say, black fur, the kitten will also have black fur.
If a cat receives two different forms of two genes, one or the other gene will be expressed.
Some genes are dominant and always expressed, while others are recessive or hidden.
In the case of color, the gene that is dominant is the one that is expressed.
White Norwegian forest cat
When it comes to Norwegian forest cat colors, it's a misnomer to speak of a white-colored cat!
Icy white moggie fur is the result of a lack of pigmentation within the hair.
A white Norwegian forest cat is quite a jaw-dropping, pristinely beautiful sight.
While white fur is implicated in impaired hearing or loss of hearing, most owners describe this affliction as a minor barrier to their major enjoyment of their beloved moggies.
Black Norwegian forest cat
No matter the tint or hue of Norwegian forest cat colors, each coat is thick and shiny, and a black smoke Norwegian forest cat brilliantly showcases these hirsute qualities.
A black smoke moggie is covered in inky black fur with white roots.
This gives the impression of a smoky or mottled coloration that has a subtle yet dramatic look that is a bit more complex than a solid black coloration.
Orange Norwegian forest cat
Orange or ginger colored cats are exceptionally popular, but the term "red" is the professional term for such a moggie.
Red Norwegian forest cat shades range from a light peach to a darker tangerine, but orange is often seen in a tabby pattern, so you're less likely to find a solid ginger cat.
Did you know that a ginger Norwegian forest cat is more likely to be male than female?
This is because the gene for red color is linked to gender!
Cream Norwegian forest cat
Speaking of the red coloration, it also comes in a delicate shade known as "cream."
The cream hue is actually a dilute version of the red shade.
When the cream color appears in combination with a blue tint, the effect is likely to appear as a dilute calico or tortoiseshell pattern.
Blue Norwegian forest cat
Cat fur labeled "blue" is actually a dilute or faded version of black.
The effect of such coloration is a lovely, subtle shade of dark bluish-gray.
Blue smoke Norwegian forest cat
If you see what appears to be a grey Norwegian forest cat you're likely setting eyes on a kitty that is covered in solid blue fur with white roots.
The resultant look is a sort of mottled grey, which is a pleasingly soft shade of ashy grey.
Calico Norwegian forest cat
The darling calico Norwegian forest cat is colored with mainly white fur and two other markings, usually orange and black.
These moggies are almost always female (again due to a connection between gender and color).
A so-called dilute calico has the appearance of being a "faded calico," with grey, silvery, and golden hues- as if they had sat in the sun too long!
Tuxedo Norwegian forest cat
Tuxedo cats are the ultimate party animal—perfectly dressed for any celebration! A tuxedo cat is a two-colored moggie who looks as if he is wearing an adorable little tuxedo! In reality this cute kitty has a black coat with a white front and white paws.
Norwegian forest cat colors
We hope that you enjoyed our look at the brilliant range of Norwegian forest cat colors.
Do you have a Norwegian forest cat at home?
Are her markings solid, vivid, and distinct or do you have more of a more muted, but still lovely colored moggie?
We'd love to hear about your experiences with this sweet and friendly- not to mention colorful- cat in our comments section!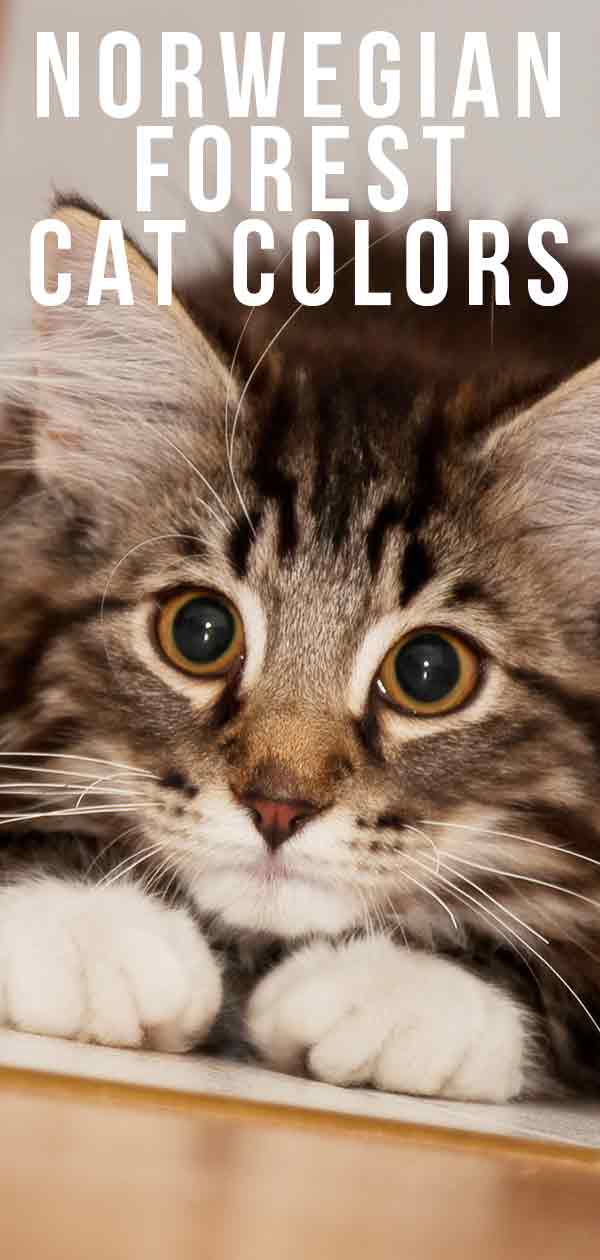 References and Further Reading