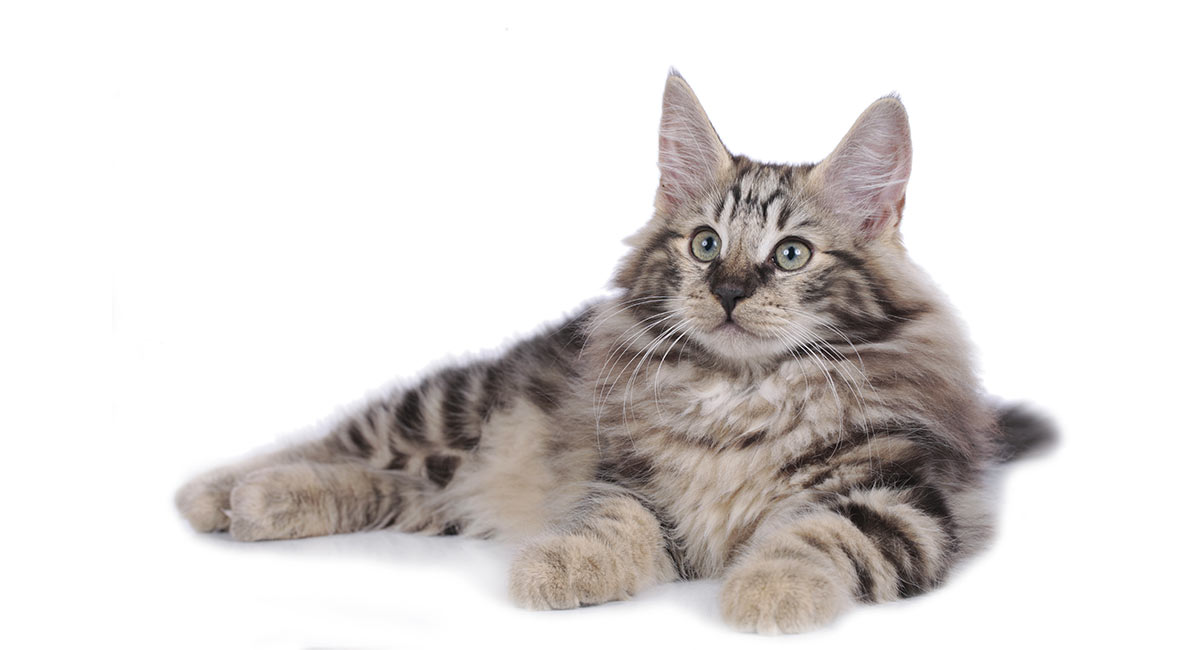 So you want to learn about the Norwegian Forest Cat lifespan and health?
These cats are a charismatic, fun felines, and if you have one you'll want to learn all you can about how to keep them healthy and alive as long as possible.
You've come to the right spot.
We'll look at Norwegian Forest Cat health, and how long they live.
How Long Do Norwegian Forest Cats Live?
Fortunately for those of us who love Norwegian Forest Cats, this is a healthy breed, with fewer than average prevalent inherited illnesses.
The general Norwegian Forest Cat lifespan will average 14-15 years.
Healthy cats may survive for up to 20 years, when well cared for.
Of course, Norwegian forest cat lifespan depends on a number of factors, including diet, environment, and quality of life.
Genetics also plays a role.
Norwegian Forest Cat Health
A study of causes of death in cats from 2010 shows that the three most frequent causes for Norwegian Forest Cat morbidity are trauma (from accidents, falls, and ingestion), gastro-intestinal tract problems, and urinary tract issues.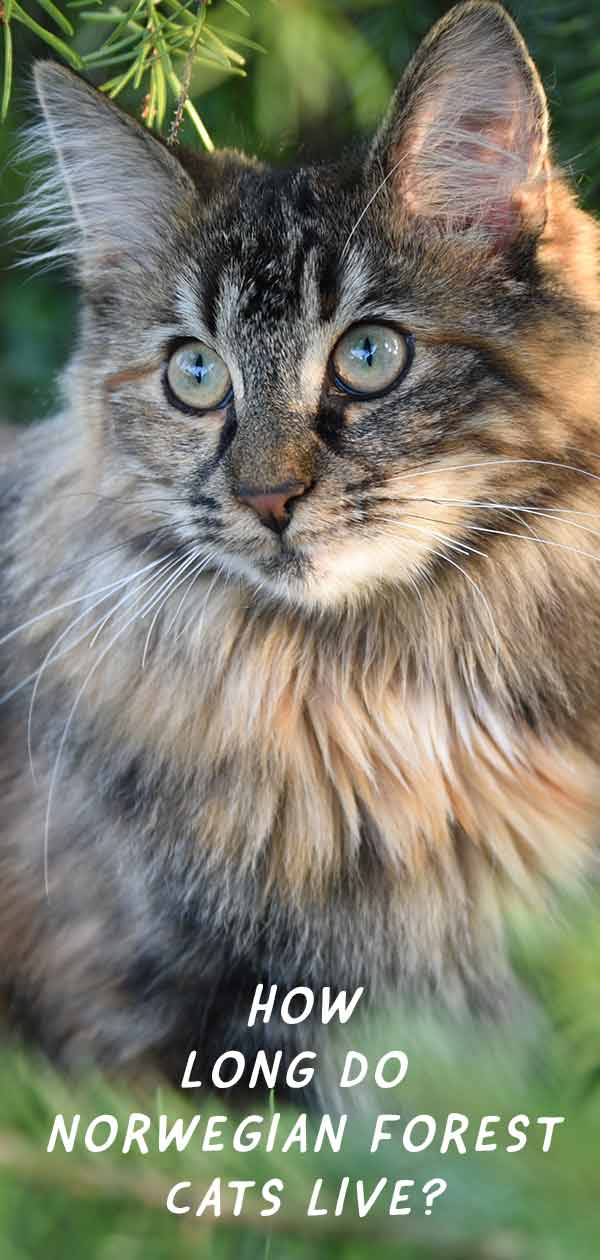 Another frequent cause of death was neoplasia. Neoplasia is the abnormal growth of tissue cells, and includes cancerous tumors.
This is followed by skin-related problems and eye issues.
Norwegian Forest Cats do inherit some of these problems, so you'll have to keep an eye out for symptoms.
Among the most common genetic diseases that Norwegian Forest Cats may develop during their lives are glycogen storage disease IV, hip dysplasia, and hypertropic cardiomyopathy.
Glycogen Storage Disease Type IV
This recessive genetic issue causes a deficiency of an enzyme that metabolizes glycogen.
This deficiency causes an abnormal level of glycogen, which stores carbohydrates, in cell structures of the nerves and muscles.
GSD IV causes progressive organ dysfunctions that range from benign to lethal.
Most affected kittens die early in their lives, probably due to hypoglycemia.
Others experience muscle tremors and weakness starting at five months of age, progressing to muscle atrophy and contracting of the tendons.
Fortunately, breeding cats can be tested to find out if they carry the faulty gene which causes the condition.
By never mating two carrier cats together, their kittens are protected (although some might also go on to be carriers).
Ask your breeder if they screen for GSD IV, and the carrier status of their litter's parents.
Diligent screening by responsible breeders is happily making this condition increasingly rare among Norwegian Forest Cats.
Hypertropic Cardiomyopathy
This is the most common form of heart disease found in cats.
In Norwegian Forest Cats, as well as a few other breeds, there's a genetic predisposition to cardiomyopathy.
Eventually, hypertropic cardiomyopathy leads to congestive heart failure in cats.
Scientists are still working to classify different types of symptoms and presentations of cardiomyopathy.
Norwegian Forest Cats may additionally see heart valve issues and abnormal development of major blood vessels that travel to the heart.
Whilst there is certainly a hereditary reason for the prevalence of hypertrophic cardiomyopathy among Norwegian Forest Cats, we don't know yet exactly how many genes are involved, and the importance of other factors.
That means there's no simple test for it.
But a good breeder will take their cats for regular echocardiograms to see if they have the condition.
They'll even continue to do so after a cat's breeding days are over, so that they can make smart choices about whether to breed from their offspring!
Hip Dysplasia
Hip dysplasia is the abnormal development of the hip joint and socket.
Dysplasia isn't caused by a single gene, but rather an interplay of several inheritance-based factors.
Until relatively recently, scientists had not documented hip dysplasia in cats, in part because cats often do not show clinical signs of hip dysplasia.
In fact, the condition is usually found when x-rays are being taken for other symptoms.
This lack of knowledge may have resulted in hip dysplasia being retained in purebred cat breeds, and in cats this condition is known to be breed dependent.
Cats with hip dysplasia are in danger of lameness, pain, and certain types of arthritis.
The best way to find out about hip dysplasia in a kitten's family tree is by asking their breeder.
Other Inherited Conditions
These conditions are also more frequent among Norwegian Forest Cats than in the cat population as a whole.
Diabetes
Norwegian Forest Cats are considered at higher risk for diabetes mellitus, which is like type 2 diabetes in humans.
In many cases, your vet will be able to help you manage diabetes, through diet, medication, or a combination of both.
Polycystic Kidney Disease
Some breeding lines of Norwegian Forest Cats may also be prone to polycystic kidney disease, a progressive condition that can eventually lead to renal failure.
Polycystic Kidney Disease is inherited via a known faulty gene.
There is a DNA test to identify cats carrying the faulty gene – if a breeder knows about incidences of Polycystic Kidney Disease in their cat's family tree, they should have them tested before they continue the family line.
Skin Disorders
Norwegian forest cats may have a genetic predisposition to a group of skin disorders that include non-pruritic eosinophilic granuloma.
You'll know your cat has these if you see lesions on her hind limbs.
The lesions may be related to allergies and have environmental triggers.
Eye Disorders
Norwegian Forest Cats may suffer from retinal degeneration, a condition that begins with the loss of night vision and progresses over time.
They may also get retinal dysplasia, or spots on the retina. This doesn't usually affect quality of life.
Norwegian Forest Cat Lifespan – A Summary
That was a lot of information to take in!
It's important to remember that no cat breed is completely free from inherited disorders, and in fact the Norwegian Forest cat has fewer than average inheritable health concerns in their breeding lines.
Because of their general good health, Norwegian forest cat lifespan can often be 14-15 years. Quite long for a cat!
The care you give your cat – a healthy diet, lots of opportunity for exercise, and regular veterinary check ups – will obviously have a large influence on their lifespan.
Some of the illnesses they face occur at random across the whole cat population.
Others are hereditary, and of those there are some that breeders can screen for to protect their kittens, and others that we don't understand quite well enough to yet.
But now that you know what to look for, you can see if your cat is showing any signs of ill health, and seek help for it right away!
How Old Is Your Norwegian Forest Cat?
Do you have long-lived Norwegian Forest Cat at home?
Have they had any of the health concerns listed here?
We'd love to hear about them in the comments section!
Resources and Further Reading
Barthez, P. Y. et al (2003). Prevalence of polycystic kidney disease in Persian and Persian related cats in France. Journal of Feline Medicine and Surgery, 5.
Burrows, A. (2014). This itchy cat: The diagnostic and therapeutic approach. The 5th Annual Vet Education International Online Veterinary Conference.
Egenvall, A. et al (2010). Morbidity of insured Swedish cats during 1999-2006 by age, breed, sex, and diagnosis. Journal of Feline Medicine & Surgery, 12(12).
Ferasin, L. (2009). Feline myocardial disease i: Classification, pathophysiology and clinical presentation. Journal of Feline Medicine and Surgery, 11.
Fyfe, J. C. et al (2007). A complex rearrangement in GBE1 causes both perinatal hypoglecemic collapse and late-juvenile-onset neuromuscular degeneration in glycogen storage disease type IV of Norwegian forest cats. Molecular Genetics and Metabolism, 90(4).
Keller, G. G. et al (1995). Hip dysplasia: A feline population study. Veterinary Radiology & Ultrasound, 40(4).
Leistra, W. H. G. et al (2005). Non-pruritic granuloma in Norwegian forest cats. Veterinary Record, 156, 575-577.
Little, S. Feline hip dysplasia. Winn Feline Foundation, sourced from the Norwegian Forest Cat Fanciers Association.
Marz, I. et al (2015). Familial cardiomypoathy in Norwegian Forest Cats. Journal of Feline Medicine and Surgery, 17(8).
Menotti-Raymond, M. et al (2010). Widespread retinal degenerative disease mutation (rdAc) discovered among a large number of popular cat breeds. The Veterinary Journal, 186(1).
Ohlund, M. et al (2015). Incidence of diabetes mellitus in insured Swedish cats in relation to age, breed, and sex. Journal of Veterinary Internal Medicine, 29(5).
Saevik, B. k. et al (2011). Causes of urinary tract disease in Norwegian cats. Journal of Feline Medicine and Surgery, 13.