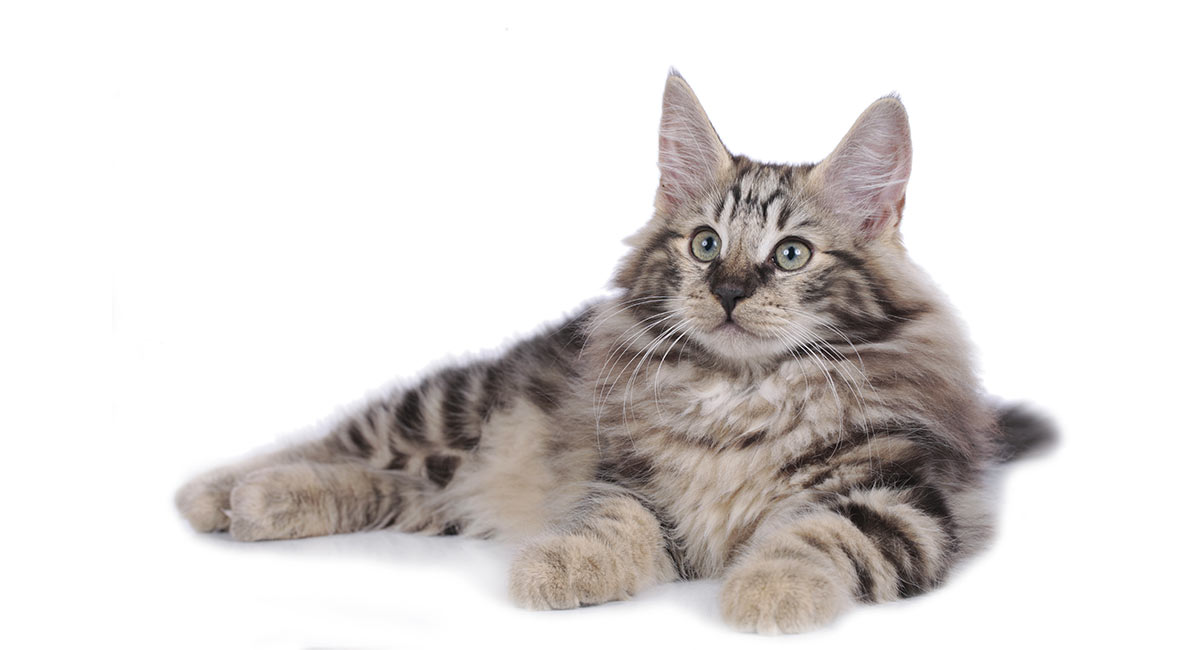 Know fondly as Wegies by their many fans, Norwegian Forest Cats are sturdy, sweet-tempered felines with a stunning weatherproof coat.
Like other cats, Norwegian Forest Cat lifespan is partly dependent on their living conditions and the way that they are raised. And partly dependent on their genes. With the right care and a bit of luck, many Norwegian Cats can be expected to live from 12-15 years. Some may live a little longer, and some a little less.
Wegies have a good body shape and structure, but their larger size may make them more vulnerable to joint problems such as hip dysplasia. Keeping their weight down can help reduce the risk of them being affected.
There are some other conditions that Forest Cats are prone to. We'll look at these below, and give you some great tips for ensuring that your Forest Cat has the longest and healthiest life possible.
What Do Norwegian Forest Cats Die From?
A study from 2010 showed that the three most common causes of death for Wegies are injury (from accidents, falls, or eating something harmful), gastro-intestinal tract problems, and urinary tract issues.
Another frequent cause of death was listed as neoplasia. Which is the abnormal growth of tissue cells, in otherwords, cancer. We know that there are some genetic elements to cancer, but maintaining a healthy body weight may help protect your cat against this disease too.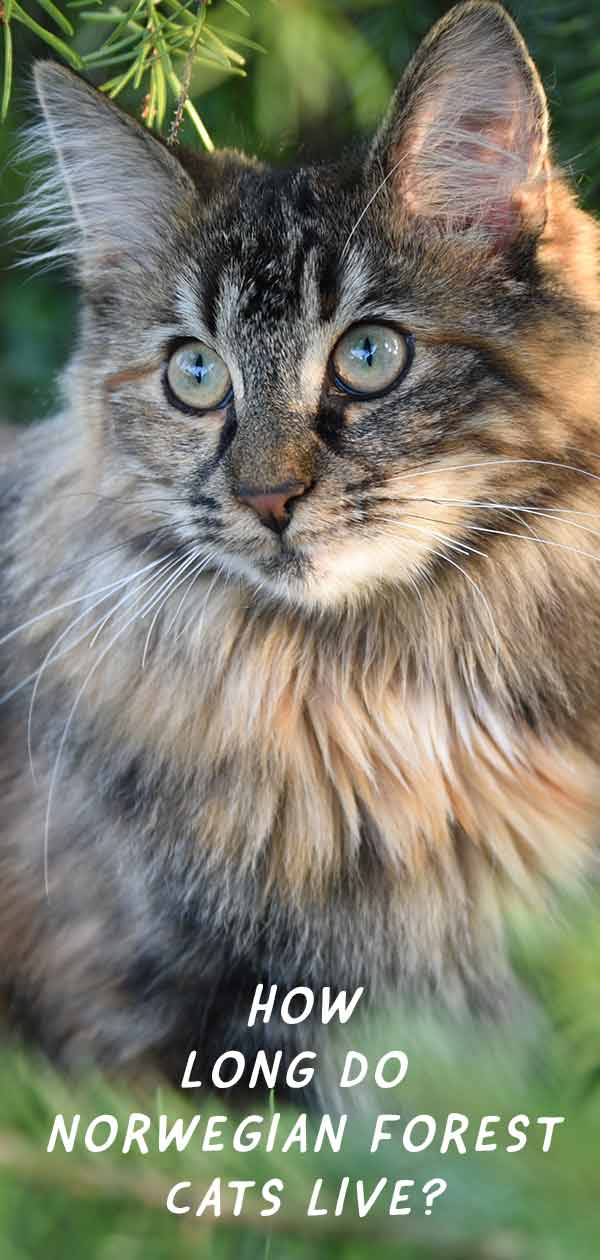 Among the genetic diseases that Norwegian Forest Cats may develop during their lives are glycogen storage disease IV, hip dysplasia, and a heart condition called hypertropic cardiomyopathy. There are screening programs for some of these conditions, and in some cases, there are steps you can take to help avoid them. We'll have a closer look at those below
Glycogen Storage Disease Type IV
This is a rare disease and not one you are very likely to come across, but it is a serious condition and worth being aware of because it can be prevented with screening.
Glycogen is used by the body to store carbohydrates (mainly found in starchy and sugary foods) Cats (and other animals) have an enzyme that enables glycogen to release those carbs for use by the body.
If that enzyme is absent or not working, glycogen builds up to abnormal levels, and insufficient carbs are released for the cat to remain healthy.
This is what happens in Wegies that inherit this disease. Many will die before birth or as young kittens, but sometimes kittens don't get sick until they are 5-7 months old.
The first symptoms of glycogen storage disease are likely to be muscle tremors and weakness. In some cats the disease can be managed with frequent high carb snacks. But it may progress and is sadly, often fatal.
Fortunately, breeding cats can be tested to find out if they carry the faulty gene which causes the condition.
Ask your breeder if they screen for GSD IV, and the carrier status of their litter's parents. If only one parent is a carrier then your kitten should not get sick as the disease is recessive: it requires two genes to develop, one from each parent. But if you buy a kitten that is a carrier, it should never be bred to another carrier.
Diligent screening by responsible breeders is happily making this condition increasingly rare among Norwegian Forest Cats.
Hypertropic Cardiomyopathy
This is the most common form of heart disease found in cats. And in Norwegian Forest Cats, there's a genetic predisposition to cardiomyopathy. That does not mean that your cat will get the disease, just that the risk is higher than in some other breeds of cat.
Eventually, hypertropic cardiomyopathy leads to heart failure. Wegies may also be more likely to have heart valve issues and abnormal development of major blood vessels that travel to the heart.
Whilst there is certainly a hereditary reason for the prevalence of hypertrophic cardiomyopathy among Norwegian Forest Cats, we don't know yet exactly how many genes are involved, and the importance of other factors.
That means that sadly, we don't yet have a simple test for it. What we can do, is detect the problem in cat using echocardiograms. And a good breeder will take their cats for regular echocardiograms to see if they have the condition.
They'll even continue to do so after a cat's breeding days are over, so that they can make smart choices about whether to breed from their offspring!
Hip Dysplasia
Hip dysplasia is the abnormal development of the hip joint and socket.
Dysplasia isn't caused by a single gene, but rather an interplay of several inheritance-based factors.
Until relatively recently, scientists had not documented hip dysplasia in cats, in part because cats often do not show clinical signs. In fact, the condition is usually found when x-rays are being taken for other symptoms.
This lack of knowledge may have resulted in hip dysplasia being retained in purebred cat breeds, and in cats this condition is known to be breed dependent.
Cats with hip dysplasia are in danger of lameness, pain, and certain types of arthritis. The best way to find out about hip dysplasia in a kitten's family tree is by asking their breeder.
Other Inherited Conditions
These conditions are also more frequent among Norwegian Forest Cats than in the cat population as a whole.
Diabetes
Norwegian Forest Cats are considered at higher risk for diabetes mellitus, which is like type 2 diabetes in humans.
In many cases, your vet will be able to help you manage diabetes, through diet, medication, or a combination of both.
Polycystic Kidney Disease
Some breeding lines of Norwegian Forest Cats may also be prone to polycystic kidney disease, a progressive condition that can eventually lead to renal failure.
Polycystic Kidney Disease is inherited via a known faulty gene.
There is a DNA test to identify cats carrying the faulty gene – if a breeder knows about incidences of Polycystic Kidney Disease in their cat's family tree, they should have them tested before they continue the family line.
Skin Disorders
Norwegian forest cats may have a genetic predisposition to a group of skin disorders that include non-pruritic eosinophilic granuloma.
You'll know your cat has these if you see lesions on her hind limbs.
The lesions may be related to allergies and have environmental triggers.
Eye Disorders
Norwegian Forest Cats may suffer from retinal degeneration, a condition that begins with the loss of night vision and progresses over time.
They may also get retinal dysplasia, or spots on the retina. This doesn't usually affect quality of life.
Norwegian Forest Cat Health Tips
Once you have brought your kitten home, one of the very best things you can do for your cat's health is to keep them slim. Obesity in cats is a growing problem worldwide and a slim cat has a lower risk of joint problems, and various metabolic conditions too.
It's important to remember that no cat breed is completely free from inherited disorders, and in fact the Norwegian Forest cat has fewer than average heritable health concerns in their breeding lines.
The care you give your cat – a healthy diet, lots of opportunity for exercise, and regular veterinary check-ups – will have a considerable influence on their lifespan.
Some of the illnesses Wegies face occur across the whole cat population. If your cat is showing any signs of ill health, it's best to seek veterinary help for it right away!
Veterinary consultations and treatments can be expensive so we always recommend that you take out pet health insurance. That way you have peace of mind and can act responsibly and quickly if your pet is ever taken ill.
How Old Is Your Norwegian Forest Cat?
Do you have long-lived Norwegian Forest Cat at home? We'd love to hear about them in the comments section!