Are you comparing the Norwegian Forest cat vs Siberian cat but you're not sure which one to choose?
Although these cats share many traits, there are some differences between the two breeds that you should know about.
Temperament, size, and health are all important factors when deciding between which of the two breeds will suit your lifestyle best.
But if choosing between the Norwegian Forest cat and the Siberian cat seems a bit daunting, don't worry! We are here to help make the job a little easier for you.
Let's get started!
The Norwegian Forest Cat vs Siberian Cat – Which to Choose!
The Norwegian Forest cat and the Siberian cat have so many similarities that some people suspect they are in fact distantly related.
Both the Siberian cat and the Norwegian Forest cat hail from colder climates with lots of snow so they each have very long, dense coats.
They are also considered to be natural breeds, meaning they were not bred by man.
And while the Norwegian Forest cat is said to be one of the top five most popular cats in France, the Siberian cat holds ranks as Russia's national cat!
So, considering their obvious popularity and all their similarities, how are you ever going to choose between them?
In spite of how it may appear on the surface, there are several differences between these two breeds.
Keep reading to learn about the differences between the Norwegian Forest cat vs Siberian cat.
Norwegian Forest Cat vs Siberian Cat Size Comparison
Perhaps one of the most notable differences between the Norwegian Forest cat and the Siberian cat is size.
Both breeds are large breeds, but if you put these two cats side-by-side, you will usually find that the Siberian cat is noticeably larger.
The Norwegian Forest cat, for example, can weigh anywhere from 9 to 16 pounds, with males being a bit larger and females being a bit smaller on the scale.
However, the Siberian cat can weigh anywhere from 15 to 25 pounds!
Still, both breeds grow up rather slowly.
In fact, both Norwegian Forest cats and the Siberian cats can be nearly five-years-old before either one reaches their full size and weight!
What are the Differences between Siberian vs Norwegian Forest cat Temperament?
To answer that, let's go over the basic personality traits of the two breeds, beginning with the Siberian.
The Siberian is still considered a rare breed of cat, especially in the United States.
Despite being the national cat of Russia, this large cat wasn't introduced into America until the 1990's. Still, don't let that deter you from this friendly, affectionate feline.
He is growing in popularity all around the world thanks not only to his massive size but also his playful, infectious disposition.
He does excellently in homes full of people and children, and even makes fast friends with dogs and cats!
How Does Siberian Cat Personality Compare?
While for the most part mellow, the Siberian has a playful streak and will need to be played with daily to stay happy.
But playing with him won't be boring, as he is prone to flipping and cartwheeling as he chases his toys around the home.
The Norwegian Forest cat is also said to be chock-full of pizazz!
While he can be a bit more laid back than the Siberian, he enjoys being around his humans and will follow you from room to room, snoozing near your feet or on the back of your chair.
This is an intelligent cat, known for learning tricks and even partaking in intellectual kitty games such as puzzles!
He does very well with family members of all ages and makes a wonderful cat for gentle children.
One thing to keep in mind with the Norwegian Forest cat is he has some very thick, very long, and very sharp claws that he uses to scale trees backward and forwards.
He's an excellent climber and enjoys being outside, and this privilege shouldn't be taken away from him.
Siberian vs Norwegian Forest Cat Care
Since both the Siberian and the Norwegian Forest cat have similar coats on the surface, it is easy to overlook the variances they have.
If you suffer from allergies, the Siberian might be a good pick for you.
While he is not truly hypoallergenic, it does look like he produces less Fel-D1 than most other cats.
Fel-D1 is a compound in the cat's saliva that triggers our allergies when it dries on dander and shed fur.
Luckily, both the Siberian cat and the Norwegian Forest cat require only moderate grooming, especially when equated to other long-haired cats.
A grooming session a couple times a week should keep both the Siberian and the Norwegian Forest cat looking their best.
Norwegian Forest cat vs Siberian Cat Health
Like all cat breeds, the Norwegian Forest cat and the Siberian are prone to health issues.
It's important to be aware of what each breed is predisposed to in order to prepare or help avoid certain health problems.
Even though the Siberian cat is primarily a healthy breed due to the fact there has been very little inbreeding throughout his history, he still faces the most common illnesses of most cats, including heart disease, kidney disease, and hereditary cancers.
The Norwegian Forest cat is also rather healthy, although he is prone to more health issues than his Siberian counterpart.
Illnesses you should look out for in the Norwegian Forest cat include hypertrophic cardiomyopathy, hip dysplasia, and glycogen storage disease IV.
Is the Norwegian Forest Cat or the Siberian Cat A Better Pet?
When deciding between the Norwegian Forest cat vs Siberian cat, the main differences are going to be in size, temperament, and health.
While both cats do well with children and are friendly to people, the Siberian does better with other household pets and has more of a playful streak.
However, the Siberian can grow to be much larger than the Norwegian Forest cat. If size is an issue, that is something to consider.
And while both cats are generally considered to be healthy breeds, the Norwegian Forest cat is prone to more hereditary illnesses than his Siberian cousins.
Deciding between these two gorgeous breeds may still be difficult, but we hope we've helped you navigate their differences.
Whichever cat best suits your lifestyle, we're sure you'll find a friend for life!
Have You Already Chosen Between a Norwegian Forest Cat and Siberian Cat?
Which did you take home, and why?
Tell us about your cat-finding journey in the comments box!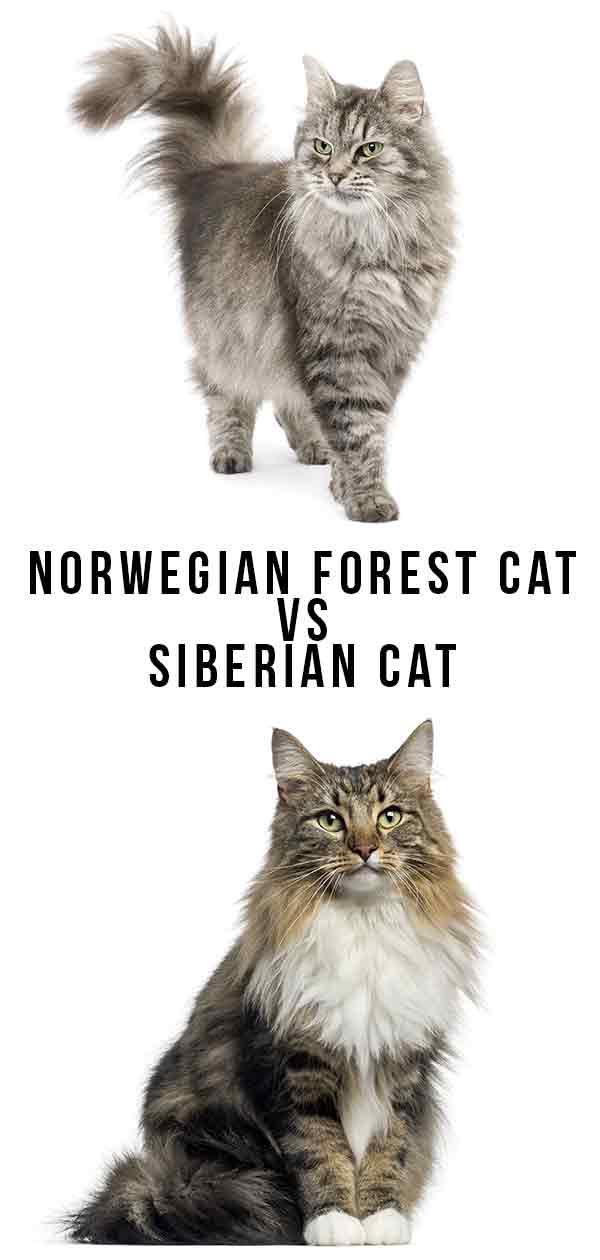 References
John C. Fyfe, et al, A Complex Rearrangement in GBE1 Causes Both Perinatal Hypoglycemic Collapse and Late-Juvenile-Onset Neuromuscular Degeneration in Glycogen Storage Disease Type IV of Norwegian Forest cats, Molecular Genetics and Metabolism, 2007.
C. Drogemuller, S. Rufenacht, B. Wichert, T. Leeb, Mutations Within the FGF5 Gene Are Associated with Hair Length in Cats, Wiley Online Library, Animal Genetics, 2007.
Leistra WH, Van Oost BA, Willemse T, Non-Pruritic Granuloma in Norwegian Forest cats, Europe PMC, 2005.
Imke Marz, Lois J Wilkie, Norelene Harrington, Familial Cardiomyopathy in Norwegian Forest cats, Journal of Feline Medicine and Surgery, 2014.
S. Mucha, A. Wolc, A. Gradowska, T. Szwaczkowski, Inbreeding Rate and Genetic Structure of cat Populations in Poland, Journal of Applied Genetics, 2010.
Bell & Cavanagh,  Veterinary Medical Guide to Dog and Cat Breeds, Norwegian Forest cat on Page 552 and Siberian Forest cat on Page 578.
Sartore et al, Polymorphism Analysis of Ch1 and Ch2 Genes in the Siberian Cat, Veterinary Sciences, 2017.