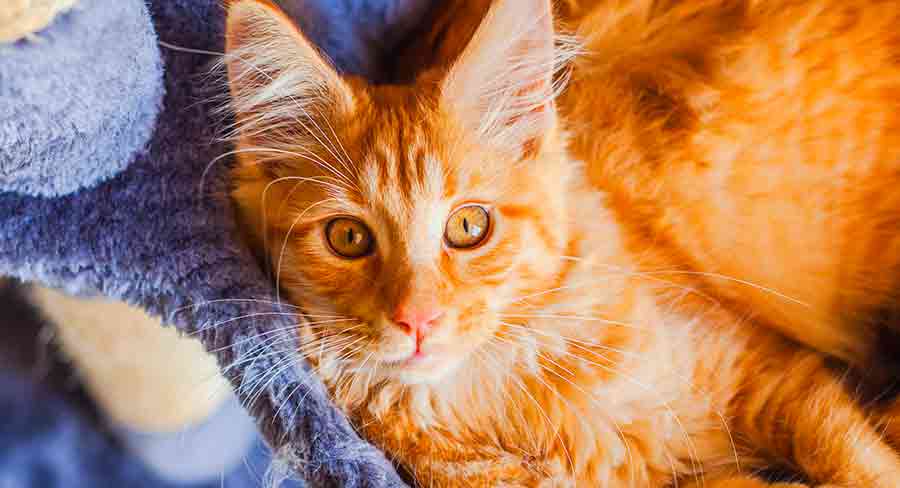 An orange Maine Coon cat is striking to see. Orange Maine Coons are more often described as red. But, there are many different ways this coloring can express. You might find a solid orange or red cat, one with an orange tabby pattern, a tortoiseshell one, and even a silver red version! The exact color and pattern of your Maine Coon won't impact their suitability as a pet, so it's important to make sure the breed as a whole suits your lifestyle before investing in a kitten. Read on to learn everything you need to know!
About the Orange Maine Coon Cat
The Maine Coon breed is an ancient and popular one. This cat is the official breed of Maine the state! Orange is just one of the many shades that Maine Coon cats can come in. But, the color orange is more often referred to as red. Here are some of the most popular and common varieties of orange Maine Coon cat patterns:
Solid red (one color all over)
Tortoiseshell (red and black, or red and blue)
Red tabby (mackerel or classic pattern)
Red silver (A lighter, diluted orange)
All of the above variations can also come with white markings. An orange and white Maine Coon cat is known as parti-color.
Orange Maine Coon Appearance
So, other than their fur color and pattern, what can you expect an orange Maine Coon cat to look like? Maine Coons are large cats. As adults, they can be anywhere from 9 – 18 lbs! And, they might look even larger than they are thanks to their wonderful fluffy fur. Maine Coons have long fur that needs regular maintenance. This fur is shaggy, water resistant and glossy. It can take Maine Coons 2 to 3 years to reach their large adult size.
A Maine Coon cat will have large, oval eyes that come in a range of gold and green shades. Parti color orange and white Maine Coon cats may even have blue or odd-tone eyes. These cats will have broad, modified wedge heads and large ears.
Orange Maine Coon Cat Temperament
An orange Maine Coon cat will be similar to any other individual within the breed. Of course, all Maine Coons will have distinct personalities, but there are some common traits seen across the board. Maine Coons are social cats, but not clingy. They will enjoy spending time with you, and are often very inquisitive about whatever you're doing! But, they won't constantly be trying to get affection from you. Many Maine Coons are satisfied just spending time in your company, or watching you from across the room.
Maine Coons can get on well with other pets in the household, and with young children. But, any young kids must be taught how to be gentle with these cats. Although they might look like a wonderful, fluffy teddy, kids will still need to be gentle and patient with them. Some owner-report studies suggest female cats with orange fur can be more aggressive to their owners, and others suggest orange cats are more friendly overall! But, like dogs, you can socialize your kittens from a young age to encourage their most friendly, confident personality.
This cat breed is known for its intelligence. Some families and owners even manage to teach their Maine Coons tricks! These cats are energetic, playful, and will love games like fetch.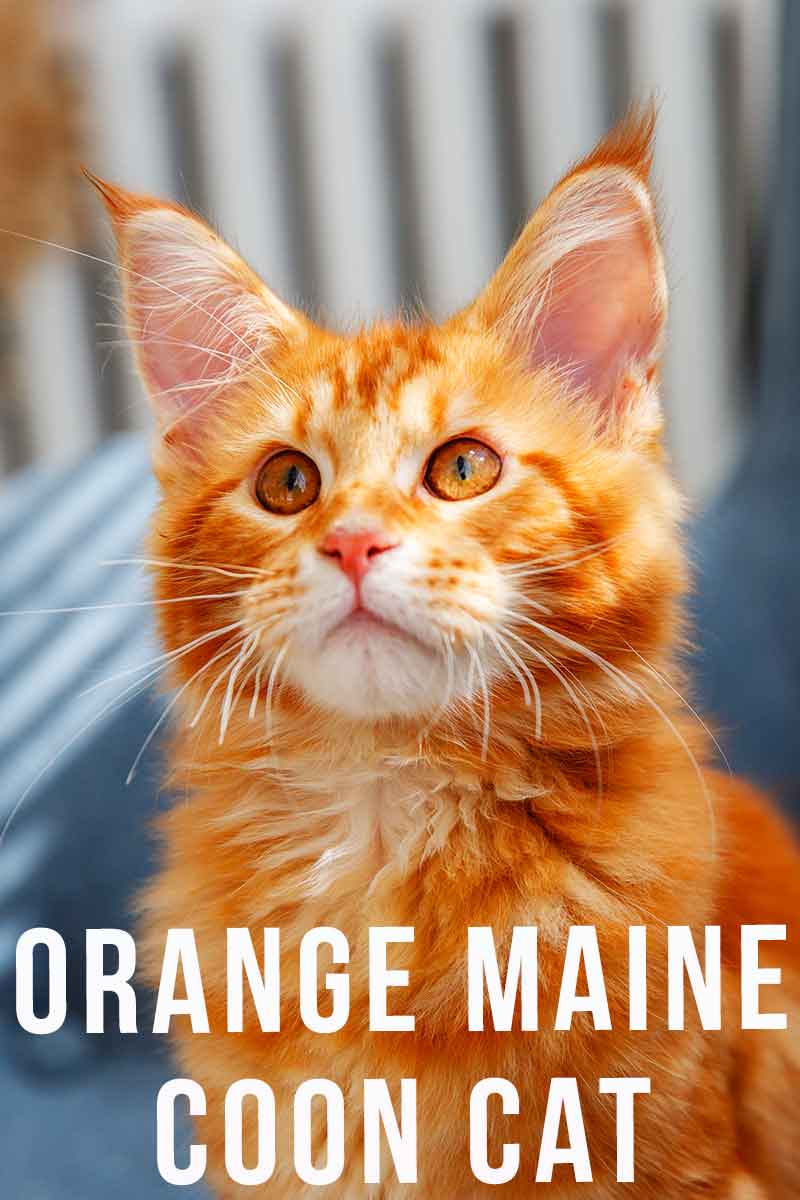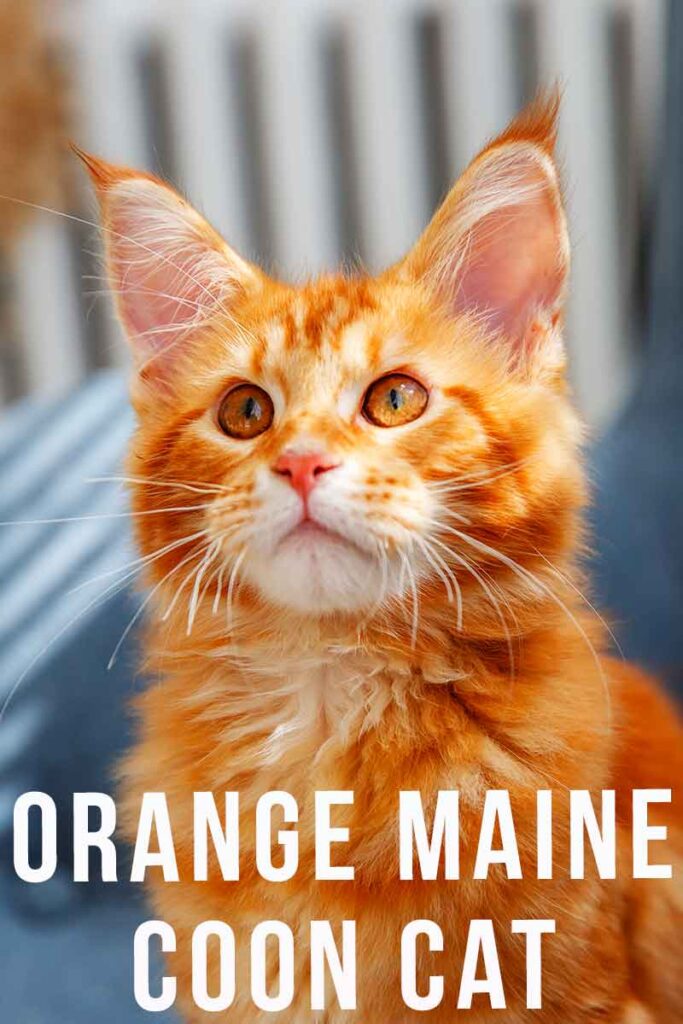 Are Orange Maine Coon Cats Rare?
Since red is an official and popular color variant for Maine Coon cats, it's not that hard to find breeders that specialize in this shade. But, these breeders will need a good understanding of cat color genetics.
All cat fur colors come from two pigments: eumelanin (black), and pheomelanin (red). So, pheomelanin is the pigment that causes red and orange fur. This pigment is controlled by the O gene, and cats must inherit the dominant form of this gene to override eumelanin production.
Other genes can act on this pigment to create different shades and patterns. For instance, dilute genes can turn orange cats to cream, cinnamon cats to fawn. Because of the way the O gene interacts with the T (tabby) gene, orange cats are always tabby cats. But, some breeders selectively breed cats to reduce the contrast between stripes, resulting in kittens that look solid. So, orange Maine Coon cats aren't rare, but one with the exact pattern you're envisioning might be uncommon.
Are All Orange Maine Coon Cats Male?
The link between orange fur and sex actually goes back to the genetics we spoke about a moment ago. The O gene, which can override eumelanin production, is found on the X sex chromosome, of which female cats have two copies, and males only have one. So, for a female cat to be orange (and not just have orange patches like a tortoiseshell Maine Coon), they need two copies of the O gene (OO).
Because of this, female ginger cats are much less common! But, it is possible to find one. You might just have to search around quite a lot. You can read more about the link between orange fur and a cat's sex in this article.
Orange Maine Coon Cat Health
Orange or red Maine Coon cats will be at risk of the same hereditary health issues as any other shade of the breed. Here are some common health problems that these big cats can suffer from:
Hip dysplasia
Hypertrophic Cardiomyopathy
Polycystic Kidney Disease
Spinal muscular atrophy
Renal failure
Gingivitis and dental issues
And more
Attending regular veterinary checks and giving your orange Maine Coon cat the best daily care possible will help to reduce health problems. But, owners should learn about common issues so they can recognise the early signs. Choosing a reputable breeder that health tests cats before breeding is also a great way to minimise these issues in your Maine Coon kitten.
Finding Orange Maine Coon Kittens
Some breeders will specialize in orange Maine Coons kittens, and various patterns containing orange fur. Or, you might find a breeder that has red kittens in their litter without planning it! But, no matter what their situation, it's important to choose a reputable breeder that health tests cats before breeding. The best breeders won't breed Maine Coons with any of the above issues, to lower the risk of kittens inheriting them.
Maine Coons are popular cats, so the best breeders may have quite long waiting lists. Most Maine Coon kittens will cost upwards of $2000, often with a non-refundable deposit to secure the kitten. So, make sure you're happy with the breeder you're choosing before paying this.
Do You Have An Orange Maine Coon?
What do you think about this interesting fur color on Maine Coons? Have you seen a red Maine Coon in person, or are you still hoping to bring one into your family soon? We would love to hear about your experiences with these kittens in the comments!
Readers Also Liked
How Much Are Maine Coon Cats – What Should You Expect?
References and Resources
The International Cat Association (TICA)
Cannas, S. (et al), 'Evaluation of Maine Coon Cat Behavior During Three Different Management Situations', Journal of Veterinary Behavior (2020)
Brown, W. & Stephan, V. 'The Influence of Degree of Socialization and Age on Length of Stay of Shelter Cats', Journal of Applied Animal Welfare Science (2021)
Stelow, E. (et al), 'The Relationship Between Coat Color and Aggressive Behaviors in the Domestic Cat', Journal of Applied Animal Welfare Science (2016)
Kaelin, C. & Barsh, G. 'Genetics of Pigmentation in Dogs and Cats', Annual Reviews of Animal Biosciences (2013)
Delgado, M. (et al), 'Human Perception of Coat Color as an Indicator of Domestic Cat Personality', Anthrozoos (2012)
MacDonald, K. (et al), 'Effect of Spironolactone on Diastolic Function and Left Ventricular Mass in Maine Coon Cats with Familial Hypertrophic Cardiomyopathy', Journal of Veterinary Internal Medicine (2008)
Loder, R. & Todhunter, R. 'Demographics of Hip Dysplasia in the Maine Coon Cat', Journal of Feline Medicine and Surgery (2017)
Cervell, C. 'Breeding and Health Status of the Maine Coon Cat', Hungarian Veterinary Archive (2019)