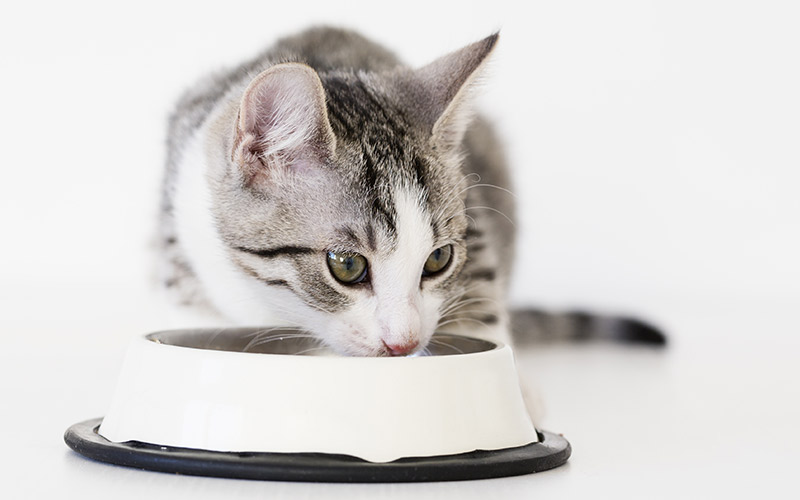 Welcome To Your Complete Guide To Organic Kitten Food. Helping You To Understand What Organic Food Is And How It Could Benefit Your Kitten. With Reviews Of The Best Organic Kitten Food Brands.
Do you follow an organic diet?
If your answer is "yes," then chances are that you've wondered if your kitty might also benefit from organic food.
Fortunately, you won't have to look far for organic kitten food!
There are several pet food manufacturers that do offer organic variations of both dry and wet cat food.
So, what exactly is the difference between common cat food formulas and organic formulas?
No worries, we've got you covered!
In this article, we'll talk about what qualifies as an organic a cat food.
Giving examples of some wet and dry organic kitten foods that are currently on the market, as well as our recommendations for the best organic kitten food options.
All of these products were carefully and independently selected by the Happy Cat Site team. If you decide to make a purchase from one of the links marked by an asterisk, we may earn a small commission on that sale. This is at no extra cost to you.
What is organic kitten food?
You may have heard the term "organic" used in a number of scenarios, but the truth is, "organic" only applies to food that meets some pretty specific criteria.
Let's look at how the National Organic Program (NOP) of the United States Department of Agriculture (USDA) defines "organic".
It is as food or agricultural products that have been produced using methods that "integrate cultural, biological, and mechanical practices that foster cycling of resources, promote ecological balance, and conserve biodiversity." Without the use of fertilizer, sewage sludge, irradiation, or genetic engineering.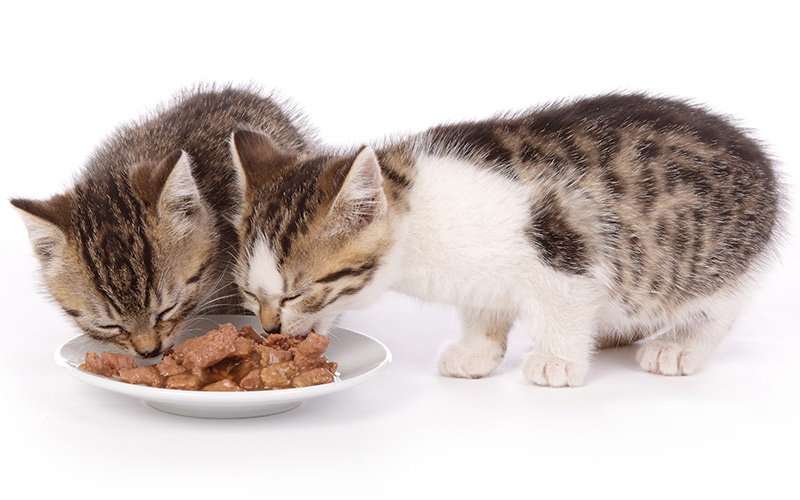 In Lehman's terms, for food products to be considered organic, they cannot be grown with artificial aid. Nor can they be produced with artificial colors, flavors, or preservatives.
Fruits, vegetables, other forms of produce, and legumes aren't the only food products that can be grown organically, though.
Although the NOP has defined "organic" for human food consumption, it hasn't formally defined "organic" in terms of pet food yet.
According to the Association of American Feed Control Officials, until a formal definition has been established, pet food may only be labeled as "organic" if at least 95% of its ingredients by weight meet the NOP's criteria for organic food that's meant for humans.
A pet food may be labeled as "Made with Organic" if at least 70% but less than 95% of its ingredients by weight are certified organic.
We'll get into a few types of organic kitten food options in the upcoming sections.
Why should you choose organic kitten food?
So, what's the scoop about organic kitten food? Why would I want to feed it to my kitten?
Are you concerned about how your kitty's food is raised? For example, caged chicken verses free-range chicken. Do you care whether or not antibiotics, growth hormones, or genetically modified food products make it into feline food?
Then feeding your kitty certified organic food may give you some peace of mind. Knowing that her food's ingredients were sustainably raised and without artificial substances.
That's not to say that non-organic kitten food is low-quality and/or filled with harmful substances.
All pet food that meets the regulations. These are established by the Food and Drug Administration (FDA) and the Association of American Feed Control Officials (AAFCO). They confirm that it is technically safe for its intended consumer.
This is so because all livestock, produce, grains, and additives that are intended for pet consumption must meet specific criteria in order to be safe to eat.
Is Organic Kitten Food Healthier?
If you're wondering whether or not organic food trumps other cat foods in terms of health benefits, then we can only answer that with "maybe, or maybe not".
The reason for the uncertainty is that currently, there is no strong research-based evidence that an organic diet is better for cats.
Your particular cat may appear healthier when fed an organic diet. You may be happier knowing that your kitty is enjoying sustainably farmed chicken. However, we cannot say whether or not organic food is truly better for cats and kittens.
What we can assume, though, is that any commercially prepared cat food has been deemed safe for its intended recipient, for the duration of its shelf life.
Your veterinarian may be able to offer you some advice for the specific brands or types of food that would be most beneficial for your individual kitty's well-being.
Furthermore, the type of food that you ultimately choose to purchase may also be dependent on price, as organic food tends to run higher than non-organic food.
Regardless of what you choose to feed your feline friend, kitten food – organic, all-natural, or otherwise – should be AAFCO-approved as a complete and balanced feed.
If you skip the bagged or canned food in favor of a raw or natural diet, then work with your veterinarian to ensure that what you're feeding is providing all of the nutrients that she needs to grow up healthy and strong.
Now that we know what organic kitten food is, let's learn about some of the options that are available for purchase!
Organic wet kitten food
Organic wet food for kittens has the same consistency as non-organic wet foods. But with a certified organic protein source and no artificial ingredients (colors, preservatives, etc.).
Does your kitten already eat wet food?
If so, then you may switch him to an organic wet food pretty easily. Just be sure to do so slowly, and mix the old food with the new food.
If your kitty currently eats a mix of dry food and wet food, then you could feed an organic dry food topped with a bit of organic wet food for a completely organic meal.
When providing wet food that comes in a can, be sure to spoon it out into the bowl, or else kitty might make a large mess of it!
He may also not eat all of it, and so you'll lose money on spoiled food.
Check out our Feeding Your Kitten article for additional kitten food tips!
Best Wet Organic Kitten Food
Here are some nice certified organic wet foods to try.
Newman's Own Premium Canned Formulas for Cats
Newman's Own Premium Canned Formula* is an example of a "Made with Organic" product.
It is 70% organic, each variety with an organic protein and the first ingredient and no artificial colors, flavors, or preservatives.
Including chicken and brown rice, chicken and salmon, turkey, or turkey and vegetable.
Additionally, this line of cat food doesn't contain corn or wheat, and it's safe to be fed to both kittens and adult cats. As a bonus, 100% of the profits from the sale of this variety go to charity!
Newman's Own Organics Grain-Free Canned Cat Food
Here is another excellent product by Newman's Own, Grain Free Organic Kitten Food*. And this line is 100% organic!
Each variety starts with an organic protein or blend of proteins and includes fiber from pea flour and alfalfa meal, without any grains.
The protein can include beef, chicken, chicken and liver, liver, turkey, turkey and liver, or beef and liver,
This cat food can be safely fed to kitties in all life stages.
Natural Planet Organics Cat Formula
According to Natural Planet Organics Cat Formula*, this certified organic food contains a balanced blend of protein and healthy oils, with a boost of supplemental vitamins and minerals.
It also is a good source of omega-3 and omega-6 fatty acids, both of which are essential for your kitten to thrive.
Natural Planet offers organic wet cat food in in "turkey dinner" and "chicken dinner" flavors, both of which are suitable to be fed to cats in all life stages.
Organic dry kitten food
There are a couple of certified organic dry kitten foods on the market today.
Not only are there a few types of organic kitty kibble, but you can also purchase certified organic "nuggets," or freeze-dried little biscuits that are chock full of all-organic ingredients.
Some of the organic kibbles are also grain-free.
If your kitten eats only dry food, then it's important to ensure that he's drinking enough water.
If he's on a mix of dry food and wet food, though, he's likely getting enough water because the higher protein levels in the wet food encourage increased drinking.
As with any kitten food, be sure that the organic dry food that you select is meant for kittens. That it is suitable for all life stages, and avoid over-feeding or under-feeding.
Your little fur ball needs sustenance to grow properly, but not so much that he's a chunky monkey!
Best Dry Organic Kitten Food
Here are some organic dry food options for your kitten.
Nature's Variety Instinct Raw Market Nuggets for Cats
If you'd like to mix up your cat's regular diet, Nature's Variety Instinct Raw Nuggets* is for you!
The freeze-dried raw nuggets contain cage-free chicken, including the liver, heart, and bones. It also includes organic carrots, pears, butternut squash, pumpkin seeds, and a host of vitamins and minerals.
The nuggets can be a complete meal by themselves, used as a meal additive, or as a snack!
Simply crumble up a nugget, mix it with water, then serve!
Some consumers commented that they simply crumbled a nugget over top of their cat's regular kibble without adding water, and their cats happily lapped it up.
Organix Grain Free Organic Dry Cat Food Healthy Start Kitten Formula
Here is an organic dry kibble that's made specifically for kittens*!
The kibble is made with organic turkey as a whopping 35% protein source. Along with organic peas, potatoes, and lentils as the primary ingredients; without corn, soy, or wheat fillers.
This quality kitten food is chock full of the good stuff that your furry tiny tot needs for optimal growth.
Including good fats for a shiny coat and healthy skin, as well as added vitamins and minerals for optimal overall health.
Natural Planet All Life Stages Dry Cat Food
Kittens, mature cats, and senior cats alike can enjoy Natural Planet All Life Stages Dry Food* "Made with Organic" kibble!
The Amazon product listing seems to have conflicting information, but if you refer to the manufacturer's product description, you'll see the ingredients.
The kibble is made with organic chicken, organic grains, and organic pea protein as the first three ingredients.
Read further into the ingredients list, and you'll find that the kibble also contains organic dried fruits, more vegetables, and even pumpkin seeds and sunflower seeds!
Yum!
Newman's Own Advanced Cat Dry Formula
In addition to organic wet foods, Newman's Own also offers organic dry kitten food*!
This "Made with Organic" dry food contains 100% organic chicken, organic brown rice, organic peas, and a few types of organic grains (excluding wheat). Along with some organic canola oil, organic flax seed, and organic vegetables (excluding corn).
Although this variety is only 70% organic, it doesn't include any artificial colors, flavors, or preservatives, and it can be fed to kittens, adult cats, and older cats.
Best organic kitten food
When it comes to selecting an organic kitten food, the best option is one that's been tried and tested. Approved by the FDA and AAFCO, and contains all of the nutrients that your growing kitten needs.
Additionally, you'll want to check the label. To determine whether or not the food meets the National Organic Program's organic certification requirements.
If at least 70% but less than 95% of the ingredients are 100% organic. The label will say "Made with Organic". If all of the ingredients are 100% organic, the label will say "Certified Organic".
As with any type of cat food, be sure that your kitten finds the food palatable. Like human-grade organic food, certified organic pet food can be a bit pricier than non-organic pet food, so you won't want to waste it!
Do you use organic kitten food?
Does your kitten love organic kitten food? Let us know your favorite brand in the comments section below!
Affiliate link disclosure: Links in this article marked with an * are affiliate links, and we may receive a small commission if you purchase these products. However, we selected them for inclusion independently, and all of the views expressed in this article are our own.
References and Further Reading